Digital Society Services
Digital Society Resources
DCS UPDATE
We hope you are all enjoying your holidays and getting ready for a safe and prosperous new year.  It hasn't been easy dealing with Covid, and just when we think there is light at the end of the pandemic tunnel, another variant seems to raise its ugly head.  James Mathers uses his essay this month to look back at how DCS has adapted and is preparing to emerge from this difficult period to be even stronger going forward.
James also shares a remembrance of Mike Nesmith who he had the honor of working with many years ago.  Although Nesmith was best known as a member of the Monkees, his creativity, forward thinking, and amazing accomplishments are really much more impressive.  We also have a report on a couple of  in-person events we managed to sneak in between Covid waves in L.A. and Chicago.
Of course, there is always news and content to share including a short educational presentation featuring James Mathers and Ron Sill for Samy's Camera looking at the variety of light modifiers designed for the ARRI Orbiter.   We also highlight some of the educational initiatives that Netflix is undertaking to offer tech guidance to the community.  Last, but not least, we share the news that Blackmagic has come up with a major update for their URSA Mini Pro 12K camera that is designed to greatly improve the camera imaging performance.
New Streaming Content
James Mathers and Ron Sill Explore Light Modifiers for the ARRI Orbiter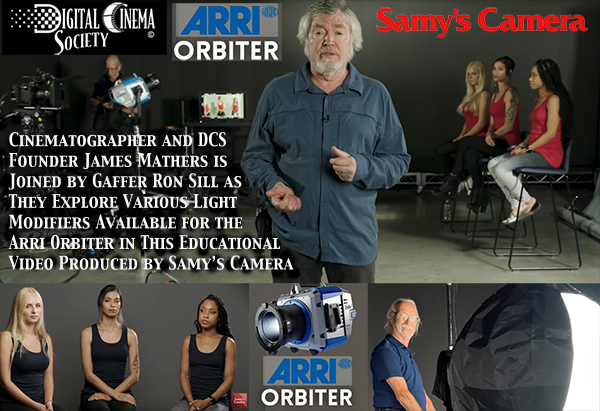 In this practical demo, Cinematographer and Founder of DCS James Mathers and Cinema Lighting expert Ron Sill set up various light modifiers designed to work with the ARRI Orbiter to show their effect lighting on-camera talent.  Featured products include ARRI Orbiter Lenses as well as Soft Boxes from both DoP Choice and Chimera.  Samy's Camera produced the piece with ARRI's Xenia Lappo and DCS Advisory Board member Vika Safrigina at ARRI Burbank in October of this year.  Cinematographers Enrique Del Rio and Brad Haskell photographed the piece with Sound handled by Production Mixer Noah Mathers.  View the 10 minutes piece on YouTube:  https://youtu.be/qYQuG6_ot3k
###
DCS Report: Chicago Event Featuring Infinity Lenses, URSA 12K, and OWC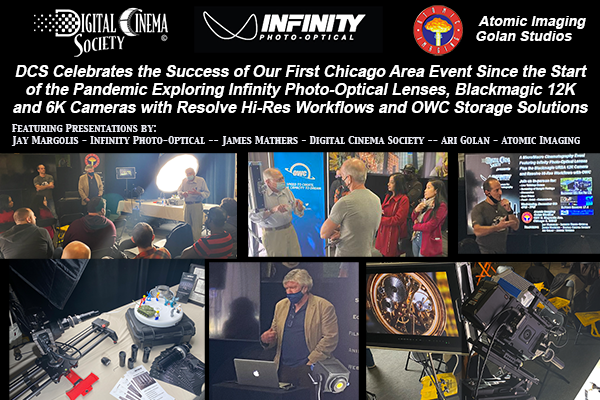 After the success of our first Los Angeles area event since the start of the pandemic held October 23rd at Camera Division, we decided to take our show on the road.  So, on December 8th, we held an event in Chicago at Atomic Imaging/Golan Studios. Featured technology included Infinity Photo-Optical lenses for Micro/Macro Cinematography, the Blackmagic URSA Mini Pro 12K and Pocket 6K cameras, DaVinci Resolve Hi-Res BRAW workflows, and OWC storage and workflow solutions.  Presenters included Infinity Photo-Optical's President and Lens Designer, Jay Margolis, Cinematographer and Founder of DCS, James Mathers, and Director/Cinematographer Ari Golan who is Owner of Atomic Imaging and Golan Studios.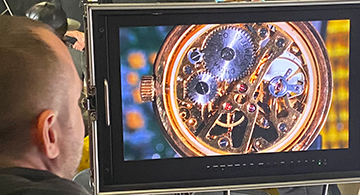 Chicago, being known as a production hub for food commercials, is home to some of the industry's leading tabletop Cinematographers and several were in attendance.  Practical demo shots were set up and attendees were particularly impressed with the unique images created with the Infinity lenses, many commenting that they are eager to try them on future shoots.  James Mathers made a presentation on the benefits and challenges of acquiring 12K and Ari Golan followed up with a practical demo cutting and resizing 12K BRAW footage on his laptop with DaVinci Resolve and OWC solid state fast drives.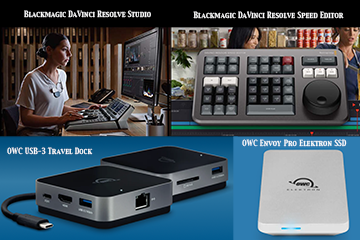 Door-prizes included DaVinci Resolve Studio software and a DaVinci Resolve Speed Editor courtesy of Blackmagic Design as well as a USB-C Travel Dock and Envoy Pro Elektron SSD from OWC.  Ari Golan was also presented a set of Infinity lenses in appreciation for hosting the event at his studio.  DCS thanks all the presenters, sponsors, and attendees for their participation.
###
Industry News
Netflix Offers Filmmakers Tech Guidance via Partner Help Center and YouTube Channel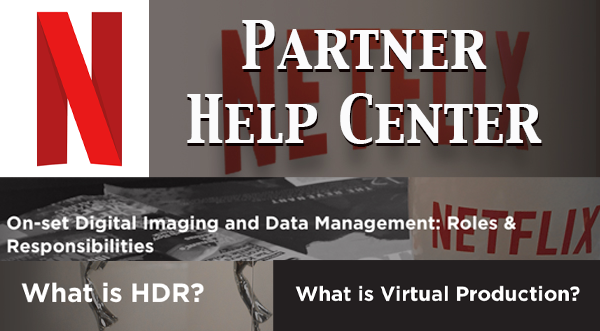 Over the past several months Netflix has been working on ways to increase production resources around workflows to help provide better guidance and best practices. As a result, they created a web portal known as the Partner Help Center to help filmmakers successfully navigate the rapidly evolving technology associated with subjects such as on-set HDR workflows:  HDR On-Set Monitoring: Considerations & Best Practices.  https://partnerhelp.netflixstudios.com/hc/en-us/articles/4409833378707
Other content focuses on subjects such as on-set Digital Imaging and Data Management: Roles & Responsibilities, Virtual Production, and many more.  Search the catalog here:  https://partnerhelp.netflixstudios.com/hc/en-us
They have additionally produced a series of short foundational knowledge videos currently streaming on the Netflix Production Technology Resources YouTube channel.  They are designed as a shareable resource to delve into topics such as the importance of a color managed workflow and establishing a solid data backup and verification plan at the start of production.  
The Benefits of Color Management: https://www.youtube.com/watch?v=vdmFjFoE2YA
and
Why Data Management is Essential:  https://www.youtube.com/watch?v=nkJHyrr7fLg
###
Remembering Mike Nesmith — Much More Than a Monkee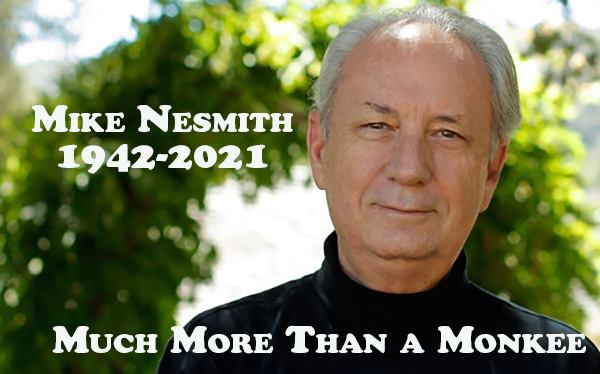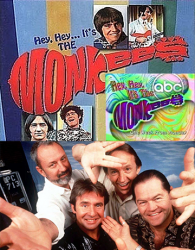 Michael Nesmith, best known as a member of The Monkees, passed away recently at his home in Carmel Valley, California at the age of 78.  I grew up with the Monkees, like all the kids my age, but later got to know Michael as a Filmmaker when I was hired to serve as DP on an ABC special in the 1990′s that was every bit as wacky as the 1960 series that catapulted him and his co-star/bandmates to fame. Nesmith was Producer, Director, and Writer, and a member of the cast, which also included the late Peter Tork and Davy Jones, as well as Micky Dolenz, who is now the last surviving Monkee.  It was a fun, but one-off shoot and our paths unfortunately never crossed again.
By the time I worked with Michael Nesmith, he was already a phenomenally successful musician, songwriter, actor, producer, director, and screenwriter.  Film productions he had a hand in included Elephant Parts (1981), Timerider (1983), Repo Man (1984), Square Dance and Tapeheads, as well as several other TV specials.  He even invented and sold the concept of 24 hour music television to Time Warner helping to create the MTV network.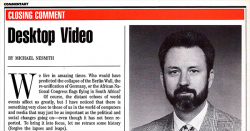 However, I only became aware recently of what a true Futurist Michael Nesmith really was.  Brian McKernan, a Co-founder of DCS, sent me an essay entitled "Desktop Video" penned by Nesmith in 1990 and published in Videography, a trade journal for which Brian served as Editor at the time.  This was when the Internet was still pretty clunky, before the smart phone, and before the democratization of content creation.  In the essay, Nesmith insightfully predicted all that would come from the intersection of computers and TV.  He was a remarkable man who should be remembered as much more than a Monkee.  You can read the full one-page essay here:
www.digitalcinemasociety.org/downloads/Nesmith-Videography-June1990.png
###
Blackmagic Design Announces Camera 7.7 Update for the URSA Mini Pro 12K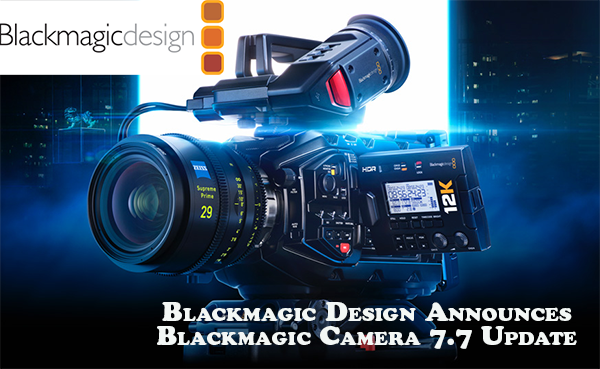 Blackmagic Design has announced the Blackmagic Camera 7.7 update designed to improve the sensor performance for the Blackmagic URSA Mini Pro 12K. This update refines the camera's demosaic algorithm, leading to a more neutral color balance and enhanced sharpness of shadow details for better overall image quality.
Blackmagic Camera 7.7 Update Features
Improved color balance.
Improved demosaic for better shadow detail MTF.
Improved demosaic to reduce moire effects on fine patterns.
USB-C connection improvements.
Improved compatibility with ExAscend U.2 disks on URSA Mini Recorder.
Availability and Price
Blackmagic Camera 7.7 is available now for download, free of charge, from the Blackmagic Design website.   https://www.blackmagicdesign.com/support/family/professional-cameras 
###
On DP's Perspective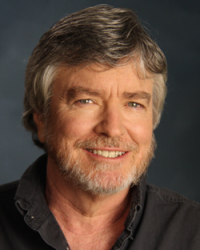 by James Mathers
Cinematographer and Founder of the Digital Cinema Society
DCS Continues to Adapt to a World Impacted by the Covid-19 Pandemic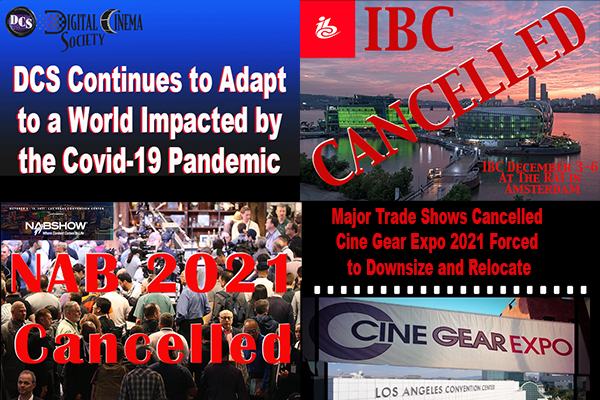 The world of in-person events and entertainment has been thrown into chaos amid an explosion of COVID-19 cases.  While this might seem like a headline from March 2020, it has never been more current, now attributable to the highly contagious omicron variant.  The Digital Cinema Society, which depends on holding our own in-person events and covering industry conventions for a large part of our activities, has also been negatively impacted.  We pivoted, believing the situation would soon pass, organizing our DCS Cinema Technology Spotlight online interview series in lieu of covering conventions like NAB, and holding web events such as our annual Focus on Cine Lens panel, which had previously been held for many years in front of a standing room only crowd at Cine Gear Expo.
We were lucky to have held our 2020 Cinema Lighting Expo on the last day of February, just before lockdowns were announced.  Always hopeful that the pandemic would soon subside, we scheduled the 2021 Lighting event two different times, only to have our hopes dashed by new waves and variants.  Now it looks like our 2022 Lighting Expo, which we were hoping to hold this coming February, will have to again be postponed due to omicron.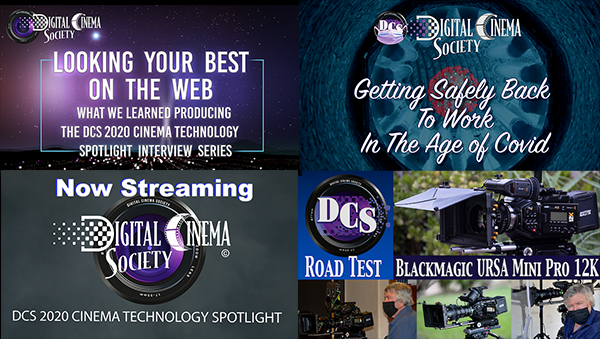 While events were mostly on hold, we managed to keep busy producing mini documentaries such as "Looking Your Best On The Web," to help prepare everyone for all the time they would be spending on the likes of Zoom.  We also produced "Getting Back to Work Safely in the Age of Covid," with tips and techniques for returning to production after the lockdown.  We're happy to report that industry production, to a large extent, has resumed using the kinds of protocols we outlined in the doc.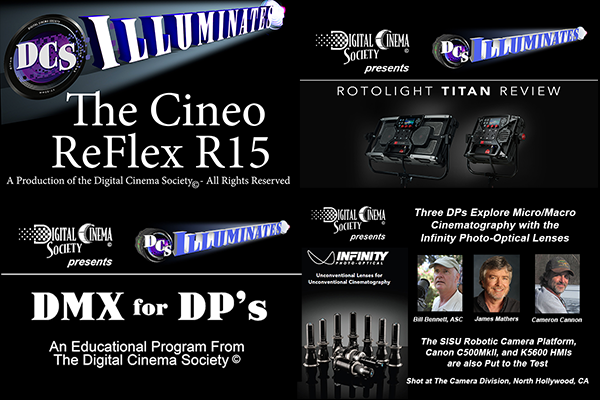 We also produced original content for the launch of our upcoming DCS Illuminates web channel, including programs on the Cineo Reflex R15, The Rotolight Titan, and DMX for DPs, as well as participating in a program covering accessories for the ARRI Orbiter.  Additionally, we documented our testing of the Blackmagic URSA Mini 12K, as well as a unique type of lenses for micro/macro photography from Infinity Photo/Optical.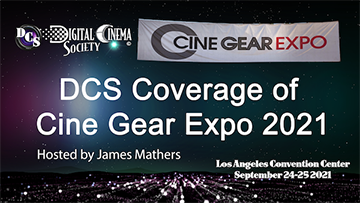 Once the vaccines were available, we again thought we would be out of the pandemic woods.  We were very sad to see it become politicized, and for the pandemic to persist with new waves and variants.  Observing Covid safety protocals, we did manage to sneak in a couple of smaller events in L.A. and Chicago to highlight our testing and documenting of the Infinity lenses, and we also participated in a slimmed down Cine Gear Expo.  And I have to say that I give a lot of credit to Juliane Grosso and Karl Kresser, the producers of Cine Gear, for persevering and putting on a safe and successful show at the L.A. Convention Center, even with a scant number of exhibitors and attendees compared to their usually bustling events on the studio backlots.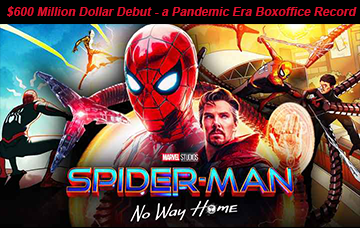 Another bright spot has been the movie going public's return to the theaters to see Spider-Man: No Way Home, which shattered numerous box office records as the first blockbuster of the Covid era.  The debut raked in over $600 million dollars even as worries about the omicron variant have been growing.
So where do we go from here?  Major industry events are now largely back to their traditional pre-pandemic timelines. CES is scheduled to go forward starting in just a couple of weeks, with NAB following in April, and Cine Gear Expo in June.  Will they again have to postpone or cancel, as IBC was forced to do earlier this month?  I will be disappointed, but not surprised if that ends up being the case.  The list of cancelled events grows by the day, but here's an update of some of the other industry and holiday happenings to be impacted by the latest Covid surge:
On Broadway – Hamilton and Aladdin have gone dark indefinitely
Fox's New Year's Eve Toast & Roast 2022 originally scheduled for December 31st is now canceled
A Christmas Carol at L.A.'s Ahmanson Theatre originally scheduled to run through January 1st is now canceled
Palm Springs International Film Festival Awards Gala originally scheduled for January 6th is now canceled
AFI Awards originally scheduled for January 7th are now postponed with future plans TBD
BAFTA Tea Party originally scheduled for January 8th is now canceled
Christmas Spectacular Starring the Radio City Rockettes originally scheduled to run through January 2nd is now canceled
Jagged Little Pill originally scheduled to run indefinitely has now closed for good
Critics Choice Awards originally scheduled for January 9th has now been cancelled
Hollywood Critics Association Film Awards Ceremony originally scheduled for January 8th is now postponed to February 28th
New York Film Critics Circle Awards Ceremony originally scheduled for January 10th is now postponed, with future plans TBD
Although we have managed to keep busy at DCS throughout the pandemic, the financial picture has not always been rosy.  Longtime stalwart sponsors like Canon have stopped supporting us altogether and others have cut their annual donations in half.  It has left us in a bit of a financial lurch, but we are getting by greatly assisted by the tremendous response we received to last year's funding appeal.  The DCS membership stepped up to not only keep us solvent, but to also let us know how much you all appreciate what we do.  It was a great shot in the arm, both financially and emotionally.
Our ethos has always been to adapt in order to survive, and we are too stubborn to quit, so you can look forward to a revamped Digital Cinema Society in 2022.  Our new website should be ready to go online any day now, and our membership tiers will be changing.  We're still working out the details, but we plan to make it easier to for those who don't like to commit to full membership, to simply sign up for the eNewsletter (consider it DCS "membership-light").  However we will also be figuring out ways to honor and reward our Founding Members, Lifetime Members, and Supporting Members, some of whom have been with us going on nearly 20 years.
So, don't be counting DCS out of the game; we are here to stay.  We are not currently asking for any dues payments, but if you care to make a small tax deductible donation before the end of the year, you can follow the convenient PayPal link (using any major credit card, and you don't need to be signed up for PayPal) or you can send payment to our offices at P.O. Box 1973, Studio City, CA 91614, USA.
Or paste this url into your browser:
https://www.paypal.com/donate?hosted_button_id=8GUYNUBCKR2HU
Thank you in advance!
###
THANK YOU TO OUR SPONSORS
As always, we want to send out a big thanks to all "Friends of DCS," whose support makes it possible for us to continue the DCS mission of educating the entertainment industry about the advancements in digital and cine technology:
AbelCine – ACES – Adobe – AJA – Anton/Bauer – ARRI – Avid – BB&S Lighting – Band Pro – Blackmagic Design –  Cineo Lighting – Cinnafilm – Codex – Cooke Optics – Dadco/SunRay – Dedolight California – Fiilex –  Fujinon – Infinity Photo-Optical – K 5600 –  Lectrosonics – Leitz Cine Wetzlar – Lindsey Optics –  Litepanels –  Luminys –  Matthews Studio Equipment – MACCAM – Mole-Richardson – Nanlite – Nila – OConnor – OWC – Panasonic Lumix – Panavision – P+S Technik – Quasar Science – Reidel – Rosco – Rotolight – Sachtler – SIGMA – SmallHD – Sony – Teradek –  The Studio-B&H – Tokina – Vision Research – Westcott – Wooden Camera – Zeiss
###
DCS MEMBER BENEFITS and DISCOUNTS:
DCS members in good standing can also receive significant discounts on products and services from companies including: Core SWX - The Camera Division Design Lab - Raleigh Studios Screening Services - LensProToGo – Final Draft – Wooden Camera – SimpleDCP – Zacuto – IMDBpro – DECKHAND Camera Rental – Tek Media Electronic Repair – AbelCine – BB&S Lighting – Kit & Kaboodle Craft Service – Birns & Sawyer – NightSky Web Hosting – American Cinematheque – ProductionHub. And if your company would like to offer your fellow members meaningful discounts on products or services, let us know and we'll consider adding your offer to the page. Visit the DCS Member Discount page for all the details: www.digitalcinemasociety.org/member-discounts
Follow DCS on Social Media
Follow DCS on Facebook, Twitter and Instagram. Don't forget that the Digital Cinema Society has a Facebook fan page. Check in for the latest news, event details and general DCS hubbub at: http://www.facebook.com/DigitalCinemaSociety
On Twitter, you can follow us @DCSCharlene
On Instagram at: digitalcinemasociety
Our Home, The Digital Cinema Society:
"It is not the strongest of the species that survive, nor the most intelligent, but the most responsive to change." Charles Darwin