A Quick Look at the P+S Technik Technovision Classic 1.5x Anamorphic Lenses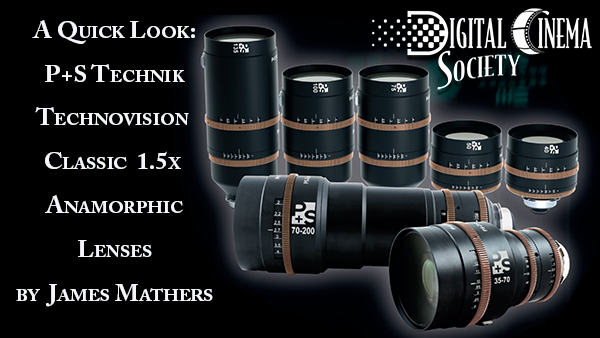 In this short video, James Mathers, Cinematographer and Founder of the Digital Cinema Society takes a quick, unscientific look at two of P+S TECHNIK's new TECHNOVISION Classic 1.5X anamorphic lenses. We intercut directly between the anamorphic 35-70mm Zoom and the 50mm Prime and a spherical Fujinon 25-300mm zoom, so the viewer can easily assess and compare the different qualities of the two kinds of lenses. The Technovision Classics cover larger formats such as Full Frame (FF+) and ARRI LF Format, but here we test with the VariCam V35 and LT.
The complete set will include the anamorphic prime lenses – 40mm, 50mm, 75mm, 100mm and 135mm – as well as two zoom lenses – 35-70mm and 70-200mm. The 35-70 zoom lenses are shipping and the longer zoom lens will start shipping in 
autumn. As for the Technovision Classic prime lenses, the longer lenses well ship before the end of this year and the shorter primes are scheduled to follow in spring 2019.
Special thanks to our volunteer crew of Cinematographer Cameron Cannon and Sound Mixer Christopher Scott Knell.  Thanks also to Hot Rod Cameras, P+S Technik, Fujinon, and Panasonic for use of the location and gear to test.
The coverage is available to view on Vimeo:  https://vimeo.com/278966828
———————————————————————————————————————————–
The Fickle Finger of Flicker and How to Avoid It – Coverage of DCS Flicker Testing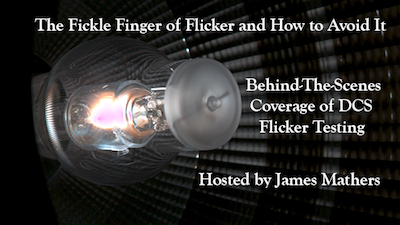 Over the course of four shooting days spread over several months, the Digital Cinema Society gathered almost every manufacturer in the Cinema Lighting Industry to participate in a test to explore the issues of Flicker in high-frame-rate cinematography.  We published an in-depth article in December of 2016, and are now following up with behind-the-scenes documentary coverage of our process and conclusions.  Participating companies, (in alphabetical order), include:
ARRI – BB&S – Cineo Lighting – DADCO – Dedolight – Digital Sputnik – Fiilex – FilmGear – Glue Tools – K5600 – Kino Flo – Light & Motion – Litepanels – Luminys – MACCAM – MBS Equipment – Mole Richardson – Nila – OConnor – Olesen SSL – Power Gems – Raleigh Enterprises – Red Scorpion LED – Rosco – Vision Research – Zylight
The program is hosted by James Mathers, Produced by David Mahlmann, and photographed by Cinematographers Conrad Hunziker and Cameron Cannon.  Bob Monaghan of Glue Tools served as Technical Supervisor for the project and Kevan Barsky operated the high-speed Phantom and 4K Flex cameras from Vision Research.  Mitch Gulbin was our Key Grip and Christopher Scott Knell recorded our sound.
Special thanks to Ron Dahlquist and Hans Lau of DADCO/SunRay/FilmGear, Kelly Koskella, Victor Duran, and Gus Orellana of Raleigh Enterprises/Ollesen-SSL, and Steve Altman of MBS Equipment, as well as Dr. Phil Ellams, Daniel Basso, and Chip Harley of Power Gems.  View the 15 minute program here:
———————————————————————————————————————————–
James Mathers Presents the Basics of Designing Coverage and How to Avoid Crossing the Line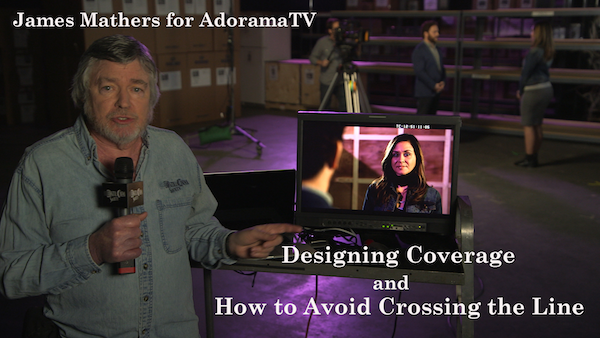 Produced by the Digital Cinema Society for AdoramaTV, in this short video, James Mathers presents a few tips on how to shoot cinematic coverage with a basic break down of the shots to cover a two character scene, with Master, Over-The-Shoulder, Close-ups, etc.. Special care is provided to explain how not to "cross the line" so that your shots cut together properly.
Joining James on camera are Actress/Producer, Risa Cantu, and Filmmaker/Social Media Consultant, Michael Valinsky, who were photographed in the demo by Cinematographer Cameron Cannon. Also appearing in front of the camera for a change is DCS Executive Director, Charlene Mathers, and Editor and Visual Effects Artist, Christopher Scott Knell. DCS CTO, Conrad Hunziker, III, served as Director of Photography for the project and Samantha Gilbert provided the graphics. Special thanks to Manhattan Beach Studios, Hollywood Rentals, Canon USA, BB&S Lighting, and OConnor for providing production gear and locations, and to Directors Sean Cunningham and Nicole Jones-Dion for moral support.
View it on YouTube here:  https://www.youtube.com/watch?v=RBksK58K_i8
———————————————————————————————————————————–
DCS Test: Intercutting Panasonic's EVA1 and VariCam LT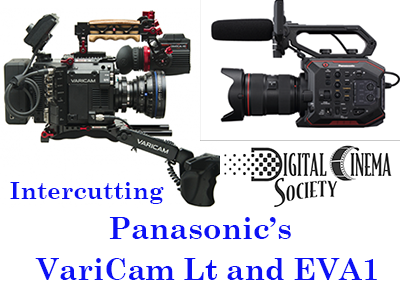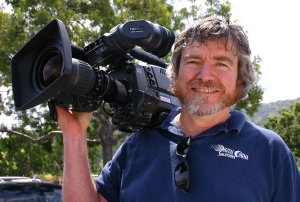 I've long been a fan of the VariCam; I owned one of the first generations of the tape based camcorders and used it on several features, TV shows, and documentaries, such as The US vs. John Lennon.  Although it was only a 720 sensor, I loved the rich and subtle colors it was able to capture.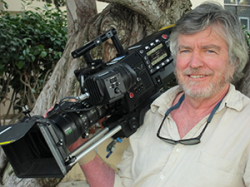 When the VariCam V35 came out a couple years back, I was all over it.  Now I had a 4K, Super 35 sensor that was well matched to my stock of Fujinon zooms and Zeiss prime lenses.  The new camera seemed to retain the color characteristics I loved, with the added bonus of expanded dynamic range and sensitivity, plus the ability to crank up to 120fps in full 4K.  The dual native ISO, where you can set a base of 800 or 5000, and then go up or down from there, was also a great feature.
I started to regularly borrow the camera under the guise of "testing" for a large variety of projects, getting very comfortable with the ease of use and workflow.  Shooting Vlog allowed me to retain expanded dynamic range without baking anything in, but still easily apply a LUT to get a good look on set, then send those settings along to my Post collaborators so they would know what I was going for.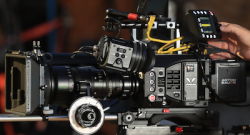 When the LT was later introduced, I needed to "test" that as well and found it to be a great addition.  With the same great dual native ISO sensor, they are very compatible, but at half the weight, it is especially useful for my handheld and jib work, saving the VariCam 35  built up in studio mode and riding on the OConnor 2560 for the longer lens work and for the higher frame rate capability; (the LT maxes out at 60fps in 4K).
Maybe Panasonic got tired of me borrowing their cameras so often, because when I suggested I might be able to purchase them if I got a sweet enough deal, they found a couple of demo units which they were willing to part with.  So I recently added a VariCam V35 and an LT to my camera inventory and have actually been keeping them quite busy on a variety of projects including one with the V35 recording uncompressed to an on-board Codex recorder.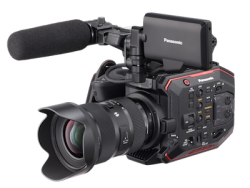 Now, the VariCam family has a new little brother, the EVA1.  It also offers dual native ISO, (although topping out at 2500ISO), and is even lighter weight.  It also records 4K in Vlog to SD cards, and although my friends at Panasonic tell me it has great potential to intercut and serve as a B-Camera on a VariCam shoot, I needed to test it myself.  So I again borrowed a camera from Panasonic, but this time it really was for a test.  I wanted to see if the EVA1 could hold its own and intercut with a VariCam.
Since the EVA1 has a native EF mount, and the LT is easily convertible to EF, I decided to go with EF.  However, all the lenses I own are PL, so I turned to my friend, Snehal Patel at Zeiss who kindly provided a set of CP.2 EF Superspeed Primes, (T1.5).
If you control your lighting and give adequate exposure, you can make just about any camera look decent, and I had the Superspeeds, so I decided to shoot with only available light.  This also kept things fast and uncomplicated, because as you'll see, I didn't have a very large crew.
In this very short 4K clip, you'll see shots captured with the EVA1 cut in a checkerboard fashion alternating with the VariCam LT.  If you look closely, you can be sure which camera you're looking at because the other one is featured alternating as a prop in each shot, (each shot is also tagged with the taking camera).  Both were recorded in Vlog and the only color correction applied was the standard Panasonic Rec 709 LUT.  And not to leave out the V35, there is also a shot captured at 120fps tagged on to the end for comparison.
View it in 4K on Vimeo here:  https://vimeo.com/254396605
———————————————————————————————————————————–
Lighting Tip:  5 Reasons to Recommend a Soft Box with LED Lighting
By James Mathers, Cinematographer and President of the Digital Cinema  Society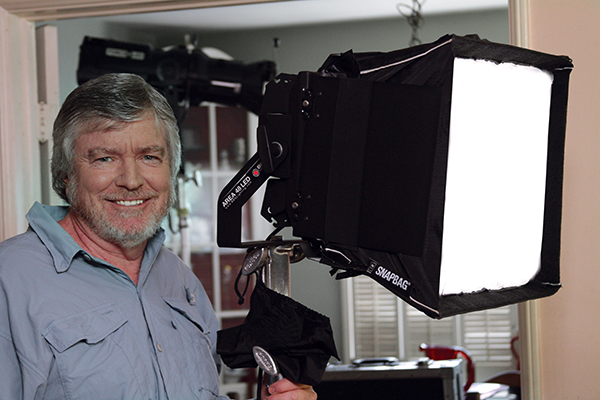 LEDs are a highly efficient light source, and putting aside any color spectrum issues, (that have generally been improving they still have limitations for lighting people. The naked illumination coming off a single emitter, or an array making up a larger fixture, such as a panel, is just not the soft beautiful glow that we seek for human subjects.
Some softening of the light is called for, but adding diffusion can decrease output and make the source harder to control. In fact, earlier generations of LED fixtures lacked the lumen output to afford much diffusion. However, technological advances in LED electronics, and the design of certain light modifiers known as Soft Boxes now make them an essential combination.
Here are five reasons I like use soft boxes, especially when taking advantage of an LED light source:
1) A large source is perceived as the most natural looking light, and a Soft Box generally expands the surface area of the source.
2) The separation between the diffusion material and the source created by the Soft Boxes lessens the light loss by filling a larger surface area with light and also by not wasting stray light. Instead, this otherwise unused light is amplified via the silver reflective lining that makes up the inner walls of the Soft Box.
3) At the same time, the Soft Box helps control spill and with the addition of grids, which attach easily to the outside of the diffusion, the light can be channeled to work where it should, and be eliminated from areas where it shouldn't.
4) Attaching a Soft Box directly to the fixture reduces clutter on the set by avoiding extra stands that might otherwise be required to hold diffusion frames and various cutters thus speeding set up and breakdown.
5) If a white rectangular reflection is picked up in the background, it can more easily be taken for a natural source, like a window, as opposed to seeing the bald spectral points of LEDs flashing camera.
———————————————————————————————————————————–
High Dynamic Range (HDR) What It Is and What It Is Not – White Paper by Larry Thorpe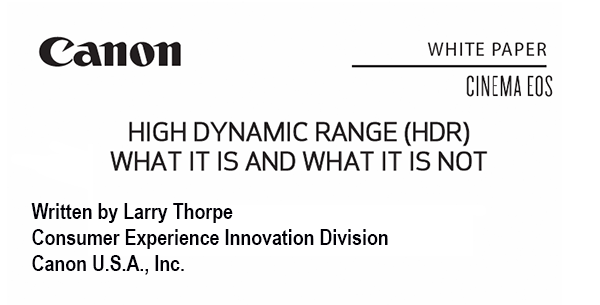 The term HDR is often loosely bandied about to describe various imaging and display technologies resulting in considerable confusion in the market place.  Now, Larry Thorpe, Digital Cinema Society Advisory Board Member and Sr. Fellow, Professional Engineering Solutions at Canon USA, has penned an extremely insightful white paper which dispels some of the myths and gets to the heart of what HDR is really about.  It is available on the Canon Live Learning website and we encourage all who may be interested in the subject to it check out:
http://learn.usa.canon.com/app/pdfs/white_papers/White_Paper_HighDynamicRange.pdf
Larry invites your feedback, so please leave your comments on our DCS Facebook page and we'll be sure to bring them to his attention: http://www.facebook.com/DigitalCinemaSociety
———————————————————————————————————————————–
Tom Fletcher and Gary Adcock's New 2018 Camera Comparison Chart Now On-line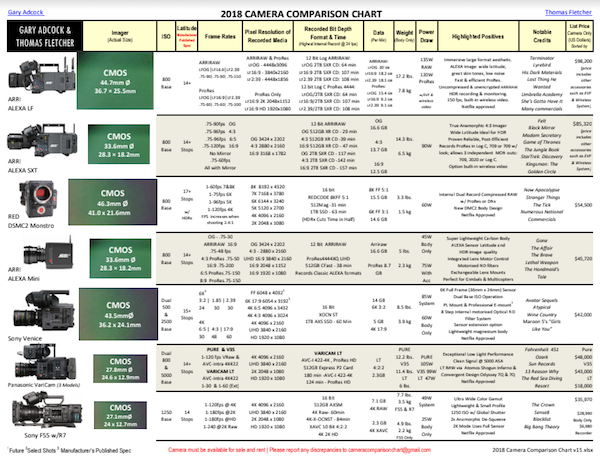 Gary Adcock and Tom Fletcher, (current and former Presidents of the Digital Cinema Society Midwest Chapter), have come out with an update to their now famous Camera Comparison Chart. The information has been gathered from numerous conversations with various cinematographers, colorists, colleagues and manufacturers. In fact, the new version is set up as a Google Doc that will live on-line so that it can be updated more quickly as feedback is received and technology advances.  The authors can be reached to report discrepancies by email to: cameracomparisonchart
The authors stress that this is subjective, rather than scientifically collected and tested data with the goal of sharing information with the industry in order to help filmmakers make educated decisions on cameras and formats. The update now includes the ARRI ALEXA LF, RED Monstro, Sony Venus, Canon C700 with Codex, and the Panasonic EVA-1, among many more. Details include estimated latitude, frame rates, resolution, weight, rental cost, as well as perceived pluses and minuses all summarized to two pages.  To view or for printable PDF:
https://drive.google.com/file/d/1a-3XaxQpjdbAciZCcDSL3aU8a0CVK7u9/view?ts=5b2cfd14
———————————————————————————————————————————–
DCS Road Test — SmallHD DP7-PRO — Evaluation by James Mathers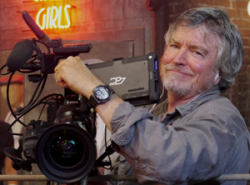 A lot of capability packed into a very light weight package; that's how I would describe the SmallHD DP-7-PRO I took out for a spin recently…and it just keeps getting better.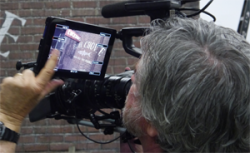 I was already impressed with it's long list of features such as Wave Form, Histogram, and Zebras for exposure control, with pixel zoom and edge highlight for focus assist.  Focus tools like these are very helpful with the limited depth of field of a large sensor, especially if you are roaming with a handheld camera.  That's right, even with all those capabilities, and a beautiful 7.7" 1280×800 OLED  display, it weighs in at only a little over one pound.  That makes it light enough to easily serve as a handheld on-board monitor.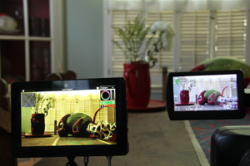 With new features added in the latest firmware upgrade, it can also be a powerful look management tool.  It supports custom 3D-LUTs that can be imported from most popular color grading software. However, what's really impressive is that it also has the industry standard control functions to create your own LUTs built right into the monitor.  These can be exported, saved to SD card for later retrieval, and you can even export .jpeg still frames.
This kind of advanced functionality can really help to close the loop with the Colorist and further confirm your intent as a Cinematographer throughout the post pipeline.  Several viewing LUTs are already available, based on popular Color Space variations such as "Cinestyle," "C-Log," "Log-C," "Red Gamma 3," "S-Log 1 & 2."  These, however, are just for starters, since you can easily modify them to further hone a custom look.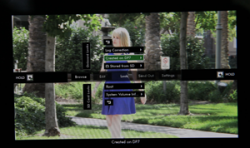 What's also very nice is that you can pass through any of these viewing LUTs and send a nicely corrected image to video village, while still being able to toggle back to view the RAW, or uncorrected image without disturbing the output down the line.  So, for example, you may be pushing the boundaries of the image, and need to view the RAW, but you don't want to distract the Director with a flat or otherwise unappealing image.  You could also set separate looks to account for differences in cameras or lenses that you know are easily correctable in post, but might cause concern among the on-set Creatives. All in all, the DP7-PRO offers a lot functionality in a very compact and light weight package.
———————————————————————————————————————————–
Demo and Review of Tenba Cineluxe 24 Camera Bag by James Mathers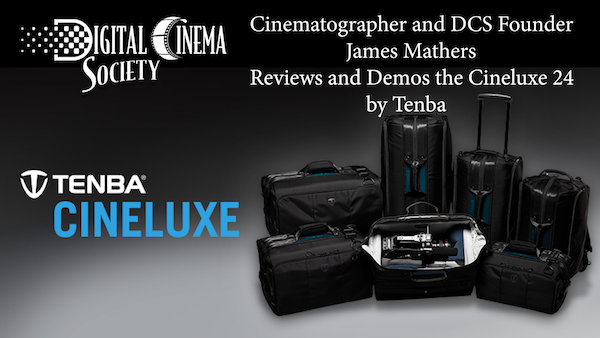 While prepping for an out-of-town shoot, James Mathers, Cinematographer and Founder of the Digital Cinema Society discusses packing equipment for travel and gives a quick demo of the Tenba Cineluxe 24 camera bag.  View it on Vimeo here:
———————————————————————————————————————————–
———————————————————————————————————————————–