Digital Society Services
Digital Society Resources
Announcing 2019 DCS Cinema Lighting Expo, Saturday February 16 in Burbank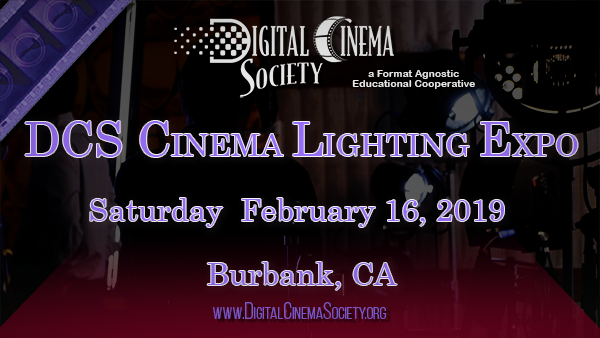 All are welcome to join the Digital Cinema Society for our annual exploration of Motion Picture Lighting and Grip Technology. The event will return to the IATSE Local 80 stage in Burbank on Saturday, February 16th.
In addition to our traditional vendor presentations and practical demonstrations by renowned Lighting experts, we will also discuss the challenges faced by Lighting professionals.
We've been holding this event annually for over a decade now, and it gets bigger and better each year.  The recipient of this year's DCS Pioneer in Lighting Technology Award has yet to be named, and invitations to special guests are pending.  Past participants who were interviewed and/or gave demos included some of the most prominent ASC Cinematographers including,  (in alphabetical order): Bill Bennett, Russell Carpenter, Richard Crudo, Allen Daviau, George Dibie, Ron Garcia, Michael Goi, Bruce Logan, Michael Negrin, Sam Nicholson, Bob Primes, Roberto Schaefer, David Stump, Kees van Oostrum, Roy Wagner, and Robert Yeoman.
Participating Manufacturers and Vendors tentatively include, (in alphabetical order):
ARRI • BB&S Lighting • Cineo Lighting • FilmGear
Dedolight • DMG Lumiére • DoPchoice • Fiilex • FLUOTEC
Kino Flo • K5600 • Light & Motion • LiteGear • Litepanels • Lupo Lights
Luminys • Lowel • MACCAM • Mole Richardson • Nila • Panasonic
Practilite • Rosco Labs • The Rag Place 
Time: Saturday, February 16th, Starting at 10AM and ending at 5PM
Please indicate if you are a DCS member, list "Lighting Expo" in the subject line, and don't forget to give us your contact details when sending your RSVP e-mail:
Note: If you want to bring a guest, we'll need their name and email address in order to confirm the RSVP.