Digital Society Services
Digital Society Resources
2017 DCS Post Production Expo – Sunday November 12th at Raleigh Studios, Hollywood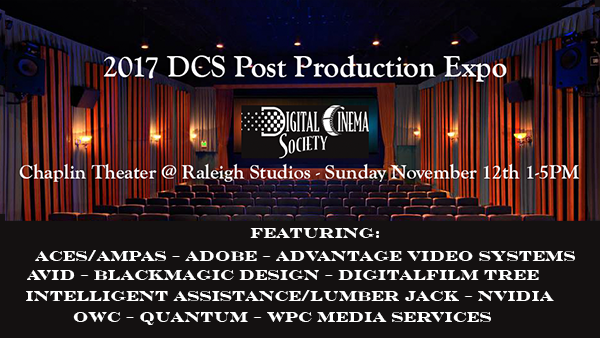 The Digital Cinema Society will again hold our annual Post Expo at the Chaplin Theater on the Raleigh Studios lot in Hollywood.  It will be held this year on the afternoon of Sunday November 12th from 1PM to 5PM.
We'll cover a wide variety of Post Production topics including:
VR Post – Migrating from Final Cut 7 – Look Management – Storage – Content Security
Taking advantage of the Cloud for Post Collaboration and Distribution
Featured companies include, (in alphabetical order):
ACES/AMPAS – Adobe – Advantage Video Systems – Avid
Blackmagic Design - DigitalFilm Tree - Intelligent Assistance
NVIDIA - OWC – Quantum – WPC Media Services
Special guests pending confirmation include leading Post Production Creatives and Technologists.  Light refreshments will be served courtesy of OWC and MacSales.
The event is open to all, but RSVPs are mandatory.  To register, send an email with your contact details and "Post Expo" in the subject line to:  RSVPtoDCS
Our Partners: