DCS Update
Things are hopping for DCS. It seems like just yesterday, (well actually it was), that we wrapped up our NAB efforts, and Cine Gear Expo starts this week! We'll be roaming the back lot at Paramount to report on anything new and hosting our annual Lens event: "Focus on Cine Lenses from the Buyer's POV."  The Digital Cinema Society will also be hosting a special VR Technology panel at the 8th Annual New Media Film Festival on June 8th at the Landmark Theaters in West Los Angeles.  (More details on Cine Gear Expo and the New Media Film Festival follow and can be found on the DCS Calendar of Events).
In this month's essay, "Can Super Heroes Save The Cinema…Or Will They Kill It?" James Mathers laments the lack of originality in the current theatrical releases, and celebrates the great content now showing up on home screens. He fears this dichotomy may eventually lead to the demise of the cinema going experience.  In addition, Canon's Larry Thorpe has contributed a highly informative white paper entitled "High Dynamic Range (HDR) What It Is and What It Is Not".
We are also happy to share an educational presentation we produced for AdoramaTV aimed at helping filmmakers get a handle on screen direction with tips from James Mathers on how to avoid crossing the line.
Streaming NAB 2017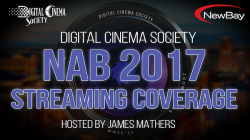 Don't worry if you couldn't make the trip to Las Vegas, or even if you did, but couldn't find the time to see everything you wanted at the show, the Digital Cinema Society has you covered. The DCS team recorded comprehensive coverage of the latest motion picture technology which you can access on demand. You'll find over sixty reports covering production and post products and services from Lighting to Lenses, Cameras to Storage, Software, Support, and everything in between.
Look for Garrett Brown having fun introducing the new SteadiCam Volt, or Michael Cioni giving us an update on Panavision's premiere Digital Cinema camera, the Millennium DXL. You're in luck if you have an interest in Cinema Lenses as we've never before seen so many new product introductions. (We'll be taking a closer look at Lenses in our Cine Gear Expo event, "Focus on Cine Lenses from the Buyers Point of View.")
Interviews include, (in alphabetical order):
AbelCine – Adobe – Acromove – Adorama – Advantage Video Systems – AJA – Angénieux – Anton/Bauer – ARRI – Avid – BB&S Lighting – Band Pro – Blackmagic Design – Canon – Cartoni – Cineo Lighting – Codex – Cooke Optics – dedolight – De Sisti Lighting – Digital Sputnik – DoP Choice – Fiilex LED – Fujinon – K 5600 – Kino Flo – Leica/CW Sonderoptic – Light & Motion – Litepanels – Luminys – Manfrotto – Manios Digital – Mole-Richardson – MYT Works – Nila – NVIDIA OWC – Panasonic – Panasonic Lumix – Panavision – Power Gems – Quantum – Redrock Micro  - Rosco – SIGMA – SmallHD – Sony – Sound Devices – Steadicam – Teradek – The Rag Place – The Studio-B&H – Tiffen – VER – Vision Research – Wooden Camera – Zeiss – Zylight  
Full NAB coverage is available by visiting:
www.digitalcinemasociety.org/featured/nab-2017-streaming-video
Cine Gear Expo 2017

June 1-4, 2017, (Student Film Series Competition – June 1st / Gear Expo – June 2-3) Paramount Studios, Hollywood, CA
This year's event will feature 300 exhibits and dozens of complimentary seminars and panels covering a range of filmmaking insights, techniques, and technology from top filmmakers. The studio's famous theater will host Cine Gear's renowned film screenings and the Cine Gear Film Series Competitions. For more information about Cine Gear Expo and to see the full lineup of exhibitors, screenings, and seminars, visit: www.cinegearexpo.com.
DCS Event at Cine Gear Expo – "Focus on Cine Lenses from the Buyer's POV"
Friday, June 2, 2017, 5:15pm – 6:15pm, Cine Gear Expo, Screening Room #5 (upstairs from the Sherry Lansing Theater), Paramount Studios, Hollywood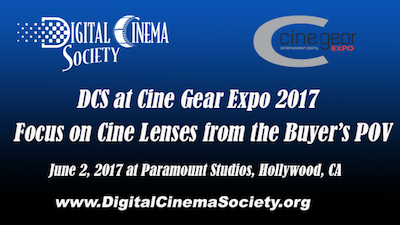 Digital Cinema camera technology has been evolving at a breakneck pace with models sometimes becoming obsolete before an owner has a chance to amortize their investment. Cine lenses have been considered somewhat of a safer haven for equipment investment, but with sensor sizes growing, and more economical lenses coming to market, the question of which lenses present the best value has recently become more complicated for the buyer.
We'll see what's new from some of the top lens manufacturers invited to participate including, (in alphabetical order): Angenieux, ARRI, Canon, Cooke, CW Sonderoptic/Leica, Fujinon, Schneider Optics, Sigma, Tokina, and Zeiss.  We'll find out how they are meeting the challenges of creating quality lenses suitable to various cameras while resolution and coverage area keep increasing at the same time that camera prices are falling.  If you're thinking of investing in Cine Lenses, this event is tailored for you.
DCS to Host VR Technology Panel at the New Media Film Festival
The 8th Annual New Media Film Festival will take place June 6-8, 2017 at the Landmark Theaters located 10850 W. Pico Blvd in Los Angeles. The Digital Cinema Society will host a special VR Technology panel moderated by DCS Founder, James Mathers.
Panelists include:
• Ted Schilowitz, Futurist 20th Century FOX / Chief Creative Officer Barco Escape
• Michael Mansouri – Co-Founder of Radiant Images
• Terry Brown, Senior Business Development Manager for Media & Entertainment at Nvidia
• Jonathan Landman, VP Sales at Teradek
VR will be featured on Thursday June 8th, from 6PM to 8PM, or you can take in the full three day festival, June 6-8 which also includes: Red Carpet • VIP Soiree • Live Music • Screenings • Web Series Superstar Panel • Technology Panel • Opening Night Programming • Awards Ceremony • Networking Lounge • International Art Exhibit • New Media Marketing Table • Q&As • Audience Awards.
For more details or to purchase tickets please visit:
http://www.newmediafilmfestival.com
Canon Announces Two New C200 Cinema EOS Cameras with Internal 4K RAW Recording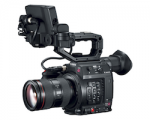 In advance of Cine Gear Expo, Canon has introduced the Cinema EOS C200 and C200B, the first Canon Cinema EOS Cameras to feature Canon's "Cinema Light RAW" as well as MP4.  The cameras share the same 8.85MP CMOS sensor with newly developed dual DIGIC DV6 image processing and Canon's Dual Pixel CMOS AF (Auto Focus) system.  The combination of sensor and new processing allows for the support of the two new 4K file formats.  Cinema RAW Light, available in 4K 60p/50p at 10 bit and 30p/25p/24p at 12 bit, allows users to record data internally to a CFastTM card by cutting data size to about one-third to one-fifth of a Cinema RAW file, without losing grading flexibility. Alongside recording to a CFastTM card, proxy data (MP4) can also be simultaneously recorded to an SD card for use in offline editing.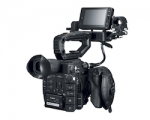 Additionally, filmmakers will also be able to record 4K in the MP4 format on SD media cards at 60/50/30/25/24P at 8 bit.  Both RAW and MP4 support recording from Full HD (1920×1080) and 2K (2048×1080) to 4K UHD (3840×2160) and 4K DCI (4096×2160).  The cameras also offer slow motion capabilities up to Full HD recording at 120fps to help ensure every frame is captured in exquisite detail. The EOS C200 package includes the LM-V1 LCD Monitor which provides intuitive touch focusing support.
In addition to these features, both cameras offer:
Over Sampling HD Processing*: enhances sensitivity and helps minimize noise
Wide DR Gamma: helps reduce overexposure by retaining continuity with a gamma curve
ISO 100-102400 and 54db gain: high quality in both low sensitivity and low-light environments
In-Camera ND Filter: Internal ND unit allows cleaning of glass for easier maintenance
ACESproxy Support: Delivers standardized color space in images, helping to improve efficiency
Two SD card and one CFast™ card slots for internal recording
Improved grip and Cinema EOS System compatible attachment method
Support for Canon CINE-SERVO and EF Cinema Lenses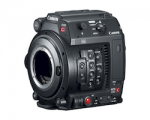 The cameras are scheduled to be available in August 2017 at estimated retail prices of $7,499 for the C200 and $5,999 for the C200B.  The B version is thought to be a more compact and lighter weight model ideal for working with drones and gimbals and does not include such items as the internal EVF similar to the one found on the rear of the C300.  Both cameras are available only in EF mount.
Basics of Designing Coverage and How to Avoid Crossing the Line – James Mathers presents for AdoramaTV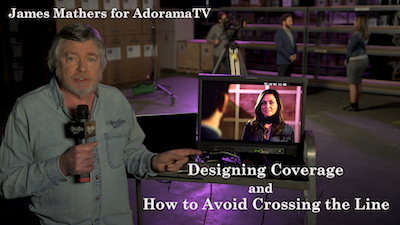 We are happy to share this educational presentation produced by the Digital Cinema Society for AdoramaTV aimed at emerging filmmakers for those who may find it of interest.  James Mathers presents a few tips on how to shoot cinematic coverage with a basic break down of the shots to cover a two character scene, with Master, Over-The-Shoulder, Close-ups, etc.. Special care is provided to explain how not to "cross the line" so that your shots cut together properly.
Joining James on camera are Actress/Producer, Risa Cantu, and Filmmaker/Social Media Consultant, Michael Valinsky, who were photographed in the demo by Cinematographer Cameron Cannon. Also appearing in front of the camera for a change is DCS Executive Director, Charlene Mathers, and Editor and Visual Effects Artist, Christopher Scott Knell. DCS CTO, Conrad Hunziker, III, served as Director of Photography for the project and Samantha Gilbert provided the graphics. Special thanks to Manhattan Beach Studios, Hollywood Rentals, Canon USA, BB&S Lighting, and OConnor for providing production gear and locations, and to Directors Sean Cunningham and Nicole Jones-Dion for moral support.
View it on YouTube here:  https://www.youtube.com/watch?v=RBksK58K_i8
High Dynamic Range (HDR) What It Is and What It Is Not – White Paper by Larry Thorpe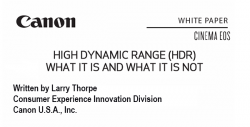 The term HDR is often loosely bandied about to describe various imaging and display technologies resulting in considerable confusion in the market place.  Now, Larry Thorpe, Digital Cinema Society Advisory Board Member and Sr. Fellow, Professional Engineering Solutions at Canon USA, has penned an extremely insightful white paper which dispels some of the myths and gets to the heart of what HDR is really about.  It is available on the Canon Live Learning website and we encourage all who may be interested in the subject to it check out:
http://learn.usa.canon.com/app/pdfs/white_papers/White_Paper_HighDynamicRange.pdf
Larry invites your feedback, so please leave your comments on our DCS Facebook page and we'll be sure to bring them to his attention: http://www.facebook.com/DigitalCinemaSociety
One DP's Perspective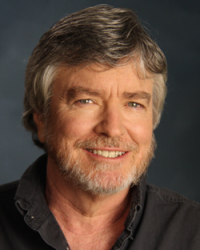 by James Mathers
Cinematographer and Founder of the Digital Cinema Society


It's the three day Memorial Day weekend, a prime moviegoing opportunity, but checking out the offerings at the local cineplex leaves me less than enthusiastic about making the major investment of time and money it will take to go out and see a movie. Enjoying a big screen theatrical experience with my family has traditionally been one of my favorite things to do, but increasingly, there are fewer movies worth the effort.
The current choices at my favorite local cineplex are Guardians of the Galaxy II, Pirates of the Caribbean: Dead Men Tell No Tales, Alien Covenant, Baywatch, Beauty And The Beast, and The Fate of the Furious. Although summer doesn't officially start until the third week in June, Memorial Day has always been the traditional kickoff of the season, a season of superheroes, sequels, and franchise tentpoles. I'll probably have to wait until two weeks before Christmas before I get a movie with some semblance of originality as they're released for Oscar consideration.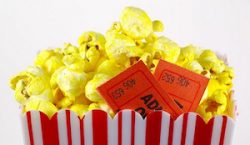 Of the aforementioned, current offerings, the Pirates movies sounds the most appealing, but if I'm going to make the effort, I would like to have a premium experience; I'm just not sure I can afford it. After spending just shy of $30 per ticket to see it in IMAX, plus parking, and the obligatory overpriced snacks, it will cost me about $200 to take the four of us to see the movie, not including going out to dinner, which is usually part of such an outing. I hate to think of myself as cheap, but laying out that kind of cash for a movie I'm not really excited to see, just doesn't seem to make sense. I have to wonder, am I alone?
I'm a Baby-Boomer, part of the largest age based demographic on the planet. If we stop going to the movies, how can cinema thrive? It is a pretty big group to ignore, and ticket sales have been on the decline. However, the metric Hollywood likes to brag about: "box office," has still been increasing on a year over year basis as ticket prices have risen.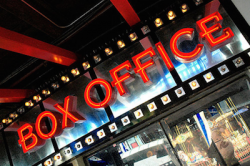 Domestic box office broke a record for the second consecutive year with $11.4 billion in 2016, and it's poised to do so again with current ticket sales through the first quarter of 2017 at $2.8 billion, up 6% over the same period a year ago. As for the latest "Pirates" sequel, it's "sailing to a $75 million opening weekend" according to Variety. Even with a $230 million budget, it looks to be a winner, and will probably join some of it's predecessors in the list of top Box Office earners; (for example, the Pirates Dead Man's Chest sequel was the highest grossing picture of 2006). But how did we get to this intersection of financial success and lack of originality?
There's a four letter curse word in Hollywood that is considered far more egregious than any starting with "F" or "S"…it is Risk. Studios are as averse to risk as just about any industry you can think of.
And despite the over $200 million budgets, these large scale productions, with only occasional misses, are the kind of movies that can still reliably get butts into theater seats. They are still profitable for the studios, so don't expect a change any time soon.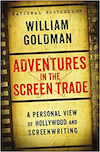 In describing the motion picture development process for his book, Adventures in the Screen Trade, Oscar winning Screenwriter William Goldman wrote, "nobody knows anything." While the conclusion may still hold, this book was written in 1983, before applying the insights of Data Science to the equation. Studios are always looking for tried and true,"bankable" elements, which can now be finely quantified. They can turn, for example, to the Numbers Bankability Index which estimates how much an individual is worth to a film based on analysis of the Hollywood Creative Graph™. Analytical algorithms allow the Bankability Index to measure the influence of each person involved in a project, which is then translated into an estimate of the average value added per movie by the top 50 biggest players in the industry today.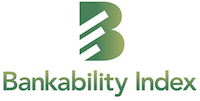 This chart is based on the worldwide box office earnings for every film a person has worked on, adjusted to reflect their performance over roughly the past decade. It is therefore a reflection of the most consistent performers over time.
Lets look at the top ten, which may offer a couple of surprises. This may change after the upcoming "Mummy" sequel is released, but Tom Cruise is #1, followed by Will Smith, Denzel Washington, and Clint Eastwood. It doesn't have to be Actors, just those individuals associated with money making movies, which elevates John Williams to #5 and the only woman in the top ten, producer Kathleen Kennedy to #6. She is followed by an extremely successful screenwriter you may have never heard of, Andrew Stanton, responsible for writing some of the top animated movies of all time including Finding Dory, Inside Out, and Toy Story 3. Rounding out the top ten are Vin Diesel, Jerry Bruckheimer, and producer David Neyman, who may not be a household name, but has produced, among others, several of the Harry Potter movies.
FYI, Steven Spielberg is #11 and James Cameron is #12, while Adam Sandler, at #15, is perched above Tom Hanks at #16. After a couple of less successful big screen outings, such as The Lone Ranger, Johnny Depp is at #34, but look for him to move up the chart after the numbers come in from the latest Pirates sequel.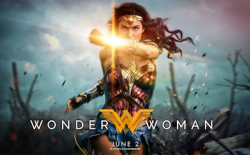 It is interesting to note that there are no Actresses listed in the top ten, which may explain why there are so few females headlining this summer's tentpole movies. An interesting exception is next weekend's release of Wonder Woman, (who wants to try to imagine Tom Cruise or Will Smith in the Wonder Woman costume)? Although it's another comic book adaption, which I'm getting pretty tired of, I do give Warner Brothers credit for finally making a female superhero movie, which is also directed by a woman, Patty Jenkins. FYI, no women have thus far breached the 50 member Bankability Index for their work as Directors.
It is really no mystery then why we see so much of the same material. When the studios can make a reliable profit with business as usual, what motivation do they have to take a chance on something new? With massive franchises that can produce sequel after sequel and create ancillary products like toys and theme park attractions, while appealing to a broad international market, they aren't about to take chances. The Studios function as businesses, answerable to their investors, rather than patrons of the arts. Or, as the old saying reminds us, "There's a reason they call it Show Business".
In the meantime, other outlets have upped their game to fill in the void left by the dearth of originality in the theatrical market. Considerably high quality content is now being delivered by companies like HBO, Showtime, Amazon, and in particular, Netflix.

It seems we have the old Blockbuster chain to thank for inspiring the transformative Netflix effort. Things were set into motion when they charged Netflix Founder Reed Hastings a $40 late rental return fee for Apollo 13 back in 1998. In his frustration, he created an alternative DVD mail order distribution channel. Years later, the result is that we can now stream original, and recently released, theatrical titles directly into our homes. Netflix only started producing in-house content in 2012, and now boasts a string of hits including House of Cards, Daredevil and Orange is the New Black, becoming a studio unto themselves.
Along with Amazon, who produced the critically acclaimed Manchester By The Sea, Netflix is also beginning to penetrate the theatrical market. However, they don't see why they should respect the time honored "Theatrical Window," and are pushing to shrink or eliminate the duration between a theatrical opening and a movie's release to the home. There is considerable pushback from the traditional gatekeepers, fearful that shorter windows will hurt ticket sales. Exhibitors have threatened a theatrical boycott of projects released "day and date," where movies would come out in theaters the same day that they are available to stream.
At the recently wrapped Cannes Film Festival, Netflix movies were booed in an apparent protest, and it was announced that starting next year, Netflix movies would no longer be considered in the theatrical competition. How can these not be considered real movies with releases that include, among others, Martin Scorsese's long awaited feature The Irishman or War Machine starring Brad Pitt? Stigmas have dissolved and top notch talent such as Robert De Niro and Michelle Pfeiffer, (who currently star together in HBO's Wizard of Lies), are available to high quality projects whether they premiere in the home or cinema.
Meanwhile, consumer electronics technology keeps improving to elevate the home viewing environment, closing the gap between the home and theater experience. I take advantage of a small projector and enjoy an 80" screen, which is as big as I can fit in my modest living room. While I love going out to the movies, sitting in a darkened room with a group of likeminded strangers, taking in a well told story, the value proposition just doesn't add up. When Netflix can be delivered to my home for a monthly subscription of less than $8, I find it hard to justify spending hundreds of dollars to take my family out to the movies.
It's certainly not superheroes or sequels that will entice me to return to the cinema; in fact they are driving me away. I only hope the studios allow filmmakers to inject some originality into their films before all theatrical exhibition goes the way of the drive-in movie. Perhaps the fact that US domestic box office for this Memorial Day has fallen to its lowest level in 18 years will start to get their attention. In the meantime, I'll be binge watching House of Cards and viewing first run movies at home while sadly missing the ritual of going out to the movies.
All comments are welcome; please write or leave a comment on our DCS Facebook page: http://www.facebook.com/DigitalCinemaSociety
If you would like to peruse The-Numbers.com Bankability Index:
http://www.the-numbers.com/bankability
Spotlight On Lifetime Members
Paula Lumbard is the Founder and President of FootageBank, an ultra high resolution rights managed and rights released footage library specializing in locations, sports, and playback clips dedicated to the needs of scripted programming.  The FootageBank, headquartered in Marina Del Rey, CA, represents more than 120 award winning media producers, cinematographers and production companies from around the world.
—-
Veteran Producer / Director / Photographer Bobby Holland has long been entrusted to create visual imagery for some of the Entertainment Industry's top talent.  Subjects include Stevie Wonder, Aerosmith, Britney Spears, ZZ Top, Salma Hayek and Jennifer Love Hewitt, to name a few.  His client list ranges from Fox, Sony, and Warner Bros. to Motown, Rolling Stone Magazine, and Coca-Cola.  A frequent guest lecturer at college campuses, Bobby has served on the Board of Directors for the Advertising Photographers of America (APA) and has received numerous international honors, including the prestigious "The One Show" for the PSA campaign,Stevie Wonder – Mothers Against Drunk Driving, and was nominated for a Grammy Award for his packaging design, art direction and photography of Stevie Wonder's "In Square Circle" album.
—
Partners in Micah Rebecca Films, both Rebecca Lam and Micah Emerine are about to graduate from California Baptist University with degrees in Film Studies.  Micah aspires to a career as a Director of Photography while Rebecca, who currently serves as head intern for the Riverside International Film Festival, is planning to become a Television Sitcom Producer.
Renewing Your DCS Membership
We count on your dues and contributions to continue our mission and maintain our services to members. So, if your membership has expired, or will soon, and provided that you value our services and can afford to offer support, please take a few minutes to renew your membership at the $30 annual level or $100.00 for a Lifetime Membership. You can follow the convenient PayPal links, (using any major credit card, and you don't need to be signed up for PayPal,) or you can send payment to our offices at P.O. Box 1973 Studio City, CA
91614, USA.
PayPal Annual Renewal Link – $30US:
https://paypal.me/digitalcinemasociety/30
Paypal Lifetime Renewal Link – $100.00:
https://paypal.me/digitalcinemasociety/100
Checks should be sent to: The Digital Cinema Society, P.O. Box 1973, Studio City, CA 91614, USA. Check payments must be in US dollars. Please note that if you are a student, or otherwise cannot afford the dues, just send a note and we will be happy to extend your membership. ** Student and Complimentary memberships do not include a membership card.
Thank You To Our Sponsors
As always, we want to send out a big thanks to all "Friends of DCS," whose support makes it possible for us to continue the DCS mission of educating the entertainment industry about the advancements in digital and cine technology:
AbelCine – ACES – Acromove – Adobe – Adorama – Advantage Video Systems – AJA – Angénieux – Anton/Bauer – ARRI – Avid – BB&S Lighting – Band Pro – Bertone Visuals – Blackmagic Design – Canon – Cartoni – Cineo Lighting – Codex – Cooke Optics – Dadco/Filmlight – dedolight – De Sisti Lighting – DigitalFilm Tree – Digital Sputnik – DoP Choice – Fiilex LED – Fujinon – K 5600 – Kino Flo – Leica/CW Sonderoptic – Light & Motion – Litepanels – Luminys – MacSales – MACCAM – Manios Digital – Mole-Richardson – MYT Works – Nila – NVIDIA – OConnor – OWC – Panasonic – Panasonic Lumix – Panavision – Power Gems – Quantum – Redrock Micro – Red Scorpion LEDs – Rosco – Sachtler – SIGMA – SIM Digital – SmallHD – Sony – Sound Devices – Teradek – Terra LED – The Rag Place – The Studio-B&H – VER – Vision Research – WCP – Wooden Camera – Zacuto – Zeiss – ZGC – Zylight
Remember Your DCS Member Discounts
DCS members in good standing can also receive significant discounts on products and services from companies including: Raleigh Studios Screening Services - BMW/Mini – LensProToGo – Final Draft – Wooden Camera – SimpleDCP – Zacuto – IMDBpro – Manios Digital – DECKHAND Camera Rental – Tek Media Electronic Repair – AbelCine – BB&S Lighting – Kit & Kaboodle Craft Service – Birns & Sawyer – NightSky Web Hosting – American Cinematheque – ProductionHub – Advantage Video Systems.
And if your company would like to offer your fellow members meaningful discounts on products or services let us know and we'll consider adding your offer to the page. Visit the DCS Member Discount page for all the details:
www.digitalcinemasociety.org/member-discounts
Calendar of Upcoming Industry Events
The large number of listings and hyperlinks in our full Calendar of Events causes many e-mail servers to reject our eNewsletter. So, for a complete calendar of upcoming industry event listings for both the U.S. and International, please visit the Events Calendar on the DCS Homepage at:  www.digitalcinemasociety.org/events-calendar
Follow DCS on Facebook and Twitter
Don't forget that the Digital Cinema Society has a Facebook fan page. Check in for the latest news, event details and general DCS hubbub at: http://www.facebook.com/DigitalCinemaSociety On Twitter, you can follow us @DCSCharlene
Our Home, The Digital Cinema Society:
"It is not the strongest of the species that survive, nor the most intelligent, but the most responsive to change." Charles Darwin