DCS UPDATE
August has been busy for us at DCS!  We started with coverage of the annual SIGGRAPH convention, which took place this year in L.A. This was quickly followed on August 8th by an educational event at Sim Los Angeles that looked at best practices for on-set wireless. The coverage from this event has now been posted and is available to stream from the DCS website.  To round out the month, we're now heading to Chicago to explore advances in high-speed image capture, both camera and lighting, in conjunction with AbelCine on the 27th.  (Full details follow.)
Industry news includes a new 6K Pocket Camera from Blackmagic Design and a new remote head from ARRI.  We are also happy to announce that DCS members residing in California will now have access to join the First Entertainment Credit Union.
In this month's One DP's Perspective essay, James Mathers shares his impressions from SIGGRAPH, including the benefits, and the potential dangers, of new computer graphic and artificial intelligence technology.
New DCS Streaming Coverage:
Best Practices For On-Set Wireless – DCS Educational Event at Sim L.A.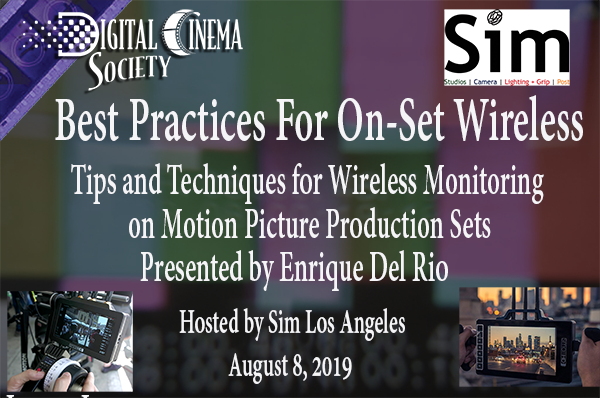 We are proud to present our two part streaming coverage of a Digital Cinema Society event held August 8th at Sim Los Angeles on the subject of Best Practices For On-Set Wireless.  In the first part, Hi-speed Cinematographer Enrique Del Rio shares his extensive research and prerecorded interviews with subject experts including:
• Nicol Verheem, Founder of Teradek and the CEO of parent company Creative Solutions
• Manolo Rojas, SOC, a SteadiCam Operator who co-founded ChilipepperLabs and DREAM
• Greg "Noodles" Johnson,  President of RF Film, a company that provides wireless expertise to major motion pictures and aerial photography projects.
• Greg Smokler, Founder of Paralinx and the VP of Products for Creative Solutions, which includes the Teradek, Paralinx, SmallHD, and Wooden Camera brands.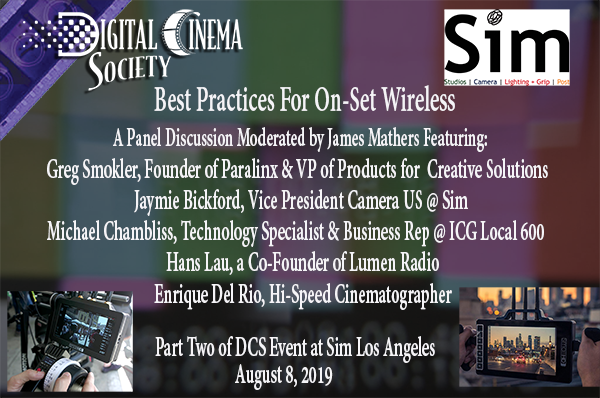 The second part our coverage features a panel discussion moderated by Cinematographer and Founder of DCS, James Mathers.
Panelists include:
• Greg Smokler, Founder of Paralinx and the VP of Products for Creative Solutions
• Jaymie Bickford, Vice President, Camera US at Sim
• Michael Chambliss, Production Technology Specialist and Business Rep from IATSE Local 600 
• Hans Lau, a Co-Founder of Lumen Radio
• Enrique Del Rio, a Hi-Speed Cinematographer and presenter on Best Practices for On-Set Monitoring
Special thanks to:
Our volunteer crew, including Camera Operators Cricket Peters and Alex Bonelli, and Sound Recordist Christopher Scott Knell.
The team from Creative Solutions, including Andrew Ng and Matt Eidenbock, who provided demos on their latest wireless gear including the new Bolt 4K.
And, of course, our wonderful hosts, Sim Los Angeles, especially Kelly Graham-Scherer, Erin Coatney, and Jaymie Bickford, who not only provided a wonderful venue, but also camera packages including an ARRI LF and Sony Venice.
View the complete coverage on Vimeo here:  https://vimeopro.com/digitalcinemasociety/dcs-event-coverage-best-practices-for-on-set-wireless
Upcoming DCS Event:
AbelCine Chicago / DCS Event on August 27th — Advances in High-Speed Image Capture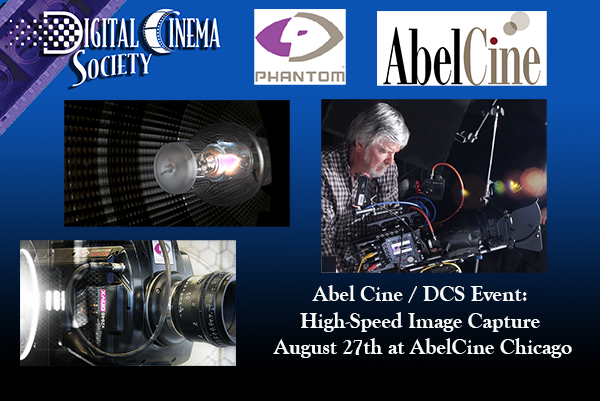 Join the Digital Cinema Society on the evening of August 27th at AbelCine Chicago for a special Gear Up event dedicated to high-speed imaging and lighting technology, including the full Phantom camera lineup and the new Phantom Onyx.
Proper lighting is critically important when shooting high-speed, so this event will also feature manufacturer booths on the showroom floor displaying the latest in powerful, flicker-free lighting. Attendees are encouraged to go hands-on with all the gear and get their questions answered by manufacturer specialists, industry experts, as well as AbelCine tech specialists. Snacks and refreshments will be served.
Additionally, the event will feature a short presentation by DCS Founder, James Mathers with tips and techniques on how to avoid flicker when shooting at high frame rates, followed by a special panel with guest filmmakers talking about their practical experiences shooting high-speed.
Where:
AbelCine Chicago
Cinespace Film Studios
2602 W. 16th Street, 4th Fl
Chicago IL, 60608
When:
Tuesday, August 27, 2019, 6:00 PM to 9:00 PM
Industry News
Blackmagic Design Releases 6K Pocket Cinema Camera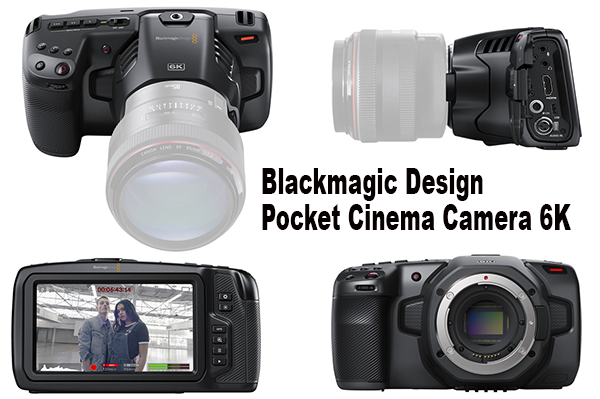 In an August 8th Blackmagic Design webcast, CEO Grant Petty announced the release of their Pocket Cinema Camera 6K.  The new camera shares many attributes of the micro 4/3 mount Pocket 4K, but features a larger 6144 x 3456 Super 35 sensor and EF lens mount.  This allows for a shallower depth of field, allowing creative use of defocussed backgrounds and extra resolution which can be of value for reframing in editing and color correction. The idea is that you can capture in 6K and then zoom to re‑frame in post or allow for digital post stabilization while still maintaining 4K resolution.  The use of the Canon EF mount also lets users take advantage of the expansive array of EF-mount lenses available.
The compact 6K version of the Pocket Cinema Camera retains the controls and menu layout of the 4K version with only a slightly larger form factor to accommodate the EF lens mount. Features such as ISO support up to 25,600, 13 stops of dynamic range, 1920 x 1080 monitor output, and a bright 1920 x 1080 touchscreen 5″ LCD are carried through from the BMPCC 4K as well.  Professional audio support includes a mini XLR input with phantom +48V power and four built-in mics. The camera body is made from a carbon fiber polycarbonate composite for lightweight and durability.
Recording options include capture in Blackmagic Raw or ProRes 422 with resolution combinations that can include 6144 x 3456 (6K), 6144 x 2560 (6K 2.4:1), 5744 x 3024 (5.7K 17:9), 4096 x 2160 (4K DCI), 1920 x 1080 (HD), and more.  Internal recording is to CFast 2.0 or SD/UHS-II card slots; and external recording is available using the USB-C output to an external drive.  Additional features include lens metadata support, 3D LUT application for both monitoring and recording, and up to 21.2MP still image capture.  The camera is now shipping with an MSRP of $2,495US including a license for the most up to date version of Resolve, (currently version 16.1.)
ARRI Announces New Stabilized Remote Head DEH-1 with Digital Encoder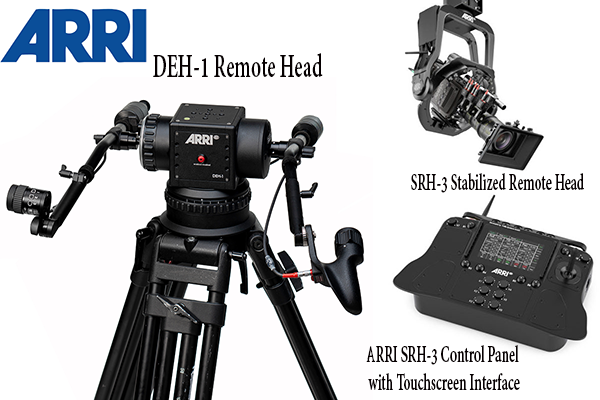 ARRI's new Digital Encoder Head (DEH-1) is the latest edition to their Camera Stabilizer System range. Specifically designed to operate ARRI's remote-controlled Stabilized Remote Head (SRH-3), the DEH-1 is a fluid head that interfaces with any Mitchell flat base tripod or support.  The traditional fluid head design is meant to give camera operators an intuitive and straightforward alternative to sophisticated hand wheels or joystick operation.
The new digital encoder head is also available with a complete set of Master Grips (focus and zoom) and the LBUS protocol allows for the Master Grips to be connected to the DEH-1 with just one cable, allowing easy setup. The DEH-1 also connects directly to the SRH-3's remote control, with a single LBUS cable. All the values and parameters of the DEH-1, the Master Grips, and the OCU-1 are managed using the touch panel of the SRH-3 remote control. The entire system can be controlled centrally using a single device.  The DEH-1 will be available to ship soon at a price in the neighborhood of $10,000US.
ONE DP's PERSPECTIVE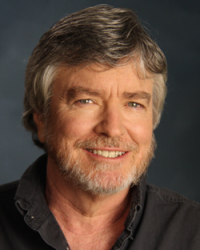 by James Mathers
Cinematographer and Founder of the Digital Cinema Society
Keeping up with SIGGRAPH, Where Art Meets ART-ificial Intelligence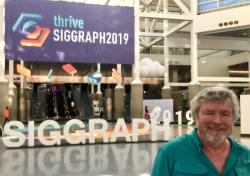 I try to never miss covering the annual SIGGRAPH convention, where I get a sneak peek at where computer graphics technologies are heading.  Such innovations, many seen for the first time at this important convention, will shape not only the Entertainment Industry, but our lives in general, with potentially positive and negative implications.
The area of most interest for me is a broad range of computer-aided filmmaking methods known as Virtual Production.  Growing out of the gaming industry, which requires accelerated graphics processing to not only create, but to play games in real time, these tools enhance creativity and save time compared to traditional linear pipelines.  The mass market demand created by gamers allowed for investment in research and resulted in much innovation, which we can all take advantage of.  However, in order to play these games in real time in a virtual world, graphics processing speed, and quality, still needed to be improved.
Answering the call, companies like NVIDIA have had to come up with schemes to speed up their graphics processing units, or GPUs.  Now, with the addition of Artificial Intelligence (AI) to the mix, new worlds of realtime rendering at near photo-realistic quality are opening up.  These graphics cards, once the domain of only the highest end desktop workstations, can now be added to relatively inexpensive laptops with the power to not only play in, but create virtual worlds.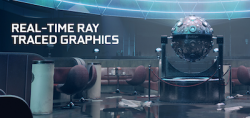 One recent AI dependent breakthrough that got a lot of attention at SIGGRAPH is Ray Tracing.  Although I'm not a gamer, and graphics technology can sometimes be challenging to wrap your head around, ray tracing was explained to me in these rather simple terms. It's basically an attempt to emulate the way light works in the real world. Instead of creating pre-designed, or "baked-in" lighting for scenes in CGI, the simulated path of the light is traced, (or rather, millions of simulated light paths.)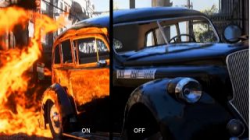 As the light bounces off objects, it moves and interacts with their properties. For example, if it bounces from a glossy green surface, its hue should change.  The resulting image improvement, while it may seem subtle, is what separates fake looking CGI from that which is truly believable.
Also growing out of the gaming industry is technology known as the Unreal Engine, first introduced in the late 1990s by Epic Games for the first-person shooter game Unreal.  It has since been successfully used in a variety of other action genres, including other fighting games, "MMORPG," (Massively Multiplayer Online Role-Playing Games), and "Platformers," a video game genre where the player controlled character must jump and climb between suspended platforms while avoiding obstacles.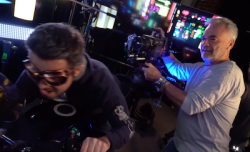 DCS member, and CEO of Stargate Studios, Sam Nicholson, ASC, who has been Visual Effects Supervisor on productions from Star Trek: The Motion Picture to The Walking Dead, demoed a new VFX system at SIGGRAPH known as ThruView.  It applies Unreal Engine technology by using camera/lens metadata to drive photorealistic CGI backgrounds.  The output is displayed on monitors behind the subject and photographed in realtime as an alternative to a green/blue screen.  The canvas need be no bigger than the display positioned behind the talent, but the background's perspective can be computationally manipulated to create huge worlds that move and can interact with the camera to create virtual movement.  See my interview with Sam at this year's Cine Gear Expo for a better understanding of this amazing use of the technology:  https://vimeo.com/341400643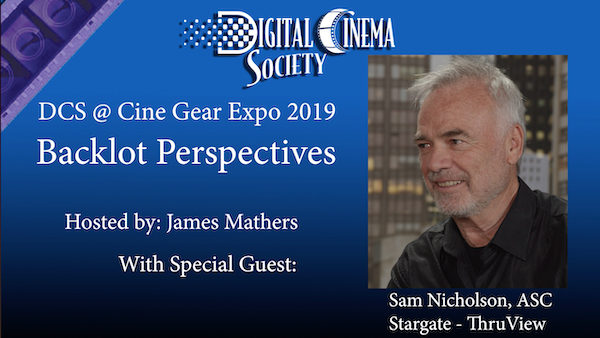 It's great to see all these demos with your own eyes, but in this case, seeing isn't always believing.  This technology is now going beyond reality which holds great promise for game developers and filmmakers to create believable visual worlds, but in the wrong hands could also be dangerous.  What I'm referring to here are "deepfakes," hyper-realistic manipulation of digital imagery that can alter images so effectively it's nearly impossible to tell real from fake.  It is more than just transplanting one person's head onto another's shoulders with Photoshop.  We're talking full animation of facial features cued from mo-cap sensors in real time.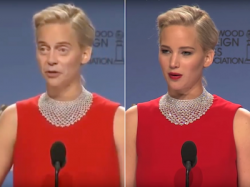 It's easy to see how this kind of technology can be useful in motion picture production; one example is when characters need to be "brought back to life" after the actor who played them has passed way.  Remember Peter Cushing's appearance in Rogue One or Paul Walker's last scene in the Fast and Furious franchise, and know that it has only gotten exponentially more sophisticated since then.  It's fun to see Steve Buscemi as Jennifer Lawrence, or Obama's words and face being manipulated by writer and comedian, Jordan Peele, (below).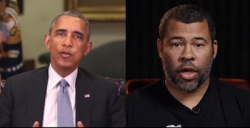 However, in the political world, the potential to use the technology to disseminate false information by literally putting words in someone's mouth is obvious.  In this deeply polarized political environment, it is easy to imagine someone trying to use this technology for nefarious purposes; not to mention bogus sex tapes used to extort victims with the threat of public shaming.  GPU-accelerated applications are becoming so sophisticated and accessible, that it is honestly getting to be a little scary.
Whether inspiring or scary, there was a lot to see at SIGGRAPH 2019.  This 46th annual gathering concluded its week of demos, conferences, and high-level meetings in early August with nearly 19,000 computer graphics professionals in attendance from all over the world. Luckily for me, it was conveniently held in my home town, at the Los Angeles Convention Center.  Sadly, I was not able to make it up to Canada for last year's convention, but I'll continue to attend whenever I can to keep up with the quickly evolving technologies of CG, Animation, VR, and Games as they become increasingly significant to the filmmaking process.
All Comments are welcome; please visit the DCS FaceBook page:  
https://www.facebook.com/DigitalCinemaSociety
Renewing Your DCS Membership
We count on your dues and contributions to continue our mission and maintain our services to members. So, if your membership has expired, or will soon, please take a few minutes to renew your membership at the $50 annual level or $300.00 for a Lifetime Membership. You can follow the convenient PayPal links, (using any major credit card, and you don't need to be signed up for PayPal,) or you can send payment to our offices at P.O. Box 1973 Studio City, CA 91614, USA.
PayPal Annual Renewal Link – $50.00US:  https://paypal.me/digitalcinemasociety/50
Paypal Lifetime Renewal Link – $300.00US: https://paypal.me/digitalcinemasociety/300
Checks should be sent to: The Digital Cinema Society, P.O. Box 1973, Studio City, CA 91614, USA. Check payments must be in US dollars. Please note that if you are a student, or otherwise cannot afford the dues, just send a note and we will be happy to extend your membership. ** Student and Complimentary memberships do not include a membership card.
THANK YOU TO OUR SPONSORS
As always, we want to send out a big thanks to all "Friends of DCS," whose support makes it possible for us to continue the DCS mission of educating the entertainment industry about the advancements in digital and cine technology:
AbelCine – ACES – Adobe – Adorama – Advantage Video Systems – AJA – Angénieux – Anton/Bauer – ARRI – Avid – BB&S Lighting – Band Pro – Birns and Sawyer – Blackmagic Design – BlockBattery – Canon – Cineo Lighting – Cinnafilm – Codex – Cooke Optics – Core SWX – Dadco/SunRay – Dedolight California – DigitalFilm Tree –  Fiilex – FLUOTEC – FootageBank – Fujinon –  Hot Rod Cameras – J.L. Fisher – K 5600 – Kino Flo – Leitz Cine Wetzlar – Light & Motion – LiteGear – Litepanels – Luminys – Lupo Light – MacSales – MACCAM  -  Mole-Richardson – Nila – OConnor – OWC – Panasonic – Panasonic Lumix – Panavision – P+S Technik – Redrock Micro – Rosco – Sachtler – Schneider Optics – SIGMA – SIM Digital – SmallHD – Sony – Teradek – Quasar Science – The Rag Place – The Studio-B&H – Tiffen – Tokina Cinema – Vision Research – Westcott – Wooden Camera – Zeiss – ZGC – Zylight
New Benefit for DCS Members Residing in California — You Are Eligible to Join the First Entertainment Credit Union

DCS members residing in California are welcome to join the First Entertainment Credit Union to receive the financial products, services and flexibility you need from people who understand the Entertainment Industry. As a member, you can enjoy features and benefits including:
• 11 Convenient Physical Locations in the greater L.A. area
• Nearly 30,000 Surcharge Free ATMs
• Home and Mobile Banking Services
• Convenient Checking
• Car Buying Assistance Program
• Real Estate Lending
• Business Checking and Savings
• Coogan Accounts (Minor Trust Account)
• Auto and Home Insurance Services
• Credit Cards
• Higher Yielding Savings
• Term Savings Certificates
• Money Market Savings Accounts
• Financial Education…and more.
For more information, please visit the First Entertainment website: https://www.firstent.org/
REMEMBER YOUR OTHER DCS BENEFITS and DISCOUNTS:
DCS members in good standing can also receive significant discounts on products and services from companies including: The Camera Division Design Lab - Raleigh Studios Screening Services - LensProToGo – Final Draft – Wooden Camera – SimpleDCP – Zacuto – IMDBpro – DECKHAND Camera Rental – Tek Media Electronic Repair – AbelCine – BB&S Lighting – Kit & Kaboodle Craft Service – Birns & Sawyer – NightSky Web Hosting – American Cinematheque – ProductionHub. And if your company would like to offer your fellow members meaningful discounts on products or services, let us know and we'll consider adding your offer to the page. Visit the DCS Member Discount page for all the details: www.digitalcinemasociety.org/member-discounts
CALENDAR OF UPCOMING INDUSTRY EVENTS
The large number of listings and hyperlinks in our full Calendar of Events causes many e-mail servers to reject our eNewsletter. So, for a complete calendar of upcoming industry event listings for both the U.S. and International, please visit the Events Calendar on the DCS Homepage at:  www.digitalcinemasociety.org/events-calendar
Follow DCS on Facebook, Twitter and Instagram. Don't forget that the Digital Cinema Society has a Facebook fan page. Check in for the latest news, event details and general DCS hubbub at: http://www.facebook.com/DigitalCinemaSociety
On Twitter, you can follow us @DCSCharlene
On Instagram at: digitalcinemasociety
Our Home, The Digital Cinema Society:
"It is not the strongest of the species that survive, nor the most intelligent, but the most responsive to change." Charles Darwin