DCS Update
Summer is here, a time between Cine Gear Expo and IBC, which is usually a chance for the team at DCS to take a little breather. However, with so much news coming out of Cine Gear, our greatly expanded activities there, and the resulting additional post, there's been no time to kick back. That said, we couldn't be more pleased with all the great interviews we captured with renowned Filmmakers and Technologists at Cine Gear. With over 16,000 production professionals attending the Expo on the Paramount backlot, it was easy to find interesting people and topics to cover.  In lieu of an essay this month, we have provided short descriptions of the interviews and separate links to pick out those of interest or watch all twenty as a series.
The coverage from our annual Cine Gear Expo Lens event is also now streaming: "Focus On Cine Lenses From the Buyer's POV".  We again gathered all the major Cine Lens manufacturers in one place at one time to see what is available in the market.  If you're thinking of investing in Cine Lenses, or just need to keep up with the dynamic market, then this program is for you.
Several manufacturers also chose Cine Gear Expo to make major product announcements.  Following are details on a line of Full Frame lenses from Zeiss, new battery technology from Anton/Bauer, as well as several innovations from Panavision.  Other Industry news includes ARRI offering an ARRIRAW option for their AMIRA and the election of leaders to the ASC; we're proud to say that most are also members of DCS, including returning President Kees Van Oostrum, ASC.
The rest of the summer will be busy for DCS with our own events and getting ready to make the trip this year to Europe for IBC. Before we do, however, we'll be organizing an L.A. area event on Indie Film Finance and Distribution, as well as our annual Camera Support and Accessories Expo, (dates and venues TBD).  But first, we've got a great event coming up on August 1st that was rescheduled from May.  We'll be doing a deep dive into Canon's new Full Frame C700 FF at Canon's new home in Burbank, CA.  If you haven't yet had a chance to check out Canon's latest digs, this could be a good opportunity while also checking out their flagship camera.
Industry News
New Innovations From Panavision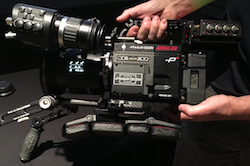 Although not yet all rentable products, Panavision used the occasion of Cine Gear Expo to preview some interesting new innovations they are working on. Besides a host of improvements to the Millennium DXL line, based on Cinematographer feedback, they introduced several new lines of large format lenses.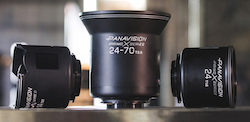 The new Primo X lenses, specially designed for use on drones and gimbals, are fully sealed, weather proof, and counterbalanced to be aerodynamic, and able to easily maintain a proper center of gravity. They come in two primes – 14mm (T3.1) and 24mm (T1.6) – and one 24-70mm zoom (T2.8), and will be available in 2019.
PanaSpeed is a large-format update of the classic Primo look. At T1.4, PanaSpeed will be the fastest large-format lens option available on the market, and will be available in Q3 2018.  Ultra Vista is a series of large-format anamorphic optics using a custom 1.6x squeeze.  Ultra Vistas will cover the full height of the 8K sensor in the DXL and present an ultra-widescreen 2.76:1 aspect ratio along with a classic elliptical bokeh and Panavision horizontal flare. They will be available in 2019, while the H series, a new set of spherical lenses, which tries to capture the feel of vintage glass with special coating for slightly elevated blacks for softer contrast, is available now.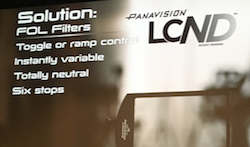 Perhaps most intriguing was a technology demo of a dynamically adjustable liquid crystal neutral density (LCND) filter. LCND instantly adjusts up to six individual stops with a single click or ramp. This is a significant departure from traditional approaches to front-of-lens filters, which require either carrying a set and manually swapping individual NDs, behind the lens on a filter wheel, or opposing polarized filters, which means you can't add a traditional polarizing effect. The LCND starts at 0.3 and goes through 0.6, 0.9, 1.2, 1.5, to 1.8, and will be available in 2019.
Zeiss introduces Supreme Primes – 13 new High-speed, Full-frame Cinema Lenses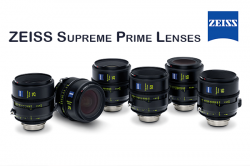 In advance of Cine Gear Expo, Zeiss has introduced a new family of high-speed lenses for Large Format Cinema production.  Known as the ZEISS Supreme Primes, the family consists of 13 lenses with fixed focal lengths between 15 and 200 millimeters. The majority of these lenses provide an extremely fast aperture of T1.5.   ZEISS Supreme Primes are designed to cover cinematic large format camera sensors and are compatible with all of the latest camera models, including the Sony Venice, ARRI Alexa LF, and RED Monstro. They provide a unique visual look due to their gentle sharpness, an aesthetic focus fall-off and rich bokeh.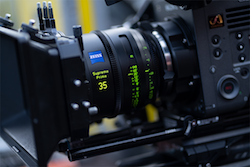 The ZEISS Supreme Primes, weighing only an average of 3.5 pounds, are significantly lighter than comparable lenses on the market and are quite compact. The lenses are equipped with the ZEISS eXtended Data metadata technology. This data provides frame by frame information on lens vignetting and distortion in addition to the standard lens metadata provided using Cooke's /i technology protocol. This feature can significantly speed up the entire film production's workflow especially when using visual effects. The lens properties can be removed so that computer generated effects imagery can be accurately applied to the captured imagery, then reapplied for continuity of image character and quality. Previously, all of the data had to be measured manually in order to be corrected in post-production.
The 25mm, 29mm, 35mm, 50mm, and 85mm lenses will be released in August 2018 and the 100mm will be ready in December. All six can be purchased together as a set for $108,000US, with the remainder of the 13 lens set coming in 2019, (15mm, 18mm, 21mm, 65mm, 135mm and 150mm focal lengths,) and the 200mm T2.1 arriving in 2020.
Anton/Bauer Introduces New High Capacity and Light Weight Dionic XT Battery Series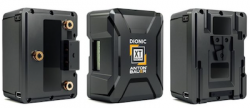 Anton/Bauer used the occasion of Cine Gear Expo to unveil their new battery technology, Dionic XT. Their new batteries are available in V-Mount and Gold Mount, 90 watt or 150 watt, with on-board diagnostics and extended life cycles, (estimated over 1,200.). These batteries feature a backlit display, P-Tap, USB power out and should maintain their performance even in cold environments. The XT technology is certified as transportable by air for location travel. They are also cross compatible with multiple brand chargers and their high capacity makes them ideal for applications such as portable lighting.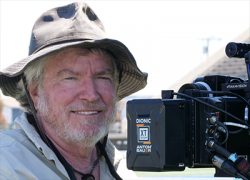 (FYI, DCS is currently evaluating the Dionic XTs in a variety of applications for an upcoming review. So far, we have been quite impressed.)  See our DCS Cine Gear interview with Andrew Butler of Anton/Bauer for more details on the new batteries as well as a good overview of the current state of battery technology for the motion picture industry including current rules and regulations for air travel with Lithium Ion:  https://vimeo.com/275441764
ARRI makes ARRIRAW available for AMIRA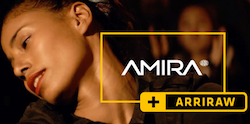 ARRI has announced that it is enabling owners and operators of AMIRA cameras to record in ARRIRAW.  The change will involve the installation of the new Software Update Package SUP 5.3, and the purchase of a license. It will give cinematographers the option to record ARRIRAW 2.8K up to 48fps.  RAW recording formats have the ability to retain more color response and greater exposure latitude as uncompressed and unencrypted sensor data providing flexibility in postproduction and archiving.
Recording ARRIRAW to CFast 2.0 cards in the AMIRA wraps the files in an MXF container. The format is called MXF/ARRIRAW; (internally it is the same ARRIRAW already known from the ALEXA cameras), and is the only format that retains the camera's native color response and exposure latitude.  The AMIRA is ARRI's most affordable camera, and adding RAW recording to its other host of features, like CFast 2.0 workflows and ergonomic design, will make for a camera that is suitable for a great variety of production types.  The upgrade license is currently available and is said to cost upwards of $3,500US.
Tom Fletcher and Gary Adcock's New 2018 Camera Comparison Chart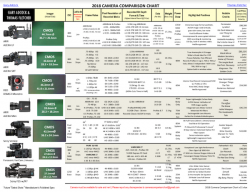 Gary Adcock and Tom Fletcher, (current and former Presidents of the Digital Cinema Society Midwest Chapter), have come out with an update to their now famous Camera Comparison Chart. The information has been gathered from numerous conversations with various cinematographers, colorists, colleagues and manufacturers. In fact, the new version is set up as a Google Doc that will live on-line so that it can be updated more quickly as feedback is received and technology advances.  The authors can be reached to report discrepancies by email to: cameracomparisonchart
The authors stress that this is subjective, rather than scientifically collected and tested data with the goal of sharing information with the industry in order to help filmmakers make educated decisions on cameras and formats. The update now includes the ARRI ALEXA LF, RED Monstro, Sony Venus, Canon C700 with Codex, and the Panasonic EVA-1, among many more. Details include estimated latitude, frame rates, resolution, weight, rental cost, as well as perceived pluses and minuses all summarized to two pages.  To view or for printable PDF:
https://drive.google.com/file/d/1a-3XaxQpjdbAciZCcDSL3aU8a0CVK7u9/view?ts=5b2cfd14
CW Sonderoptic becomes Leitz Cine Wetzlar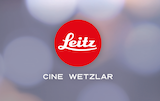 CW Sonderoptic, known by some as Leica, has announced a full relaunch under the new brand name Leitz Cine Wetzlar.  Until the late 80's, all Leica lenses carried the name 'Ernst Leitz Wetzlar' and nearly a decade ago, CW Sonderoptic was organized specifically to develop Cine lenses.  To deal with the expansion and ever-growing demand for quality optics, the cine lens team will move to its own factory at Leitz Park in Germany where Leitz Cine Wetzlar will carry on the legacy started by CW Sonderoptic.
Kees Van Oostrum re-elected as President of ASC – See his DCS interview from Cine Gear Expo 2018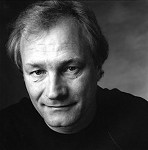 The board of governors of the American Society of Cinematographers has re-elected longtime DCS member, Kees van Oostrum to a third term as president of the organization.  Other Digital Cinema Society members re-elected as officers for the 2018-2019 term include Bill Bennett, John Simmons, and Cynthia Pusheck as vice presidents, David Darby as secretary; and Isidore Mankofsky as sergeant-at-arms.  The only officer who is not also a member of DCS is Treasurer, Levie Isaacks, ASC. The Amercian Society of Cinematographers, now in its 99th year, has 385-plus active members and over 400 associate members from ancillary segments of the industry.
Van Oostrum is also the chairman and originator of the ASC Master Classes, which take place several times a year. He has more than 80 credits as Director of Photography including Gettysburg and Gods and Generals, with Emmy nominations for his work on the telefilms Miss Rose White and Return to Lonesome Dove.  See James Mathers' interview with Kees Van Oostrum, ASC, among many other notable Filmmakers and Technologists as part of our DCS coverage of Cine Gear Expo 2018; (links follow in this newsletter).
Upcoming DCS Event
Experience the Canon C700 FF with DCS – Rescheduled to August 1st at Canon Burbank
Join the Digital Cinema Society at Canon Burbank on the evening of Wednesday, August 1st for a chance to get up close and personal with Canon's latest Cinema Camera, the large format C700 FF.  There will be both presentations and hands-on time with the new camera.  As a group, we will also record shots with various lighting scenarios, then immediately process the footage and see it projected in Canon's 4K DI suite.
Where:
Canon Burbank
3400 W. Olive Ave. #250
Burbank, CA  91505
When:
Wednesday evening, August 1, 2018
6:30PM – Doors open for check in, refreshments, and networking
7:00PM – Presentation
8:00PM – Shoot and Screen with the C700FF
9:30PM – Tail Lights
You do not need to be a Digital Cinema Society member to attend, but RSVPs are mandatory.  Please RSVP with "Canon C700FF" in subject line to:
Now Streaming DCS@Cine Gear Expo – Annual Lens Panel "Focus on Cine Lenses from the Buyer's POV"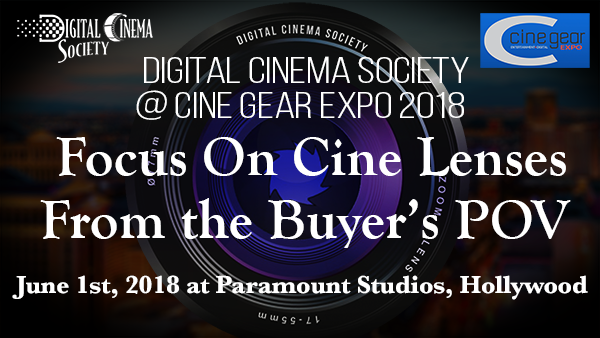 The coverage of our annual DCS Cine Gear Expo Lens panel is available to view online: Focus on Cine Lenses From the Buyer's POV.  Cine Lenses have historically been a safe investment, but with sensor sizes growing, and so many new lenses coming to market, the decision making process has become far more complicated. To help everyone stay abreast of what's new in Cine Lenses, James Mathers moderates a panel of all the major Cine Lens manufacturers in one place at one time. In alphabetical order of company name, the panel includes:
- Angénieux – Jean-Marc Bouchut
– ARRI – Thorsten Meywald
– Cooke Optics – Les Zellan
– CW Sonderoptic/Leica (now Leitz Cine Wetzlar) - Seth Emmons
– Fujinon – Stosh Durbacz
– P+S Technik – Anna Piffl
– Schneider Optics – Kim Hogue
– Sigma – Brian Linhoff
– Tokina – Ryan Avery
– Zeiss – Snehal Patel
Special thanks for our volunteer crew:
-Camera Operators: Cameron Cannon and Mitch Gulbin
-Set up and Lighting: Enrique Del Rio
-Sound Recording: Christopher Scott Knell
View it now on Vimeo at:  https://vimeo.com/273893579
DCS@Cine Gear Expo 2018 – Streaming Interviews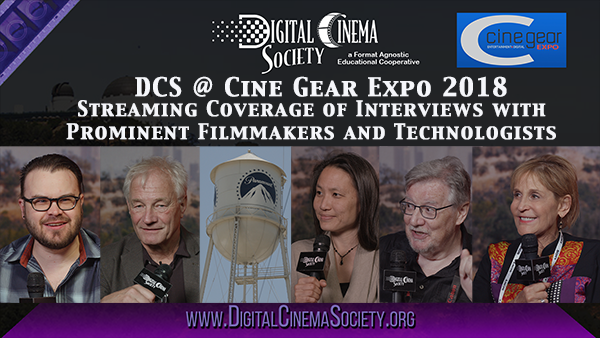 Taking advantage of Cine Gear Expo's ability to draw industry professionals from around the world to the back lot at Paramount Studios, the Digital Cinema Society conducted in-depth interviews with prominent Filmmakers and Technologists.  DCS President James Mathers was able to gather a wide variety of viewpoints on current and future technology.  Interviewees include:
ASC Directors of Photography Kees Van Oostrum, Nancy Schreiber, and Gary Baum, as well as Geoff Boyle of CML and Annie Chang of ACES.  Vendor interviews include Michael Cioni of Panavision/Light Iron, Nils De Montgrand of DMG Lumiére, Christophe Casenave of Zeiss, Brian Gaffney of Codex, Andrew Butler of Anton/Bauer, Jacques Delacoux of Transvideo/Aaton Digital, Ramy Katrib of DigitalFilm Tree, Tom Fletcher of Fujinon, Ryan Smith of K5600, Chuck Edwards of Cineo Lighting, Illya Friedman of Hot Rod Cameras, David Pringle of Luminys, Ryan Schorman of Wooden Camera, and Karl Kresser of Cine Gear Expo.
Following, are brief descriptions of the topics covered and links to the individual interviews.  Special thanks for our volunteer crew, which included Director of Photography Cameron Cannon, Camera Operator Mitch Gulbin, and Christopher Scott Knell, who handled Sound and Post Workflows.  We also need to thank Rosco for providing the SoftDrop background, BB&S and The Light Bridge for lighting assistance and Cine Gear Expo for providing the venue.  These interviews were shot on Panasonic VariCams with Fujinon Cabrio lenses with power provided by Anton/Bauer's new Dionic XT batteries, which DCS is currently evaluating for an upcoming review.
Use this link to view all the interviews as a series:
https://vimeopro.com/digitalcinemasociety/dcs-at-cine-gear-expo-2018-streaming-interviews
Use the following links below the titles to view individual interviews:
DCS@Cine Gear Expo 2018 – Kees van Oostrum, ASC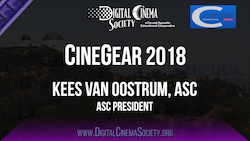 James Mathers interviews Cinematographer Kees van Oostrum, ASC, who has recently been elected to a third consecutive term as President of the ASC.  He has more than 80 credits as DP including Gettysburg and Gods and Generals, with Emmy nominations for his work on the telefilms Miss Rose White and Return to Lonesome Dove.
DCS@Cine Gear Expo 2018 – Nancy Schreiber, ASC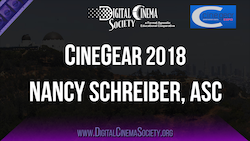 James Mathers interviews multi-award winning Director of Photography Nancy Schreiber, ASC about her career and the challenges of being a pioneering woman in the field.  She also gives advice to aspiring women Cinematographers.
DCS@Cine Gear Expo 2018 – GARY BAUM, ASC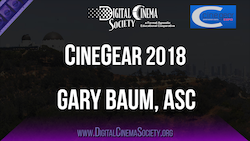 James Mathers interviews Emmy Winning Cinematographer Gary Baum, ACS about his career and the challenges of shooting multi-camera television and how he tries to give his digital productions a film-look.
DCS@Cine Gear Expo 2018 – Michael Cioni of Panavision/Light Iron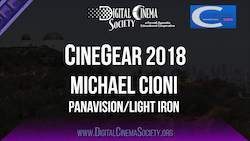 James Mathers interviews Michael Cioni of Panavision and Light Iron regarding his views on current and future motion picture technology including Large Format Cinematography and Artificial Intelligence in production and post.
DCS@Cine Gear Expo 2018 – Geoff Boyle, Founder of CML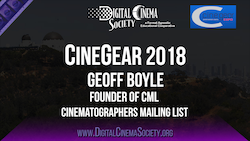 James Mathers interviews Geoff Boyle, a Cinematographer and the Founder of CML, the Cinematographers Mailing List, at Cine Gear Expo 2018.  Geoff gives a brief history of CML and also describes why he favors ACES color management workflows.
DCS@Cine Gear Expo – Nils de Montgrand for DMG Lumiére, a Rosco company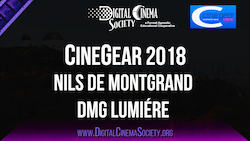 James Mathers sits down with Nils de Montgrand, a Cofounder, along with his two brothers, of the lighting manufacturer, DMG Lumiére. Nils gives some history of the company, explains how they were recently acquired by Rosco, and presents their latest color control technology, "Mix."  Note that all of our Cine Gear Expo interviews were shot in front of a SoftDrop background provided by Rosco.
DCS@Cine Gear Expo 2018 – Zeiss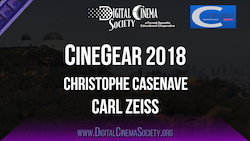 James Mathers interviews Christophe Casenave of the Carl Zeiss company at Cine Gear Expo 2018. Casenave gives a brief history of the company as well as some of the design philosophy behind the creation of their Cinema lenses. He also gives some details of the new Supreme series lenses designed for Cinematic large-format coverage and high speed in a small, lightweight lens.
DCS@Cine Gear Expo 2018 – ACES with Annie Chang
James Mathers interviews Annie Chang, the VP, Creative Technologies at Universal Pictures and the Chair of the ACES project for the Science and Technology Council of the Academy of Motion Picture Arts and Sciences.  Annie gives an overview of ACES and their efforts to unify the Industry with regard to color management workflows.
DCS@Cine Gear Expo 2018 – Brian Gaffney of CODEX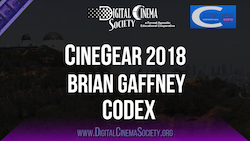 James Mathers sits down with Brian Gaffney of Codex to hear about his career pioneering color management workflows leading up to his current activities at Codex.
DCS@ Cine Gear Expo 2018 – Andrew Butler for Anton/Bauer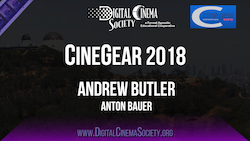 Andrew Butler of Anton/Bauer gives James Mathers an overview of the current state of battery technology for the motion picture industry including current rules and regulations for air travel with Lithium Ion.  He also introduces Anton/Bauer's new high capacity Dionic XT, available in V-Mount and Gold Mount, 90 watt or 150 watt, with on-board diagnostics and extended life cycles, (estimated over 1,200.)
DCS@Cine Gear Expo 2018 -  Jacques Delacoux – TRANSVIDEO/AATON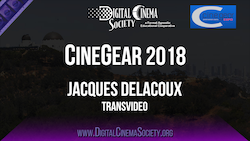 James Mathers interviews Jacques Delacoux, Founder of TRANSVIDEO and current Owner of AATON.  He gives the interesting history of his companies and answers the question: What ever happened to the promising AATON Penelope Delta Digital Cinema camera?
DCS@Cine Gear Expo 2018 – Ramy Katrib of DigitalFilm Tree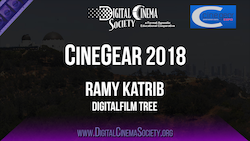 James Mathers interviews electronic postproduction pioneer, Ramy Katrib of DigitalFilm Tree about the concept of "Camera-to-Cloud" workflows and his new company GeoPost.
DCS@Cine Gear Expo 2018 – Tom Fletcher, Fujifilm Optical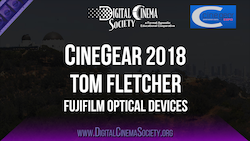 James Mathers interviews Fujinon's Tom Fletcher as he describes their current and future lines of Cine Zoom lenses as well as how parent company, Fujifilm successfully navigated their transition past manufacturing motion picture film.
DCS@Cine Gear Expo 2018 – Chuck Edwards for Cineo Lighting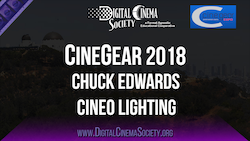 James Mathers interviews Chuck Edwards of Cineo Lighting, who discusses current and future LED cinema lighting technology and the science behind Cineo's high color fidelity and their collaboration with NBC Universal to create the LightBlade.
DCS@Cine Gear Expo 2018 – Illya Friedman – Hot Rod Cameras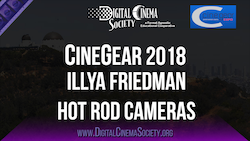 James Mathers interviews Hot Rod Cameras' Founder, Illya Friedman.  He gives a little history of the company and his views on current camera and lens technology including Large Format.
DCS@Cine Gear Expo 2018 – David Pringle of LUMINYS, Lighting Strikes, and SoftSun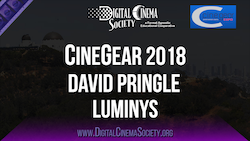 James Mathers interviews the Founder of Luminys and Lightning Strikes, David Pringle.  David gives some background on his career and the technology he has developed and shows off his new 200K SoftSun.
DCS@Cine Gear Expo 2018 – Ryan Schorman of Wooden Camera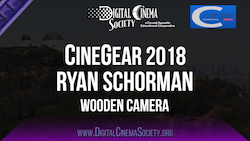 James Mathers interviews Wooden Camera's Founder Ryan Schorman who gives a brief history of his company and presents their latest product.
DCS@Cine Gear Expo 2018 – Ryan Smith – K 5600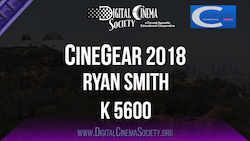 James Mathers interviews President and new Owner of renowned lighting manufacturer, K 5600, Ryan Smith.  Ryan discusses the Industry's continued need for HMI lighting, K 5600′s core specialty, as well as their move into tungsten and LED technology.  He also shows off some recent product innovations.
DCS@CINE GEAR Expo 2018 – Karl Kresser, President and Cofounder of Cine Gear Expo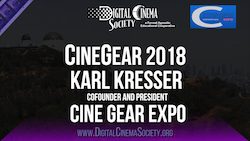 James Mathers interviews Karl Kresser, the President and Cofounder, (along with Juliane Grosso), of Cine Gear Expo.  He gives a little history of Cine Gear Expo, now in its 22nd year, and tells about an upcoming expansion with an expo in Atlanta.
All comments are welcome; please write or leave a comment on our DCS Facebook page: http://www.facebook.com/DigitalCinemaSociety
Spotlight on DCS Lifetime Members

Douglas E Carnevale is the Principal Lighting Designer at PRODWORKS LLC serving Entertainment, Broadcast, Cable, Corporate, and Industrial markets from a home base in Somerset, New Jersey.  Doug has more than 30 years experience as a Lighting Designer and a DP.  He has received 9 Emmy nominations for Outstanding Lighting and worked on many award-winning television projects for all the major broadcast and cable networks as well as a variety of corporate clients.  Doug has also shot many music videos for artists such as The Rolling Stones, Hall & Oates, Yoko Ono, Jazzy Jeff, Whodini, and Sean Lennon.  His feature film credits include scenes for Sidney Lumet's Power and the critically acclaimed Medium Straight starring award winning actor Richard Schiff.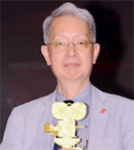 Congratulations to Lifetime DCS member Tony Ngai who was recently honored by the HKSC, (Hong Kong Society of Cinematographers) at their 30th anniversary event with their "Professional achievement award".  Tony Ngai joined Salon Films (HK) Ltd in 1969 and currently serves as their General Manager of Production & Technical Service.  Tony is also active in the SMPTE and currently serves as the Chair of the group's Hong Kong Section as well as being an associate member of American Society of Cinematographers.
Renewing Your DCS Membership
We count on your dues and contributions to continue our mission and maintain our services to members, and as previously mentioned, dues are set to go up at the beginning of the year. So, if your membership has expired, or will soon, please take a few minutes to renew your membership at the $50 annual level or $300.00 for a Lifetime Membership. You can follow the convenient PayPal links, (using any major credit card, and you don't need to be signed up for PayPal,) or you can send payment to our offices at P.O. Box 1973 Studio City, CA 91614, USA. PayPal Annual Renewal Link – $50.00US: https://paypal.me/digitalcinemasociety/50 Paypal Lifetime Renewal Link – $300.00US: https://paypal.me/digitalcinemasociety/300 Checks should be sent to: The Digital Cinema Society, P.O. Box 1973, Studio City, CA 91614, USA. Check payments must be in US dollars. Please note that if you are a student, or otherwise cannot afford the dues, just send a note and we will be happy to extend your membership. ** Student and Complimentary memberships do not include a membership card.
Welcome to New Friend of DCS: GEN Energy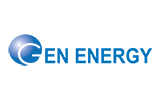 GEN Energy is a manufacturer of professional Cine batteries, featuring polycarbonate shock-proof material, and is one of the longest lasting batteries on the market.  GEN Energy batteries passed the US military drop-test which includes being dropped 10 times from over a height of 2 meters, and feature short-proof technology to prevent short circuits.  With headquarters in Korea, GEN Energy Cine batteries are distributed in the US by Kamera Tools and are available at all major Cine equipment retailers.  More product information can be found at:  http://www.genenergy.co.kr
Thank You To Our Sponsors
As always, we want to send out a big thanks to all "Friends of DCS," whose support makes it possible for us to continue the DCS mission of educating the entertainment industry about the advancements in digital and cine technology: AATON Digital – AbelCine – ACES – Acromove – Adobe – Adorama – Advantage Video Systems – AJA – Angénieux – Anton/Bauer – ARRI – Avid – BB&S Lighting – Band Pro – Benro – Bertone Visuals – Birns & Sawyer – Blackmagic Design – Canon – Cartoni – Cineo Lighting – Cinnafilm – Codex – Cooke Optics – Dadco/Filmlight – dedolight – DigitalFilm Tree –  FLUOTEC – FootageBank – Fujinon - GEN Energy – Hot Rod Cameras – J.L. Fisher – K 5600 – Kino Flo – KitSplit – Leitz Cine Wetzlar - Lenovo – Light & Motion – LiteGear – Litepanels – Luminys – MacSales – MACCAM  - Manios Digital – Mole-Richardson – Nila – OConnor – OWC – Panasonic – Panasonic Lumix – Panavision – P+S Technik – Redrock Micro – Rosco – Sachtler – Schneider Optics – SIGMA – SIM Digital – SmallHD – Sony – Tenba – Teradek – Terra LED – The Rag Place – The Studio-B&H – Tiffen – Tokina Cinema – TRANSVIDEO – Vision Research – Wooden Camera – Zeiss – ZGC – Zylight
Remember Your DCS Member Discounts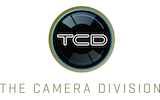 This month we again feature a special discount on all custom work from The Camera Division Design Lab.  DCS members will receive 20% off Custom laser-cut case foam, CNC work, or 3D-printed prototypes for your own ideas. They can work to your specs on anything from a camera cage to a cup holder for your cart.
DCS members in good standing can also receive significant discounts on products and services from companies including: Raleigh Studios Screening Services - BMW/Mini – LensProToGo – Final Draft – Wooden Camera – SimpleDCP – Zacuto – IMDBpro – Manios Digital – DECKHAND Camera Rental – Tek Media Electronic Repair – AbelCine – BB&S Lighting – Kit & Kaboodle Craft Service – Birns & Sawyer – NightSky Web Hosting – American Cinematheque – ProductionHub – Advantage Video Systems. And if your company would like to offer your fellow members meaningful discounts on products or services let us know and we'll consider adding your offer to the page. Visit the DCS Member Discount page for all the details: www.digitalcinemasociety.org/member-discounts
Calendar of Upcoming Industry Events
The large number of listings and hyperlinks in our full Calendar of Events causes many e-mail servers to reject our eNewsletter. So, for a complete calendar of upcoming industry event listings for both the U.S. and International, please visit the Events Calendar on the DCS Homepage at:  www.digitalcinemasociety.org/events-calendar
Follow DCS on Facebook and Twitter
Don't forget that the Digital Cinema Society has a Facebook fan page. Check in for the latest news, event details and general DCS hubbub at: http://www.facebook.com/DigitalCinemaSociety On Twitter, you can follow us @DCSCharlene
DCS Privacy Policy
At Digital Cinema Society, we've always taken great care to protect your personal data. In that spirit, we wanted to let you know that we've updated our 
Privacy Policy
 to provide greater clarification around your use of our site.  You can review our Privacy Policy any time at: 
www.digitalcinemasociety.org/dcs-privacy-policy
  Also please note: You can withdraw your permission to receive our emails at any time by using the unsubscribe link found at the bottom of every email you receive from us and if you would like to be removed from the Digital Cinema Society database completely, please 
email:
Charlene
Our Home, The Digital Cinema Society:
www.digitalcinemasociety.org "It is not the strongest of the species that survive, nor the most intelligent, but the most responsive to change." Charles Darwin