DCS Update
DCS is wrapping up a busy summer with a trip to Europe.  James Mathers will represent the Digital Cinema Society at IBC in Amsterdam, with prior stops in Ireland, Great Britain, and Germany.  Factory tours are scheduled with Vitec in the London area and both Zeiss and ARRI in the Munich region.  See below for more details on a meeting with the Irish Society of Cinematographers and a DCS member social at IBC, (details follow).
As soon as we return, we've got a long anticipated event covering Indie Finance and Distribution at Hot Rod Cameras on September 26th.  Exact details are still to be confirmed, but we'll be filling out our fall event schedule with our annual Camera Support and Accessory Expo at Canon Burbank, followed by our annual Post Expo at Raleigh Studios.  We've also initiated a new effort to be known as Digital Cinema Shorts, where the DCS team will endeavor to help selected filmmakers to create quality short form content.
For his essay this month, James Mathers gives a brief history of DCS and shares some insights gleaned from our recent Member Survey.  Check out the on-line DCS Calendar of Events for upcoming activities happening in October including the Adobe Max and SMPTE conferences, plus the American Film Market all taking place in L.A., the NAB-NY in New York, and a new Cine Gear Expo in Atlanta.  We can't list them all here, but there are also many other events, road shows, and training happening all over the world.  Again, see the DCS Calendar of events for more details.
Upcoming DCS Events
DCS Event: Indie Finance & Distribution – 9-26-18 at Hot Rod Cameras, Burbank, CA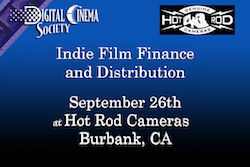 Join the Digital Cinema Society for an in-depth exploration of Indie Film Finance and Distribution.  The event will be hosted by Hot Rod Cameras at their headquarters in Burbank, CA on the evening of Wednesday, September 26, 2018.  A panel of experts will examine the elements necessary to produce a successful independent feature.  Invited panelists so far include James C. Walker, a former Indie Producer himself, and now President of the film distribution company, Lighting Entertainment, Simon Pulman, an entertainment attorney with Cowan, DeBaets, Abrahams & Sheppard LLP, and Adrian Ward from the Film Finance Division at Banc of California, with more to be added.  They will give a current snapshot of the marketplace and offer guidance to those aspiring to finance, produce, and successfully distribute their own motion pictures in today's somewhat challenging business environment.
When:  September 26, 2018 – Doors open at 6:30PM for refreshments and networking with the program happening from 7:00PM – 9:00PM.
Where: Hot Rod Cameras at 722 North Mariposa St. Burbank CA 91506
All are welcome, but confirmed RSVPs are mandatory.  Send an email with your contact details and "Indie Film" in the subject heading to:   RSVPtoDCS
Connect with DCS In Europe – DCS Member Social at IBC and Irish Society of Cinematographers Meetup in Dublin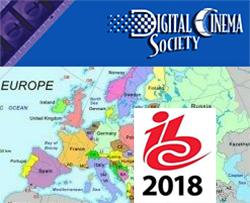 Brewskis and Nosh after IBC on Saturday Night the 15th of September.  DCS members attending IBC are encouraged to stop by the bar at Motel-One after the second day of the IBC Expo for a casual get together with the first round on us. We'll be there from 18:30 to 20:00. Motel-One is a short two block walk from the RAI at Europaboulevard 23, 1079 PC Amsterdam. (Google map directions from the RAI auditorium: https://goo.gl/maps/eoEoJVeXPTE2 ) Snacks and the first 150 beers, wine, or sodas are courtesy of our sponsors:

James Mathers Meets with the Irish Society of Cinematographers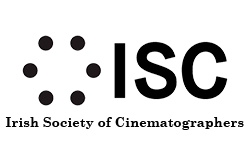 On Saturday, 1 September 2018, DCS Founder James Mathers will be the guest of the Irish Society of Cinematographers for a gathering and tech discussion happening at the Royal Marine Hotel in Dun Laoghaire Ireland.  If you're in the Dublin area and interested in attending, please email us or John Leahy, ISC for details at admin"> admin 
DCS Celebrates the Creation of Digital Cinema Shorts
DCS recently celebrated the launch of our latest effort to be known as Digital Cinema Shorts with a special screening for cast, crew, and interested members at Raleigh Studios in LA.  The two films could not have been more different, but were both very well received.  Union, directed by Micky Levy, is a dark, but sometimes comedic look at a couple coming to terms after being abducted and locked in the trunk of a car.  Clark, directed by Nelson Torres and produced by his sister, Christine Torres, is a fun take on the Superman legend.  It asks what would happen if the young Superman had more in common with Dennis the Menace than the superhero he would grow to become.
About the only thing these movies had in common was that they were shot by James Mathers using much the same equipment package, Panasonic VariCam, Fujinon lenses, and a variety of new LED technology, some of which was on loan to DCS for testing and evaluation.
A short movie can be a calling card for an up-and-coming filmmaker, serve as a pilot or trailer for a longer project, or perhaps even be monetized to generate income.  Audience attention spans may be shrinking and perhaps longer form entertainment is not as well suited to view on mobile devices.  Whatever the reason, some very smart people are starting to pay attention to shorts.  Jeffrey Katzenberg, who enjoyed great success with Dreamworks, recently hired Meg Whitman, who helped build eBay and formerly ran Hewlett Packard, to start NewTV, a $1 Billion venture to produce short-form content.
However, even a short film can be challenging to produce on a professional level.  Digital Cinema Shorts is a program whereby DCS will selectively help Indie filmmakers pull together the elements to create quality short form content.  The idea is that DCS Founder, James Mathers, in cooperation with his crew and DCS, will selectively offer to make their combined resources available at very modest costs to filmmakers trying to create quality content.  This could include high-end camera and lens packages, extensive G&E, and very experienced crew, plus production insurance, which always seems to present a major challenge to short form producers.  Let's make some movies!
New DCS Streaming Content: Canon C700 FF with Codex Workflow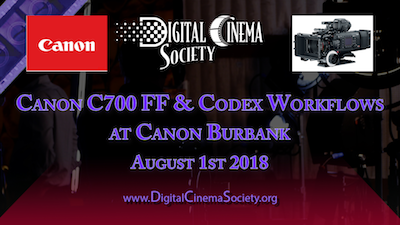 In this documentary coverage of our August 1st event at Canon Burbank, we examine the C700 family of cameras, the C700 FF for Full Frame, C700 GS for Global Shutter and the standard C700 with the Super 35 sensor. We shot and screened tests comparing the various special features of the cameras. We also got an in-depth presentation on Codex workflow, as well as a good look at Canon's new home in Burbank, CA.
Presenting for Canon are Michael Bravin and Tim Smith with Brian Gaffney and Michael Booth representing Codex. Our DCS crew includes Producer, David Mahlmann, Cinematographer Cameron Cannon, Sound Recordist Christopher Scott Knell, and On-Camera Lighting Model, Meghan Mathers. James Mathers served as Host and handled all post production.  Special thanks to Canon's Amy Kawadler, Charles Zablan, and Hannah Berg.
To View on Vimeo: https://vimeo.com/283346562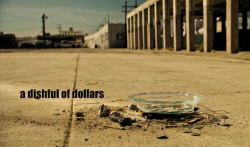 Viewers may also be interested in seeing a short film lensed by Nancy Schreiber, ASC with the C700 FF that was referenced in our coverage:  https://vimeo.com/265422184
Industry News
Sony Teams with Netflix to bring TVs with Mastering Quality Calibrated Mode to Consumers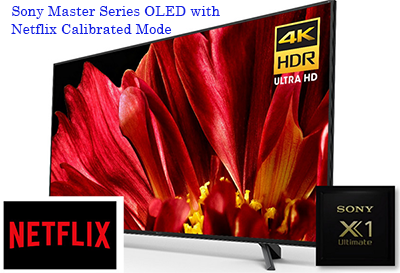 In an effort to give consumers a viewing experience as intended by the Filmmaker, Sony Electronics has announced "Netflix Calibrated Mode." Available on the new Sony MASTER Series A9F OLED and Z9F LCD TVs, the new mode is said to ensure cinematic fidelity while viewing content on Netflix. The technology was developed by Sony picture quality engineers, in collaboration with Netflix color scientists, so that with one simple menu setting, Netflix members can enjoy studio-quality picture mastering in their living room. The MASTER Series A9F and Z9F with Netflix Calibrated Mode will be available across North America in the fall of 2018, with pricing and retail availability to be announced later.
Nikon Announces New Z Series Full-Frame Mirrorless Cameras and Lenses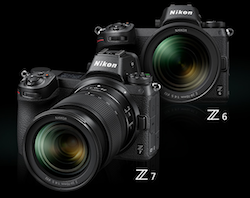 Nikon has announced the long rumored development of two new (Nikon FX-format) mirrorless cameras, the Z6 and Z7. The Z7 is the new flagship, and improves on the popular Nikon D850. The mirrorless design allows for a more compact body size that is much smaller and lighter than its SLR predecessor.  It also improves on autofocus and video quality with a UHD, 30p 14-bit N-LOG internal recording mode for more flexibility in post and a 10-bit HDMI video output. By comparison, the Z6, has a lower megapixel count (24 versus 45) but also improves burst speed and may even be superior in terms of video performance. Both models make the switch to an electronic viewfinder, with an OLED eyepiece that is 1280×960. The rear LCD is also OLED, as is a little up-facing status display on the top plate. Both also have in-body stabilization.  Availability is expected by the end of September.  Prices:
Z7 (Body only) $3,396.95    Z6 (Body only) $1,996.95
New NIKKOR lenses have also been designed around the new larger Z Mount. NIKKOR Z lenses boast improved image quality and near-silent operation in a smaller, lighter package. An F-Mount adapter has also been developed to enable the use of a wide variety of legacy F-Mount NIKKOR lenses with the new cameras.
One DP's Perspective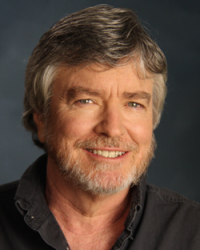 by James Mathers
Cinematographer and Founder of the Digital Cinema Society
"We Are DCS – A Brief History and Current Profile of the Group via the DCS Member Survey"
Now well into our 15th year of existence, let's briefly reflect on our history before we assess the present.  Our recently completed Member Survey gives us a snapshot of the group, which now has an international membership of roughly 7,000, to determine how they are viewing current trends, and adapting to these changes.
Let's first look back at where we started, and the technology that we have made it our mission to keep up with.  DCS was founded in 2003, a time before Facebook, iPhones, HDSLR or RED cameras, and not long after the inception of digital motion picture production. The organization was an outgrowth of a documentary entitled Digital Cinema Solutions, which featured interviews and clips from Filmmakers who were testing the digital waters at that time, as well as Tech experts from Production, Post, Exhibition and Distribution.  Filmmakers included industry luminaries such as James Cameron, George Lucas, Stephen Soderbergh, Robert Rodriguez, and Allen Daviau, ASC.
At the turn of the 21st Century, George Lucas, with the cooperation of Sony and Panavision, had adapted a handheld ENG style HD television camera to shoot another installment of his Star Wars franchise, at that point, the most successful in the history of motion pictures.  Lucas then introduced Robert Rodriguez to the technology, which he used on his own franchise, Spy Kids.  Meanwhile James Cameron had shot Titanic on 35mm film, but was using the same type of HD camera as his colleagues to shoot his documentaries such as Ghost of the Abyss, even going so far as to then blow them up to IMAX film format for exhibition.
Exhibition was still almost entirely on film and the Digital Cinema Initiative, or "DCI," was busy drafting standards for the widespread implementation of Digital Cinema.  Stephen Soderbergh was experimenting using a standard definition Canon DV camera intercut with 35mm for his feature, Full Frontal.  Notable ASC DPs were also starting to try DV; John Bailey, ASC, (now President of the Motion Picture Academy), shot the feature Celebration and our own Allen Daviau, ASC shot the beautiful short, Sweet, which we featured in our DCS documentary.  He demonstrated that quality results were possible even with a Prosumer video camera if the proper care and filmmaking sensibilities were applied to the project.
Meanwhile Indie Filmmakers were looking to get their movies in the can by any means necessary, and shooting on digital allowed them to avoid the relatively higher cost of film stock and processing.  They still had to transfer their movies to film if they hoped to get any kind of meaningful distribution, which would pretty much negate those savings, but that too was about to change.
The Studios, eager to get away from the expense of producing and shipping film prints, encouraged Exhibitors to make the transition to digital projection by helping to finance the purchase of new equipment via a device known as a "Virtual Print Fee."  The so-called democratization of the motion picture business was starting to take place.
Another turning point came when there was a threatened Actors strike, and seemingly overnight, almost all television drama started acquiring digitally.  TV pilot Producers opted to shoot digital, which allowed them to sign with AFTRA, who had already settled on a contract, instead of SAG who were still trying to negotiate, thus avoiding the threat of their actors walking out on strike.  The two unions later merged nulling this tactic, but the die was cast, and there was no turning back from prime time television's digital transition.
The continuing improvement of Digital Cinema cameras and the blurring of the lines between television and theatrical production also caused more high-end features to acquire digitally.  And it certainly didn't hurt when the digitally acquired Avatar became the most profitable motion picture of all time; (and it still is).  The tide has turned in the relatively brief life of DCS, and now I think it is safe to say that the majority of even major motion pictures, and virtually all of television, is acquired digitally.
Enter Netflix, who pioneered the idea of offering subscription based quality streaming content to the home.  Their emphasis on visual quality spurred them to create certain base line tech standards for content they would run on their platform.  As they have become a bigger and bigger force, they effectively dictate those standards to the rest of the industry which has encouraged the adoption of higher resolutions and HDR.
It was never our aim to encourage or advocate for the transition to digital, but now that it has occurred, we have made it our mission to help our members keep up with the ever-increasing pace of technological change.  We also realize that to help our members thrive, we need to nurture their understanding of the business side of the industry.  So where are we at now and how do DCS members feel about current technology?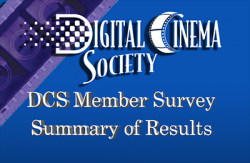 As we suspected, our survey confirmed that the vast majority of our members consider themselves Filmmakers; some 68% identify as Cinematography professionals, as well as a healthy percentage of Producers, Directors, and Post Production professionals.  A large number are also members of other prominent industry organizations such as the ASC, ACE, VES, and the Motion Picture Academy.  Their main area of concentration is in the Indie feature film category, (57%,) followed closely by Television, (52%, which includes Broadcast, Pay Cable, and Streaming Services like Netflix and Amazon).
Most members own or regularly use a Digital Cinema camera with at least a Super35mm size sensor and PL mount lenses.  Apple is the computing platform and mobile hardware of choice, and the majority of members are still using spinning hard drives for their media storage.
Besides the latest technology trends, major areas of concern for DCS members are more business related.  These include shrinking budgets and schedules, as well as financial compensation for Independents.  They are also quite concerned about the consolidation of media conglomerates squeezing out the Independents, as well as content piracy. One technological concern, however, is a lack of industry standards.
We also asked members what they thought about DCS, and we were extremely gratified to receive so much love and encouragement in their comments.   They particularly enjoy our eNewsletters, events, and streaming content.  There were well over one hundred who took the time to write out testimonials.  Here are a couple of excerpts:
"A invaluable organization, allowing creatives to continue their digital cinema education, get advice prior to purchases and keep up with the constantly changing landscape." Vincent Spano, Actor/Filmmaker
"The Lighting Expo was simply great and the streaming videos extremely useful.  The level of professional work made by DCS ON BEHALF OF ITS MEMBERS is unsurpassed by any other organization we work with."  Jose Noriega, FLUOTEC
"I really trust equipment reviews and tests from such an independent and very well regarded source…My #1 when making high end gear purchases." Hal Sloane, Cinematographer
"… An amazing undertaking and achievement!" Richard Crudo, ASC
You can download the complete aggregate results here:
www.digitalcinemasociety.org/downloads/DigitalCinemaSocietyMemberSurveyResults.pdf
(Please note that in the question about what DCS benefits members value most, #1 = Very Valuable, so the shorter bar graphs are actually the most popular, which might be a little counterintuitive.)
All comments are welcome; please write or leave a comment on our DCS Facebook page: http://www.facebook.com/DigitalCinemaSociety
Survey Raffle Winner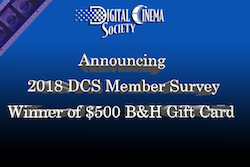 We want to thank all our members who took the time to take the survey.  It is an invaluable tool to help us serve by understanding the needs of our members.  We especially want to thank B&H Photo, who were so kind to donate a $500 gift card to raffle off among the survey respondents.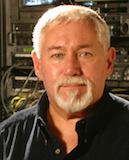 We also want to congratulate the winner of the raffle, John W. Coleman, Founder of Twin Oaks Communications based in Orange County, CA.  John is a media consultant and production expert who sits on the boards of the Media Communication Association International (both the national organization and the Orange County chapter) and the Media Alliance of Orange County.  He has already cashed in the gift card, which he reported was quite simple on the B&H website, to purchase a new LED location lighting kit.
Renewing Your DCS Membership
We count on your dues and contributions to continue our mission and maintain our services to members, and as previously mentioned, dues are set to go up at the beginning of the year. So, if your membership has expired, or will soon, please take a few minutes to renew your membership at the $50 annual level or $300.00 for a Lifetime Membership. You can follow the convenient PayPal links, (using any major credit card, and you don't need to be signed up for PayPal,) or you can send payment to our offices at P.O. Box 1973 Studio City, CA 91614, USA. PayPal Annual Renewal Link – $50.00US: https://paypal.me/digitalcinemasociety/50 Paypal Lifetime Renewal Link – $300.00US: https://paypal.me/digitalcinemasociety/300 Checks should be sent to: The Digital Cinema Society, P.O. Box 1973, Studio City, CA 91614, USA. Check payments must be in US dollars. Please note that if you are a student, or otherwise cannot afford the dues, just send a note and we will be happy to extend your membership. ** Student and Complimentary memberships do not include a membership card.
Thank You To Our Sponsors
As always, we want to send out a big thanks to all "Friends of DCS," whose support makes it possible for us to continue the DCS mission of educating the entertainment industry about the advancements in digital and cine technology: AATON Digital – AbelCine – ACES – Acromove – Adobe – Adorama – Advantage Video Systems – AJA – Angénieux – Anton/Bauer – ARRI – Avid – BB&S Lighting – Band Pro – Benro – Bertone Visuals – Birns & Sawyer – Blackmagic Design – Canon – Cartoni – Cineo Lighting – Cinnafilm – Codex – Cooke Optics – Dadco/Filmlight – dedolight – DigitalFilm Tree –  FLUOTEC – FootageBank – Fujinon - GEN Energy – Hot Rod Cameras – J.L. Fisher – K 5600 – Kino Flo – KitSplit – Leitz Cine Wetzlar - Lenovo – Light & Motion – LiteGear – Litepanels – Luminys – MacSales – MACCAM  - Manios Digital – Mole-Richardson – Nila – OConnor – OWC – Panasonic – Panasonic Lumix – Panavision – P+S Technik – Redrock Micro – Rosco – Sachtler – Schneider Optics – SIGMA – SIM Digital – SmallHD – Sony – Tenba – Teradek – Terra LED – The Rag Place – The Studio-B&H – Tiffen – Tokina Cinema – TRANSVIDEO – Vision Research – Wooden Camera – Zeiss – ZGC – Zylight
Remember Your DCS Member Discounts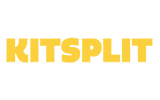 We're featuring a new discount this month from our friends at KitSplit who have offered to give DCS members access to easy and affordable camera gear rentals.  Register to rent directly from and to creative people in your city.  Use code DCS10 for 10% off your next gear rental.  Visit their website for more details:  https://kitsplit.com/
DCS members in good standing can also receive significant discounts on products and services from companies including: The Camera Division Design Lab - Raleigh Studios Screening Services - BMW/Mini – LensProToGo – Final Draft – Wooden Camera – SimpleDCP – Zacuto – IMDBpro – Manios Digital – DECKHAND Camera Rental – Tek Media Electronic Repair – AbelCine – BB&S Lighting – Kit & Kaboodle Craft Service – Birns & Sawyer – NightSky Web Hosting – American Cinematheque – ProductionHub – Advantage Video Systems. And if your company would like to offer your fellow members meaningful discounts on products or services, let us know and we'll consider adding your offer to the page. Visit the DCS Member Discount page for all the details: www.digitalcinemasociety.org/member-discounts
Calendar of Upcoming Industry Events
The large number of listings and hyperlinks in our full Calendar of Events causes many e-mail servers to reject our eNewsletter. So, for a complete calendar of upcoming industry event listings for both the U.S. and International, please visit the Events Calendar on the DCS Homepage at:  www.digitalcinemasociety.org/events-calendar
Follow DCS on Facebook and Twitter
Don't forget that the Digital Cinema Society has a Facebook fan page. Check in for the latest news, event details and general DCS hubbub at: http://www.facebook.com/DigitalCinemaSociety On Twitter, you can follow us @DCSCharlene
Our Home, The Digital Cinema Society:
www.digitalcinemasociety.org "It is not the strongest of the species that survive, nor the most intelligent, but the most responsive to change." Charles Darwin