DCS UPDATE
We hope all of our members are keeping safe, sane, and healthy in these most difficult of times.  We're managing here at DCS, and have been keeping busy producing our Cinema Technology Spotlight Series and sharing what we learned in a video with some tips on how to look your best on the web.  However, we can't help sharing our frustrations as James Mathers does in his essay this month: Getting Back to Work — The Waiting Is the Hardest Part. We've also got lots of industry and tech news plus a review of the new PowerVision POWER EGG X Aerial Drone by David Tolsky, an FAA Certified UAV Remote Pilot In Command and Owner/Operator of Aerial Domain LLC.
Looking Your Best On the Web — What We Learned Producing "The DCS 2020 Cinema Technology Spotlight Series"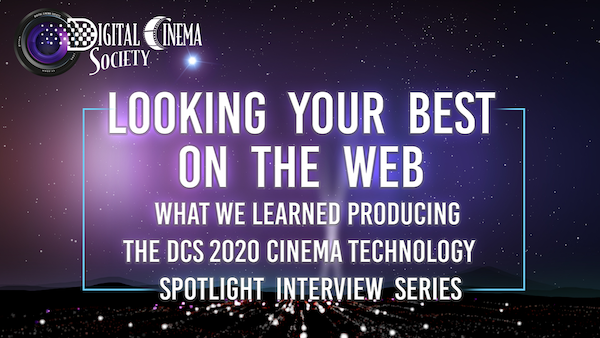 Whether you're auditioning as an Actor, teaching a course, or making a corporate presentation, everyone needs to put their best foot forward on the web. With the cancellation of all the major trade shows, the Digital Cinema Society was forced to quickly pivot and start conducting and posting our interviews via the web from our homes.  We learned quite a bit in the process, and the purpose of this presentation is to share some of those insights.  DCS Founder James Mathers gives a little background on our Cinema Technology Spotlight Series and offers tips on how anyone who might now find themselves needing to appear on camera can look their very best.
To view the presentation on Vimeo, click here:  https://vimeo.com/430515861
Special thanks to all of our supporters and interview guests for the series, and especially to Frame.io, AJA, OWC, and Adobe who offered products and services to help make this program possible.
Save The Date – Focus On Cine Lenses From The Buyer's POV – Home Edition – July 28th 10AM PDT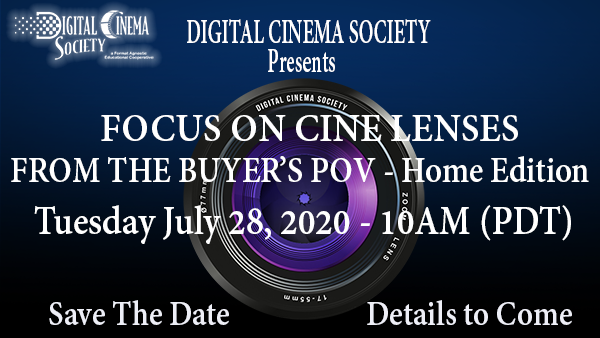 The Digital Cinema Society has for many years held an extremely popular lens event at Cine Gear Expo, and while that is not possible this year, we still aim to carry on the tradition and reprise our annual examination of the Cinema Lens market on the web. We'll see what's new from some of the top lens manufacturers and how they are reacting to trends including growing camera sensors and anamorphic cinematography.  If you're thinking of investing in Cine Lenses, or just want to keep up with this evolving market, this event is tailored for you.
James Mathers will be joined as Co-Moderator by Lens Expert Matthew Duclos, and the event will be dedicated this year to the memory of a previous co-moderator Denny Clairmont, who we recently lost.  Final participant confirmations are pending, and format details are still being worked out, but we hope to actually take good advantage of the transition to the web by expanding the size of our audience, as well as enjoying the luxury of a little more time to roll in sample footage and engage in Q&A.  So save the date, Tuesday, July 28th, 10AM PDT, and look for more details to come including how to register.
Industry News
Stephen Lighthill Returns as President of the ASC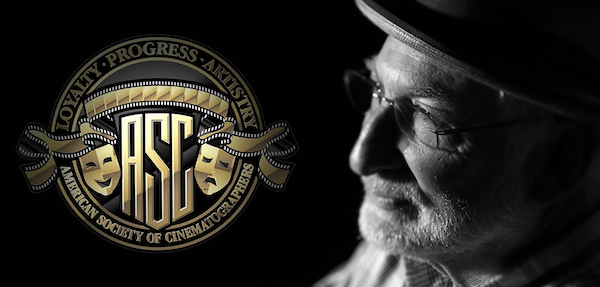 Longtime DCS member Stephen Lighthill returns to lead the ASC, taking over the reins from Kees van Oostrum, who served the maximum four terms.  Lighthill was previously President in 2012-2013 and most recently served as VP of the organization.  He is also currently the Discipline Chair: Cinematography at the American Film Institute Conservatory.  In addition, he has long served as an officer on the National Executive Board of the International Cinematographers Guild (ICG).  Lighthill began his career shooting for San Francisco Bay area news programs, as well as national news shows such as 60 Minutes. He segued into documentary cinematography, working on many films including Gimme Shelter and Berkeley in the Sixties, which was nominated for an Academy Award® and won the Audience Award at Sundance before moving into narrative projects such as Vietnam War Story, Earth 2, and Nash Bridges.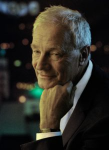 Meanwhile, Kees van Oostrum, who is also a very longtime member of the Digital Cinema Society, has been appointed to lead IMAGO, the international federation of cinematographers.  Other DCS members elected to the board include Vice Presidents Bill Bennett, and John Simmons, as well as Sergeant-at-Arms David Darby.
Technicolor Files for US Bankruptcy

Citing the impact of the COVID-19 pandemic, the French owner of international VFX brands including MPC, The Mill, Mr. X and Mikros has reached a restructuring agreement with creditors that will protect US assets.  Technicolor SA filed for Chapter 15 June 23rd in a US bankruptcy court also citing significant business challenges due to an ongoing decline in its DVD manufacturing business that began with the shift to digital content distribution more than a decade ago.  The Chapter 15 filing will allow the company to protect its US assets while reorganizing in its home country.  Technicolor has suffered a series of setbacks in recent months. On May 28, the company announced it had merged its Mill Film and MR. X VFX companies in response to industry changes brought about by the pandemic; operating now as MR. X, the company noted it would keep all facilities open in Toronto, Montreal, Los Angeles, Adelaide and Bangalore after shutting down its Vancouver office last year. Last year the company and its former CEO Frederic Rose, were indicted for fraud and breach of trust by French authorities and the investigation is ongoing.  Last month, Moody's Investors Service downgraded the company's rating, citing the company's performance and uncertainty surrounding its plans to raise capital.
Sigma Unveils 100-400mm F5-6.3 Zoom for Full-Frame Mirrorless Cameras, New Teleconverters, and Primes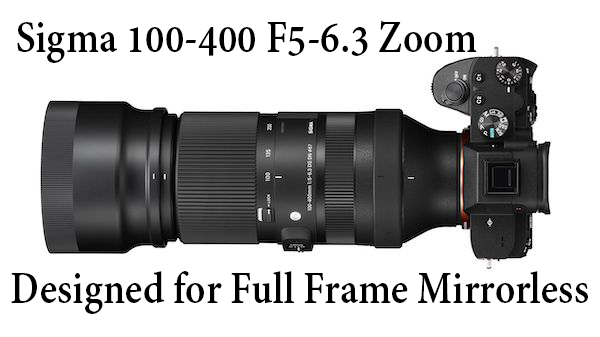 Sigma serves up some new glass for Full-Frame Mirrorless Cameras. The fifth Sigma lens designed specifically for full-frame mirrorless camera systems is the new 100-400mm F5-6.3 DG DN OS Telephoto Lens.  It has been built from the ground up for mirrorless camera systems featuring 16 groups and 22 elements, with one FLD and four SLDs used for the effective correction of aberrations and distortions. It will be available in Sony E-mount and L-mount on July 10, 2020 for $949.00 USD.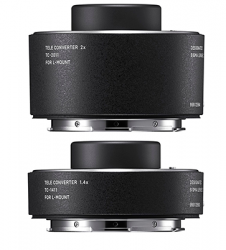 Sigma has also announced two new Mirrorless Teleconverters.  The TC-1411 and TC-2011 are designed exclusively for use with Sigma L-mount mirrorless lenses. Mounted between a lens and the camera body, the TC-1411 magnifies the focal length of the camera by 1.4x, and the TC-2011 by 2x.  They will also be available on July 10, 2020 for $399.00 USD (TC-1411) and $429.00 USD (TC-2011).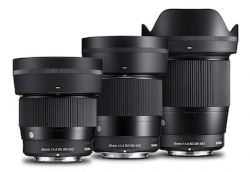 In addition, new F1.4 Mirrorless Primes lenses are being added to the product line including a 16mm, 30mm, and 56mm.  Each lens has a compact and lightweight body designed for daily use as they cover the range from true wide angle to normal to portrait. Stepping motors ensure smooth, swift, quiet autofocus for both still and video capture. In addition to the upcoming L-Mount variations, these products are available for Sony E-mount, Canon EF-M mount and Micro Four Thirds camera systems.  These lenses will also first be available starting July 10, 2020 at the following price points:
16mm F1.4 DC DN Contemporary ($449 USD)
30mm F1.4 DC DN Contemporary ($339 USD)
56mm F1.4 DC DN Contemporary ($479 USD)
Panasonic Debuts the Lumix G100, an MFT Mirrorless Camera for Vlogging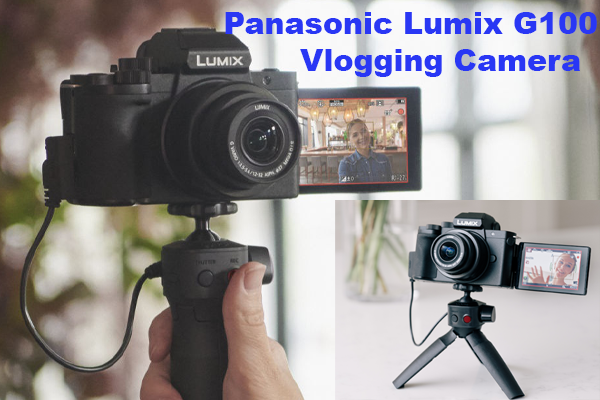 In this pandemic lockdown, many are looking for gear to easily self produce high quality web video. Panasonic saw this trend and designed the G100 specifically for this purpose. It is a small, but powerful mirrorless Micro Four Thirds camera with a fully articulating touchscreen, advanced OZO Audio by Nokia, 4K video, and several sharing-oriented recording features that will appeal to the Vlogger.
An all important feature for Vlogging, the flip out screen measures 3.0″, has a 1.84m-dot resolution, and has a high brightness, making it useful when outdoors in bright sunlight.  A vlogging-specific interface and Video Selfie Mode make using this device even easier by automating many processes. Product highlights include a 20.3MP Digital Live MOS Sensor, UHD 4K30p Video, Pre-Installed V-Log L, 5-Axis Hybrid Image Stabilization, OZO Audio with Subject Tracking, Bluetooth LE and Wi-Fi Connectivity, an included DMW-SHGR1 Tripod Grip, and a Lumix G Vario 12-32mm f/3.5-5.6 Lens. The Lumix G100 Camera MSRP is $747.99US
OWC Announces Envoy Express – Thunderbolt-3 Certified Bus-powered Portable Storage Enclosure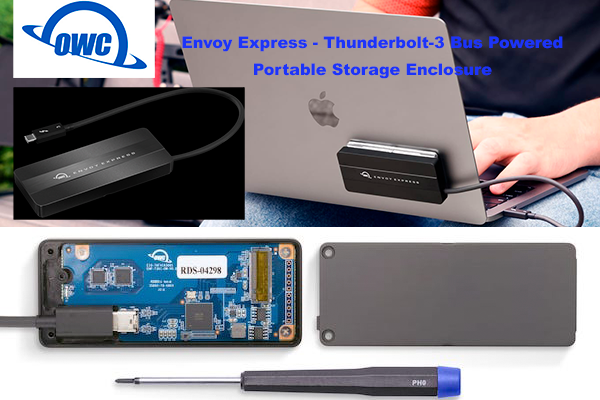 OWC has announced the Envoy Express, the world's first Thunderbolt™ 3 certified bus-powered portable storage enclosure.  It measures shorter than a ballpoint pen and weighs only 3.3 ounces with a rugged anodized aluminum pocket-sized enclosure.  While small in form, it's big news because Thunderbolt™ users can now buy a bus-powered Thunderbolt™ certified enclosure and install their own drive in it. This DIY kit allows users to break free of pre-configured choice limits in order to build a pocket-sized storage solution that meets their specific needs. Plus, anytime those needs change the enclosure can be reconfigured. And it's built to support super-fast sustained data transfer rates up to 1553MB/s, often faster than a machine's internal drive performance, which can be ideal for capture and editing intensive media such as 8K video.  The enclosure is designed to support any 2280 M.2 NVMe SSD including OWC Aura SSDs up to 4.0TB capacity – as well as being ready for tomorrow's 8.0TB, 16TB and future capacities without limit.  It comes with a 2 year warranty and is currently available to pre-order on the OWC/MacSales website for $68.US.  For more details, visit:  https://eshop.macsales.com/shop/envoy-express/thunderbolt-3
Adobe Creative Cloud updates to Premiere Pro, Rush, After Effects Photoshop, and Stock Integration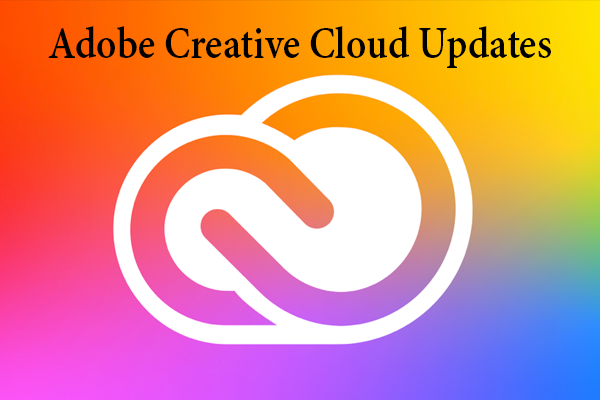 Adobe has announced a host of updates to its Creative Cloud apps including Premiere Pro, After Effects, Premiere Rush, as well as new integration abilities that allow the various apps to work in tandem.  You can now add stock music, VFX, and shots within the Premiere Pro app, and test them in your timeline before ever worrying about licensing the material.
With thousands of high-quality royalty-free music tracks available, you never have to leave your editing space to find the right soundtrack for your stories. Search for suitable music based on mood, genre, tempo, and duration.
Preview — Use Timeline Sync to try different music tracks together with your edit. Built into the Essential Sound Panel, Timeline Sync allows you to test multiple music selections back-to-back, in sync with your edit in the timeline.
Edit —

Build your story with the music,

without distracting audio watermarks

. You can complete an entire edit and mix with unwatermarked preview audio files. Only license the music you want to use, after you are completely satisfied with the result.

License —

License music tracks directly inside the Essential Sound panel or from the Project panel. Licensed audio automatically replaces preview files with the high-quality version throughout your edit.
Most of these updates are a product of Adobe's AI platform known as Sensei.  In addition to bringing more AI smarts to its applications, the updates also include many new workflow enhancement and performance improvements.  For example, a new Premiere Pro feature is Scene Edit Detection that can automatically analyze video files and add cuts or markers whenever there is a scene change.  Photoshop features include a new smart tool for improved "select subject" to help isolate faces, for example. This can save a significant amount of time creating mattes and building composite images.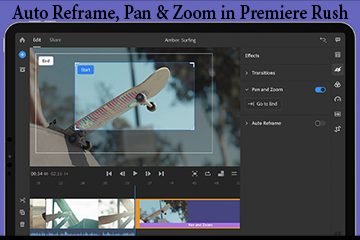 Among the new smart tools coming to Adobe's mobile device editing platform, Premiere Rush has the ability to Auto Reframe as well as Pan and Zoom, all while allowing a significant amount of control as needed.  Automatically reframe clips as AI identifies the point of interest in the frame and tracks it throughout the reframed video keeping the object/main action in the frame.  It can also make adjusting the aspect ratios of your videos quick and simple when switching between landscape, square, vertical, 4×5, 9×16, and more.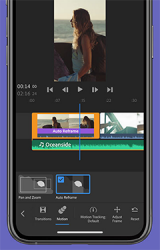 Premiere Rush will have its own Effects Panel which will also have the ability to bring still photos to life with Pan and Zoom, (sometimes known as the "Ken Burns effect") to add motion to static images by changing the scale and position of the image over time. Set the focus of your frames, then drag a box to where you want the clip to land on the image. You can set in and out points of the animation. Positioning the Pan and Zoom effects to help direct the viewer's attention to the particular parts of the image. There are also many other updates through the Creative Cloud suite for workflow improvements and, as usual, if you are a Creative Cloud subscriber, you'll automatically get access to these new features once you install the latest updates.
New Products and Updates from AJA

AJA Video Systems has recently announced a number of new products and significant updates to their line of Mini-Converters and KiPro Recorders.  New Mini-Converters include the FiDO-T-12G-ST and FiDO-R-12G-ST that enable single channel 12G-SDI to ST Fiber and ST Fiber to 12G-SDI conversion, simplifying the transport of 4K/UltraHD 12G-SDI over long distances (up to 10 km) via a single optical cable with locking ST connectors.  Also new and currently available is the 12G-AMA Mini-Converter, a 4-channel audio embedder/disembedder with support for simultaneous 12G-SDI input and output. 12G-AMA model variations are also available for transmitting and receiving signals over LC Fiber or ST Fiber.  Other new products include the HA5-12G-T-ST and Hi5-12G-R-ST, AJA Mini-Converters that support HDMI 2.0 to/from 12G-SDI conversion with 12G ST Fiber connectivity for transporting signals over long distances. Both models feature unique HDR support including HDR10 metadata in accordance with HDMI 2.0/CTA-861.3, as well as HLG over HDMI.  In addition, AJA has released new FIBERST-1RX-12G and FIBERST-1TX-12G SFP modules. The FIBERST-1RX-12G is now available as an after-sale option for the AJA 12G-AMA and Hi5-12G, and the FIBERST-1TX-12G supports the 12G-AMA and HA5-12G.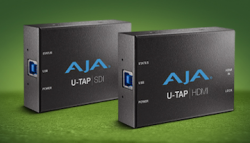 AJA has also announced a firmware upgrade for current U-tap adapters powered via USB-3 with full support macOS Catalina support.  U-TAP v1.5.2 is available today as a free download for all U-TAP SDI and U-TAP HDMI USB 3.0-powered capture devices. Available here:  https://www.aja.com/products/u-tap-sdi#support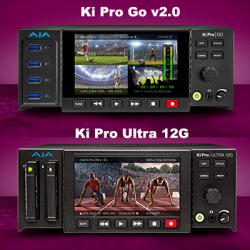 Meanwhile, the Ki Pro GO v2.0 firmware now supports 25Mpbs, 10-bit, 4:2:2 and file transfers across the LAN for multi-channel H.264 recording and the newly released Ki Pro Ultra 12G is a multi-channel ProRes® recorder offering up to 4-Channels of simultaneous HD recording, or in Single-Channel mode, a 4K/UltraHD/2K/HD Apple ProRes or Avid DNxHR® recorder and player. Avid DNxHD® MXF is also supported up to HD formats in Single-Channel mode.  The Ki Pro Ultra 12G offers 12G-SDI single cable simplicity for large rasters and HDMI 2.0 digital video connectivity with HDR support for both recording and playback.
Canon's Paul Hawxhurst Explains the Often Misunderstood Dual Gain Output Capabilities of the C300 Mark III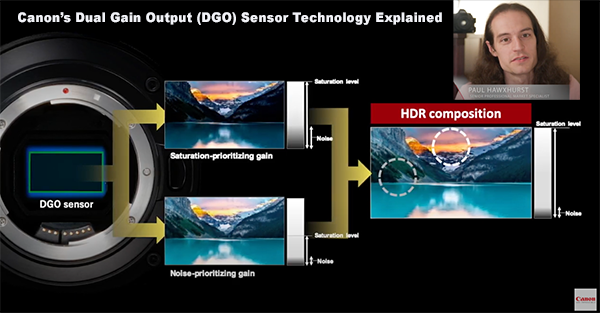 The introduction of Canon's new EOS C300 Mark III Cinema Camera brought with it the Dual Gain Output (DGO) Sensor. However, this innovation, while significantly improving dynamic range and still keeping noise to an acceptable level has been misunderstood.  In this video, Canon's Paul Hawxhurst goes into detail about the DGO sensor technology and how it is able to facilitate over 16 stops of dynamic range.
https://www.youtube.com/watch?v=ADKycPhk8yE&feature=youtu.be
One DP's Perspective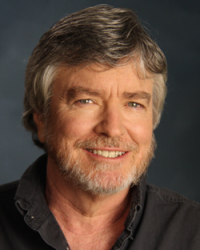 by James Mathers
Cinematographer and Founder of the Digital Cinema Society
Getting Back To Work — The Waiting Is The Hardest Part
As I sat down to write my essay this month, I wanted to cover any subject that would not require mention of Coronavirus, COVID-19, the Pandemic, or Getting Back to Work, but I just couldn't do it.   Just when we thought we were starting to see light at the end of the tunnel, cases are spiking again around the US.  This catastrophe is profoundly affecting us all and it is hard to keep it out of my thoughts for any length of time.  I don't really have any new insights to share, but even the experts are floundering to provide answers.  It seems that nobody really knows anything, and if they do purport to have all the answers, you can bet their proclamations will be amended or reversed in fairly short order.  So allow me a few minutes to share some thoughts.  A little venting could be therapeutic for me, and might be for you as well.
As humans, I believe we seek order, and not knowing what lies ahead is uncomfortable to say the least.  In business, as in life, making rational decisions is based on predicting the future and the outcomes of any actions we decide to take.  If we step in front of a fast-moving train we are likely to get crushed, and if we need to get to the other side of the tracks, we reason that it is best to wait for the train to pass.   The quarterback throws the football not to where the receiver is, but to where they will be.  However, this whole scenario is a moving target, and trying to make rational decisions when we don't know how long it might persist is what can be really unnerving.
Exhibitors are another group without good choices; they are only allowed to open now with physical alterations to their theaters and severe restrictions on audience capacity and food service that would likely have them operating at a huge loss.  There is also no compelling content to screen.  Distributors don't want to release major features if only a few theaters are open, with those that are, limited to small audiences.  That spells box office disaster, and explains why Christopher Nolan's much anticipated Tenet and Disney's tentpole Mulan have both had their release dates pushed back yet again; (August 12th for Tenet and August 21st for Mulan, as of this writing.)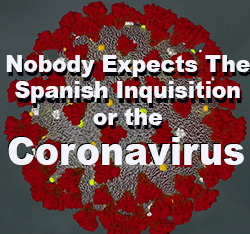 I try to keep some sense of sanity by reminding myself that we never really know what is coming next.  Like the famous Monty Python line, "Nobody expects the Spanish Inquisition!"  Even before COVID-19, there has always been the chance for unexpected events to interfere with our best laid plans.  Will the sun come up tomorrow?  Probably, and we base our plans on it, even though we can never be 100% sure of that, or anything else for that matter.  Regardless, we still need to take our best guess and conduct ourselves accordingly.
The options for the entertainment industry, however, are none too appealing right now.  Although you have to be somewhat of a risk taker to even be a Producer, they are in a very difficult spot.  Even if they wanted to get back into production now, they can't secure the insurance they need to hire cast and crew or get financing.  If they move forward and there is an outbreak that shuts down operations in the middle of a project, it only compounds everyone's problems.
Exhibitors are another group without good choices; they can only open now with physical alterations to their theaters and severe restrictions on audience capacity and food service that would likely have them operating at a huge loss.  There is also no compelling content to screen.  Distributors don't want to release major features if only a few theaters are open with those that are, limited to small audiences.  That spells box office disaster, and explains why Christopher Nolan's much anticipated " Tenet" and Disney's tentpole "Mulan" have both had their release dates pushed back yet again; (August 12th for "Tenent" and August 21st for "Mulan" as of this writing.)
Like the Tom Petty song says, "The Waiting Is the Hardest Part."  However, Producers, Distributors, and Exhibitors have no other choice, even knowing that if this goes on much longer, their projects and businesses might not be viable when this scenario is finally over.  In fact, many are already filing for bankruptcy.  And this sad state of affairs leaves a lot of us sitting on our hands.  Except for a very few short term projects, without major talent, and following strict safety protocols, most equipment and service providers, crew and support staff are all at a near standstill.
While government, industry unions, and organizations are coming up with intelligent protocols to get us safely back to work, our only real option is to wait.  But we must ask ourselves how we wait.  Do we curl into a proverbial ball and just sit it out, or do we constantly seek to make the best of a bad situation, ever on the lookout for the next best move forward?  For me it is the latter, and although I have had quite enough of all this, I'm not yet ready to throw in the towel, either for my career as a DP or for the Digital Cinema Society.  So, I'll continue to do my best to keep up with the latest techniques and technologies, and try to stay open to new ways of working.
My essay is short this month, because I think everyone is getting pretty tired of hearing about this subject, and it's not like I have much to add to the conversation.  Although feeling frustrated, we've managed to avoid getting sick around here, so I guess there really is not that much to complain about.  I do feel better for getting some things off my chest, and hope others will be able to relate and be encouraged knowing they are not the only ones feeling these same frustrations.  We're all in this together, so stay strong, be safe, and keep healthy.  That way we can all be ready when the time comes that this nightmare is finally over.  I don't know when that will be, but I guess I just have to get used to that.
Your comments are welcome, please email or post to our Facebook page at:  http://www.facebook.com/DigitalCinemaSociety
DCS Member Content Contribution
PowerVision POWER EGG X Aeriel Drone Review
by David Tolsky, FAA Certified UAV Remote Pilot In Command and Owner/Operator of Aerial Domain LLC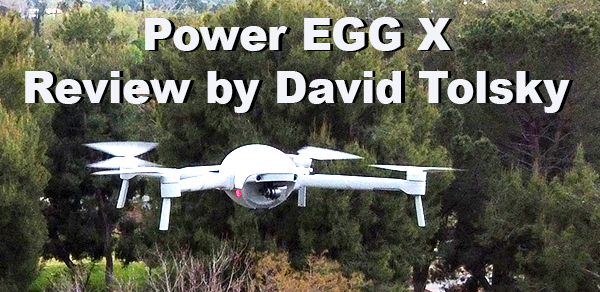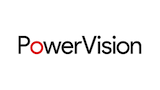 I remember years back on one of my annual trips to CES, a company called PowerVision was getting into the drone game. They had a conventional drone on the market, the Power Eye, but what caught my eye was the Power Egg. Here literally was an egg standing up vertical, that sprouted arms for propellers and legs for landing. If I recall, my first reaction was, "You're kidding me, right?"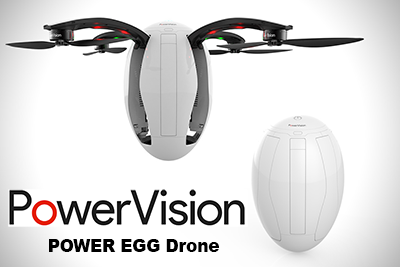 Now, several years later PowerVision has decreased the overall size of the egg and let it work horizontally, calling it the Power Egg X. I have to say, and this is no yolk, (sorry), this is one cool little bird! The question is, do you call this a drone first or a gimbaled camera? You see, this product easily converts to a palm-held gimbaled camera as well as a tripod mounted AI camera. And the options don't stop there, you can also attach specially shaped Styrofoam floats to the landing gear, put on a clear plastic waterproof housing, and take off from a body of water. They say you can fly in the rain, and you can, but we'll get to that later in the review.
If versatility were a big factor in one's decision to buy a drone, Power Egg X wins hands down. Let's start with the flying camera. Power Egg X begins and ends with the main egg shaped body. This palm sized body houses the removeable batteries, the motor, and the 3-axis gimbal/camera. The sensor size is 1/ 2.8, 12 mp photos, with choices of both jpeg, RAW and both. There are lots of choices on the video side, going all the way up to the holy grail of video choices, 4K/60 fps. Removing the top eggshell (sorry) reveals the contact points on either side, where the propeller landing gear fits to make electronic contact, and folds out for the quad propellers. Now our flying egg is ready to scramble! (sorry).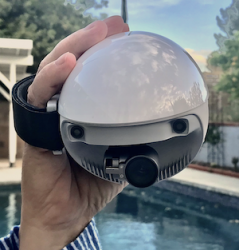 For such a compact little drone, Power Egg X packs a very nice bundle of features once you install the Vision+ 2 app on your smartphone. As with most drones in this price range, camera settings are given in both Auto and Manual. You have the freedom to tweak ISO, shutter speeds, EV and white balance as you would expect. The choices of video resolutions and frame rates are enough to satisfy most videographers. What's really impressive are the number of autonomous flight modes available for this little guy! You have your old smart flight mode standbys like Follow, which zeros in on its subject and then proceeds to follow it at an appropriate speed, and Point of Interest, where you can fly atop a subject, lock it in, and then orbit around it, keeping the subject centered in your frame. There are the quick shots, called that because they do their thing once and then return to the point they started. Among the quick shots are Dronie, Rocket, Helix, and Ellipse. Basically what they do is lock on to a subject and do various flights keeping their subject in view. I tested all of them and they are quite fun to experiment with. While in Drone Mode, Vision+ 2 gives you a nice display on your phone with all the pertinent information at your fingertips. A cool feature shows you a moving angle of degrees as you manipulate the gimbal up and down from the controller.
While we're talking about the Drone Mode, we can't leave out the water options! The "Wizard" package adds Styrofoam landing gear for water landing and taking off, a water-tight clear water housing for the body, and an extra battery. Can you fly in the rain? Indeed you can, and I did test it here in Santa Clarita, CA on a rainy day. Just understand this: I know my readers here are image makers so I'm going to tell you flat out, you can't create a good image in the rain. There is no rain "deflector". The water housing will degrade the image and distort it a little. Water drops will drip down in front of the lens. So yes, put on some rain gear, go out and have fun flying in the pouring rain. Just fly for fun and within visual line of sight of the aircraft and if you record video, don't expect quality images.
Now let's remove the landing gear/propellers by removing the battery housing top shell and lifting the propeller arms off their contacts. With the camera facing forward, we'll replace the left landing gear with the supplied tripod ¼"- 20 adapter and mount to a tripod. Now you have an "AI (which I assume will stand for Artificial Intelligence) tripod mounted gimbal camera. The Vision+ 2 app will adapt to this and give you a whole new type of display, designed to be hand-held for controlling the camera. PowerVision gives the user a convenient QR code sticker that you can see when you remove the top battery shell. Scan it right from the app to obtain a WiFi signal, and boom, there's your picture. You have the same tweaking freedom as you did in Drone Mode to make any camera adjustments. Now you are controlling the camera completely from your phone as opposed to a controller. You have a virtual joystick to control the gimbal, you can switch between slow motion (120 fps), video, photo and time lapse. In time lapse, you have shutter interval choices of 1s/2s/5s/30s/60s intervals. You can also set your shooting duration in time lapse mode, from 30 seconds all the way to 1 hour. How's that for options? Still need more? In Video mode, once you begin shooting video, the Vision+ 2 gives you the option to capture a still by giving you the extra small white shutter button. Note: the same batteries that give you up to 30 minutes of flight time in Drone mode give you up to 4 hours of recording time in tripod/palm-held mode.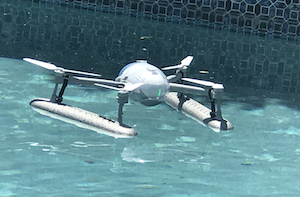 I would be remiss if I didn't tell this quick story about a personal experience with the Power Egg X, and why it has become a favorite of mine to have around. During the course of this review I set out to test the water landing gear and watertight body housing of the aircraft. I found a large duck pond, part of a nice upper-class community not far from my residence. I installed the floaters and the waterproof housing and set out to land on the water. Power Egg X landed on the water, took off from the water, elevated up, came down…and then something happened. Probably pilot error, but the motors cut out and the drone flipped upside down and went in the drink. There it sat, upside down, props underwater for the most part. The duck pond had become a big bowl of egg drop soup (sorry). I could still see the blinking lights from within the water housing. It was far enough away that I would not be retrieving the aircraft any time soon. I thought, "Well, it was fun while it lasted." For forty-five minutes Power Egg X drifted upside down and I thought that it was the end. I thought about the prop motors shorting and all kinds of things. I watched it drift until it was literally about 12 feet from where I was standing by the edge. An image I'll not soon forget, several curious turtles popped up around the drone, and one of them actually helped push it closer to me! A local resident finally showed up with an extending pool pole, and the bird was finally out of the water. Amazingly, no water had gotten to the camera or gimbal despite condensation fogging up inside the housing. I replaced the battery with a fresh one and gave it a test. To my amazement, up it went as if nothing had happened! Before I knew it, I was recording a nice 4K/60 fps flyby reveal of the community as the sun was setting. Apparently, Power Egg X was not ready to throw in the towel!
***
The whole package, including the water floats and waterproof housing is going to cost you somewhere in the vicinity of $1250 depending on the source. That puts Power Egg X in the same company as many other drones in its class. Why would you choose it over the other tried and true brands out there? Well, consider this: How many of those other guys can land on water and take off from it? For the creative mind, this opens up a whole new world of opportunities. How many of those $1200 drones can you fly in the rain, even just for the novelty of it? How many drones in the $1200 range can you convert into a hand-held, gimbal-stabilized camera with a special smartphone app that converts just for that purpose? How many of those drones convert to a tripod mounted, gimbaled smart camera?
Do you see where I'm going with this? Hobbyist drone pilots out there will be looking for the most versatile product they can find for their hard-earned $1200. The Power Egg X is the quintessential do-it-all stabilized camera…and oh, by the way, it flies too!
###
About the Author: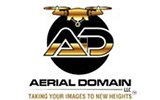 About the author:
David Tolsky
has been in the camera department of the film business for over 30 years. David is an FAA Certified UAV Remote Pilot In Command and is Owner/Operator of
Aerial Domain LLC
: 
www.aerialdomain.com
  He is a current member of ICG, DCS, and Society of Aerial Cinematographers.
Member News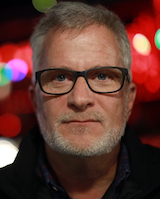 DCS Founding Member and well respected Industry Technologist, Tim Smith, has left Canon after 30 years of serving as the liason between the company and the filmmaking community. He played an integral role in building the company's video and cinema division and is now fielding opportunities via his new company, Tim Smith Consultancy. Tim will remain active as an ASC Associate member, and in other soon to be announced ventures. He looks forward to continuing to catch up with old and new friends and colleagues.
Spotlight On Lifetime Members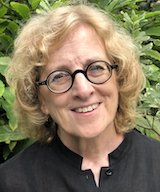 Paula Lumbard is the founder of FootageBank, a boutique footage agency specializing in rights managed large format clips representing over 100 cinematographers and producers monetizing their content libraries through third party licensing. Having started out as an art history instructor at the college level, Lumbard then moved into visual effects production management for television and from there opened her first footage company Film Bank offering visual effects clips. After selling that company, she started FootageBank in 2002, the first High Definition, and now large format, motion clip licensing business. Lumbard has been a trusted supplier of footage to scripted broadcast and streaming shows as well as feature films for decades.
Renewing Your Membership and Supporting DCS
We count on your dues and contributions to continue our mission and maintain our services to members. So, if your membership has expired, or you simply want to show your support of our effects, please take a few minutes to send a donation. Membership is available at the $50 annual level or $300.00 for a Lifetime Membership. You can follow the convenient PayPal links, (using any major credit card, and you don't need to be signed up for PayPal,) or you can send payment to our offices at P.O. Box 1973 Studio City, CA 91614, USA.
PayPal Annual Renewal Link – $50.00US:  https://paypal.me/digitalcinemasociety/50
Paypal Lifetime Renewal Link – $300.00US: https://paypal.me/digitalcinemasociety/300
Checks should be sent to: The Digital Cinema Society, P.O. Box 1973, Studio City, CA 91614, USA. Check payments must be in US dollars. Please note that if you are a student, or otherwise cannot afford the dues, just send a note and we will be happy to extend your membership. ** Student and Complimentary memberships do not include a membership card.
THANK YOU TO OUR SPONSORS
As always, we want to send out a big thanks to all "Friends of DCS," whose support makes it possible for us to continue the DCS mission of educating the entertainment industry about the advancements in digital and cine technology:
AbelCine – ACES – Adobe – AJA – Angénieux – Anton/Bauer – ARRI – Avid – BB&S Lighting – Band Pro – Birns and Sawyer – Blackmagic Design – BROKEH – Canon – Cineo Lighting – Cinnafilm – Codex – Cooke Optics – Core SWX – Dadco/SunRay – Dedolight California – DigitalFilm Tree –  ETC – Fiilex – Film Gear – FLUOTEC – FootageBank – Fujinon –  J.L. Fisher – K 5600 – Kino Flo – L.A. Rag House – Lectrosonics – Leitz Cine Wetzlar – Light & Motion – LiteGear – Litepanels – Litra – Luminys – MacSales – MACCAM  -  Mole-Richardson – Nanlite – Nila – OConnor – OWC – Panasonic – Panasonic Lumix – Panavision – P+S Technik – Rosco – Rotolight – Sachtler – SIGMA – SmallHD – Sony – SWIT – Teradek – Quasar Science – Rotolight – The Rag Place – The Studio-B&H – Tiffen – Tokina Cinema – Vision Research – Westcott – Wooden Camera – Zeiss – Zylight
REMEMBER YOUR DCS MEMBER BENEFITS and DISCOUNTS:
New Offer: 20% Off All Purchases From Litra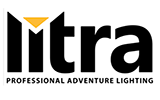 As featured in our recent "Looking Good On the Web" video, Litra is offering DCS members in good standing 20% off their entire purchases from the Litra website.  Litra creates innovative lighting solutions with optimized characteristics for light quality, output, efficiency, and beam pattern.
Visit: https://litra.com and when you're ready to make a purchase, write us at DCS for the discount code.
DCS members in good standing can also receive significant discounts on products and services from companies including: Core SWX - The Camera Division Design Lab - Raleigh Studios Screening Services - LensProToGo – Final Draft – Wooden Camera – SimpleDCP – Zacuto – IMDBpro – DECKHAND Camera Rental – Tek Media Electronic Repair – AbelCine – BB&S Lighting – Kit & Kaboodle Craft Service – Birns & Sawyer – NightSky Web Hosting – American Cinematheque – ProductionHub. And if your company would like to offer your fellow members meaningful discounts on products or services, let us know and we'll consider adding your offer to the page. Visit the DCS Member Discount page for all the details: www.digitalcinemasociety.org/member-discounts
CALENDAR OF ONLINE INDUSTRY EVENTS
The large number of listings and hyperlinks in our full Calendar of Events causes many e-mail servers to reject our eNewsletter. So, for a complete calendar of upcoming online industry event listings, please visit the Online Events Calendar on the DCS Homepage at: www.digitalcinemasociety.org/online-industry-events-calendar
Follow DCS on Facebook, Twitter and Instagram. Don't forget that the Digital Cinema Society has a Facebook fan page. Check in for the latest news, event details and general DCS hubbub at: http://www.facebook.com/DigitalCinemaSociety
On Twitter, you can follow us @DCSCharlene
On Instagram at: digitalcinemasociety
Our Home, The Digital Cinema Society:
"It is not the strongest of the species that survive, nor the most intelligent, but the most responsive to change." Charles Darwin