DCS Update
It has been a crazy fall season for us here at DCS.  With James Mathers heading out of town to shoot a feature, we have been trying to squeeze in as many activities as we could while still fully staffed.  We started the month with an event on Indie Finance and Distribution sponsored by KitSplit and held at Hot Rod Cameras in Burbank.  We feel like it is one of our best events of the year, so if you couldn't make it to attend in person, be sure to catch up with the streaming coverage, (full details below).
Also now streaming is coverage of our annual DCS Post Production Expo.  We caught up with all the latest software and i/o products as well as enjoying special guests covering the use of Lens Metadata in VFX and details of the new Netflix Post Technology Alliance.
As James was packing for his upcoming location, he took time out to shoot a short presentation on…what else…packing camera gear for travel, and also to give a review/demo of the Tenba Cineluxe 24 camera bag.  As he is now on the road, James didn't have the bandwidth to write his usual monthly missive, but we did get a great member contribution from our friend Andy Marken, of Marken Communications.
We've also got our DCS Camera Support and Accessory Expo coming up at Canon Burbank on November 28th, and lots of other activities all around the globe, so be sure to visit the DCS On-line Calendar of Events for details of events happening in your region.
Announcing 2018 DCS Camera Support and Accessories Expo, November 28 at Canon Burbank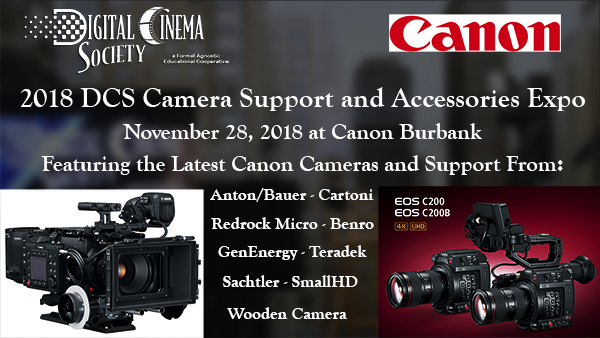 Come see the latest from Canon along with key support and accessories necessary to create a complete camera package at Canon's technical service and support center in Burbank.
There are many components in addition to the camera that are necessary to assembling a successful Digital Cinema acquisition package.  Equipment buyers sometimes put all their resources into the camera, and try to skimp on the proper support and accessories, which can greatly diminish the utility of their package.
Featured Canon Digital Cinema cameras include the C700 and C200 working together as A/B cameras, and the new XF705.  Camera Support and Accessories companies invited to participate include, (in alphabetical order):
Anton/Bauer – Benro – Cartoni – Gen Energy – Redrock Micro – Sachtler – SmallHD – Tenba – Teradek – Wooden Camera
The event will be held at Canon's new facility, built from the ground up to support cinema and photography professionals, located at:
3400 W. Olive Ave. #250, Burbank, CA  91505
When:  Wednesday evening, November 28th, 2018
6:30PM check in with presentations from 7PM to 9:30PM
Light refreshments will be served.  The event is free and open to all, but confirmed RSVPs are mandatory.  To register, send an email with your contact details and "Accessories" in the subject line to:
Note: If you want to bring a guest, we'll need their name and email address in order to confirm the RSVP.
 
Now Streaming: Coverage of 2018 DCS Post Production Expo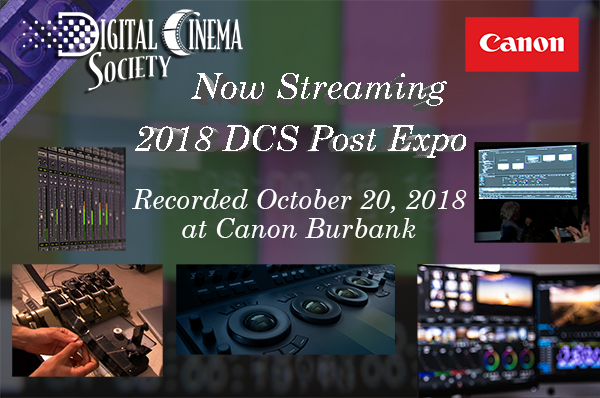 The annual DCS Post Production Expo was held this year at Canon Burbank on Saturday, October 20th.  The coverage includes a wide variety of Post Production topics such as How to Identify and Handle Various File Formats, Lens Metadata for VFX and the new Netflix Post Technology Alliance.
Presentations include (in alphabetical order):
Adobe – AJA – Avid – Blackmagic Design – Canon –  Netflix
Special guests include noted VFX Supervisor Scott E. Anderson and Snehal Patel, Filmmaker and Cine Applications Specialist with Zeiss, who discussed the use of Lens Metadata in visual effects, and Richard Smith, Manager of Post Tools Integration at Netflix, who presented the new Netflix Post Technology Alliance program.
Special thanks to Canon for supplying the venue and Netflix for covering refreshments.  Our volunteer crew included: Producer, David Mahlmann, Camera Operators Mitch Gulbin and Alexander Bonelli, and Christopher Scott Knell handling Sound.
View the coverage on our Vimeo page:
https://vimeopro.com/digitalcinemasociety/2018-dcs-post-production-expo
Demo and Review of Tenba Cineluxe 24 Camera Bag by James Mathers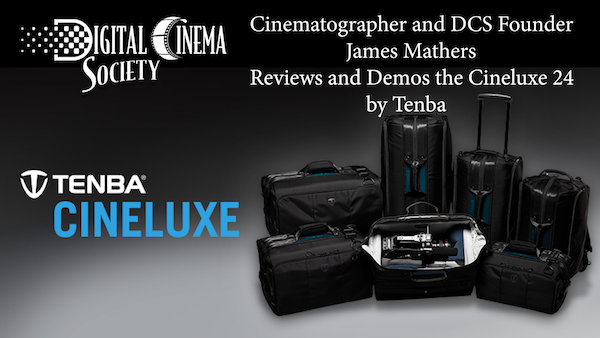 While prepping for an out-of-town shoot, James Mathers, Cinematographer and Founder of the Digital Cinema Society discusses packing equipment for travel and gives a quick demo of the Tenba Cineluxe 24 camera bag.  View it on Vimeo here:
Now Streaming: DCS Indie Film Finance & Distribution Event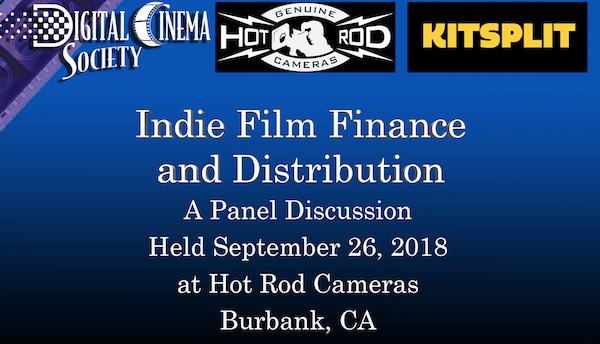 A Banker, a Distributor, and a Lawyer walk into a bar… It's not a joke; it's a Digital Cinema Society educational panel discussion on Indie Film Finance and Distribution.
The event was sponsored by KitSplit and held at Hot Rod Cameras on September 26, 2018. These three experts tell it like it is and give insight into what it takes to mount a successful Indie feature.
The panel features: Adrian Ward from the Entertainment Banking Group of Banc of California
Briana Hill, an Entertainment Attorney with Cowan, DeBaets, Abrahams & Sheppard, LLP
James C. Walker, CEO of Lightning Entertainment and Indie Producer
With James Mathers serving as Moderator.
Special thanks to our streaming production crew of Producer David Mahlmann, Cinematographer Cameron Cannon, Camera Operator Cricket Peters, and Sound Recordist Christopher Scott Knell.
DCS Member Content Contribution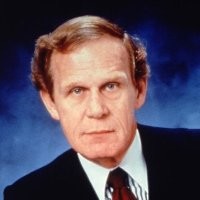 DTC Winners Need Quality, Quantity, Focus -
by Andy Marken of Marken Communications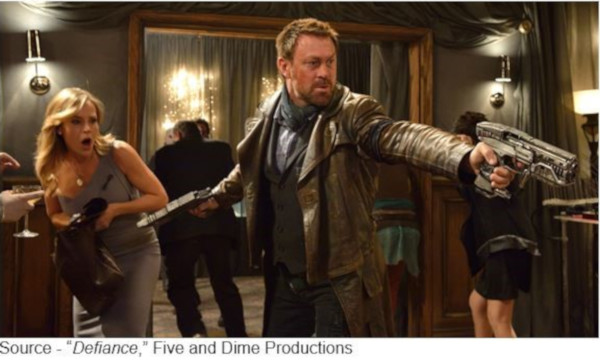 "Live together, die together, works when you have to keep on fighting. Totally sucks in real life." – Nolan, "Defiance," 2013–2015, Five and Dime Productions
People learn it in Marketing 101 – don't mention your competition in your pitch and certainly don't knock them. When you do you make the prospect think, "Gee, maybe I should take a closer look at them." or worse, "Darn, hadn't even considered them … 'till now."
And yet, the boss just can't seem to keep from poking fun at the competition; or worse, saying they're not even in the company's marketplace.
You know:
Apple is like a mutant virus, escaping from the traditional structure of the PC industry, but the industry will still eventually build up immunity– Stan Shih, Acer
Google's not a real company. It's a house of cards – Steve Ballmer, Microsoft
Television won't be able to hold onto any market it captures after the first six months. People will soon get tired of staring at a plywood box every night – Daryl Zanuck, 20th Century Fox
We think HBO is a very, unique asset of––in fact, as you think about where HBO fits, I think of Netflix kind of as the Walmart of SVOD, HBO is kind of Tiffany. It's a very premium, high–end brand for premium content – Randall Stephenson, AT&T
Neither Redbox nor Netflix are even on the radar screen in terms of competition – Jim Keyes, Blockbuster
What the hell does the Nano do? Who listens to 1,000 songs? – Ed Zander, Motorola
There is no reason anyone would want a computer in their home – Ken Olsen, DEC
Netflix is a little bit like, is the Albanian army going to take over the world – Jeff Bewkes, Times Warner
The notion that [companies like Netflix] are replacing broadcast TV may not be quite accurate. I think we need a little bit of perspective when we talk about the impact of Netflix – Alan Wurtzel, NBCU
If you're not afraid of someone … give 'em a sign!  Okay, so Netflix is the big gorilla in the room when it comes to streaming content.
They may not have invented it, but they did perfect it and they've been expanding it around the globe, proving that if you have the right amount of data and know how to use it, you can introduce content critics may dislike but viewers can't get enough of.
You also prove the stuff that's made in the U.S. is liked by folks in France, Japan, Australia and Peru—heck, just about all of the 190 countries where they have subscribers.
Some country officials thought they'd "penalize" Netflix by saying a certain percentage – say 30 percent – of the content they show in the country had to be made in their country.
Holy cow! People in the U.S. and Canada actually like the video stories from Mexico, India, Italy and New Zealand … anywhere when they're properly dubbed or are close-captioned.
It's natural for folks in the M&E industry to keep a close eye on Netflix but they aren't alone in the expanding global streaming market and there are opportunities for niche players as well.
The industry was a reluctant partner with Netflix ever since they broke the home entertainment mold – get a red envelope DVD in your mailbox or go to the corner store for your rental or wait a year for the network to schedule it.
In 2007, they launched streaming video to your PC then OTT to your smart TV and finally, to our kids' smartphone.
Since then, they've been investing (heavily) in scripts, content and global expansion.
They not only upset the natural order of things; but together, they turned OTT into a huge and growing global market – $30B in 2015 and an estimated $65B in 2021.
While the demand for high–quality, paid–for video service delivered OTT is growing in every corner of the globe; the U.S. continues to be largest, growing from $8.3B in 2015 to an estimated $23B in 2021.
China added $6.3B in revenue and viewing in the country will quintuple by 2021.
Of course, Netflix didn't overturn the cable and studio system all by itself. It had the help of FAANG (Facebook, Apple, Amazon, Netflix, Google) and BAT (Baidu, Alibaba, Tencent) as well as new entrants including networks like HBO, Hulu CBS, ABC and BBC.
Growing Offerings – The number of sources for viewing content on any device continues to grow and consumers get to pick their options based on what they're willing to pay – SVOD (subscription), TVOD (transaction) or AVOD (advertising). 
You know, anyone who was looking for closer relationships with viewers went DTC (direct to consumer). Of course, AT&T's Stephenson had to crow about one of the jewels he got in the Time Warner merger … HBO.
However, the timing of his verbal positioning at IBC could have been a little better.
Walmart (Netflix) racked up more Emmy nominations than Tiffany (HBO) in this year's award competition.
Big First – 2018 marked an important first for Netflix when it had more Emmy nominations than the quality content leader and took home the same number of awards. 
That hurt the old ego! Then, when the awards were announced, the premiere cabler and streaming giant tied for the number of Emmy's they took home – 23 each.
Even before that – right after the merger – John Stankey, WarnerMedia CEO, told HBO it needs to be more profitable and change direction.
That's difficult because Netflix spends 4X what HBO does for fresh content.
Regardless, Stankey and Stephenson want to focus the brand on battling Netflix globally for subscribers. Or, put differently – deliver quantity, not quality.
Netflix has 130M subscribers in 190 countries while HBO's numbers are more difficult to determine because many are part of cable bundles in the Americas and not really well known globally.
Doesn't Do Average – Filmmaker Alfonso Cuarón is on the set of his newest film, Roma. The Mexican film academy announced it has chosen the film by the Academy Award–winner as its bid for a best foreign language film nomination. 
Not overly concerned, Netflix has a different goal … it's lusting after an Oscar this year. Alfonso Cuarón's Roma may just be its ticket to ride … great reviews and eye–watering photography. The Oscar–winning director of Gravity is a Spanish–language story about child–care workers in Mexico in the '70s and covers all of the bases – race, class, feminism and U.S.–Mexico relations.
Roma's Oscar race is a melodrama all by itself because Netflix lusts for industry recognition, even as it dislikes the conventional movie business.
The feeling is a little bit mutual, but studios are still happy to have Netflix pay them to produce their streaming offerings.
This go–around, Netflix is even considering a limited theatrical release (one of the selection criteria) while still placing special emphasis on its streaming subscribers.
Cuarón feels Netflix is getting an unfair rap in this issue. "Everyone focuses on Netflix, but no one looks at the other side: the exhibitors," he said, referring to the industry term for theater owners. "They're living in the '90s. They need to be in the present."
If Roma can take home an Oscar, it opens the door for other filmmakers and stars who want to be in contention for an Oscar but still want to work outside Hollywood's conventional studios.
In addition, Netflix has two other Oscar contenders – The Ballad of Buster Scruggs and 22 July.
But one of the '90s folks is more than ready, willing and able to be in the present!
Disney came to play.
Mouse that Roars – With the acquisition of 20th Century Fox, Disney becomes that big kid on the Hollywood block as it cuts its relationship with Netflix. Disney Life will go over the top DTC with one of the richest, broadest content libraries you'll see plus a roster of new work in development.
First, Bob Igor cut Netflix and ended the streaming relationship saying they were going to set up their own DTC channel.Igor has a rich library and a solid set of studio efforts that we're certain folks around the globe would like to have sent direct to them.
In addition, he and his team live and breathe content … and technology.
Not Just Kids – Disney Life will have content that appeals to everyone – Marvel heroes, animated series and dramas as well as fresh and refreshed content for the whole family. And Igor promises a very reasonable monthly cost.
And come on, who doesn't like Mickey, Bambi, Snow White and the Marvel crusaders? To prove he was serious, Igor scooped up 21st Century Fox entertainment.
The move doubles Disney's size/clout and gives it enough content and international assets to attract subscribers … everywhere.
Combined, the company owns 7 out of 10 highest-grossing films and accounts for roughly one–third of the U.S. studios revenues.
Global Reach – With an annual offering of tentpole films and content being produced around the globe, the addition of 20th Century Fox to the Disney library becomes a major factor in the growing OTT industry.
The big question is, what happens to Hulu? It's a great streamer with a strong following and a steady focus on what viewers want. The problem is it's jointly owned by Comcast, Fox, Disney and Turner (AT&T).
Time will tell.
Despite all of the attention on the big hitters the global hunger for streaming content seems almost insatiable.
Global Stream – Streaming services gained strong traction in the Americas, which is "almost" reaching a saturation of content; but it is quickly spreading around the globe to inform and entertain people everywhere on their screens.
That means it is possible for organizations to not focus on the 7.7B people on the planet, just the 5, 10, 20M people who want something special, unique, different. In the packed IBC niche streaming service sessions, they discussed how distinctiveness can work in their favor if they don't lose sight of the unique entertainment needs of the audience.
There are folks out there who have – AVOD or SVOD – Netflix, Amazon, Disney, etc.; but don't want to spend hours browsing and then simply settle for something to watch.
What is missing in the fire hose service offerings are things like award–winning foreign language drama; local market curated films/series; horror, sci–fi, comedy, romance, documentaries and historical content.
You know, a single place you can go to and know BAM! you can binge to your heart's content.
If AT&T's Stephenson is looking for a Walmart (other than a Walmart that is working on a streaming service), he should really keep a wary eye on YouTube.
Seen, Unseen – While adults may initially choose streaming services like Netflix, Amazon, Hulu and HBO, teens and tweens grew up with YouTube content. The Alphabet – (Google) owned site has deep, ad–filled pockets and plans to keep the money flowing in. And, they'll add subscription service offerings.
YouTube's parent, Google, is the ad placement king that is making a bundle from Gen Z, teen and tween viewers. They enjoy watching a broad spectrum of short/long video –– unpackaging, game play, makeup/lifestyle, guy/gal stuff and dumb/dangerous stuff mixed in with good content like the TED channel. YouTube has billions of folks logging in every month to watch a sliver of the 300 hours of content uploaded every minute.
And if you're wondering where you can find VR content, they have hundreds of thousands of hours of content just waiting for people to immerse themselves in.
Most of the stuff is watched on smartphones but they also have 180M hours of viewing on the TV every day as well.
They could easily become the bloated bundle of the OTT world.
And if kids start out with that as their DTC service of choice, we personally hope someone will tell them as Nolan told Irisa, "Yeah, I taught you that, you really have to stop listening to me. I'm an idiot. "There's just too much good/great content being developed by experienced video storytelling pros.
We'd sure hate to see them miss it.
All comments are welcome.  You can contact Andy Marken here:   andy
Renewing Your DCS Membership
We count on your dues and contributions to continue our mission and maintain our services to members, and as previously mentioned, dues are set to go up at the beginning of the year. So, if your membership has expired, or will soon, please take a few minutes to renew your membership at the $50 annual level or $300.00 for a Lifetime Membership. You can follow the convenient PayPal links, (using any major credit card, and you don't need to be signed up for PayPal,) or you can send payment to our offices at P.O. Box 1973 Studio City, CA 91614, USA.
PayPal Annual Renewal Link – $50.00US:  https://paypal.me/digitalcinemasociety/50
Paypal Lifetime Renewal Link – $300.00US: https://paypal.me/digitalcinemasociety/300
Checks should be sent to: The Digital Cinema Society, P.O. Box 1973, Studio City, CA 91614, USA. Check payments must be in US dollars. Please note that if you are a student, or otherwise cannot afford the dues, just send a note and we will be happy to extend your membership. ** Student and Complimentary memberships do not include a membership card.
Thank You To Our Sponsors
As always, we want to send out a big thanks to all "Friends of DCS," whose support makes it possible for us to continue the DCS mission of educating the entertainment industry about the advancements in digital and cine technology:
AATON Digital – AbelCine – ACES – Acromove – Adobe – Adorama – Advantage Video Systems – AJA – Angénieux – Anton/Bauer – ARRI – Avid – BB&S Lighting – Band Pro – Benro – Bertone Visuals – Birns & Sawyer – Blackmagic Design – Canon – Cartoni – Cineo Lighting – Cinnafilm – Codex – Cooke Optics – Dadco/Filmlight – dedolight/Dedo Weigert Film – DigitalFilm Tree –  FLUOTEC – FootageBank – Fujinon - GEN Energy – Hot Rod Cameras – J.L. Fisher – K 5600 – Kino Flo – KitSplit – Leitz Cine Wetzlar - Lenovo – Light & Motion – LiteGear – Litepanels – Luminys – MacSales – MACCAM  - Manios Digital – Mole-Richardson – Nila – OConnor – OWC – Panasonic – Panasonic Lumix – Panavision – P+S Technik – Redrock Micro – Rosco – Sachtler – Schneider Optics – SIGMA – SIM Digital – SmallHD – Sony – Tenba – Teradek – Terra LED – The Rag Place – The Studio-B&H – Tiffen – Tokina Cinema – TRANSVIDEO – Vision Research – Wooden Camera – Zeiss – ZGC – Zylight
Remember Your DCS Member Discounts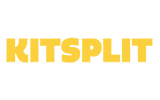 We're featuring a new discount this month from our friends at KitSplit who have offered to give DCS members access to easy and affordable camera gear rentals.  Register to rent directly from and to creative people in your city.  Use code DCS10 for 10% off your next gear rental.  Visit their website for more details:  https://kitsplit.com/DCS members in good standing can also receive significant discounts on products and services from companies including: The Camera Division Design Lab - Raleigh Studios Screening Services - BMW/Mini – LensProToGo – Final Draft – Wooden Camera – SimpleDCP – Zacuto – IMDBpro – Manios Digital – DECKHAND Camera Rental – Tek Media Electronic Repair – AbelCine – BB&S Lighting – Kit & Kaboodle Craft Service – Birns & Sawyer – NightSky Web Hosting – American Cinematheque – ProductionHub – Advantage Video Systems. And if your company would like to offer your fellow members meaningful discounts on products or services, let us know and we'll consider adding your offer to the page. Visit the DCS Member Discount page for all the details: www.digitalcinemasociety.org/member-discounts
Calendar of Upcoming Industry Events
The large number of listings and hyperlinks in our full Calendar of Events causes many e-mail servers to reject our eNewsletter. So, for a complete calendar of upcoming industry event listings for both the U.S. and International, please visit the Events Calendar on the DCS Homepage at:  www.digitalcinemasociety.org/events-calendar
Follow DCS on Facebook and TwitterDon't forget that the Digital Cinema Society has a Facebook fan page. Check in for the latest news, event details and general DCS hubbub at: http://www.facebook.com/DigitalCinemaSociety
On Twitter, you can follow us @DCSCharlene
Our Home, The Digital Cinema Society: www.digitalcinemasociety.org
"It is not the strongest of the species that survive, nor the most intelligent, but the most responsive to change." Charles Darwin