DCS UPDATE
As January comes to a close, we're still trying to catch up from 2018 and are even starting to remember to write 2019 on our checks.  It is always a busy time of year for us covering CES and getting ready for all our traditional activities like traveling to the HPA Tech Retreat and preparing to conduct our extensive interviews for streaming at NAB.  It might seem early to start worrying about NAB, but it takes a lot of planning, and we suggest you also put it on your radar and remember to register before March 24th, while it is still free, (a DCS Member comp Exhibits Pass link and discount code for paid NAB activities follows).
We've also got, coming up in February, what has developed into our biggest event of the year, the annual DCS Cinema Lighting Expo, returning again this year to the Grip's Local 80 stage in Burbank.  Of course, there are also lots of other happenings in our neck of the woods such as the ASC Open House and Awards gala.  On February 7th, Panasonic will hold a workshop and roundtable discussion at their L.A. headquarters on shooting with VariCam and EVA1 cinema cameras, including special guest William Wages, ASC.  There is also a Discussion of Optical Filters hosted by Schneider Optics on February 11th at Canon Burbank where very prominent ASC Cinematographers, (who we are proud to say also happen to be DCS members), including Nancy Schreiber, Bill Bennett, and George Mooradian, will share their knowledge and experience on how they control images with optical filters.  All the details, registration links and more can be found on our website in the DCS Calendar of Events.
In his essay this month, James Mathers relates his experiences and tells about the tools he used to shoot the Indie feature entitled The Windigo while on location in Michigan.  You can also find out about several new supporters who have joined as Friends of DCS including Quasar Science, Core SWX, and Lupo Lighting.  Read on…
Up Next: 2019 DCS Cinema Lighting Expo, Saturday, February 16 in Burbank, CA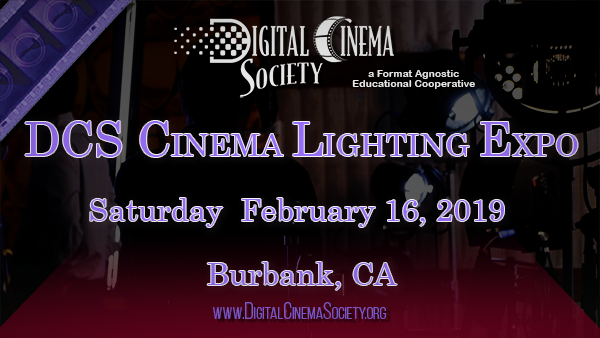 Although very near capacity, we are still accepting RSVPs for the Digital Cinema Society's annual exploration of Motion Picture Lighting and Grip Technology. The event will return to the IATSE Local 80 stage in Burbank on Saturday, February 16th.
We've been holding this event annually for over a decade now, and it gets bigger and better each year.  This year's DCS Pioneer in Lighting Technology Award will be presented to Dedo Weigert, Cinematographer, Inventor, and Founder of Dedolight.  He is traveling from Germany to accept the honor and share some of his vast knowledge of cinema lighting with a live demo.  Also joining us for an interview and demo will be renowned Director of Photography Roy Wagner, ASC.
Participating Manufacturers and Vendors include, (in alphabetical order):
ARRI • BB&S Lighting • Cineo Lighting • Fiilex • FilmGear
Dedolight California • DMG Lumiére • FLUOTEC • Kino Flo • K 5600
Light & Motion • LiteGear • Litepanels • Luminys • Lupo Light
MACCAM • Mole Richardson • Nila • Panasonic
Quasar Science • Rosco Labs • The Rag Place • Zylight
Time: Saturday, February 16th, Starting at 10AM and ending at 5PM
Please indicate if you are a DCS member, list "Lighting Expo" in the subject line, and don't forget to give us your contact details when sending your RSVP e-mail: RSVPtoDCS
Note: If you want to bring a guest, we'll need their name and email address in order to confirm the RSVP.
––––––––––––––––––––––––––––––––––––––––––––––––––––––––––––––––––––––
TIME TO START PLANNING FOR NAB

 with DCS Member Discount Codes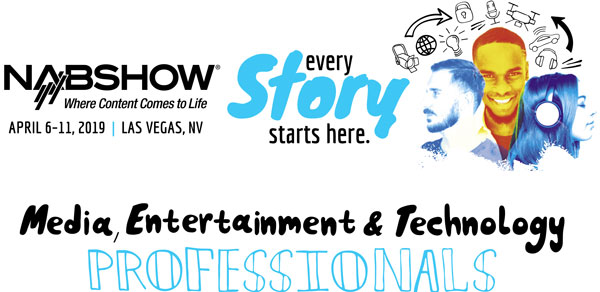 NAB is quickly approaching and now is the time to start planning if you are going to make the trek. For those that can't make it, you can count on DCS to once again offer compressive streaming coverage from the show floor. But for those who will be there, please note the special discount codes we have been offered by our friends at the NABShow. DCS members can use code PR41 good for:
- $100 off the NAB Conference Flex Pass (includes sessions in these programs https://www.nabshow.com/education/conferences)
- $100 off Post|Production World (includes sessions in these programs https://www.nabshow.com/education/training-programs/post-production-world)
- Free exhibits pass if you register by March 24th, ($50 after March 24th). Sign up now and we'll look forward to seeing you there. Link: https://registration.experientevent.com/ShowNAB191/Flow/ATT/?marketingcode=PR41
INDUSTRY NEWS
Panasonic announces new 4K handheld camcorder – the AG-CX350 with 10-bit 60p HDR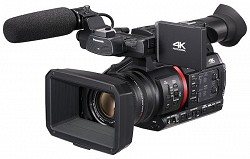 Panasonic has announced a new 4K handheld camcorder – the AG-CX350. At 4.2-lbs. (body only), with a 1″ sensor, the AG-CX350 is a 4K 1.0-type handheld camcorder designed for live events, IP Production, sports, and news gathering. The run-and-gun camera features 10-bit 60p capture, HDR recording and is equipped with the RTMP/RTSP/RTP protocol for live streaming and NDI | HX-ready IP connection. There features include a 20x Optical, (32x Intelligent Zoom), Variable Frame Rate, and 2 x Media Card Slots, and HLG Recording.  The AG-CX350 will be available in late February 2019 with a suggested list price $3,995.
The Hype at CES: Displays with more "K"s and 5G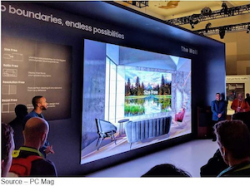 Although the technology is not always practical, companies like to show off their latest and greatest technology at the annual CES show; from ginormous displays to innumerable wireless gadgets. For example, Samsung was there to impress with a 219 inch micro LED display with 2,000 nits of brightness.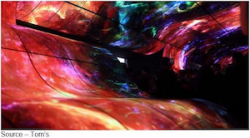 Meanwhile LG highlighted its newest flexible screens with a hallway demo, then showed off their 65–inch TV that rolls into a box when you aren't watching TV.  The hype about displays seemed to revolve around 8K. Since there is now a reasonable installed base of 98M plus units able to receive 4K, the industry is starting to push for 8K, and have announced the formation of an 8K standards and education alliance. This is coming at time when we're only starting to get 4K from the likes of Netflix, Hulu and a few others. And, as I've written many times before, it is really hard to see the difference in picture quality. Sometimes I wish they would just stop and take a breath, but I guess that's progress.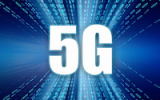 Another technology that was ripe with hype, but not really here yet, is 5G. Mobile device sales are lagging. In fact, Apple has declared an unusual revenue shortfall for its fiscal first quarter of 2019, and blamed it on lower iPhone revenue, particularly in China and emerging markets. So how do they get customers to plunk down $1,000 for a new, but only marginally improved product? One way is to improve bandwidth, and the rollout of 5G is quite promising in that regard with speeds up to 1Gbps, well into the realm of fiber optic. That means quicker downloads, better network reliability and significant impact on how we live, work and play.
The problem is that even though several companies are starting to advertise 5G, it is not really here yet, and it may take a long while to develop. None of the transmission equipment is actually the same, none of the phones are the same, and the new systems will need to be built on the shoulders of the legacy systems which may suffer during the transition. However, that is not stopping some companies from selling 4G Wireless and home Internet services masquerading as the new technology in order justify the rate increases they need to fund the multiple infrastructure transitions necessary to actually make 5G happen. It is sort of a mess right now…progress?
ONE DP's PERSPECTIVE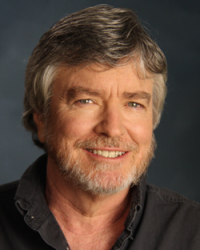 by James Mathers
Cinematographer and Founder of the Digital Cinema Society
In From the Cold — The Tools I Used Shooting the Indie Movie: The Windigo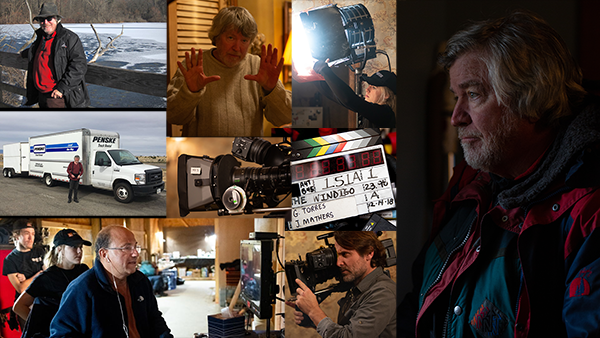 Ask a Filmmaker of any stature, and they will tell you that they never have enough resources, (time, budget, equipment), to devote to any project.  It's certainly true for me shooting Indie, (read low budget) features.  However, for better or worse, it is an area of the business I've come to be known for, movies with budgets between half a million and five million dollars.  Over a 40+ year cinematography career, I've learned a lot of tricks to squeeze maximum production value and good looking images out of meager budgets, making dimes look like dollars on the screen.
I would like to share some of the techniques and equipment employed on my latest assignment, a little feature with the working title, "The Windigo."  The story, set both in the 1800s and present day, revolves around an ancient Native American legend about a spirit that can be conjured up to exact justice for evil deeds when other forms of punishment fail.
There were many challenges, not the least of which was that the story was set in the dead of a Michigan winter with lots of large night exteriors.  However, I had a lot going for me, including a long time collaboration with the Director, Gabe Torres.  We had previously worked together on several TV series, as well as the highly successful Indie feature, BRAKE.
I had another ace-in-the-hole being the many relationships formed with equipment manufacturers through my work running the Digital Cinema Society.  Through promotional loans and discounted rental rates, I was able to use the latest technology and bring a level of support this production would otherwise never have been able to afford.  These relationships also give me the chance to stay current and share my evaluations of the gear in real world settings.
The project is now in post, and it will be several months until the DI, but I can see from the dailies and rough cut that it is looking pretty good.  However, I can't take all the credit.  My work on this film could not have been successfully completed without a solid crew and the gracious support to the following companies, (listed in alphabetical order):
Anton/Bauer • Aladdin Lights • BB&S • DADCO/Sunray/FilmGear • Detroit Power & Light • DMG Lumière/Rosco • Fujinon • K 5600 • Key Code Media • Light & Motion •  Panasonic • Sigma Lenses • SmallHD • Schneider Optics •  Stratton Camera • Teradek •  Zylight
LIGHTING
As you can see, I had access to a lot of gear, but budget constraints also meant the crew would be relatively small, and to my mind, it doesn't do a lot of good to have too much equipment if you don't have the proper personnel to safely and effectively set it up.  Technology has led me to an approach that would not have been possible a few years back when lighting instruments were not as efficient and cameras not so sensitive.  I decided I would only use lights that could plug into a 20 amp household circuit, (what some affectionately call an "Orange Stinger Job").
Of course, this would be no sweat on a small set or for a documentary type of production, but as previously mentioned, this shoot called for a number of large night exteriors in the forest.  Rather than a dense pine forest where you could just light one row of trees, this is the type of winter forest that had enumerable barren tree trunks visible for hundreds of yards in any direction.  Naturally, the Director wanted to look in lots of different directions with multiple cameras requiring very little relighting between setups, so it was a somewhat tall order.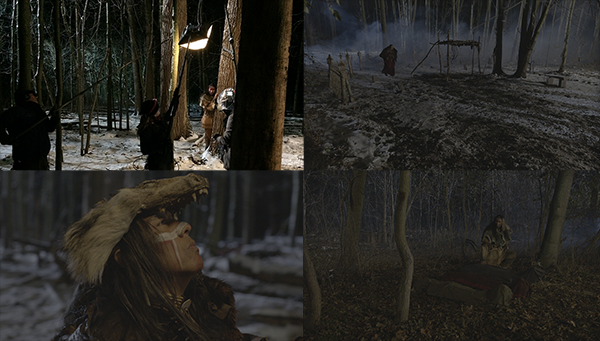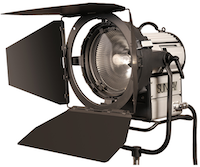 My answer was to bring in the "Big Guns"…no not 24K HMIs, but much more manageable HMIs that can run off a single 20 amp circuit.  I sourced two 1.8Ks from my friends at the allied manufacturing companies DADCO, Sunray, and FilmGear.  It is truly amazing how much single source brute light output you can get out of one of their faceted reflector PARs.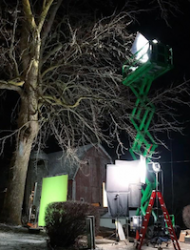 I put these above the tree line on a 36' sizer lift, the largest they had that was equipped with 4-wheel drive to plow through the mud and snow to get into tough spots. The lights were set side-by-side and splayed out to make for a wider coverage pattern.
Then to fine tune things a bit I added one or two K 5600 1.6K Alphas. They don't have comparable lumen output, but their fresnel lenses allow them to be dialed in to get the light precisely where I needed it.  The combination of these units made for fast set ups and quick adjustments.
Much as LED manufacturers might like to claim, there is still no substitute for the HMI when you need a single source with lots of output and a long throw. Maybe someday, but not yet.  I also made good use of the K 5600 Alphas once we got to the set.  Their dimmable ballasts made for an easily controllable output and the sharp nature of the light created a very believable sun source coming through windows and "exterior" doors, which could be precisely cut and was also good as projecting patterns coming through the shears.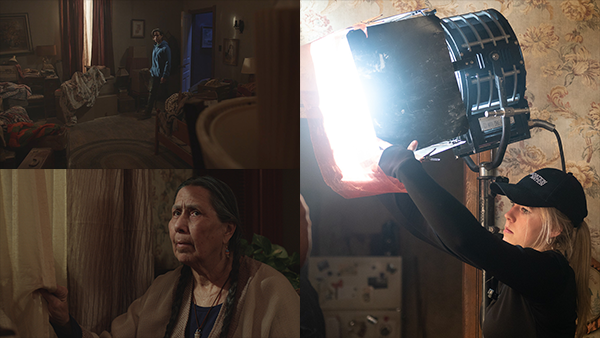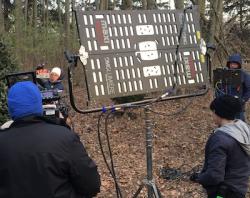 Another light that played in almost every set-up in the movie was the much loved Maxi light from DMG Lumière, now a Rosco company.  It creates a large soft source that is color variable, and with a draw of only 520W, it is very stingy with power.  It is bright enough to use as daylight fill, reducing shadow in full sun and it also helped to extend our shooting day when we were losing the light, with quick color adjustments to match the setting sun.
I don't like to have too many sources working a night exterior, especially when it is a natural setting with no real justification other than moon light.  So I usually set up one big source, which I try to keep primarily as a back edge.  Opposed to this, I like to set up a single large soft fill.  This used to be one or two Maxi-brutes bouncing into a 12'x12' Griff, which takes a lot of resources in terms of set-up and power consumption, not to mention that it is extremely hard to move.  However, that was before I discovered the DMG Lumiére Maxi.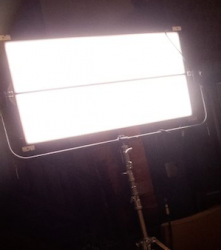 The Maxi is easily transportable in a soft over-the-shoulder carrying case, but then folds open to create a large 3'x4' soft panel.  The output is great enough to put through a large muslin or silk giving me the desired large soft source for night exteriors which is easily moveable and color variable.  I like to keep my two opposing night time sources a little different color, which was quite easy in this case; I just balanced the camera and the Maxi to 4500 Kelvin, and let the HMIs play as full daylight balance avoiding the need for gels and the ensuing grippage.
This was the basic set up for some pretty large night exteriors.  Of course, a few small lights were added here and there, and to help with a closeup where the HMI on the lift might not be at the best angle for a closeup, we would simply flag the big lights off the talent and bring in a Zylight F200 closer at a more suitable angle.  The F200 is a daylight balanced, fully dimmable fresnel which can be battery powered to make it especially quick to deploy.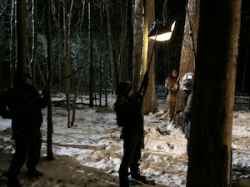 Another cheat to my two source night exterior set up is the BB&S Flyer light which I like to think of as a China Ball on steroids.  It is also color variable, dimmable, and can be powered off a battery.  Since it is light weight enough to "fly" on the end of a boom pole, it gave us the ability to follow a runner through the forest with a constant level of fill.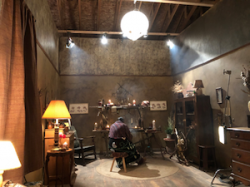 Like the K 5600 Alpha HMIs, the soft color variable LED lights were also very useful on the "stage", (which consisted of sets for a four room house constructed inside a barn).  Since there were a lot of practical light sources on the sets including kerosene lamps, I decided to dig out my small tungsten lights which have been resting in retirement in my garage for the last few years.  Much as I love the new lighting technology, it was a joy to once again use my Minis, Tweenies, and tungsten Dedolights.  They played really nicely along with the Maxi, warmed up and dimmed way down through a 6'x6' muslin.  The extremely thin profile of the Maxi allowed it to fit into relatively tight spaces.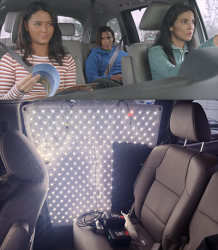 Speaking of thin profiles, it is hard to get thinner than Aladdin's Fabric-Lite, which is made of over 1,200 individual LEDs mounted on a flexible 3'x3' backing.  It is completely flexible, battery operated, dimmable, with variable color between 2900 to 6200K.   I deployed it in many situations, but found it most useful for car interiors.  In a driving shot without the benefit of a proper process trailer, I had to look through the front window of a minivan and hide a light in order to bring the passenger in the heavily tinted rear seat up to the level of the driver and front passenger.  I simply mounted the Fabric-Lite inside, on the edge of frame up against the window, then brought it up to taste.  Being made up of so many small light sources helps create a natural looking wash that you can get pretty close to an Actor without looking lit.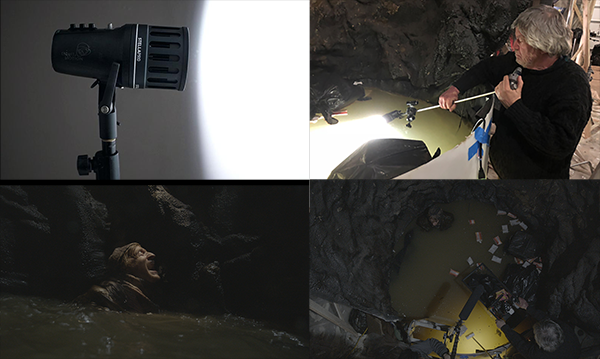 There's one more light that I don't want to forget to mention; a fully immersible waterproof LED from Light & Motion known as the Stella.  Having a short scene with an actor sloshing around at the bottom of a well is the reason I sought it out.  When Actors are in the water, I don't like to have any AC sources around the set, so I used one Stella underwater, and another from the top as my key light.  I also found these lights useful in many other situations throughout the production.  They are fully dimmable and run all day off of an internal battery, so it was really quick to sneak them into many a setup.  The quality of the light is also uniquely clean and sharp, which of course, can be softened with the available diffusion attachments.  I can't say enough good things about these little power houses.
Another little trick employed on this scene was the use of an aquarium for easy water level, (or even slightly underwater,) POVs.  An aquarium works just as well to keep the water out as it does to keep it in.  So, you simply drop the camera in and weigh it down to get the proper water level in your frame, shoot through one side, and then operate steering the aquarium as it floats on the surface.
CAMERA: VariCam
I've long been a fan of the VariCam; I owned one of the first generations of the tape based camcorders and used it on several features, TV shows, and documentaries, such as the theatrically released US vs. John Lennon.  Although it was only a 720 sensor, I loved the rich and subtle colors it was able to capture.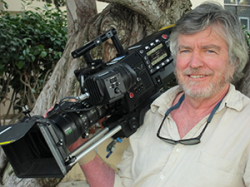 When the VariCam V35 came out a fews years back, I was all over it.  Now I had a 4K, Super 35 sensor that was well matched to my stock of motion picture lenses.  The new camera seemed to retain the color characteristics I loved, with the added bonus of expanded dynamic range and sensitivity, plus the ability to crank up to 120fps in full 4K.  The dual native ISO, where you can set a base of 800 or 5000, and then go up or down from there, was also a great feature.
I started to regularly borrow the camera under the guise of "testing" for a large variety of projects, getting very comfortable with the ease of use and workflow.  Shooting Vlog allowed me to retain expanded dynamic range without baking anything in, but still easily apply a LUT to get a good look on set, then send those settings along to my Post collaborators so they would know what I was going for.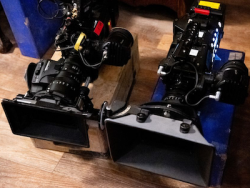 Maybe Panasonic got tired of me borrowing their cameras so often, because when I suggested I might be able to purchase them if I got a sweet enough deal, they found a couple of demo units which they were willing to part with.  So when this movie came up, I had my own VariCam V35 and LT to put to the test and they performed beautifully.  However, I must admit that I never found it necessary to reach up to the available 5000ASA.  I did occasionally use the higher native ISO setting, but then brought it down to 2500 which cuts seamlessly with 800 ISO and was all the sensitivity I ever required.
LENSES: Fujinon Cabrios and Sigma Primes
As a Cinematographer working fast with small crews, I have found it handy to use zooms.  I like the ability to get just the right size shot and sometimes hide a small zoom into a move to help optimize my framing.  As an equipment owner, I have found lenses to be a solid investment, much less subject to the laws of obsolescence than cameras.  I have put a lot of my personal resources into cine lenses and don't usually require outside gear.  I currently own two beautiful Fujinon Cabrios, a 19-90mm and a 25-30mm, which cover a very wide focal range.  However, while the 19-90mm is easily hand-holdable with an attached servo, the 25-300mm is quite a bit larger and better designed for a studio configuration.  It is also a bit slower at T3.5 to T3.85, (ramps just a little bit on the very long end), which compares to a T2.9 on the 19-90mm.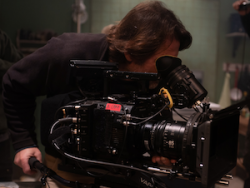 Since we planned to do a lot of handheld two camera coverage, and wanting to shoot with wider apertures for shallower depth of field, I decided to use primes on the second camera instead of the hefty 25-300mm.  However, fearing a growing trend toward larger sensors, I recently sold my much loved Zeiss Standard Speed primes that had been around since my film camera days.  Although the vintage Zeiss lenses covered my S35 VariCam sensor very well, I thought they might not hold their value as well as they have in the past.
I looked around at the various prime sets currently on the market, not only to use on this movie, but to possibly invest in and add to my regular inventory.  They had to be of high optical quality with uniformity of color and tone, not only between the primes, but also to match my zooms.  I wanted reasonably fast apertures built rugged enough to stand the test of time, and also wanted to future proof my potential investment with lenses that covered full frame.  I chose Sigma lenses, and was very pleased that they were willing to loan me a set for evaluation and to use on the movie.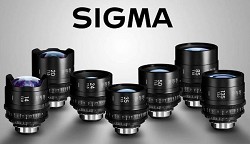 The seven lens set consisted of a 14mm T2.0, a 20mm T1.5, a 24mm T1.5, a 35mm T1.3, a 50mm T1.5, a 85mm T1.5 and a 135mm T1.5.  To me, these lenses hit all the sweet spots, with beautiful tonal quality, nice bokeh, solid build quality, and a very affordable price of less than $25K for this very complete set.  I still have some other brands to evaluate, but at this time, Sigma is at the top of the list for my next equipment investment.
While I'm discussing glass, I should also mention filtration.  I did have Black Frosts from Schneider Optics standing by in case I needed to soften the edges when caught in bright sunlight, but for better or worse, while shooting in Michigan during winter, I never really encountered any bright sun.
CAMERA SUPPORT AND POWER
I grew up, and have spent most of life, living in the warm embrace of the moderate Southern California climate.  So the idea of shooting all-nighters with temperatures barely reaching into the twenties was a new and somewhat intimidating experience for me.  One of the biggest issues, which I had not really been aware of before, is the limited life of batteries during such prolonged exposure to cold temperatures.  I got in touch with my friends at Anton/Bauer for advice, which they were kind enough to give, along with loaning me several battery solutions.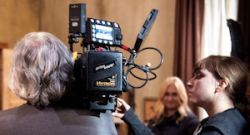 I thought I was already pretty well stocked with camera batteries, including the stalwart Anton/Bauer Hytrons and several of their latest technology, the light weight, but very powerful XT series.  My battery inventory is usually enough to run two cameras all day as well as the monitors, and even lighting.  However, once exposed to such low temperatures without special considerations, even these very dependable batteries only last less than half their usual duration.  The trick, as I was informed, is to keep them as warm as possible from the time they're charging, as well as once they are standing by on-set, and even after they are attached and running the camera.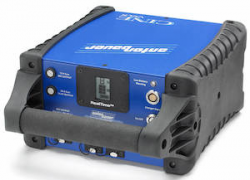 The process started by keeping the chargers in a heated area of the camera truck, then on standby in a thermal container, (an ice-chest works just as well to hold the heat in a cold environment as is does to insulate the cold when it is hot).  Once on the camera, the Assistants would strap chemical warming pads to the sides of the batteries, (the type normally squeezed into your gloves to keep your hands warm) then wrap those inside ski caps pulled tightly over the batteries.  These techniques squeezed nearly normal life out of my batteries, but the real life saver was the Anton/Bauer VCLX series block batteries.    These 560 Watt Hour champs can output either 14 or 28volt power for extremely long durations.  Of course, it also helps to keep these guys warm which was accomplished by housing them in thermal carriers.  Since I had to ship them back and forth to Michigan, I was also pleased to find out that they are safe to travel without the normal restrictions of Lithium Ions.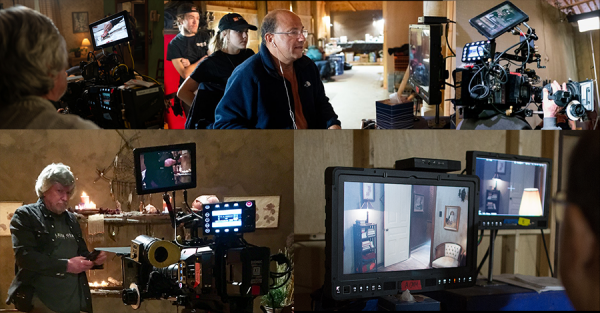 Another essential element I received assistance with was monitoring, care of SmallHD.  I have long been a fan of their on-board DP-7 monitor, but on this production, I also got a chance to try out their extremely rugged 13 and 17 inch models.  They are not only extremely tough, but very nimble, able to run off battery power, and bright enough to easily view in daylight.  After hiking into the woods with gear, it was great to set up video village with little more than a c-stand.
I also love the control these monitors gave me with features such as Wave Form, Histogram, and Zebras for exposure control, and pixel zoom and edge highlight for focus assist.  These monitors also support custom 3D-LUTs that can be imported from most popular color grading software.  This family of displays were the perfect monitoring tools for this job and they paired very well with wireless technology from their sister company, Teradek.  It was great to go wireless with so much handheld work in these very demanding situations.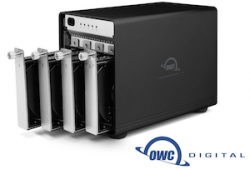 Finally, let me say a few words about data management and post workflow.  On-set we relied on OWC products, backing up the camera original onto one of their Thunderbay 4-Bay RAIDs loaded with 6 terabyte drives for a total of 24TB of storage, more than enough to hold all the data for the film.  Another back up, and the dailies were then transferred to OWC 1TB shuttle drives.  Since production was in Michigan, but the editing room was set up in Los Angeles, we needed to figure out how to get dailies to our Editor, Kevin Hickman.  We didn't want to take the time or go to the expense of shipping the drives back and forth by air across the country, so I reached out to my friends at Key Code Media looking for a solution.  As it happens, they have an office in the Detroit area, not too far from where we were shooting.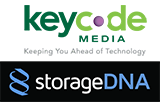 Key Code Media's Owner, Mike Cavanagh, together with Jon Rutherford and Brian Johnson in the Michigan office came up with a great solution.  We delivered our shuttle drives to their Detroit office, where they again backed up the camera original before also sending the Avid DNX files to the Editor.  Using a technology known as "DNAfabric" from a company called Storage DNA, they set up a direct link to the Editor's workstation in LA, to place the dailies files right onto his desktop overnight ready for him to start cutting each morning.  This quick turnaround was extremely helpful as the Editor was able to have creative input while there was still time to do something about it, even suggesting a critical pickup while the elements were all still in place at the location.
I would be remiss if I didn't also mention other local support I received in Michigan.  While I did haul a lot of gear across the country, (everything that would fit into my 14' equipment trailer pulled by a rental cube van), there was still a lot of small items that needed to be sourced locally.  My DCS contacts also helped in this regard, as the Owner of the top camera rental house in town, Lon Stratton, of Stratton Camera, is a Lifetime DCS member.  He introduced me to the top G&E facility in town, Detroit Power & Light and between them, we were well cared for with knowledge that there was great backup and additional gear standing by as needed.  Lon was also my contact in finding quality local crew, which has gotten all the more challenging since Michigan production incentives dried up, and a lot of talented people have moved to greener pastures where incentives, and the resulting employment, is still lucrative.
Shooting Indie movies can be rewarding, but it is a hard way to make a living.  Each project has its unique challenges and The Windigo was no different.  While I'm glad to be back home, I love shooting movies, and am always ready for another cinematic adventure…Have gear…Will travel.
All comments are welcome; please write or leave a comment on our DCS Facebook page: http://www.facebook.com/DigitalCinemaSociety
 
MEMBER NEWS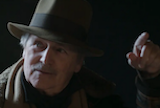 Two-time Emmy-winning cinematographer, Roy H. Wagner, ASC has created a subscription based online teaching series, Beyond The Darkness in order to share his insider knowledge and the benefit of 50 years of lessons learned.  In addition to cinematography, subject matter ranges from a look into Old Hollywood and surviving in the politics of today's Hollywood, to tools and technologies of the trade, to a complete look at Roy's process in step-by-step views of his many widely-successful projects.  See a preview here:  https://www.youtube.com/watch?v=UYcGt5wAWrY&feature=youtu.be
Action Director Lawrence Ribeiro has authored ACTION REALISM: The Art of Action, designed to give both veteran and novice filmmakers the ability to shape dynamic sequences.  From motorcycles to cars to fights, readers will learn how to break down the components of creating speed, location scouting, camera choreography and physical movement, and to integrate them to produce an exciting rush of imagery.
Renewing Your DCS Membership
We count on your dues and contributions to continue our mission and maintain our services to members. So, if your membership has expired, or will soon, please take a few minutes to renew your membership at the $50 annual level or $300.00 for a Lifetime Membership. You can follow the convenient PayPal links, (using any major credit card, and you don't need to be signed up for PayPal,) or you can send payment to our offices at P.O. Box 1973 Studio City, CA 91614, USA.
PayPal Annual Renewal Link – $50.00US:  https://paypal.me/digitalcinemasociety/50
Paypal Lifetime Renewal Link – $300.00US: https://paypal.me/digitalcinemasociety/300
Checks should be sent to: The Digital Cinema Society, P.O. Box 1973, Studio City, CA 91614, USA. Check payments must be in US dollars. Please note that if you are a student, or otherwise cannot afford the dues, just send a note and we will be happy to extend your membership. ** Student and Complimentary memberships do not include a membership card.
SPOTLIGHT ON FRIENDS OF DCS
Welcome to New Friends of DCS: Core SWX – Lupo Light – Quasar Science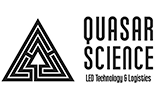 Quasar Science is a lighting technology company specializing in creating a viable replacement for incandescent lamps, compact fluorescent, and low-grade LEDs.  Given modern cinematography's extremely high color requirements, Quasar Science has created a combination of advanced technology offering clean, color correct, and extremely efficient light sources.  Originally founded to serve entertainment and event lighting professionals, the company is now reaching out to other markets that can benefit from high color quality such as laboratories, hospitals, office buildings, museums, art galleries, and educational and industrial facilities, as well as in the home.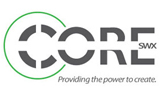 Core SWX is a market leader in batteries and charging solutions for the digital cinema industry. In this technology-driven era, where cameras come and go; acquisition, content and delivery give way to the next growth segment, and Core SWX strives to be at the forefront. This passion has made Hypercore some of the top battery packs in the industry, used by companies from Arri to RED Digital. Cinematographers rely on Hypercore to capture their life's work; from extreme sports to feature films, Hypercore powers the industry.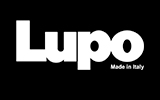 Lupo Lights has been working to perfect studio equipment since they were founded by Carlo Lupo in 1932.  Still owned and run by later generations of the Lupo family from their headquarters near Turin, Italy, they have focused on professional lighting for media and entertainment.  Lupo has became a well respected brand in television studios around the world. They have recently concentrated on the development of LED lighting which can deliver on the advantages of the technology, while avoiding the problems introduced with it by other vendors' products.  Lupo is one of the few companies worldwide that holds the necessary know-how to produce lighting equipment that meets all the requirements of a wide variety of still and moving image capture sectors. Lupo is a brand that exports "Made in Italy" quality, renowned worldwide for its product excellence and technical innovations in the field of professional lighting.
THANK YOU TO OUR SPONSORS
As always, we want to send out a big thanks to all "Friends of DCS," whose support makes it possible for us to continue the DCS mission of educating the entertainment industry about the advancements in digital and cine technology:
AbelCine – ACES – Acromove – Adobe – Adorama – Advantage Video Systems – AJA – Angénieux – Anton/Bauer – ARRI – Avid – BB&S Lighting – Band Pro – Birns & Sawyer – Blackmagic Design – Canon – Cartoni – Cineo Lighting – Cinnafilm – Codex – Cooke Optics – Core SWX – Dadco/Filmlight – Dedolight California – DigitalFilm Tree –  Fiilex – FLUOTEC – FootageBank – Fujinon - GEN Energy – Hot Rod Cameras – J.L. Fisher – K 5600 – Kino Flo – KitSplit – Leitz Cine Wetzlar  Light & Motion – LiteGear – Litepanels – Luminys – Lupo Light – MacSales – MACCAM  - Manios Digital – Mole-Richardson – Nila – OConnor – OWC – Panasonic – Panasonic Lumix – Panavision – P+S Technik – Redrock Micro – Rosco – Sachtler – Schneider Optics – SIGMA – SIM Digital – SmallHD – Sony – Teradek – Quasar Science – The Rag Place – The Studio-B&H – Tiffen – Tokina Cinema – Vision Research – Wooden Camera – Zeiss – ZGC – Zylight
REMEMBER YOUR DCS DISCOUNTS
 DCS members in good standing can also receive significant discounts on products and services from companies including: The Camera Division Design Lab - Raleigh Studios Screening Services - BMW/Mini – LensProToGo – Final Draft – Wooden Camera – SimpleDCP – Zacuto – IMDBpro – Manios Digital – DECKHAND Camera Rental – Tek Media Electronic Repair – AbelCine – BB&S Lighting – Kit & Kaboodle Craft Service – Birns & Sawyer – NightSky Web Hosting – American Cinematheque – ProductionHub – Advantage Video Systems. And if your company would like to offer your fellow members meaningful discounts on products or services, let us know and we'll consider adding your offer to the page. Visit the DCS Member Discount page for all the details: www.digitalcinemasociety.org/member-discounts
CALENDAR OF UPCOMING INDUSTRY EVENTS
The large number of listings and hyperlinks in our full Calendar of Events causes many e-mail servers to reject our eNewsletter. So, for a complete calendar of upcoming industry event listings for both the U.S. and International, please visit the Events Calendar on the DCS Homepage at:  www.digitalcinemasociety.org/events-calendar
Follow DCS on Facebook and TwitterDon't forget that the Digital Cinema Society has a Facebook fan page. Check in for the latest news, event details and general DCS hubbub at: http://www.facebook.com/DigitalCinemaSociety
On Twitter, you can follow us @DCSCharlene
Our Home, The Digital Cinema Society: www.digitalcinemasociety.org
"It is not the strongest of the species that survive, nor the most intelligent, but the most responsive to change." Charles Darwin