DCS UPDATE
As usual, by the end of each month, there are lots of industry news items to share.  This month we report that Kees van Oostrum, ASC and Tim Pugh are taking the reins at Cooke as Chairman Les Zellan and CEO Robert Howard step down.  We are excited to share that the ARRI Orbiter has started shipping, and that Panasonic has introduced a new Lumix Mirrorless BGH1 box camera.
Congratulations are in order for Codex on winning a Technical Engineering Emmy for their Codex Raw High Density workflows and to Litra for being honored with two NAB Product of the Year Awards for their LitraStudio LED.  OWC has announced a new high-speed, ultra-compact bus powered USB-C SSD known as the Envoy Pro Electron.  And finally, we share a short postmortem on Quibi, shuttered after only six months in operation.
For his essay this month, James Mathers takes another look at the use of iPhones for cinematic production after a slew of recent technological advancements in the Pro models of the iPhone 12.  "Excuse Me, I Think Your Camera is Ringing — iPhones for Movie Making II" follows along with lots and lots of news.
Industry News
Kees van Oostrum, ASC To Take The Reins At Cooke As Chairman Les Zellan Steps Down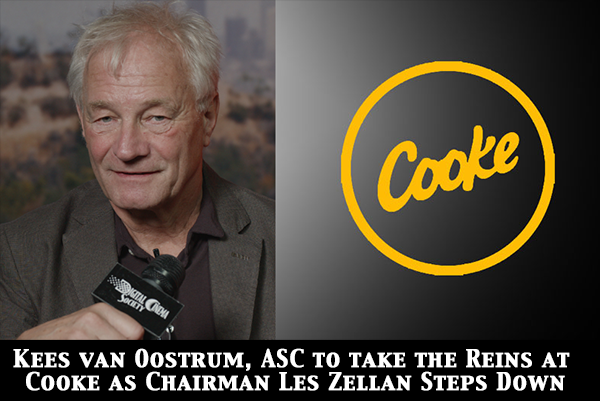 In a surprising corporate reshuffling, Kees van Oostrum, the past president of the American Society of Cinematographers, (2016-2020,)  and current president of IMAGO, has been tapped to lead venerable lens manufacturer Cooke Optics. Current Chairman Les Zellan, who has been with the company since 1998, will be stepping down, and CEO Robert Howard, who joined Cooke in 2008, will also be retiring, both effective at the end of October.  Van Oostrum, who is a current board member, will take on the title of non-executive chairman, while manufacturing executive Tim Pugh, who is new to the company, will assume the title of CEO.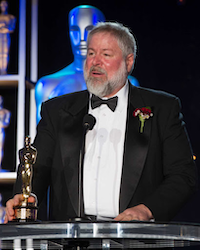 Cooke, who manufactured their first lens back in 1893, is not only one of the oldest lens brands, but also one of the most respected.  Les Zellan accepted an Academy Award of Merit in 2013 and their lenses have been used on innumerable productions including such classics as The Wizard of Oz and The Sound of Music.  Their lenses continue to be popular with Cinematographers who appreciate what has come to be known as the "Cooke Look." Les Zellan, who had been Cooke's North American distributor, took over the company in 1998 when he purchased the division from its  parent company, Taylor-Hobson.  He is credited with resuscitating the Cooke brand after building a new 20,000 sq. ft. UK facility with state-of-the-art manufacturing technology to compliment the hand-made ethos which was first used to create the popular Cooke S4  lens line.  A majority stake in the company was acquired in 2018 by Caledonia Private Capitol, with Zellan remaining as Chairman.
Orbiter, ARRI's New LED Point Source With a Variety Of Optics Now Shipping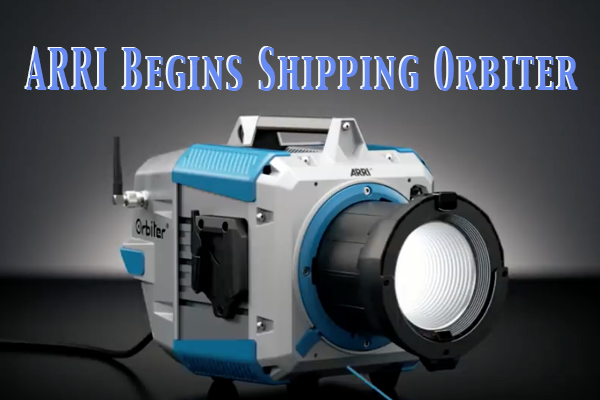 ARRI has announced mass production and first shipments of Orbiter, their new LED point source with a variety of optics.  Orbiter is manufactured at the ARRI Lighting factory in Stephanskirchen, Germany. This facility is located among a close network of partner companies from the region with the necessary experience gleaned from the production of the SkyPanel. A completely new production concept was also developed for the assembly and evaluation of the Orbiter, with an extended and comprehensive test setup.
In addition to the new and innovative light engine, known as ARRI Spectra, a wide range of accessories are available for Orbiter adding the ability to easily attach and change a variety of optics by using the Quick Lighting Mount.  The QLM allows Orbiter to transform into different types of lampheads. In addition, the new Lighting Operating System LiOS will be available and already programmed into the Orbiter units. This system not only offers the user many features as well as a modern and straightforward interface today, but will also continue to be further developed in order to meet future needs and requirements.
Orbiter comes with an extended 3-year warranty as well as 5 years for electronic parts and 10 years for spare parts and is available in the ARRI silver and blue colors as well as a black version.  The light is available for purchase at $6,300US and a little over $10,000US for a basic kit including three lenses, remote panel, and barn doors.  The system is well illustrated in this promotional video:  https://microsites.arri.com/orbiter/orbiter-videos.html  And for more information on Orbiter, please visit: www.arri.com/orbiter
###
New LUMIX BGH1 Mirrorless Box Camera Featuring 4K 60p and 10-bit Recording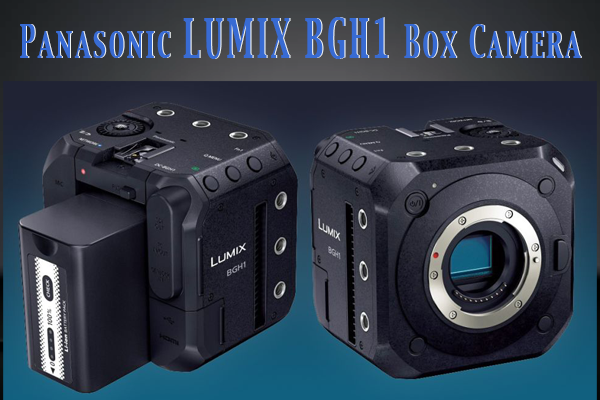 The Panasonic LUMIX division has announced their first box-style Mirrorless Camera, the LUMIX DC-BGH1. Based on the Micro Four Thirds System standard, the BGH1 takes advantage of high mobility, interchangeable lenses, and technologies Panasonic has developed for their professional cinema cameras, camcorders and the LUMIX GH series. The system is designed to be expandable and can be used in a variety of ways from shooting on drones to IP remote control to live streaming and more. Professional-level quality is achieved with high sensitivity and wide dynamic range featuring a 10.2-megapixel Live MOS Sensor with Dual Native ISO technology and the Venus Engine.  It is said to allow for maximum ISO 51,200 high sensitivity recording.
The LUMIX BGH1 enables 4:2:0 10-bit C4K/4K 60p or 4:2:2 10-bit All-I C4k/4K 30p internal video recording. The camera can record video with a designated gamma curve compatible with ITU-R BT.2100, and users can now choose Hybrid Log Gamma (HLG) in Photo Style. A low-bit-rate recording mode C4K/4K HEVC/H.265 for HLG is also available.  V-Log L now features log characteristics with 13 stops of wide dynamic range and is pre-installed. It is also capable of 4K 4:2:2 10-bit C4K/4K 60p output over HDMI.  VFR (Variable Frame Rate) is available up to 60 fps in 4K and up to 240 fps in HD.  The minimum frame rate for quick motion video is 2 fps.
On-board recording with the LUMIX BGH1 is via Dual UHS-II SD Card slots for backup recording or relay recording. The included ethernet port or the USB 3.1 Type-C, 3G-SDI and HDMI Type-A terminals can all be used for simultaneous output. Genlock IN and Timecode IN/OUT functions simplify multi-angle synchronized video recording and integrate into a scalable system with external monitors, rigs and gimbals supplied from other manufacturers.  Control over a maximum of 12 LUMIX BGH1 cameras is available from the Panasonic LUMIX Tether for Multicam application, and a future firmware update will support IP streaming over wired ethernet (RTP/RTSP).  The LUMIX BGH1 will be available in December 2020 at just under $2,000.00US.  See a promo here:  https://www.youtube.com/watch?v=z1C-prZBS8Q
###
CODEX wins Technical Engineering Emmy for CODEX RAW High Density Workflows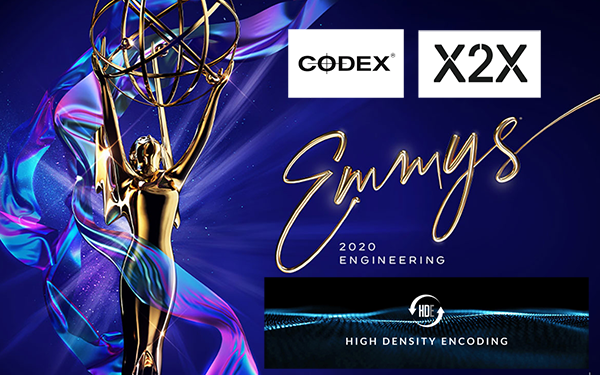 CODEX, part of the X2X Media Group, has been honoured with a 2020 Engineering Emmy® Award, recognizing the engineering behind the CODEX RAW Workflow with High Density Encoding (HDE).  The CODEX RAW Workflow provides an efficient and cost-effective solution for television production using high-end camera capture in a RAW format. It offers the fastest data migration process for RAW camera content available in a completely proven and deployed end-to-end secure transport workflow from production to post. When enabled with HDE for ARRIRAW files, a reduction in the data footprint of up to 50% can be realized with no loss in image quality. HDE reduces the storage costs from production through post and saves time in data migration and file transfers and during the final archive to tape or the cloud. It also saves time during post-production processing, as the data files are smaller in size by 50%.  Television shows that have deployed a CODEX RAW Workflow include The Mandalorian (Disney+), El Camino (A Breaking Bad Movie), Daybreak, Altered Carbon (Netflix) Good Omens and Troop Zero (Prime Video) and Big Little Lies (HBO).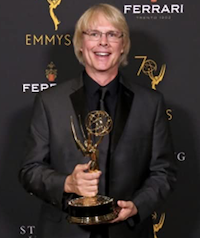 DCS Advisory Board Member Brian Gaffney, Vice President of Business Development at CODEX, said, "We would like to thank the Television Academy for this engineering recognition. We would also like to thank the Cinematographers who have demanded a RAW master and for the digital imaging technicians, data managers, and post partners who have quickly adopted HDE into their workflows. We are absolutely thrilled to receive a second Engineering Emmy Award in recognition of our continuing work to evolve the production pipeline from capture to the cloud.  CODEX was previously awarded an Engineering Emmy Award in 2018 for its "Recording Platform and Capture Media".
###
Litra Receives Two NAB Product of the Year Awards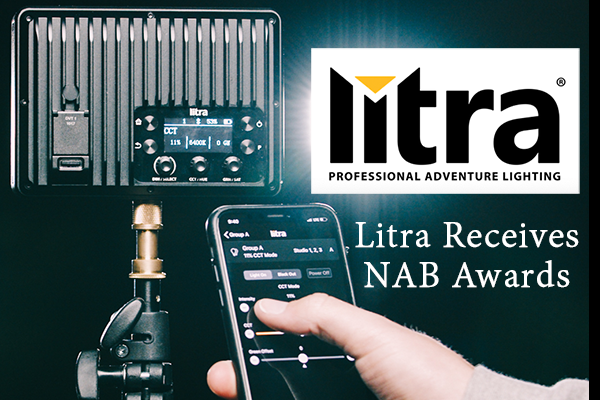 The LitraStudio has been honored with two awards in separate categories from the National Association of Broadcasters, Product of the year in both Studio Lighting and Location Lighting. The NAB Awards recognizes innovation in new products, across 23 categories, at the 2020 NAB Show, honoring breakthroughs within the media, entertainment, and technology industries.
The LitraStudio™ is a powerful and portable RGBWW light for photo and video with over a million unique colors available. Compact enough to fit in a small camera bag, yet capable of producing up to 3,000 Lumen of continuous light and up to 6,000 Lumen of flash with no cords attached. Learn more about the LitraStudio here: https://litra.com/pages/litrastudio
###
A Short Life For the Purveyor of Short Films – Quibi to Shut Down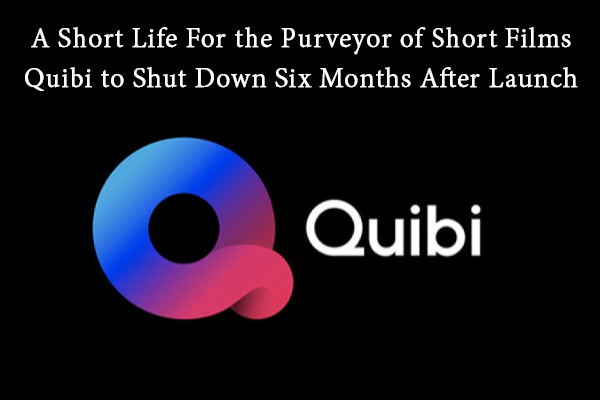 After only six months in operation and having raised nearly $2 billion in funding, Quibi is shutting down, this according to founders Jeffrey Katzenberg and Meg Whitman.  They wrote in a public letter that "It is with an incredibly heavy heart that today we are announcing that we are winding down the business and looking to sell its content and technology assets."  They plan to return cash to shareholders, lay off employees as part of the shutdown, and look for buyers for its assets.  Katzenberg's noble ambition, after he sold DreamWorks Animation to NBCUniversal in 2016, was to launch a mobile-first video business with premium short form content to lure subscribers with the works of such high profile filmmakers as Antoine Fuqua, Sam Raimi, Guillermo del Toro and Catherine Hardwicke.  In fact, several Quibi projects were nominated for short-form Emmy awards with two trophies going to Antoine Fuqua's #FreeRayshawn.  In an unfortunate turn of events, the Quibi launch coincided with the COVID-19 pandemic, which quarantined potential subscribers at home where they preferred to watch TV.  One of the few outlets for paid short form content, the service will surely be missed by Indie Filmmakers.
###
OWC Announces Envoy Pro Elektron, a Rugged, High-Speed, Ultra-Compact USB-C SSD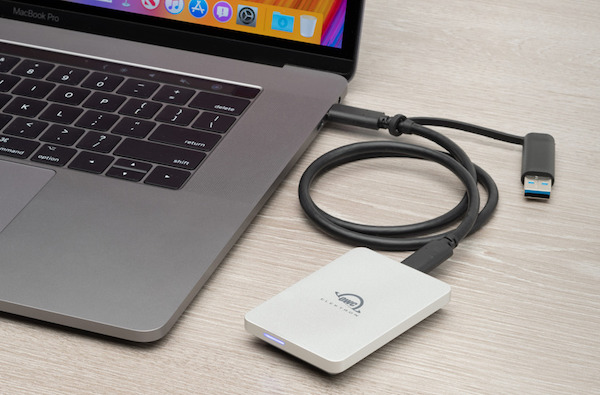 OWC has announced the Envoy Pro Elektron, the fastest, toughest mini-sized SSD to be found. Pocket-sized tiny, this USB-C bus-powered drive is crushproof, dustproof, and waterproof for editing/saving personal and work files anywhere at up to 1011MB/s real-world speed. For example, it is capable of transferring a 5GB movie file in less than five seconds. The cool running aircraft-grade aluminum storage solution with drive status LED operates silently without a power adapter. With the included USB-C cable and Type-A adapter, the OWC Envoy Pro Elektron is plug and play compatible with Macs and PCs produced over the last decade, current models, and well into the future; as well as iPad Pro and Chromebook tablets.  The OWC Envoy Pro Elektron is available now through MacSales.com in capacities of 240GB and 480GB starting at $99.00 with 1.0TB and 2.0TB shipping in early and mid-November.
###
One DP's Perspective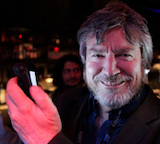 Excuse Me, I Think Your Camera is Ringing — iPhones for Movie Making Part II
by James Mathers
Cinematographer and Founder of the Digital Cinema Society
(Excerpted from the October 2020 Digital Cinema Society eNewsletter)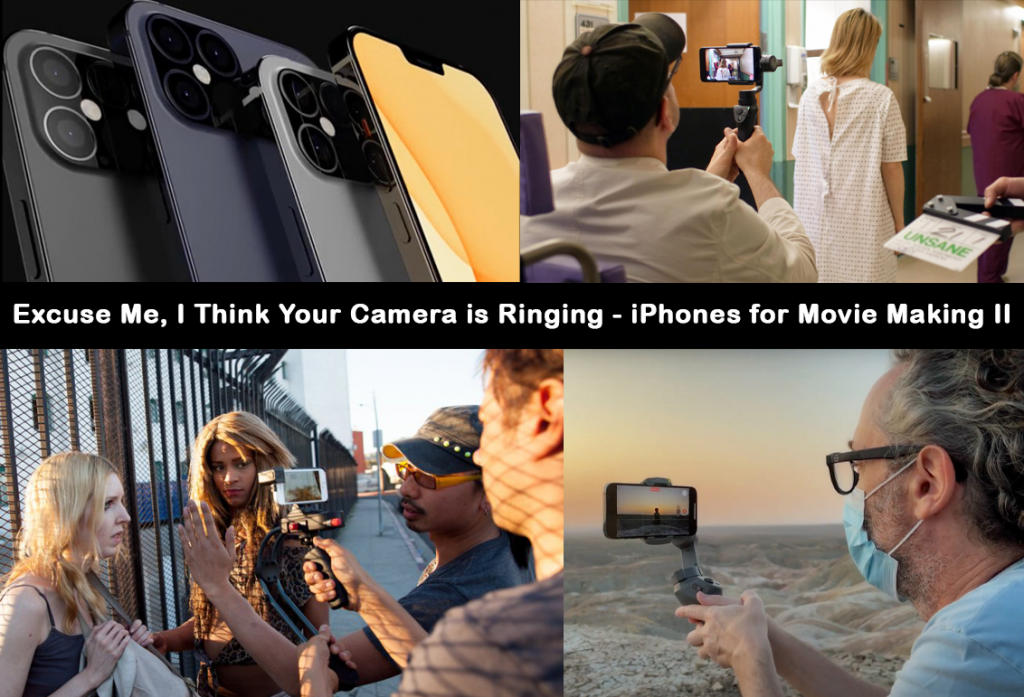 The iPhone is so prevalent, especially in the entertainment industry, that it seems like it has always been a part of our lives. But let's start out with a little historical perspective. In fact, the Digital Cinema Society, now going into our 18th year, predates the iPhone, and this is not the first time I have devoted a monthly DCS column to its use in motion pictures. It was back in 2014, when Ridley Scott, (who created Apple's famous Orwellian 1984 Super Bowl commercial), was commissioned to come up with another spot for the 2014 game featuring only footage shot with the iPhone. Meanwhile, the Sundance contender Tangerine by Sean Baker, (The Florida Project), was shooting exclusively with an iPhone 5s and Korean filmmaker Park Chan-wook, (The Handmaiden, Snowpiercer), was experimenting with the format on the fantasy-horror short, Night Fishing.
So, shooting movies on an iPhone is nothing new, but with the latest release of the iPhone 12, and all the new features that are particularly useful to filmmakers, I felt like I had to reprise and update the exploration of the iPhone for movie making.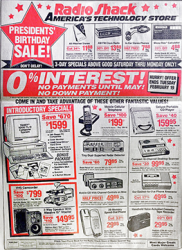 Like all consumer electronics technology, our personal "communication devices," (it's hard to refer to them as mobile phones when they now serve so many functions), are advancing at an ever-accelerating pace. In fact, every advertised item from this 1991 Radio Shack ad has existed for some time in even higher quality, inside a single smart phone. Of course the innovation continues, with the latest iteration of the iPhone.  Having a 4K camcorder with decent sensitivity and dynamic range is just the start. It is also a wirelessly internet-connected computer that easily slips into your pocket, but now it is going much further by taking advantage of the abilities created by geolocating accelerometers and Lidar scanners.
Let's start with a look at the iPhone's latest camera, (or should I say cameras?). The new lineup includes the iPhone 12, iPhone 12 Mini, iPhone 12 Pro and iPhone 12 Pro Max. With so many models, it can get a little confusing about what differentiates them from each other, but the included camera capability is one important factor. In general, the iPhone 12 and 12 Mini are the two most affordable phones in the lineup and each has the usual front facing "selfie-cam" in addition to dual rear cameras. However, the higher end Pro models feature an additional third telephoto camera, and more storage, up to 512GB, (which will come in handy for motion picture use).
The Pro models also feature Dolby Vision HDR and a new Apple ProRAW recording format. Oscar-winning cinematographer Emmanuel Lubezki, ASC made a short movie with the iPhone 12 Pro which was screened as part of Apple's launch event. You can talk about stats all you want, but to me there is no better test of a capture device's capabilities than to put it in the hands of a master artist like "Chivo," as he is affectionately known.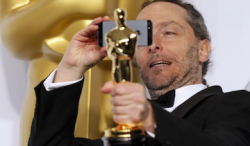 Lubezki is an eight-time Oscar nominee for Best Cinematography and a three-time winner, (Gravity, Birdman, and The Revenant.) He won his three Oscars in three consecutive years, a singular accomplishment which no one in the history of the Academy Awards has ever achieved. But neither can credits tell you the quality of the tools the artist is using; you have to see the results for yourself, so links to his beautiful Apple demo and a behind-the-scenes piece follow this essay.
Another feature that really sets the Pro models apart is the Lidar scanning capability for modeling and object detection. Lidar technology, whose development was greatly accelerated by virtue of its use in self driving cars, opens up a whole set of new uses in the areas of VR, AR, and cinematic visual effects. Lidar, an acronym for "Laser Imaging Detection And Ranging is, according to Wikipedia, a method for measuring distances by illuminating the target with laser light and measuring the reflection with a sensor. Differences in laser return times and wavelengths can then be used to make digital 3-D representations of the target. This information combined with the iPhone's photographic sensor and camera-to-subject distance data allows for the creation of a depth map which is key to manipulating the image in post. For example, it allows for such abilities as choosing the point of focus in an image in post and is key to opening up many more abilities yet to be realized.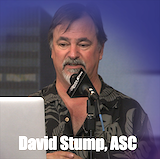 When I'm struggling to understand the more scientific aspects of cinema technology, especially relating to visual effects, I turn to my friend David Stump, ASC. He is not only a Cinematographer and Visual Effects Supervisor, but also an all around fountain of cinematic knowledge with a long list of notable productions, an Emmy, and an Academy Award for Scientific and Technical Achievement to his credit. David, who has worked extensively with Lidar when testing for Lytro, tells me that the iPhone in itself is not currently a tool he could take into the field and use to help create visual effects. However, the fact that this technology is now out of the lab and in the hands of users as a consumer electronics device will help educate a new generation of filmmakers who will find further creative ways to harness these abilities.  Light field technology was behind the Lytro Cinema system, which is now defunct after selling to Google, so it can't be long until we also see this incorporated into an Android phone.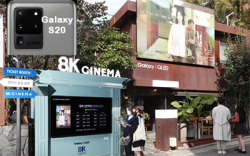 Meanwhile, Samsung Electronics has released Untact, an 8K movie shot mainly on its Galaxy S20 and Note 20 smart phones in order to promote 8K-technology and its ecosystem to consumers. The project can only be viewed in full resolution in Samsung's two 8K cinemas in Seoul and at lower res on Samsung's YouTube channel. Although I'm concentrating on the iPhone in this essay, other mobile platforms are also developing at an incredible pace.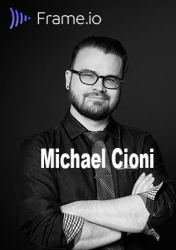 All the new iPhone models are 5G enabled, and the potential benefits of 5G are significant, although aspirational at this point, since the infrastructure to carry the signal has yet to be widely deployed. In time, it will open up a whole range of cloud enabled capabilities. According to our resident workflow guru, Michael Cioni, senior vp innovation at Frame.io, "Some of the major opportunities 5G brings to our community is the millimeter wave which refers to higher frequencies than we've been able to use in consumer telecommunications before (24 and 40GHz).  At these frequencies, speeds can now explode from megabits per second to gigabits per second, theoretically hitting 20gigabits – which would be hundreds of times the bandwidth we have today.  These are short-range waves, so they would be the types of installations on movie studio lots, production offices, shooting stages, production companies, and generally major buildings in major cities. While this won't cover all the needs for production, a large percentage of production takes place in or around studio lots and mmW will be a huge asset."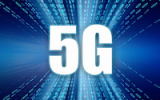 Cioni adds that "5G puts the emphasis on the need for wireless technology to catch up to filmmaking needs at filmmaking quality.  But the transition will be something like cutting film to Avid or going from tape to files; it will be a process in which people slowly open up to relying more and more on 5G.  Today, Frame.io is relying on 4G LTE for our Frame.io CLOUD solution that instantly transmits and shares proxy clips from the camera to anyone in your production. But the quality and access will only go up with 5G.  Ultimately, as the bandwidth increases and the network reach expands, we will switch from proxies to original camera files.  This means we will instantly shoot to the cloud and therefore an archive and backup will exist without ever having to download anything or ship from the set. This is still 5-7 years away, but the building blocks are now all coming into focus."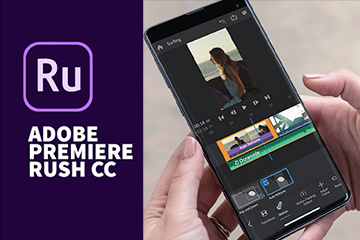 The iPhone has been capable of basic video editing for some time via iMovie, but new capabilities are constantly being added, and other professional NLE have been converted for use on mobile devices. Adobe has brought the power of their Creative Cloud to the iPhone with Adobe Premiere Rush. There were several updates announced at their recent Adobe Max, including all-new graphics and an audio browsing experience, complete with hundreds of royalty-free soundtracks, sound effects, loops, transitions, animated titles and more. Three sophisticated new transitions include Push, Slide, and Wipe. Plus, Pan and Zoom and Auto Reframe are now available on mobile platforms. Many of these features are enabled by AI, such as Auto Reframe's use of Adobe Sensei to intelligently identify the key point of interest in the frame, reframing the clips when switching between different aspect ratios. Once it has identified the point of interest in the frame, it tracks it throughout the reframed video, keeping the important parts of your shot in the frame.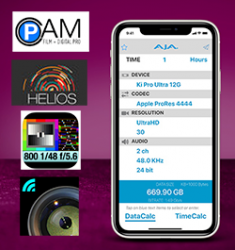 Let's also not forget some of the great cinematography apps which are constantly being updated and improved, (sometimes to the chagrin of the app developers who are forced to rewrite their code when Apple does a major iOS update.) There are Cine-Calculators like David Eubanks' pCAM, the Helios Sun Position Calculator, and free storage calculators like AJA DataCalc. DCS Advisory Board member Adam Wilt's Cine Meter and FieldMonitor apps have recently seen major updates.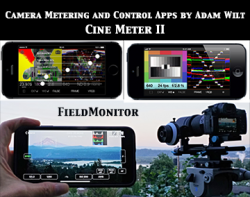 Since the last time I wrote about Adam's apps, Cine Meter II has added a spot meter function and the ability to show green/magenta tint as a Wratten CC value, a plusgreen/minusgreen value, or as ∆uv. FieldMonitor is now compatible with Lumix S-series (full-frame) cameras and Canon EOS mirrorless cameras as well as DSLRs. Focus assist options now include red and cyan digital peaking; you can show the waveform monitor and other 'scopes with or without the effect of monitoring LUTs. Then there are the apps that offer more professional cinematic type control over the iPhone capture such as FiLMiC Pro and Mavis when you are ready to go beyond auto everything.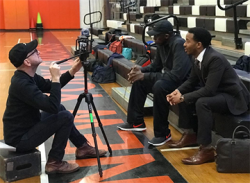 Steven Soderbergh's last two features, Unsane and High Flying Bird were both shot entirely on the iPhone. Unsane starring Claire Foy from The Crown was mainly shot in one location, while High Flying Bird starring André Holland, features various locations throughout the greater New York area. Soderbergh has been quoted as saying, "I think this is the future. Anybody going to see this movie who has no idea of the backstory to the production will have no idea this was shot on the phone. That's not part of the conceit."
Emmanuel Lubezki also had kind words, "When I started shooting movies, you had to rent a very expensive camera, buy film stock, pay for developing, special equipment for editing. Now, you can really go out with one of these devices and make a movie. I think the next great cinematographer or the next great film director is already making movies with one of these devices."
Personally, I'm not ready to give up my cinema cameras and shoot exclusively with the iPhone, but it sure is handy to pull one out of my pocket on a location scout or rehearsal and get a pretty darn good image, with very little effort. Although the included technologies such as 5G, Lidar, and image quality features like Dolby HDR are still maturing, the future looks bright for iPhone movie making. The iPhone has certainly come a long way since its debut in June 2007, not to mention that you can also use it to make phone calls, which in itself, is pretty amazing technology.
A short film made by Emmanuel Lubezki on the iPhone 12 Pro: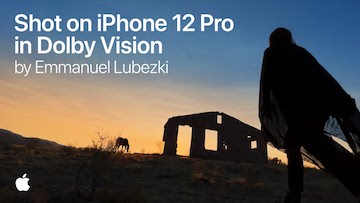 Behind the scenes: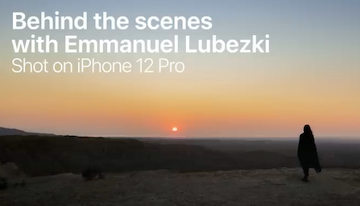 Renewing Your Membership and Supporting DCS
We count on your dues and contributions to continue our mission and maintain our services to members. So, if your membership has expired, or you simply want to show your support of our effects, please take a few minutes to send a donation. Membership is available at the $50 annual level or $300.00 for a Lifetime Membership. You can follow the convenient PayPal links, (using any major credit card, and you don't need to be signed up for PayPal,) or you can send payment to our offices at P.O. Box 1973 Studio City, CA 91614, USA.
PayPal Annual Renewal Link – $50.00US:  https://paypal.me/digitalcinemasociety/50
Paypal Lifetime Renewal Link – $300.00US: https://paypal.me/digitalcinemasociety/300
Checks should be sent to: The Digital Cinema Society, P.O. Box 1973, Studio City, CA 91614, USA. Check payments must be in US dollars. Please note that if you are a student, or otherwise cannot afford the dues, just send a note and we will be happy to extend your membership. ** Student and Complimentary memberships do not include a membership card.
Welcome to Riedel Communications as New Friend of DCS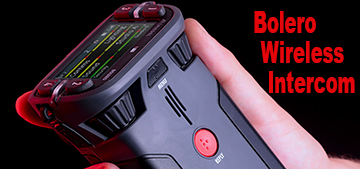 Bolero, manufactured by Riedel Communications, is a game changer in the world of wireless intercoms.   Capable of supporting up to 250 beltpacks and 100 antennas in a single deployment, this point to point system redefines the wireless intercom market with features such as its ADR (Advanced DECT Receiver) with multi-diversity and anti-reflection technology for greater RF robustness, "Touch&Go" NFC beltpack registration, and versatile operation as a wireless beltpack, a wireless key panel, or — in an industry first — a walkie-talkie.
The belt pack itself features six intercom channels and a separate "Reply" button for a quick reply to the last caller. Bolero's sunlight readable and dimmable display can be rotated so that it is readable in any orientation. Also, in an industry first, the belt pack can be used without a headset like a walkie-talkie radio utilizing an integrated mic and speaker. Bolero beltpacks support Bluetooth, allowing either a Bluetooth headset or a Smartphone to be connected. When a Smartphone is connected, the beltpack can act like a car's "hands free" setup so the user can receive calls on their phone and talk and listen via their beltpack headset. Users can also inject phone calls directly into the intercom channels, providing new levels of workflow flexibility.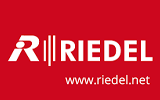 Riedel Communications, founded in 1987, designs, manufactures and distributes innovative real-time networks for video, audio and communications. Its products are used for tv and film production, broadcast, live event, sports, theatre and security applications, worldwide. The company is known for pioneering digital audio matrix systems and fiber-based real-time network technology. Riedel Americas is headquartered in Santa Clarita, California and all products are designed and manufactured in Wuppertal, Germany.  The company employs over 700 people in 20 locations throughout Europe, Australia, Asia and the Americas.  For more information about Bolero, please email: salesteamUS or visit the Riedel website: https://www.riedel.net/products-solutions/intercom/bolero-wireless-intercom/
THANK YOU TO OUR SPONSORS
As always, we want to send out a big thanks to all "Friends of DCS," whose support makes it possible for us to continue the DCS mission of educating the entertainment industry about the advancements in digital and cine technology:
ACES – Adobe – AJA – Anton/Bauer – ARRI – Avid – BB&S Lighting – Band Pro – Birns and Sawyer – Blackmagic Design – Bright Tangerine – BROKEH – Canon – Cineo Lighting – Cinnafilm – Codex – Cooke Optics – Core SWX – Dadco/SunRay – Dedolight California – DigitalFilm Tree –  ETC – Fiilex – Film Gear – FLUOTEC – FootageBank – Fujinon –  Infinity Photo-Optical – J.L. Fisher – K 5600 – Kino Flo – L.A. Rag House – Lectrosonics – Leitz Cine Wetzlar – Light & Motion – LiteGear – Litepanels – Litra – Luminys – MacSales – MACCAM  -  Mole-Richardson – Nanlite – Nila – OConnor – OWC – Panasonic Lumix – Panavision – P+S Technik – Riedel – Rosco – Rotolight – Sachtler – SIGMA – SmallHD – Sony – Teradek – Quasar Science – Rotolight – The Rag Place – The Studio-B&H – Tokina Cinema – Vision Research – Westcott – Wooden Camera – Zeiss – Zylight
DCS MEMBER BENEFITS and DISCOUNTS:
DCS members in good standing can also receive significant discounts on products and services from companies including: Core SWXThe Camera Division Design Lab - Raleigh Studios Screening Services - LensProToGo – Final Draft – Wooden Camera – SimpleDCP – Zacuto – IMDBpro – DECKHAND Camera Rental – Tek Media Electronic Repair – AbelCine – BB&S Lighting – Kit & Kaboodle Craft Service – Birns & Sawyer – NightSky Web Hosting – American Cinematheque – ProductionHub. And if your company would like to offer your fellow members meaningful discounts on products or services, let us know and we'll consider adding your offer to the page. Visit the DCS Member Discount page for all the details: www.digitalcinemasociety.org/member-discounts
CALENDAR OF ONLINE INDUSTRY EVENTS
The large number of listings and hyperlinks in our full Calendar of Events causes many e-mail servers to reject our eNewsletter. So, for a complete calendar of upcoming online industry event listings, please visit the Online Events Calendar on the DCS Homepage at: www.digitalcinemasociety.org/online-industry-events-calendar
Follow DCS on Facebook, Twitter and Instagram. Don't forget that the Digital Cinema Society has a Facebook fan page. Check in for the latest news, event details and general DCS hubbub at: http://www.facebook.com/DigitalCinemaSociety
On Twitter, you can follow us @DCSCharlene
On Instagram at: digitalcinemasociety
Our Home, The Digital Cinema Society:
"It is not the strongest of the species that survive, nor the most intelligent, but the most responsive to change." Charles Darwin