DCS Update
Happy New Year! Although we are well into the first week of 2019, this is technically our December 2018 eNewsletter.  With James Mathers out of town shooting a feature, the Fall of 2018 ended up being quite hectic for us, and we fell a little behind on our publishing schedule.  And for the fans of his trade writing, we are sad to report that there is no essay this month, although James Mathers is busy penning articles on the subject of Lens Metadata as well as the camera and lighting tools he used on his recent feature in chilly Michigan.  We hope to include those in our January and February editions along with our annual coverage of CES and the HPA Tech Retreat.
Even with our many other commitments this Fall, we did manage to pull off a couple of great events including one on Indie Finance and Distribution as well as our annual Camera Support and Accessories Expo, which also includes coverage of Canon's new EOS R Full Frame Mirrorless Camera; (links to the streaming coverage follow).
2019 marks the beginning of the Digital Cinema Society's 16th year, and as we try to catch up from 2018, we have lots of news, and activities to tell you about.  Our next major event will be the 2019 Cinema Lighting Expo now scheduled for February 16th, again being held at the Grip's Local 80 Stage in Burbank. We've also got announcements for lots of other groups' activities all around the globe, so be sure to visit the DCS On-line Calendar of Events for details of events happening in your region.
Announcing 2019 DCS Cinema Lighting Expo, Saturday February 16 in Burbank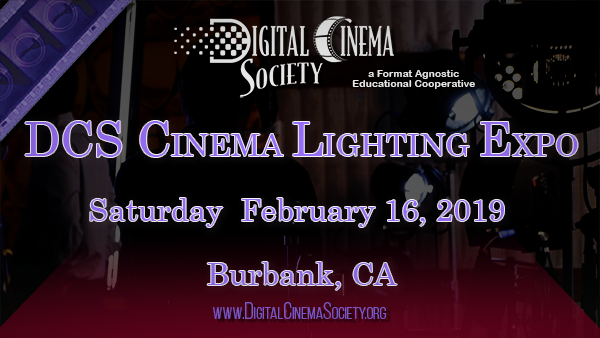 All are welcome to join the Digital Cinema Society for our annual exploration of Motion Picture Lighting and Grip Technology. The event will return to the IATSE Local 80 stage in Burbank on Saturday, February 16th.
In addition to our traditional vendor presentations and practical demonstrations by renowned Lighting experts, we will also discuss the challenges faced by Lighting professionals.
We've been holding this event annually for over a decade now, and it gets bigger and better each year.  The recipient of this year's DCS Pioneer in Lighting Technology Award has yet to be named, and invitations to special guests are pending.  Past participants, who were interviewed and/or gave demos, included some of the most prominent ASC Cinematographers including,  (in alphabetical order): Bill Bennett, Russell Carpenter, Richard Crudo, Allen Daviau, George Dibie, Ron Garcia, Michael Goi, Bruce Logan, Michael Negrin, Sam Nicholson, Bob Primes, Roberto Schaefer, David Stump, Kees van Oostrum, Roy Wagner, and Robert Yeoman.
Participating Manufacturers and Vendors tentatively include, (in alphabetical order):
ARRI • BB&S Lighting • Cineo Lighting • FilmGear
Dedolight • DMG Lumiére • DoPchoice • FLUOTEC
Kino Flo • K5600 • Light & Motion • LiteGear • Litepanels • Luminys
Lowel • MACCAM • Mole Richardson • Nila • Panasonic
Practilite • Rosco Labs • The Rag Place 
Time: Saturday, February 16th, Starting at 10AM and ending at 5PM
Please indicate if you are a DCS member, list "Lighting Expo" in the subject line, and don't forget to give us your contact details when sending your RSVP e-mail: RSVPtoDCS
Note: If you want to bring a guest, we'll need their name and email address in order to confirm the RSVP.
 
New Streaming: 2018 DCS Camera Support & Accessories Expo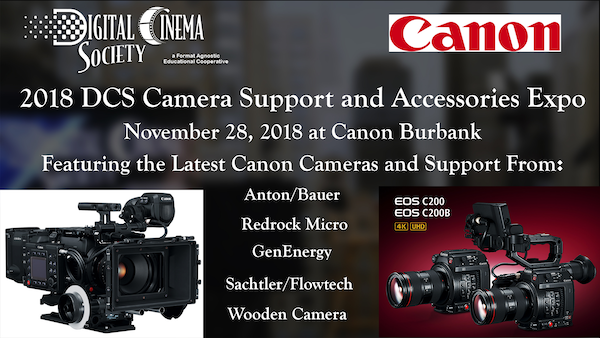 The 2018 DCS Camera Support and Accessories Expo held November 28th at Canon Burbank features the latest products from:  Anton/Bauer – GEN Energy – OCONNOR – Redrock Micro – Sachtler – Wooden Camera.
There is also a presentation from Canon on their latest cameras including the C200 and C200B which both feature internal 4K Raw Recording with a Super 35mm CMOS Sensor, Dual Pixel CMOS Focus Technology, as well as the Canon EOS R Full Frame Mirrorless Camera featuring a 30.3MP Full-Frame CMOS Sensor recording UHD 4K, C-Log and 10-Bit HDMI Out.
View all 7 presentations here:
https://vimeopro.com/digitalcinemasociety/2018-dcs-camera-support-accessories-expo 
Now Streaming: DCS Indie Film Finance & Distribution Event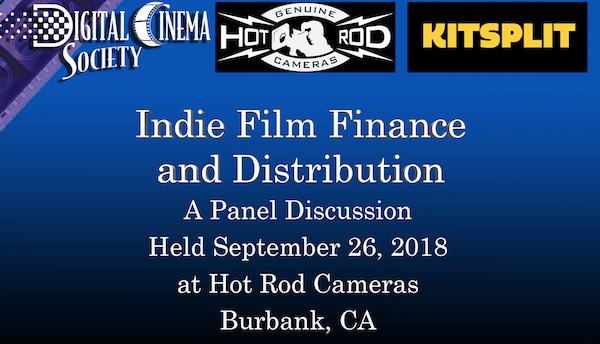 A Banker, a Distributor, and a Lawyer walk into a bar… It's not a joke; it's a Digital Cinema Society educational panel discussion on Indie Film Finance and Distribution.
These three experts tell it like it is and give insight into what it takes to mount a successful Indie feature.  We feel like this event, which was sponsored by KitSplit and held at Hot Rod Cameras in September is one our best of the year, and we want to make sure everyone has a chance to view it, so we're giving it another shout out.
The panel features: Adrian Ward from the Entertainment Banking Group of Banc of California
Briana Hill, an Entertainment Attorney with Cowan, DeBaets, Abrahams & Sheppard, LLP
James C. Walker, CEO of Lightning Entertainment and Indie Producer
With James Mathers serving as Moderator.
Special thanks to our streaming production crew of Producer David Mahlmann, Cinematographer Cameron Cannon, Camera Operator Cricket Peters, and Sound Recordist Christopher Scott Knell.
Members On The Move
The new year brought announcements of many job changes for members; here are a few we are aware of:
Peter Crithary moves to ARRI Rental

After 13 years with Sony Electronics, most recently with the Cinema Division, Peter Crithary has taken a new position as President of ARRI Rental US Camera.  He will be based out of ARRI's Secaucus, New Jersey office and be responsible for overseeing camera rental operations in North America, helping to develop new business opportunities for ARRI Rental's proprietary technologies, which include the exclusive ALEXA 65 large-format camera system and lensing solutions.
Chris Marchitelli and Seth Emmons Take New Positions at Tiffen

After many years in various marketing positions for Sony Electronics, followed by another long stint with the Vitec Group of companies, and Leoteric, a boutique sales and marketing consulting firm, Chris Marchitelli will be moving into the roll of Vice President and General Manager for the Steadicam/Lowel, and other Tiffen brands.

Seth Emmons, who previously worked with Marchitelli at Litepanels before more recently serving as Director of Communications for Leitz Cine Wetzlar, will join him again at Tiffen as VP Marketing for Motion Picture and Television.  He will oversee marketing of the Tiffen family of products including Tiffen Filters, Steadicam, and Lowel Lighting, and assist product design and development through direct market feedback.
Renewing Your DCS Membership
We count on your dues and contributions to continue our mission and maintain our services to members. So, if your membership has expired, or will soon, please take a few minutes to renew your membership at the $50 annual level or $300.00 for a Lifetime Membership. You can follow the convenient PayPal links, (using any major credit card, and you don't need to be signed up for PayPal,) or you can send payment to our offices at P.O. Box 1973 Studio City, CA 91614, USA.
PayPal Annual Renewal Link – $50.00US:  https://paypal.me/digitalcinemasociety/50
Paypal Lifetime Renewal Link – $300.00US: https://paypal.me/digitalcinemasociety/300
Checks should be sent to: The Digital Cinema Society, P.O. Box 1973, Studio City, CA 91614, USA. Check payments must be in US dollars. Please note that if you are a student, or otherwise cannot afford the dues, just send a note and we will be happy to extend your membership. ** Student and Complimentary memberships do not include a membership card.
Sponsor News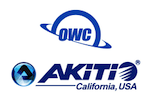 OWC, who recently celebrated their 30th year in business, announced it has acquired Akitio, a manufacturer of external computer storage products and accessories, with an emphasis on Thunderbolt 3 technology. OWC's Woodstock, IL facility will serve as worldwide headquarters for all OWC brands, including Akitio and MacSales, but the Akitio teams will remain onboard in their California and international locations.
Thank You To Our Sponsors
As always, we want to send out a big thanks to all "Friends of DCS," whose support makes it possible for us to continue the DCS mission of educating the entertainment industry about the advancements in digital and cine technology:
AbelCine – ACES – Acromove – Adobe – Adorama – Advantage Video Systems – AJA – Angénieux – Anton/Bauer – ARRI – Avid – BB&S Lighting – Band Pro – Birns & Sawyer – Blackmagic Design – Canon – Cartoni – Cineo Lighting – Cinnafilm – Codex – Cooke Optics – Dadco/Filmlight – Dedo Weigert Film / Dedolight California – DigitalFilm Tree –  FLUOTEC – FootageBank – Fujinon - GEN Energy – Hot Rod Cameras – J.L. Fisher – K5600 – Kino Flo – KitSplit – Leitz Cine Wetzlar – Light & Motion – LiteGear – Litepanels – Luminys – MacSales – MACCAM – Manios Digital – Mole-Richardson – Nila – OConnor – OWC – Panasonic – Panasonic Lumix – Panavision – P+S Technik – Redrock Micro – Rosco – Sachtler – Schneider Optics – SIGMA – SIM Digital – SmallHD – Sony – Teradek – The Rag Place – The Studio-B&H – Tiffen – Tokina Cinema – Vision Research – Wooden Camera – Zeiss – ZGC – Zylight
Remember Your DCS Member Discounts
DCS members in good standing can also receive significant discounts on products and services from companies including: The Camera Division Design Lab - Raleigh Studios Screening Services - BMW/Mini – LensProToGo – Final Draft – Wooden Camera – SimpleDCP – Zacuto – IMDBpro – Manios Digital – DECKHAND Camera Rental – Tek Media Electronic Repair – AbelCine – BB&S Lighting – Kit & Kaboodle Craft Service – Birns & Sawyer – NightSky Web Hosting – American Cinematheque – ProductionHub – Advantage Video Systems. And if your company would like to offer your fellow members meaningful discounts on products or services, let us know and we'll consider adding your offer to the page. Visit the DCS Member Discount page for all the details: www.digitalcinemasociety.org/member-discounts
Calendar of Upcoming Industry Events
The large number of listings and hyperlinks in our full Calendar of Events causes many e-mail servers to reject our eNewsletter. So, for a complete calendar of upcoming industry event listings for both the U.S. and International, please visit the Events Calendar on the DCS Homepage at:  www.digitalcinemasociety.org/events-calendar
Follow DCS on Facebook and TwitterDon't forget that the Digital Cinema Society has a Facebook fan page. Check in for the latest news, event details and general DCS hubbub at: http://www.facebook.com/DigitalCinemaSociety
On Twitter, you can follow us @DCSCharlene
Our Home, The Digital Cinema Society: www.digitalcinemasociety.org
"It is not the strongest of the species that survive, nor the most intelligent, but the most responsive to change." Charles Darwin