DCS UPDATE
Being our pre-NAB issue of the DCS eNewsletter, there is lots to tell you about.  Not only the last month's news, but also a great number of new product announcements.  We are also preparing to cover NAB for the first time this year employing Camera-2-Cloud technology to bring you the latest news faster than ever before.  We'll also be reporting on our process as we go, including a presentation event at NAB.
Our DCS 2022 NAB Silent Auction is already going strong with several new items added to the inventory.  Bids are pouring in, but there are still a great many deals to be had.  It is gratifying to be back in the saddle again covering NAB.  I'm looking forward to seeing many of you in Las Vegas, and for those who can't make the trip, you can keep up with all the announcements and new gear releases by watching our streaming coverage which will start this year on Sunday morning.
And there is some very sad news to share in the passing of our friend and collaborator Karl Kresser, who for so many years produced Cine Gear Expo with his wife Juliane Grosso.
DCS at NAB 2022
Practicing what we preach, DCS will put some of the latest technology to the test by producing our  streaming booth tour coverage of NAB 2022 using a Camera-2-Cloud workflow.  Technology from Adobe, Frame.io, Teradek, and Sony will help us deliver our fully edited interviews in record time so that those who cannot attend NAB in person can still quickly find out what's new at the show.   Raw footage will be uploaded directly from the Sony FX-6 camera on the show floor to the Frame.io cloud via a Teradek Cube where our editor at his home base in Burbank, CA will have immediate access to edit a polished interview with Adobe Premiere.  If you're at NAB and interested to check out our process, we are scheduled make a presentation with a panel including:
Michael Cioni – Senior Director of Global Innovation at Frame.io, an Adobe company
Colin McDonald – Product Manager at Teradek and SmallHD
Our own James Mathers – Cinematographer and Founder DCS
Cameron Cannon – Cinematographer
Moderator: Laura Pursley – Product Marketing Manager | Frame.io, an Adobe company
Time: Tuesday 1:30 – 2:00
Location: ARRI & Fuse Virtual Production Theater in the Central Hall #C8626, (between ARRI and Sony).
DCS will be uploading interviews from the NAB Show Floor throughout the 2022 convention starting Sunday morning April 24th.  Book mark this page to see our complete coverage of NAB 2022:
www.digitalcinemasociety.org/dcs-at-nab-2022
DCS 2022 NAB Silent Auction Is Now In Full Swing with Added Items
Through the generosity of our supporters who are donating very valuable products, we will once again hold our DCS Internet Silent Auction to coincide with NAB. It is a great way for our supporters to make you aware of their new products while giving members a chance to get great deals, and at the same time help finance the Digital Cinema Society.
Here's how it will work: DCS members and friends are welcome to e-mail us bids on the products described on the following list, (plus any additions that may be donated.) Bidding will end promptly with the close of NAB 2022 at 2:00 p.m. (Pacific Time) Wednesday, April 27th, and the winners will be notified shortly thereafter. In most cases the companies making the donations have elected to ship the products directly, so they will be given the winners' contact details and arrange delivery. As with our dues collection, payment for the silent auction prizes will be via Paypal or check in US funds sent to us prior to pickup or shipping. Buyers are responsible for the actual cost of shipping, if any, as well as all import/export taxes that may be due. If the bid price fails to reach the listed minimum, the item will be added to our next raffle of SWAG and given away at an appropriate DCS event. SO WHAT HAVE YOU GOT TO LOSE?
Make sure to check out the new additions:  Two Hawk-Woods 14.4V Sticky Battery Packs & Charger, a Fluotec Cinelight Color30 1X1 Color Interchangeable Diffusion DMX LED Panel w/ Gold-Mount Battery Plate, and a GEN ENERGY G-B100 14.4V, 290Wh Li-Ion Battery (V-Mount) & Charger.
View the auction page and bid now: www.digitalcinemasociety.org/silent-auction
Silent Auction Items:
Item #1 — Blackmagic Design Pocket Cinema Camera 4K
Item #2 – ZEISS Milvus 1.4/50 Lens in Choice of EF or F Mount
Item #3 — 1 Year - Adobe Creative Cloud All Apps complimentary subscription
Item #4 – Nanlite PavoTube II 30X 4′ RGBWW LED 4 Light Kit w/ Int Battery
Item #5 — Infinity MikroMak 40 Cine Probe Lens with 25mm Expander and PL Mount
Item #6 – AJA T-TAP Pro - Thunderbolt 3, 12G-SDI, & HDMI 2.0 Connectivity
Item #7 — 1 Quasar Science RR50 Double Rainbow
Item #8 – Cine Lens Manual by Jay Holben and Christopher Probst, ASC
Item #9 – Fiilex P3 Color Pro Bundle
Item #10 — OWC Envoy Pro SX Thunderbolt Bus-Powered – 1TB SSD
Item #11 – BB&S Compact Fresnel Bi-Color LED Light
Item #12 — Two Hawk-Woods 14.4V Sticky Battery Packs & 2-Channel Charger
Item #13 — K-Tek Mighty Boom 9′, Graphite, 6 section with Internal Cable
Item #14 — TRP – DoPchoice 30°/50° SNAPGRID for 4 x 4′ Frame
Item #15 — Zacuto ACT Baseplate
Item #16 — Fluotec Cinelight Color30 1X1 Color Changeable Diffusion DMX LED Panel w/ Gold-Mount Battery Plate
Item #17 — GEN ENERGY G-B100 14.4V, 290Wh Li-Ion Battery (V-Mount) & Charger
For complete item descriptions and current bid prices, please visit: www.digitalcinemasociety.org/silent-auction
More items may be added throughout the auction, and we will try to update as we are able, so check back often. We will do our best, but please know that this is no eBay. No offer of solicitation of any merchandise at any particular price is expressed or implied. Thanks for bidding!
###
Save The Date: DCS Cinema Lighting Expo Returns as In-person Event on May 21, 2022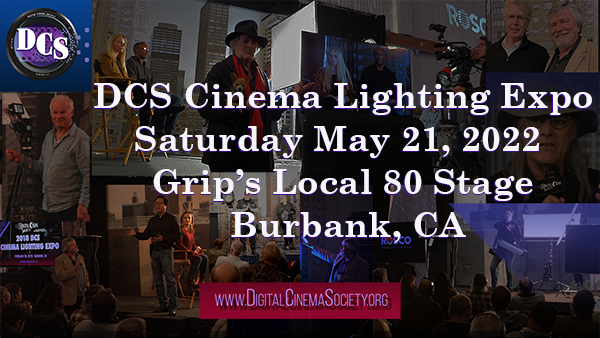 As the threat of Covid transmission has eased somewhat, we are excited to announce that our 2022 DCS Cinema Lighting Expo will take place on Saturday, May 21st, returning to the Grip's Local 80 stage in Burbank, CA. Our 2020 Expo was the last major in-person event to take place before the pandemic lockdown and our 2021 edition had to be cancelled when new variants were on the rise. We now feel that it will once again be safe to congregate and are looking forward to carrying on this very popular tradition…utilizing safety precautions, of course.  Please save the date.
###
Industry News
DCS Mourns the Loss of Cine Gear Expo Producer Karl Kresser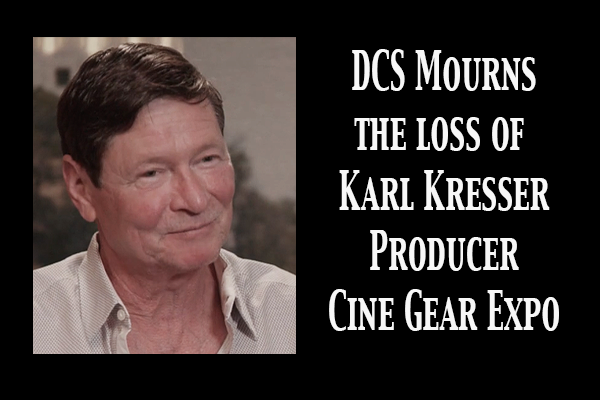 It is with heavy hearts that we report the sad news of the passing of our friend and collaborator Karl Kresser.  Together with his wife, Juliane Grosso, he was responsible for producing Cine Gear Expo.  Prior to Cine Gear, he was the Marketing Manager at Otto Nemenz International Inc. for over 20 years. In addition to his duties at Cine Gear Expo, he and Juliane had been working to establish a premium winery in Paso Robles, California known as Grosso Kresser Vineyards.  We were fortunate during the last Cine Gear Expo to have Karl and Juliane sit down for an interview which you can view here: 
https://vimeo.com/manage/videos/616557058
There will be a celebration of Karl's life on Saturday, April 30th from 11am to 2pm at Otto Nemenz, 5700 Buckingham Parkway, Culver City, CA 90230.
###
Big New Features Added to Adobe Creative Cloud Including Full Integration of Frame.io and Camera-2-Cloud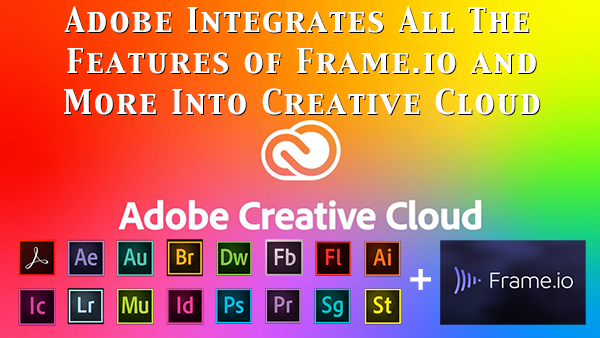 In the lead up to NAB, Adobe has announced that all of Frame.io's video collaboration tools, including Camera-2-Cloud, will now be included in Creative Cloud subscriptions. In addition to C-2-C, integrated post-production review and approval workflow features allow project stakeholders to collaborate seamlessly in the cloud for extremely efficient approval processes.  Other new updates announced include native M1 support for After Effects; Scene Edit Detection powered by Adobe Sensei for After Effects; a reimagined Import, Header Bar, and Export for Premiere Pro; Auto Color powered by Adobe Sensei for Premiere Pro; and more.  Details on the Frame.io, After Effects, and Premiere Pro news can be found on the Adobe blog here: https://blog.adobe.com/en/publish/2022/04/12/premiere-pro-and-after-effects-now-include-frameio-for-creative-cloud
FRAME.IO FOR CREATIVE CLOUD
Starting on April 12, Frame.io for Creative Cloud will be pre-installed with Premiere Pro and After Effects.
Creative Cloud customers can log into Frame.io from within Premiere Pro or After Effects using their Adobe ID.
Creative Cloud paid members using previous versions of Premiere Pro or After Effects can install the Frame.io plugin through the Creative Cloud marketplace.
Enterprise customers should contact their account administrator to enable Frame.io for Creative Cloud.
Frame.io for Creative Cloud will be offered in membership plans for:

Creative Cloud All Apps (CCI/CCT/CCE)
Premiere Pro Single App (CCI/CCT/CCE)
After Effects Single App (CCI/CCT/CCE)
Features Built into Premiere Pro and After Effects Basic Plans Include:
2 users
5 concurrent projects
Unlimited reviewers
Review and approval
Accelerated file transfers
100GB of dedicated storage
Customers can easily add even more collaboration and security features, users and storage by upgrading to a Frame.io Team or Enterprise plan.
###
Long Awaited Cine Lens Manual by Jay Holben and Christopher Probst, ASC is now available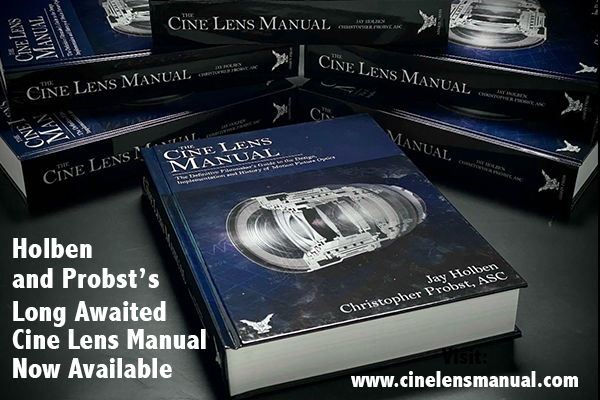 Adakin Press has announced the release of The Cine Lens Manual, a definitive resource on cinema lenses. Co-authored by Jay Holben and Christopher Probst, ASC The Cine Lens Manual is a journey through the world of cinema lenses investigating every possible aspect from the formation of glass to today's top cinematographic optical tools.  Since the proliferation of digital cinema cameras, the demand for vintage and contemporary lenses has increased exponentially. Lenses that had fallen into dusty disuse have been revived for a whole new life and manufacturers scramble to introduce new lenses to keep up with demand. Now, more than ever, cinematographers, visual effects artists, camera assistants and filmmakers of all types require a deep understanding of their optics choices.
The Cine Lens Manual is a comprehensive examination of the art and science of cinema optics. Written in clear, easily-digestible language, and extensively illustrated, this sourcebook is designed for readers of all levels from novice to expert. With more than 60-years of experience between them as cinematographers, technical journalists and educators, authors Jay Holben and Christopher Probst, ASC break down the most complex concepts into easy-to-understand ideas, without requiring a mastery of calculus or physics.  Excerpts from some of the many rave reviews include:
"It's an essential text for all filmmakers."
— Greig Fraser, ASC, ACS
"The Cine Lens Manual is truly invaluable."
— Russell Carpenter, ASC
The authors have kindly donated a copy to the 2022 DCS NAB Internet Silent Auction.  To find out more or to purchase The Cine Lens Manual visit:  www.cinelensmanual.com
###
ZEISS Introduces New Supreme Prime 15mm T1.8 Ultra Wide Lens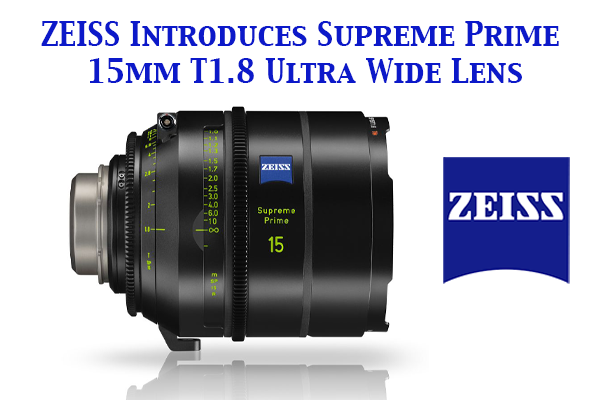 ZEISS has introduced their latest cine lens, the Supreme Prime 15 mm T1.8.  The new lens completes the family of popular Supreme Primes. The now 14-piece cine lens series ranges from 15 to 200 mm with a maximum aperture of T1.5 to T2.2.  The new 15 mm lens rounds out the lineup by providing an extremely wide-angle view and a maximum aperture of T1.8.  The ZEISS Supreme Primes cover a wide range of camera sensor sizes from Super 35 to Full Frame cameras such as the Sony Venice, ARRI Alexa LF, and the RED Monstro.  The design emphasizes a cinematic look with features such as subtle and gradual focus fall-off and a consistently warm and soft bokeh.  The new Supreme Prime 15 mm T1.8 can be ordered immediately and will be delivered starting in June. Further information is available at 
www.zeiss.com/cine/supremeprime
.
###
Blackmagic Announces New Cloud Collaboration Products and Upgrades in Davinci Resolve 18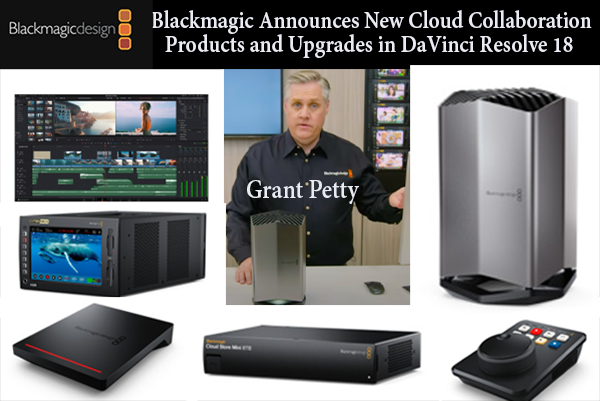 In the run up to NAB, Blackmagic's Grant Petty held an online briefing detailing several new products and updates to DaVinci.  Known as Blackmagic Cloud, the combined hardware/software system is designed for editors, VFX artists and others to collaborate via the cloud in realtime.  Chief among the new products is Blackmagic Cloud Store, a new network storage solution with four 10G Ethernet connections and a parallel memory core said to simultaneously sustain maximum possible transfer speeds on each 10G Ethernet port.  At an MSRP of $9,595, it is a somewhat pricey item for Blackmagic, but it is designed for facilities and the cost is largely a factor of the very robust flash memory included.  However, to serve the smaller and individual user, they have also introduced the Blackmagic Cloud Store Mini at $2,995, and the Blackmagic Cloud Pod at only $395.  Petty makes the point that their approach does not require an ongoing subscription.  After you buy the hardware, you would only pay your cloud storage provider.  He used Dropbox sync in the demo for users to cache files locally and share them with everyone in their network. 
Other new products include HyperDeck Shuttle HD, a new recorder/player designed for use on the desktop as an on demand media player. It supports recording and playback for ProRes, DNx and H.264 files as well as PCM or AAC audio. It also has a built in teleprompter function which could prove very handy.  An Extreme version of HyperDeck includes 4K HDR as well as advanced H.265 4K recording with a touch screen user interface with built in scopes and HDR screen.
If all that wasn't not enough, DaVinci Resolve 18 has also been announced with a host of new updates in the areas of cloud support for remote collaboration, proxy workflows, AI based Resolve FX, improved subtitling, and Fairlight audio.
DaVinci Resolve 18 Features Include:
Support for Blackmagic Cloud to host and manage cloud based project libraries.
New Blackmagic Proxy Generator App automatically creates and manages proxies.
Ability to choose between working with proxies or camera original files.
Support for intelligent path mapping to relink files automatically.
Improved project library performance for private server.
New object mask recognizes and tracks movement of thousands of objects automatically.
New depth map generates 3D depth matte of a scene in DaVinci Resolve Studio.
New surface tracker for tracking warped surfaces in DaVinci Resolve Studio.
Refined ultra beauty tool in Resolve FX beauty for advanced corrective work.
Expanded subtitle support for TTML and XML timed texts, and embedded MXF/IMF.
Support for reversing shape, iris and wipe transitions in the edit page.
New 5×5 multicam enables viewing of up to 25 simultaneous different angles.
Faster GPU accelerated paint tool with smoother strokes.
Support for live previews when using the Text+ color picker.
Ability to convert historical fixed bus projects to FlexBus in project settings.
Improved Dolby Atmos immersive mixing, including Binaural monitoring.
Decomposition of nested timelines with all track data including FX and automation.
Innovative space view scope in Fairlight shows position and relationship in 3D space.
DaVinci Resolve 18 public beta is available now for download from the Blackmagic Design website.  To view Grant Petty's complete presentation, visit:
https://www.youtube.com/watch?v=BVjP6RVFjPg
###
OWC Announces the new Flex 1U4 4-Bay Thunderbolt Rackmount Storage and Docking Solution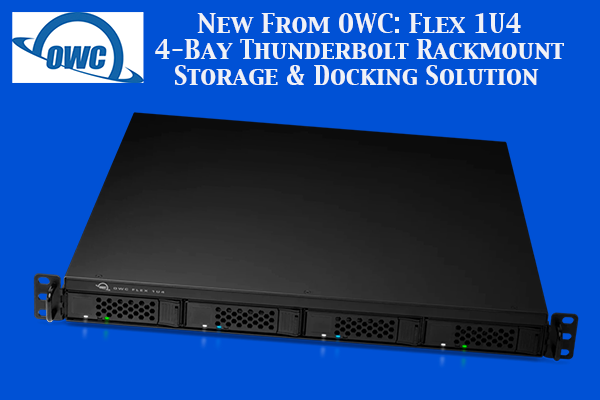 OWC has announced the new Flex 1U4 4-Bay Thunderbolt rackmount storage and docking Solution. The Flex 1U4 is designed as a flexible storage and docking solution for any rackmount environment with the capabilities to use SATA/SAS and U.2/M.2 NVMe drives for up to 128TB of capacity and speeds up to 2750MB/s.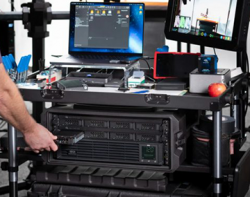 The innovative 4-bay design offers the best combination of storage capacity, Thunderbolt transfer performance, drive flexibility, and device expandability.  It allows users to add audio/video capture, 10Gb Ethernet networking, SSD storage, hardware RAID card, or I/O card to the PCIe slot, plus charging of mobile devices with Thunderbolt and USB ports.OWC Flex 1U4 Highlights include:• Drive diversity: Use SATA/SAS2 and U.2/M.23 NVMe drives for up to 128TB1 of capacity and real-world Thunderbolt speeds up to 2750MB/s
• Drive flexibility: swap drives quickly and easily if/when needed
• Future ready: use U.2 SSDs – an emerging storage standard – in all four bays
• Get Maximum: utilize U.2 NVMe SSDs as well as the OWC ecosystem of U.2 drives and adapters for incredible speed and flash density per bay
• Powerfully easy RAID: create, manage, and monitor advanced RAID sets with OWC SoftRAID
• Use it all: connect keyboards, mixers, cameras, displays, and mobile devices such as tablets with (2) USB-C 10Gb/s and (3) USB-A 10Gb/s ports
• See more: connect up to an 8K display to the DisplayPort 1.4 port4
• Charge: keep your notebook powered with 85W via the upstream Thunderbolt port5
• Do more: add an audio/video capture, 10Gb Ethernet networking, SSD storage, hardware RAID, or I/O card to the PCIe slot
• Configurable: daisy chain up to five devices or add an additional display with the second Thunderbolt (USB-C) port
• Worry-free: Up to 5 Year OWC Limited WarrantyPricing & Availability
The OWC Flex 1U4 is available now on Macsales.com with solutions starting at $1,899.00.
Long Awaited Sony Venice 2 Released Into the Wild – Now Shipping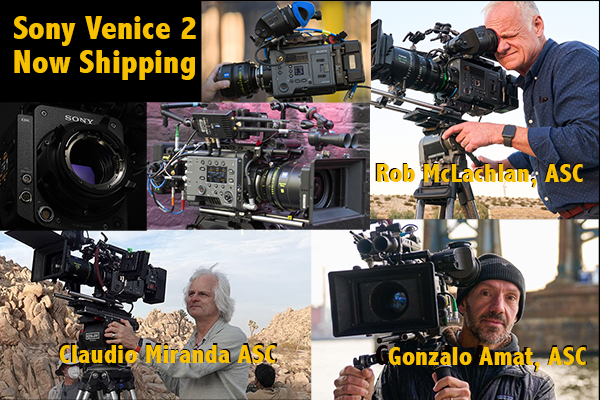 Sony has announced the first shipments of their flagship digital cinema camera, the VENICE 2.  Prior to the release, the VENICE 2 had already been used on feature films and episodic work with cinematographers Claudio Miranda, ASC, Gonzalo Amat, ASC, and Rob McLachlan, ASC, (pictured above).  It has now also been employed on high-profile commercials with cinematographers Newton Thomas Sigel, ASC, Tommy Maddox-Upshaw, ASC and Rachel Morrison, ASC, being among the first to use the camera.  Since its launch last year, the VENICE 2 has generated a lot of interest due to its 8.6K full-frame image sensor with the capability to capture images in formats from full-frame to Super35 and Anamorphic – all at the 4K+ resolution now required by many streamers and studios.
Gonzalo Amat, ASC, who will use VENICE 2 on the upcoming season of the Netflix series Outer Banks, was impressed by the ability to seamlessly move between 800 ASA and 3200. Claudio Miranda, ASC is now using the camera on a feature film and Rob McLachlan, ASC has been shooting the new LA 'Color Noir' mystery thriller series, American Gigolo with two VENICE 2 cameras for eight weeks now. McLachlan commented, "Every day, under every condition and setting, it continues to impress. Whether at night, at dawn, in the studio, on city nights, or at high noon and sunset in the desert, the highlights naturally roll-off, and our actors look gorgeous." He added, "Nighttime cityscapes almost light themselves, and I'm using less light control than ever elsewhere. I knew this would be the case from my experience shooting the camera's test film, but what is really wowing us is how incredibly clean and pleasing the images are at 3200 ISO. And we've tested it at 6400 and even 12,800 ISO, and it still looks really good."
The VENICE 2 features a smaller, more lightweight body with the ability to capture X-OCN and 4K Apple ProRes 4444 and 422 HQ internally.  As a result of market feedback, Sony will also enable the following features in early 2023 when V2 is released:
Additional imager modes:
8.6K 17:9 up to 48 FPS
8.2K 2.39:1 up to 72FPS
8.1K 16:9 up to 48FPS
5.8K 4:3 up to 60FPS
5.5K 2.39:1 up to 120FPS
Zoom to Fit for Anamorphic lens operation will also be enabled and a next-generation Extension System for VENICE 2 8K is planned to be released by early 2023.  VENICE 2 demos and behind-the-scenes coverage can be viewed here:  https://www.youtube.com/playlist?list=PLBMbWrCfXhaPIIMbvtjNx52y2TrT3iydK
###
AJA Announces Free Firmware Updates for Many of Their Popular Products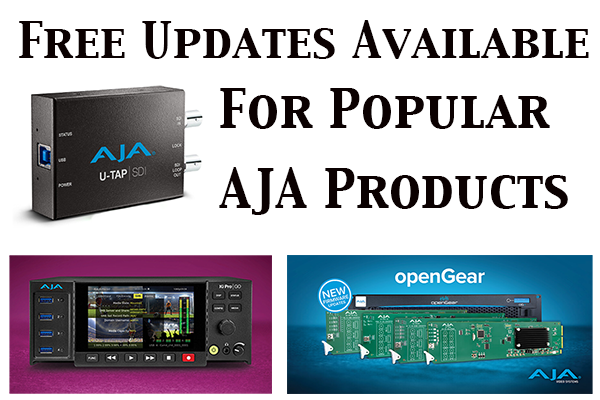 AJA has announced free firmware updates for many of their popular products including the Ki Pro Go and U-Tap and more.  Updates are available for select AJA openGear cards with a host of improvements designed to help production professionals better maintain the integrity of signals and manage associated metadata as they move throughout the chain. Building on AJA's latest Mini-Config v2.26.3 software update for its Mini-Converter line, OG-Hi5-4K-Plus v1.6.1, OG-HA5-4K v1.6.1, OG-4K2HD v1.5.1, and OG-12GM v1.2.2 bring users powerful new enhancements such as HDR VPID pass through, BT.2020 and dual-link support, Dolby Audio compatibility, and more.  OpenGear update details available here: https://www.aja.com/news/story/2053-aja-unleashes-new-firmware-for-opengear-cards?utm_source=aja&utm_medium=email&utm_campaign=user_eblast_u-tap_og_fw_1-5-6_update_eol_03312022
AJA U-TAP USB 3.0 powered capture devices are also getting an upgrade with AJA U-TAP v1.5.6. Available as a free download from AJA's Support page, the release delivers PsF support, including (HD) 1080PsF 23.98, 24, 25, 29.97, and 30 – advancing support for Sony, Panasonic, and Canon SDI equipment. The latest release now changes the device name to start with AJA U-TAP Video or AJA U-TAP Audio for both U-TAP SDI and HDMI devices, making it easier to set up and manage them within compatible software. It also includes support for Windows 11 and macOS Monterey.  Learn more here:  https://www.aja.com/products/u-tap-sdi?utm_source=aja&utm_medium=email&utm_campaign=user_eblast_u-tap_og_fw_1-5-6_update_eol_03312022+and+www.aja.com/products/u-tap-hdmi
The AJA Ki Pro GO firmware v4.0 is also available as a free download from AJA's website and introduces new functionality that gives users more flexibility in the field. The update allows users to playback .mp4 files created with 3rd-party apps from Adobe Premiere Pro to Apple Final Cut Pro, Avid Media Composer, and Blackmagic Design DaVinci Resolve; set each device to generate 0, 1, 2, 3, or 4 B-frames individually on each channel; harness alarm settings; and more.  The free upgrade is available to download for Mac and Windows here:  https://www.aja.com/products/ki-pro-go?utm_source=aja&utm_medium=email&utm_campaign=user_eblast_kpg_v4_update_03312022#support
###
Cooke Optics Announces New S8/i FF Spherical Lenses and UK Production Facility to Meet Demand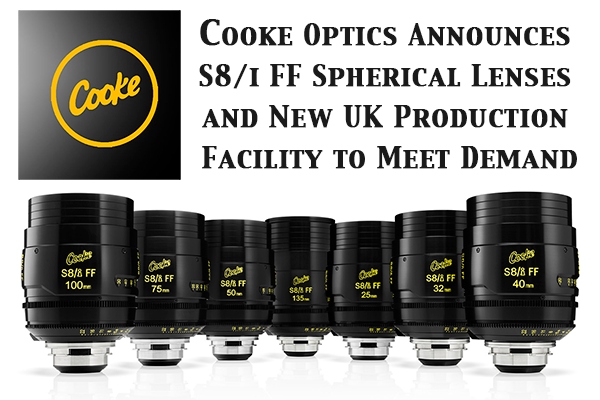 Cooke Optics has announced the launch of the S8/i Full Frame (FF) series of seven lenses for full frame production with an all-spherical design and T1.4 throughout.  These currently include 25mm, 32mm, 40mm, 50mm, 75mm, 100mm, and 135mm focal lengths. A further nine lenses will join the range from late 2022.  With an emphasis on preserving the Cooke Look® the S8/i design has also focussed on optimizing contrast performance and resolution which is maximized to suit the actual resolution of modern digital cameras.  An all-spherical design produces a near telecentric output of the light rays which is efficient for sensors and is characterized by smooth, spherical bokeh and minimal color fringing.
With a maximum aperture of T1.4 across the focal range, the new S8/i FF lenses are amongst the fastest lenses for larger than full frame capture offering greater control over depth of field and flare characteristics, while still providing strong low light performance.  The new lenses are compact and light weight compared to previous Cooke models without compromising strength and durability.  They also incorporate Cooke's latest intelligent /i technology collecting data on focus and iris position, inertial motion, and factory calibrated shading and distortion.  The S8/i FF series is now available to order in the following focal lengths: 25mm, 32mm, 40mm, 50mm, 75mm, 100mm, and 135mm.  And Cooke promises that it will no longer take years for their lenses to reach buyers.  New Cooke Optics CEO Tim Pugh has undertaken an effort to reduce delivery delays that have long plagued the company by creating a new UK manufacturing facility dedicated to the new line of lenses.
For further details and to view demo images you can find the launch video here:
###
ARRI Introduces New TRINITY 2 and ARTEMIS 2 camera stabilizers
ARRI has introduced a second generation of its TRINITY and ARTEMIS camera stabilizers that were so well shown off by Roger Deakins, ASC, BSC on his academy award winning movie
1917
. We are told that the new modular system has been redesigned down to the smallest detail, incorporating enhancements to camera movement, connectivity, power management, user interface, balance options, and product longevity. It is said to be a quick and easy upgrade to transform the purely mechanical ARTEMIS 2 into the hybrid TRINITY 2, which adds electronic stabilization for an even wider range of movements and angles.  New camera moves are possible, including 360-degree rotation on the lens axis. Expanded LBUS connectivity enables the use of controllers designed for ARRI's stabilized remote heads, opening up modern, digitally interconnected workflows. Additional accessory interfaces and 12G video connectivity increase rigging options and future-proof monitoring capabilities.
Around 80% of the new components for the second-generation system are shared by TRINITY 2 and ARTEMIS 2, illustrating ARRI's modular approach.  
In addition to the standard center post, two new post lengths are now available for TRINITY 2 and ARTEMIS 2, as well as for both first-generation stabilizers. The longer Super Post allows more extreme camera positions and angles, either higher up or further out from the operator's body. The Shorty Post is suited to fast, agile work or space-constrained locations, and will be especially useful with the compact ARTEMIS 2.  To learn more about the second-generation stabilizers, please visit: 
https://www.arri.com/trinity2_artemis2
Sony Electronics Steps Up to Support the USC School of Cinematic Arts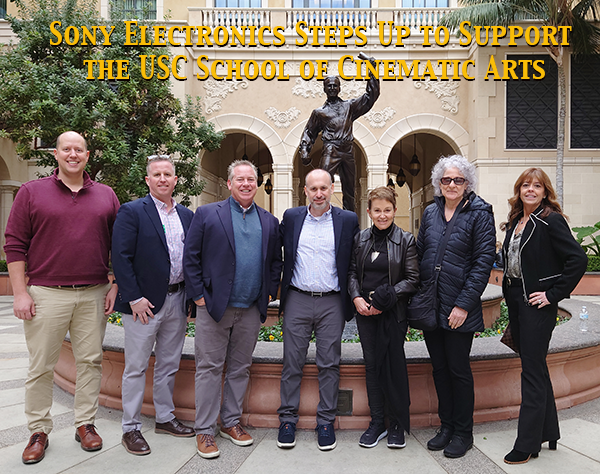 Sony Electronics and the University of Southern California (USC) School of Cinematic Arts have announced a new partnership to help foster cinematic education. The USC School of Cinematic Arts will be adding a variety of the latest Sony Imaging equipment ranging from cameras including VENICE 2, FX9 and FX6 models as well as the lineup of Alpha mirrorless cameras.  Further creative tools such as Pro Audio, high resolution displays and access to cloud services will be made available as well.  Sony will also utilize this partnership to help develop and improve their products and services based on customer feedback from students and faculty at the school.  The school will also soon be adding a Sony Virtual Production studio.  In addition to the collaboration on products, facilities and education, Sony has donated two million dollars (USD) to support the efforts of this new partnership.
Canon Announces New Flex Full-Frame T2.4 Cinema Zoom Lenses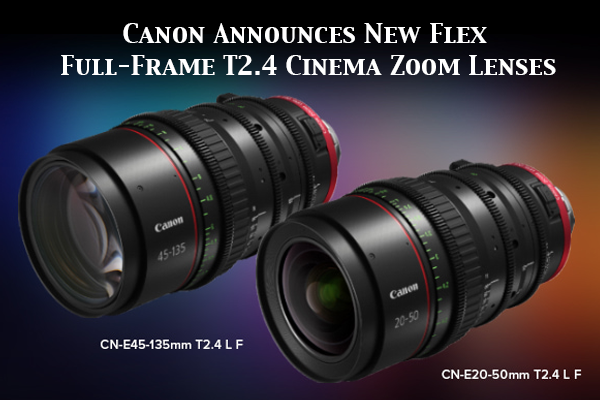 Canon has announced the launch of a new series of lenses for the company's EF Cinema Lens lineup to be known as the Flex Zoom Lens series.  The first lenses in the series are the CN-E20-50mm T2.4 L F/FP wide-angle zoom lens and the CN-E45-135mm T2.4 L F/FP telephoto zoom lens.  The lenses are said to maintain a T2.4 aperture across their entire zoom ranges, (no ramping.)  In addition to supporting EF-mount data transmission, the new lenses are also compatible with /i Technology from Cooke Optics.  Although Canon mentioned in a recent press briefing that they are working on other lens mount options and even the ability for the user to swap between them, it is not in the official announcement, so it cannot be confirmed.  The Canon CN-E20-50mm T2.4 L F/FP wide-angle zoom lens and Canon CN-E45-135mm T2.4 L F/FP telephoto zoom lens are scheduled to be available in early June 2022 and early September 2022 for an estimated retail price of $21,999.00US.
###
Renewing Your Membership and Supporting DCS
We count on your dues and contributions to continue our mission and maintain our services to members. So, if your membership has expired, or you simply want to show your support of our effects, please take a few minutes to send a donation. Membership is available at the $50 annual level or $300.00 for a Lifetime Membership. You can follow the convenient PayPal links, (using any major credit card, and you don't need to be signed up for PayPal,) or you can send payment to our offices at P.O. Box 1973 Studio City, CA 91614, USA.
PayPal Annual Renewal Link – $50.00US:  https://paypal.me/digitalcinemasociety/50
Paypal Lifetime Renewal Link – $300.00US: https://paypal.me/digitalcinemasociety/300
Checks should be sent to: The Digital Cinema Society, P.O. Box 1973, Studio City, CA 91614, USA. Check payments must be in US dollars. Please note that if you are a student, or otherwise cannot afford the dues, just send a note and we will be happy to extend your membership. ** Student and Complimentary memberships do not include a membership card.
###
THANK YOU TO OUR SPONSORS
As always, we want to send out a big thanks to all "Friends of DCS," whose support makes it possible for us to continue the DCS mission of educating the entertainment industry about the advancements in digital and cine technology:
AbelCine – ACES – Adobe – AJA – Anton/Bauer – ARRI – Avid – BB&S Lighting – Band Pro – Blackmagic Design - Cartoni – Cineo Lighting – Cinnafilm – Codex – Cooke Optics – CORE SWX – Dadco/SunRay – Dedolight California – Fiilex - FootageBank – Fujinon – Infinity Photo-Optical – K 5600 - Kino Flo – Lectrosonics – Leitz Cine Wetzlar – Lindsey Optics - Litepanels - Luminys - Matthews Studio Equipment – MACCAM – Manios Digital – Mole-Richardson – Nanlite – Nila – OConnor – OWC – Panasonic Lumix – Panavision – P+S Technik – Quasar Science – Riedel – Rosco – Rotolight – Sachtler – SIGMA – SmallHD – Sony – Teradek - The Studio-B&H – Tokina – Vision Research – Westcott – Wooden Camera – Zeiss
###
DCS MEMBER BENEFITS and DISCOUNTS:
DCS members in good standing can also receive significant discounts on products and services from companies including: Core SWX - The Camera Division Design Lab - Raleigh Studios Screening Services - LensProToGo – Final Draft – Wooden Camera – SimpleDCP – Zacuto – IMDBpro – DECKHAND Camera Rental – Tek Media Electronic Repair – AbelCine – BB&S Lighting – Kit & Kaboodle Craft Service – Birns & Sawyer – NightSky Web Hosting – American Cinematheque – ProductionHub. And if your company would like to offer your fellow members meaningful discounts on products or services, let us know and we'll consider adding your offer to the page. Visit the DCS Member Discount page for all the details: www.digitalcinemasociety.org/member-discounts
Follow DCS on Social Media
Follow DCS on Facebook, Twitter and Instagram. Don't forget that the Digital Cinema Society has a Facebook fan page. Check in for the latest news, event details and general DCS hubbub at: http://www.facebook.com/DigitalCinemaSociety
On Twitter, you can follow us @DCSCharlene
On Instagram at: digitalcinemasociety
Our Home, The Digital Cinema Society:
"It is not the strongest of the species that survive, nor the most intelligent, but the most responsive to change." Charles Darwin