DCS UPDATE
Our monthly DCS eNewsletter is out a bit early this month since there was so much current news, we didn't think we could wait until the end of the month.  There is the extremely sad news of the passing of our friend and collaborator, Geoff Boyle, NSC FBKS, the renowned cinematographer and founder CML.  We've got new DCS Illuminates content to share including DMX for DPs and a DCS Road Test of the Rotolight Titan with Roy Wagner, ASC.  We're also excited to tell you about our first in-person event in quite some time focusing on Micro/Macro Cinematography with Cinematographer Bill Bennett, ASC.  A DCS production exploring a unique set of lenses based on microscope technology from Infinity Photo-Optical will have its world premiere at the event.  That in-person event will be followed just a few days later by our annual Cine Lens event which was rescheduled from its normal slot at Cine Gear Expo due to the pandemic and will take place on-line October 28th.
Being that this is the week NAB was scheduled to take place before being cancelled again this year due to the pandemic, there are lots of announcements of new gear that would have been made at the convention.  This includes a new VR lens from Canon, the RF5.2mm F2.8 Dual Fisheye and from Panasonic, a new full frame box-style cinema camera known as the Lumix BS1H.  Rotolight has announced two new models, the NEO 3 and AEOS 2, which they are currently offering at significant discounts through a Kickstart campaign.  ARRI Rental has announce the development of the ALFA and Moviecam series of large-format lenses.  Last but not least, Sigma is celebrating their 60 year anniversary by sponsoring a photo contest with $60K in prizes.
###
DCS Mourns the Loss of Geoff Boyle, NSC FBKS, Cinematographer and Founder of CML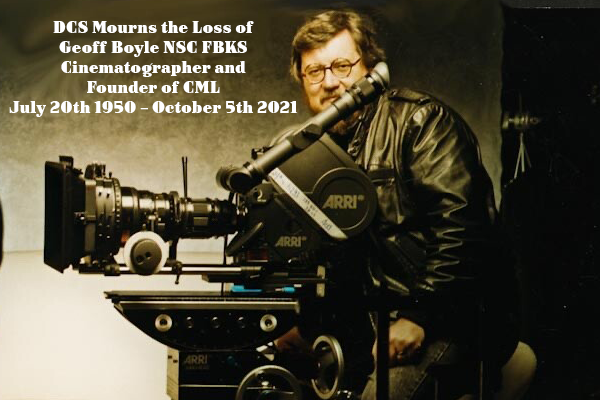 Although not unexpected, the sad news came to us last week of the passing of Cinematographer and Founder of the Cinematography Mailing List, Geoff Boyle, NSC FBKS. Geoff was a good friend to myself and the Digital Cinema Society, always there to offer encouragement and lend a helping hand to our activities. He served as a Co-host on one of our early Cinema Lens events and our next one coming up later this month will be dedicated to his memory.
The short obit that follows was published this morning by CML, and the link will take you to our latest interview with Geoff from April of last year.  Also posted below is an announcement Geoff made last week of his planned euthanasia after a long, long battle with cancer.  He will certainly be missed, but his legacy will live on through his cinematography and especially through the cinematography communications platform he founded, CML.
Sadly,
James Mathers
###
CML Obit Post of October 5, 2021:
Geoff Boyle was born in a council estate in the Northeast of England in 1950. At eight he was given his first Brownie 127 camera, which started him on lifelong image-making. He dropped out of his final year in art school to work as a stills assistant at the studio used as the location for "Blow Up", working mostly in fashion and advertising. He also worked as a stills photographer covering music for notorious underground magazine Oz.
One day in 1973 he was asked if he knew anyone who could film a concert, and of course he did! He switched to film work entirely, shooting news, documentaries, and music promos for everyone from Bowie to Zeppelin. In 1985 he moved to commercials, and by the '90s Kodak said he was one of 10 cinematographers shooting 80% of national spots in the UK. After 20 years in commercials he focused on long-form drama, from the digital production "Mutant Chronicles" in 2006, to multiple 3D projects, the series "Wallander" shot on REDs, and action film "Streetfighter: The Legend of Chun-Li" shooting 3-perf 35mm, among others. In the process he garnered awards from SMPTE, BKSTS, BSC, ACS, and NSC.
In 1996, while bored late one night in a hotel room during the middle of a shoot, he started the Cinematography Mailing List, which has grown to over 12,500 members worldwide. He has also taught workshops in the USA, UK, Europe, Australia, and Asia, and was appointed a Visiting Professor at the University of the West of England in 2013. He was always eager to exploit new technologies, but always in service to the image: "F*** the numbers!" was his rallying cry whenever people would obsess over resolution or bit rates instead of looking at the picture, along with "'good enough' is not good enough and 'close enough' is miles away from good."
Geoff died Tuesday October 5th in Zoetermeer, NL after a long and feisty battle with cancer. He is survived by his wife, Deborah.And by the Cinematography Mailing List.
- – -
George Hupka, Franz Pagot, Roberto Schaefer, Mark Weingartner, Adam Wilt
CML management and technical services
Canada, Italy, and USA
###
Recent DCS Interview with Geoff: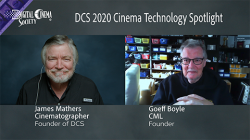 James Mathers interviews Cinematographer and Founder of CML Geoff Boyle about an extensive series of tests he recently conducted cover spectrum issues with LED lighting.  https://vimeo.com/407775400
###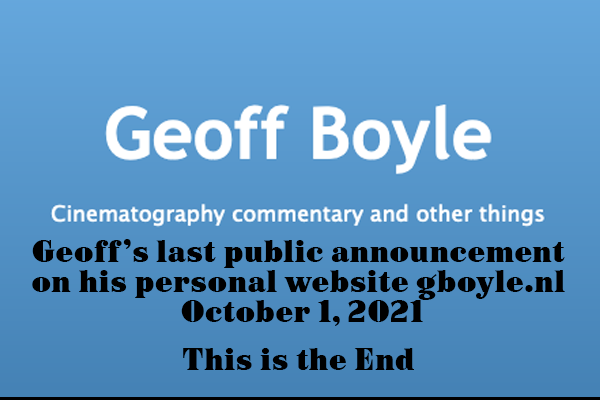 I have taken this as far as I can. Euthanasia is now arranged.
I've had a great life, travelled all over the world.
Most important of all is the 45 years spent with Debz. I could never have done it without her.
Now at the end she is a tower of strength and support.
i am so fortunate to live in a country that allows you to choose when the time is right for you.
It gets a little involved as they make sure it's what you really want and that you're not under any pressure.
Once they are convinced it's fairly straightforward.
There'll be an announcement on CML next week once it's over.
See you on the other side.
###
New DCS Illuminates Streaming Content
DCS Illuminates – Rotolight Titan with Roy Wagner, ASC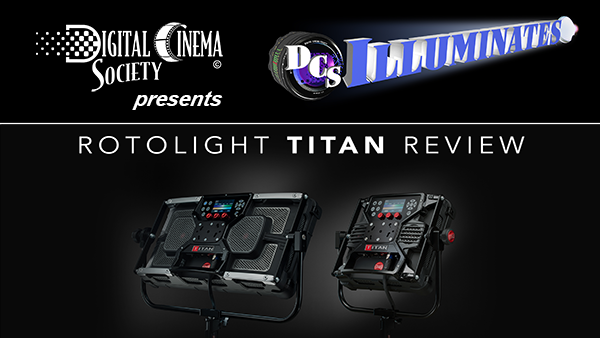 Our latest DCS Illuminates content offering features a review of the Rotolight Titan. Cinematographer Roy H. Wagner, ASC puts both the Rotolight Titan I and Titan II through their paces capturing three different scenes and sharing his thoughts about the technology, his career, and the industry in general via extensive behind the scenes coverage and interviews.  A Blackmagic URSA Mini Pro 12K camera and Sigma Cine FF High Speed prime lenses were also employed and evaluated.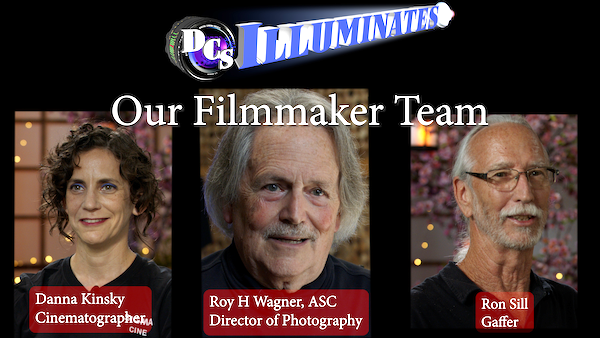 James Mathers served as Host and the filmmaking team included Cinematographer Danna Kinsky and Gaffer Ron Sill.  Pamela Bloom was also on hand to represent Rotolight while Lisa Straussberg and Scarlet Wagner were featured as on-camera talent.  Special thanks to our DCS crew including BTS Cinematographer Benjamin Brown, Production Sound Mixer Noah Mathers, Key Grip Mitch Gulbin, and assisting in innumerable key positions: Cinematographers Jon Tucker and Chuck France.  Post production finishing and graphics by Christopher Knell of Fireline Studios.  Our gratitude to Rotolight for sponsoring the production and to Sigma Burbank for providing the location and lenses as well as Blackmagic Design for our cameras.  View now on Vimeo:  https://vimeo.com/599553845
###
DCS Illuminates: DMX for DP's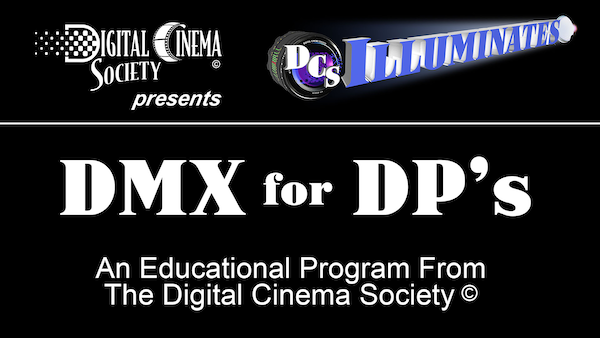 In this installment of DCS Illuminates, Cinematographer and Founder of DCS James Mathers visits with cinema lighting experts to explore the latest technology for remotely and wirelessly controlling set lighting.  Guests include Ben Dynice, Chief Technology Officer at Quasar Science and Timothy Duff, a Co-Founder of Lighticians and a Technical Specialist at Litepanels.
Special thanks to the entire team at Quasar Science and our DCS crew including Cinematographer David Mahlmann and Christopher Scott Knell handling post production finishing and graphics.  View it now on Vimeo:  https://vimeo.com/612732128
###
DCS EVENTS
DCS Micro/Macro Cinematography Event – Saturday 10-23-21 at The Camera Division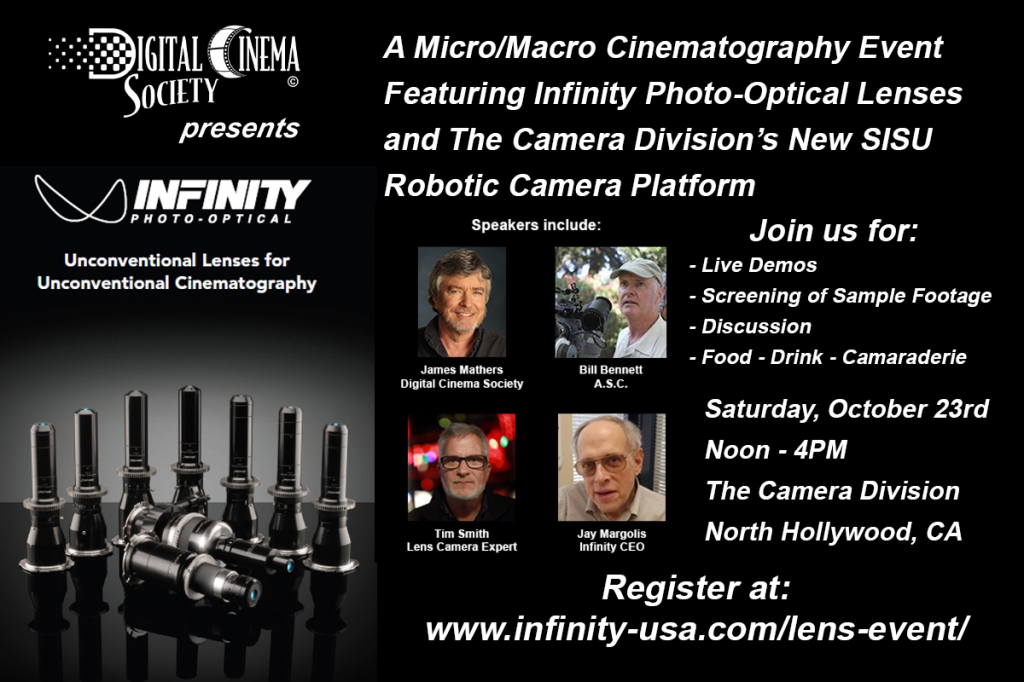 Join the Digital Cinema Society for our first live in-person event to be held in quite some time.  We will gather at The Camera Division in North Hollywood, CA to explore the world of Micro/Macro Cinematography using a series of unique and unconventional lenses based on microscope technology.   We'll see live demos of these Infinity Photo-Optical lenses along with sample footage photographed by Bill Bennett, ASC, James Mathers, and Cameron Cannon.  The Cinematographers will be on-hand to share their impressions of the lenses and technology along with Jay Margolis, the inventor and CEO of Infinity Lenses and Lens/Camera expert, Tim Smith.  Food and beverages will be served and Covid safety protocols observed.
Saturday October 23rd   Noon – 4PM
The Camera Division, 7351 Fulton Ave., North Hollywood, CA  91605
For more information and to register, please visit:  https://www.infinity-usa.com/lens-event/
###
Save The Date for the 2021 DCS Cine Lens Event: Online October 28, 2021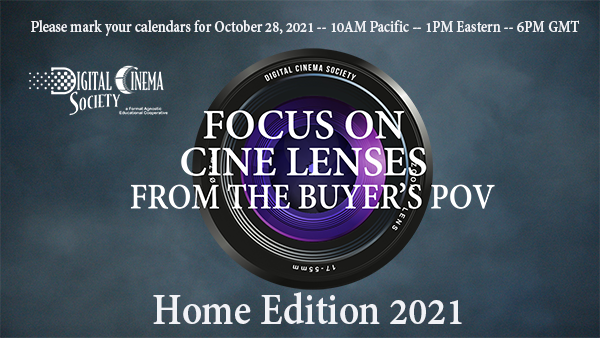 Due to ongoing pandemic restrictions the annual Digital Cinema Society Cine Lens event that had traditionally been held at Cine Gear Expo will once again be held online:
Please mark your calendars for October 28, 2021
10AM Pacific — 1PM Eastern — 6PM GMT
As is our tradition, the main "focus" of the event will be to look at the market of available cine lenses from the buyer's point of view. It is a great opportunity to gather pretty much every lens manufacturer in one place at one time to see the latest products and share perspectives between manufacturers and their customers. The event will be dedicated to the memory of Geoff Boyle who was co-moderator at a past lens event and Matthew Duclos of Duclos Lenses has once again agreed to join James Mathers as this year's a co-moderator.  Companies expected to participate include (in alphabetical order):
Angénieux — ARRI — Canon — Cooke – Fujinon
 Infinity Photo-Optical — Leitz — Lindsey Optics
P+S Technik – Sigma — Tokina — Zeiss 
All are welcome to join the Zoom audience and we'll be providing the necessary links and passcodes as the event draws near.
###
Industry News
Canon Announces New VR Lens: RF5.2mm F2.8 Dual Fisheye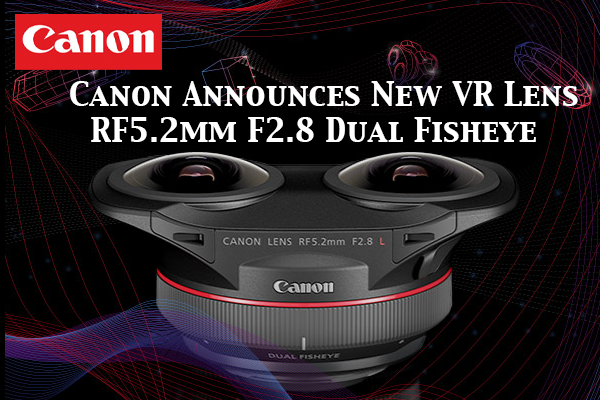 Canon has introduced an interchangeable lens capable of stereoscopic 3D 180° VR shooting to a single image sensor.  It is called the RF5.2mm F2.8 Dual Fisheye lens and will be available in late December 2021 at $1,999US.  It's compatible with the EOS R5 Mirrorless Digital Camera.  The dual high-performance L-series fisheye lenses combine imagery onto a single image sensor to help simplify 3D workflows by eliminating the need to sync and stitch multiple video files. Creators can go from capturing traditional stills or video to stereoscopic 3D capture with a simple lens swap, and the pairing of this lens with the EOS R5 provides for high resolution video recording at up to DCI 8K 30fps and DCI 4K 60 fps.  Currently available for preorder. 
• Shoot stereoscopic 3D* with a 60mm interpupillary distance
• 190° field of view capture for 180° VR viewing
• L-Series RF mount lens for easy lens swaps to VR shooting
• Convenient VR workflow outputting a single image file
• Flare control in backlit conditions from use of SWC
• Maximum aperture of f/2.8 to a deep depth of field f/16
• Compact, lightweight, and portable
###
Rotolight Announces Two New Models Sold at Discount via a Kickstarter Campaign
Rotolight has announced two new LED lighting products: the Rotolight NEO 3 and AEOS 2. The new units offer continuous light for cine applications and High-Speed Sync RGBWW flash for still photographers. The Rotolight NEO 3 is a pocket-sized on-camera LED available as an individual light or as a three-light kit with a high-performance, rechargeable lithium battery.  Meanwhile, the Rotolight AEOS 2 offers image-makers versatility in a lightweight ultra-thin design, the thinnest and lightest 1 x 1 panel ever made at under 1.4kg.
Both new products will allow photographers to flash in any one of 16.7 million colors or 2,500 digital filters with zero recycle time.  Access to key features and favorite settings is via a new full-colour 2-inch touchscreen display. Wireless control is available with an all new Rotolight iOS and Android native app. Another unique feature is the new Smartsoft Box™ allowing electronic adjustment of the light's diffusion, focus and spread without the need for gels via the touchscreen display or Rotolight app. These two fixtures are available now for pre-order at significant discounts through Rotolight's Kickstarter campaign (rotolight.com/kickstarter) which will run through until November 16th, 2021.
###
ARRI Rental Announces the Development of ALFA and Moviecam Series of Large-Format Lenses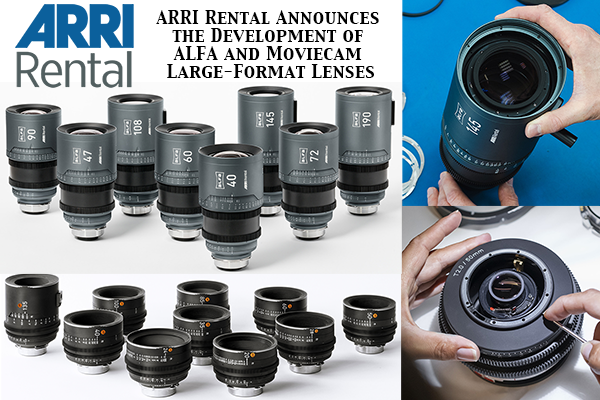 ARRI Rental has announced the development of two new large-format lens series: the ARRI Rental ALFA and Moviecam. The ALFA series are adapted from the ARRI Master Anamorphic lens line while the Moviecam series incorporates vintage glass with high performance new housings.  The ALFA lens set comprises eight lenses ranging in focal length from 40 mm to 190 mm and are fast at T2.5 for most focal lengths.  They were developed in artistic collaborations with filmmakers including cinematographer Greig Fraser ACS, ASC who was looking for a uniquely characterful anamorphic look for large format.
The ARRI Rental Moviecam lenses combine vintage glass in a modern, compact, and lightweight form factor given their full-frame coverage.  They come in 11 focal lengths from 16 mm to 135 mm with a T2 stop across most of that range.  Moviecam lenses were first produced in the 1980s, using extremely high-quality donor glass dating from the 1970s. In the 1990s, ARRI acquired the Moviecam company and incorporated some of its camera technologies and are now taking advantage of the Moviecam lenses.  Recognizing their growing appeal to digital filmmakers seeking a vintage look, ARRI Rental's lens engineers created a large number of consistent Moviecam sets.  Both series are available worldwide exclusively through ARRI Rental facilities.
###
Sigma Celebrates Their First 60 Years with Photo Contest
Sigma has chosen the celebration of their 60th anniversary to honor the legacy of founder Michihiro Yamaki and the passing of the baton to his son and current CEO, Kazuto Yamaki, by giving away $60,000 in scholarships to aspiring young artists.   To find out more about the contest and Sigma's history visit: https://www.sigmaphoto.com/60th-anniversary?mc_cid=3c8f178e0f&mc_eid=d3ee5c2d81
###
Renewing Your Membership and Supporting DCS
We count on your dues and contributions to continue our mission and maintain our services to members. So, if your membership has expired, or you simply want to show your support of our effects, please take a few minutes to send a donation. Membership is available at the $50 annual level or $300.00 for a Lifetime Membership. You can follow the convenient PayPal links, (using any major credit card, and you don't need to be signed up for PayPal,) or you can send payment to our offices at P.O. Box 1973 Studio City, CA 91614, USA.
PayPal Annual Renewal Link – $50.00US:  https://paypal.me/digitalcinemasociety/50
Paypal Lifetime Renewal Link – $300.00US: https://paypal.me/digitalcinemasociety/300
Checks should be sent to: The Digital Cinema Society, P.O. Box 1973, Studio City, CA 91614, USA. Check payments must be in US dollars. Please note that if you are a student, or otherwise cannot afford the dues, just send a note and we will be happy to extend your membership. ** Student and Complimentary memberships do not include a membership card.
###
THANK YOU TO OUR SPONSORS
As always, we want to send out a big thanks to all "Friends of DCS," whose support makes it possible for us to continue the DCS mission of educating the entertainment industry about the advancements in digital and cine technology:
AbelCine – ACES – Adobe – AJA – Anton/Bauer – ARRI – Avid – BB&S Lighting – Band Pro – Blackmagic Design – Bright Tangerine –  Canon – Cineo Lighting – Cinnafilm – Cooke Optics – Dadco/SunRay – Dedolight California – Fiilex – FLUOTEC – FootageBank – Fujinon – Infinity Photo-Optical – K 5600 – Kino Flo – Lectrosonics – Leitz Cine Wetzlar – Lindsey Optics – LiteGear – Litepanels – Litra – Luminys – MacSales – Matthews Studio Equipment – MACCAM – Mole-Richardson – Nanlite – Nila – OConnor – OWC – Panasonic Lumix – Panavision – P+S Technik – Quasar Science – Rosco – Rotolight – Sachtler – SIGMA – SmallHD – Sony – Teradek – The Rag Place – The Studio-B&H – Tokina – Vision Research – Westcott – Wooden Camera – Zeiss
###
DCS MEMBER BENEFITS and DISCOUNTS:
DCS members in good standing can also receive significant discounts on products and services from companies including: Core SWX - The Camera Division Design Lab - Raleigh Studios Screening Services - LensProToGo – Final Draft – Wooden Camera – SimpleDCP – Zacuto – IMDBpro – DECKHAND Camera Rental – Tek Media Electronic Repair – AbelCine – BB&S Lighting – Kit & Kaboodle Craft Service – Birns & Sawyer – NightSky Web Hosting – American Cinematheque – ProductionHub. And if your company would like to offer your fellow members meaningful discounts on products or services, let us know and we'll consider adding your offer to the page. Visit the DCS Member Discount page for all the details: www.digitalcinemasociety.org/member-discounts
Follow DCS on Social Media
Follow DCS on Facebook, Twitter and Instagram. Don't forget that the Digital Cinema Society has a Facebook fan page. Check in for the latest news, event details and general DCS hubbub at: http://www.facebook.com/DigitalCinemaSociety
On Twitter, you can follow us @DCSCharlene
On Instagram at: digitalcinemasociety
Our Home, The Digital Cinema Society:
"It is not the strongest of the species that survive, nor the most intelligent, but the most responsive to change." Charles Darwin