DCS Newsletter, Volume 14, Number 1
DCS Update
As we enter our fourteenth year, allow me to take a moment to reflect on the group and our role covering Entertainment Industry technology.  We began in a time before Facebook, iPhones, HDSLR or RED cameras.  HD was still pretty new and no one gave much thought to 4K, 8K, or a transition from celluloid in favor of digital technology.  We've grown to a membership nearing 6,500 with many thousands more who follow us on Facebook, LinkedIn, Vimeo, YouTube, and Twitter.  Our mission remains to help our members and the Industry at large keep current on technology.
We began this year by heading up to Las Vegas for CES in order to track Consumer electronics trends, which informs our coverage of Pro Technology; everything from self driving cars, smart homes, personal robotics, drones, displays and VR.  This coverage forms the basis for James Mathers' essay this month, "CES 2017 – Fifty Years Showcasing Technology".
Awards Season is well underway and we'll be keeping an eye on the presentations of particular interest to our members including the ASC Awards, DGA Awards, VES Awards, SOC Awards, and of course, the Oscars.  In the meantime, we have our own DCS Day at Sony's DMPC on February 9th, and our annual DCS Cinema Lighting Expo, which will return to the IA Local 80 stage in Burbank, on Saturday, March 4th.  Details of our events and a code for a comp NAB Exhibits pass follow. Those and many others can also be found in our comprehensive Calendar of Events from the homepage.
Industry News
ARRI Celebrates 100 Years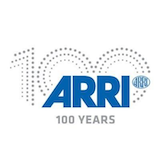 While 2017 marks 14 years for DCS, it has been 100 years since August Arnold and Robert Richter rented a small former shoemaker's store in Munich and set up shop as a film technology firm. Today, the company is headquartered at the same Munich location. However, the premises have expanded to the size of an entire city block and is just one of their numerous facilities around the world with major branches in Europe, the Americas and Asia. Arnold and Richter were camera operators, film producers and an equipment rental outfit before they ever manufactured an ARRI camera. From the very beginning they worked directly with filmmakers and the insight they gained helped them to develop equipment that met real on-set needs.
ARRI's actual anniversary is in September 2017, though the whole year will be marked by numerous celebrations, with all of the company's 1,300 worldwide employees taking part. DCS sends ARRI warm wishes for continued success and a very Happy 100th Birthday!
IMAX Building New VR Camera to Create Big Screen Immersive VR Experiences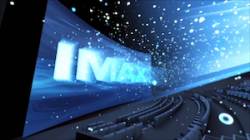 According to Wired magazine, IMAX has entered into a deal with Google to build a new VR camera specifically designed to capture VR experiences to be shown at special new venues they also are creating. The new format will feature higher resolution and a wider field of view, for a more immersive VR experience. They then reportedly plan to finance more than 25 VR experiences in the next three years at a cost of over $50 million.
NAB 2017 – DCS Code for Conferences Discounts and Comp Exhibits Pass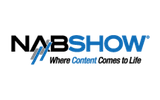 Time to start planning for NAB 2017. Conferences run from April 22-27 with Exhibits from April 24-27, 2017 at the Las Vegas Convention Center, Las Vegas, NV. DCS members can sign up for both at the following link:
http://registration.experientevent.com/showNAB171/Default.aspx?Passcode=PR30
Use DCS NAB Show code for discounts on an array of educational conferences and for a complimentary Exhibits Hall Pass: PR30
Members also qualify for a discount to Future Media Concepts' Post Production World, scheduled to coincide with NAB. You can learn from industry leaders and refine your skills with over 200 sessions in all production and post-production areas ranging from sound editing to color correcting and more. The program also includes the latest in UAV's and VR. Register with code PPW02 for $100 off the Post Production World pass.
One DP's Perspective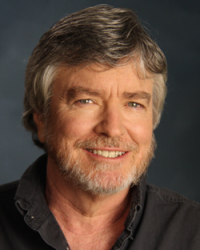 by James Mathers
Cinematographer and Founder of the Digital Cinema Society
CES 2017 – Fifty Years Showcasing Technology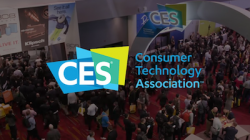 I make it my business to keep up with the tools filmmaking professionals need to create content, and with all the new technology coming our way at an ever increasing pace, it has become a rather daunting task.  So after covering conventions the world over, from IBC, Cine Gear Expo, the HPA Tech Retreat, and NAB, you might ask why I would again devote our limited resources trekking to Las Vegas to check out Consumer offerings at the annual CES.  It's because the vast Consumer market not only drives the technology we Professionals use, but also gives us a preview of what is to come.
Like it or not, the manufacture of professional content creation tools is a boutique business compared to the millions of units that can potentially be sold to consumers.  This exponentially larger pool of potential customers justifies enormous R&D budgets.  We can count ourselves lucky as some of this technology eventually "trickles up" for our use as professionals.
Apple didn't get to be the most valuable company on earth by concentrating its energy on high-end computers and software for professionals.  Instead, some would argue that these markets, where the company first made its mark, have now been somewhat neglected in favor of the mass market for mobile devices.  They still make some of the best high-end computers for Pros, but the progress has been incremental compared to the iPhone and iPad, which after all have only existed for about a decade.  The company also seems perfectly happy to have lost market share in the professional editing space to make their new Final Cut more accessible to amateurs and compatible with iOS.
Besides having greater R&D clout, the ever increasing quality of home entertainment delivery and display has necessitated the need to provide all the better picture and sound quality.  We wouldn't have to worry about how to finish our content in 4K and HDR if the consumer electronics industry had not figured out how to affordably offer home viewing in these formats.  It is also true that when movies can be made with DSLRs and iPhones, the lines between Consumer and Pro gear for photographic acquisition and display become blurred.
So, every year, I make the January trip to Las Vegas even though I'm not a particular fan of the city, especially when it is as crowded as it is for CES.  It is the biggest convention Las Vegas sees all year, and if you've ever been to NAB, think of that as an intimate gathering compared to the massive two and a half million square feet of exhibit space at CES, which is packed to the gills with a sea of humanity.
Although the organizer, known as CTA (Consumer Technology Association, formerly the Consumer Electronics Association), does a pretty good job of breaking down the exhibits by areas of interest, they are spread all over town.  Exhibits are housed at either "Tech East," the Las Vegas Convention Center, "Tech West," at the Sands Expo and Convention Center, or new this year at "Tech South," spread between the ARIA, Cosmopolitan, and Vdara Hotels.  I was kept on the move, since I had a wide variety of items that I wanted to check out; everything from VR, HDR, 4K, 8K cameras and displays to Drones.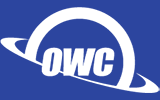 Since I've already mentioned Apple computers, let me first tell you how OWC is working to put the "Pro" back into MacBook Pro by offering an expansion interface friendlier to creative professionals.  Most Pros love Thunderbolt, but as Apple has streamlined their design, many have decried the loss of connectivity options.  I got a chance to meet with OWC Founder and CEO, Larry O'Connor, who gave me a sneak peak at their answer to this dilemma, a product which they've dubbed the "OWC DEC".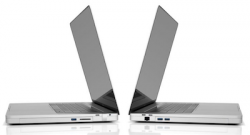 Adding the OWC DEC, (which attaches completely flush to the bottom of the 2016 MacBook Pro) allows users to extend the life and the functionality of their laptops, while at the same time increasing the performance by providing additional flash storage and lots of connectivity.  Once installed, the OWC DEC and latest MacBook Pro combined, will be no larger than the 2012 MacBook Pro, but with a host of added benefits including:
▪ Up to 4 TB of additional Flash/SSD storage (for a maximum of 6 TB, including factory capacity)
▪ SD Card Slot/Multi-Media card slot
▪ USB 3 Type A Ports for standard USB cabled devices
▪ Gigabit Ethernet
▪ And the ability to add future functionalities as they are developed in order to help future proof your laptop investment.
The OWC DEC is expected to ship in the spring of 2017, available from MacSales.com and other retailers.  For more information, please visit www.owcdigital.com/DEC.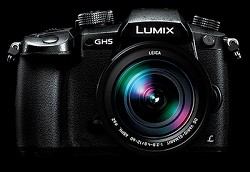 Another product of significance to Filmmakers is an update to Panasonic's Micro Four-Thirds mirrorless flagship, the DC-GH5.  This hybrid stills/motion camera offers some impressive specs including UHD 4K at 60 fps, (HD frame rates up to 180 fps), DCI/UHD 4K at 24/30 fps with internal 10-bit 4:2:2 recording, 12 fps continuous shooting, 4K and 6K PHOTO, as well as 5-axis in-body stabilization.   It also features a newly developed 20.3MP Digital MOS sensor without a low-pass filter.  The 1.66x faster processing and a new Venus Engine that is 1.3x faster helps to produce and process the  higher data throughput.  The new sensor technology also offers a noticeable improvement in dynamic range with a boost in sensitivity.
V-Log L recording is also available as an option along with a V-Log L View Assist Function for easier viewing during shooting. An additional UHS-II compatible SD card slot has been added which can be used for auto switching, creating an automatic backup, or selecting which files are saved to which card for organization.  This has helped the GH5 to avoid the recording time limits of earlier models.   The new camera should be available by the end of March and will retail for under $2,000US.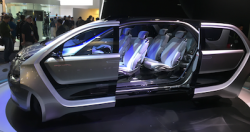 Since I'm a self-confessed car nut, I also like to check out all the new vehicles.  It's like getting a sneak peek at an international car show, only several years in advance.  There was a plethora of sleek, electric powered autonomous cars.  However, as a "Car Guy," it is hard to get too excited about these new, fairly identical, personal transport units.  I want a car that's about more than just getting me from point A to point B.  The fun is in the journey and I want to be the driver, not cargo.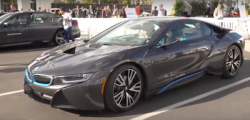 One exception to the boring pods was from BMW, who actually gave CES attendees the chance to take their breathtaking Hybrid i8 out for a spin around the neighborhood.  It doesn't have too much to do with the Industry, but a guy's got to have a little fun while he's in Vegas.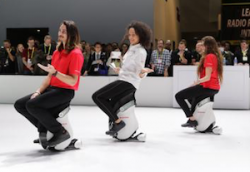 Although I didn't want to wait in the rather long line, Honda was also offering attendees rides on their new UNI-CUB, a sort of a motorized shop stool that is part of their "Cooperative Mobility Ecosystem".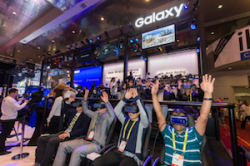 In order to get back to technology that might have some bearing on the Entertainment Industry, and to segue into VR, let me tell you about a couple of virtual rides I also experienced.  Samsung's "Galaxy Studio" featured a number of VR experiences, which were enhanced with gyro 4D simulator chairs.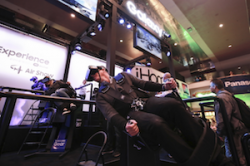 One simulates a 360-degree race through space, another is a speed boat ride on a rough Australian outback river.  There is also an airshow from a pilot's perspective and even a roller coaster.  It gets pretty exciting via the synchronized gyro 4D simulator chairs, some of which can rotate 360 degrees vertically and horizontally to replicate the dynamic motions.
4D was just one small aspect of the VR exhibits omnipresent at CES.  Every imaginable format, camera rig, and viewing apparatus was on display.  However, the fact that there are so many different forms of VR brings up the great need for standardization and interoperability.  If VR is to really take hold, creators need to be able to easily port their content from one system to the next.  Users need to be able to experience audiovisual content, either live or on-demand, through mobile or tethered VR headsets or on traditional "2D devices" such as tablets.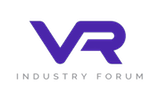 An Industry group, known as the VR Industry Forum, has been formed to address these issues.  I was lucky to have been invited to the inaugural get together at CES.  By coincidence, it was in the same room at Caesar's Palace where DCS held its first event some 14 years ago to introduce our own group at NAB 2003.  "VRIF" is also a not-for-profit company with the stated purpose "To promote the adoption and end-to-end interoperability of VR across key media and entertainment sectors and further the widespread availability of high quality audiovisual VR experiences, for the benefit of consumers."   The Forum has grown out of a series of informal meetings held over the past 12 months involving over 200 people from a large group of stakeholder companies such as Ericsson, Fraunhofer, Intel, Technicolor, Sony Pictures, and Verizon, among many others.  More information about their efforts can be found at:  www.vr-if.org
With all the future technology on display at CES, it was nice to get a nostalgic blast from the past.  Kodak used the occasion to announce that they are binging back Ektachrome film stock, a reversal stock known for rich saturated color, fine grain, and high-quality contrast.  Although many a Photographer lamented the loss, Kodak discontinued Ektachrome in 2012 due to lagging sales.
Ektachrome, as opposed to color negative film stock, generates a positive image, or slide if you will, that can be directly viewed or projected after a relatively simple processing for quicker turn-around and at a somewhat lower cost.  Production of Ektachrome will take place at the company's film factory in Rochester, N.Y and will be available in Super 8 mm and 35 mm by the end of 2017.  Now, what would really please me, (and probably Paul Simon, too), is if they also brought back Kodachrome, which rumor has it, they are considering.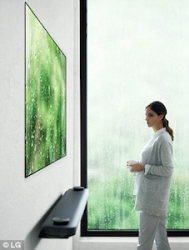 Of course, home theater displays just keep getting bigger and better with just about every model offering 4K resolution and HDR capabilities.  There were large screen panels not much thicker than a pane of glass; LG calls theirs "Wallpaper TV".  At just 2.6 mm thick, it is also light enough to be hung on the wall with magnets.  A single cable runs to a sound bar which houses the electronics and has all the normal connectors including four HDMI ports and built-in Wi-Fi.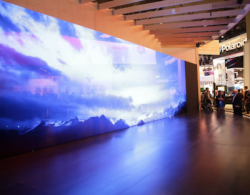 And what's better than a great looking large screen display?  How about hundreds of large panels stitched together to create a seamless giant cinema screen or curved screens that can be fused together for an immersive dome experience.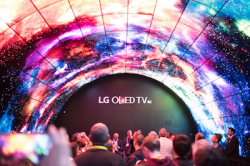 This technology is really improving and I would predict that as the cost of panels goes down, we will see more theatrical cinema screens go this route in lieu of projection systems.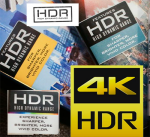 There was a lot of talk this year in regard to HDR capabilities.  Of particular interest to Professionals, LG had a stunning OLED available inexpensively from your everyday consumer outlets. Now, what makes it interesting, is that they claim to be working with Technicolor, who will be building a viewing LUT for the new display, potentially creating a very low cost 4K HDR reference monitor.  I'm sure it will not have all the performance or control available in something like the top of the line Sony BVM OLED, but available screen sizes are much greater and the prices are much, much lower, so it could be a good fit for some professional operations.<br><br>
It's interesting to reflect back on previous CES conventions to see what was predicted to be "The Next Big Thing".  Some of these predictions did pan out, but others, not so much.  8K was highly touted last year, and although there were a few samples on display, it wasn't getting much traction.  What I didn't see at all this year, which seemed conspicuously absent after it had been pushed so hard in previous years, was 3D.  Support for 3D television has all but vanished with companies like Samsung, Vizio, Sharp, Hisense, and TCL having already dropped the option, while LG and Sony plan to join them by the end of 2017.  Meanwhile, DirecTV and ESPN have shut down their 3D channels, and cooperative 3D TV effort between Comcast, Sony, Discovery and IMAX was short-lived.  Although 3D continues to enjoy some success as a premium offering in theatrical exhibition, the technology has virtually flatlined for home entertainment.
If there was one theme ever present on the exhibit floor it was Connectivity, from self-driving cars and smart homes to digital health, our connected world was on display at CES 2017.  Every gizmo imaginable was bragging about its ability to connect with Alexa, (and I'm talking about the Google voice activated controller, as opposed to ARRI's Digital Cinema camera).  I'm not sure how practical it all is as of yet; at this point, I fear the time taken to load the myriad of available apps and figure them out, could be more time intensive than it would be to manually perform the functions.  There are also cyber security concerns to consider, but there is probably no escaping this trend; it is the future.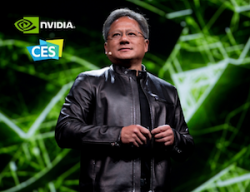 Another subject that got a lot of attention at CES 2017 was artificial intelligence, or "AI".  It is key to the technological progress of many of the products that were showcased, from intelligent assistants and smart homes, to self-driving cars, VR, gaming and robotics.  Computer modeling built on top of GPU technology allows software to learn from data, which is the machine equivalent of experience.  However, this requires an enormous amount of computational parallel processing power to be practical, and that's where the GPU shines.  DCS supporter, NVIDIA is a company that pioneered the GPU and remains at the heart of these technologies.  So much so that NVIDIA Founder & CEO, Jen-Hsun Huang was invited to give the Keynote at CES 2017.
According to Huang, "Today's AI networks can write captions of photographs and imitate the painting styles of van Gogh and Monet. They have learned the fine motor skills required to open a bottle of water, how to get up off the floor and walk, and even how to drive a car on dirt roads in the rain. The achievements of GPU have been nothing short of miraculous."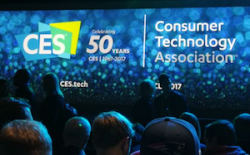 With 200,000 attendees and 3,800 companies, this year's CES was one for the record books. Its 50th anniversary was not only a milestone for the largest technology conference in the world, it marked a historic moment for the technology industry itself.  I was glad to have been there and provide this Filmmaker's perspective.  Now, it's time to look ahead to the HPA Tech Retreat which is followed soon after by NAB.  This is always a busy time of year for me and DCS, but it's never boring.
All comments are welcome; please write or leave a comment on our DCS Facebook page: http://www.facebook.com/DigitalCinemaSociety
DCS Members on the Move
DCS Founding Member, and one time President of our Midwest Chapter, Tom Fletcher has been named Director of Sales for the Optical Devices Division of FUJIFILM, (commonly known as Fujinon). Tom is probably best known from his days running Fletcher Camera and for his popular camera and lens comparison charts, which he generously shares with DCS.
Sarah Priestnall, for many years the VP of Market Development for Codex, has founded and will serve as President of Purple Pixel Consulting. She continues to serve Codex on a consulting basis as well as other prominent clients including the Academy of Motion Picture Arts and Sciences in regards to their ACES initiative.
Our congratulations go out to longtime DCS member, Brian Knappenberger whose documentary Nobody Speak: Hulk Hogan, Gawker and Trials of a Free Press was acquired by Netflix at Sundance.  The film chronicles the court case and fallout of the legal battle between media company Gawker and the former WWE star which ended with a $115 million pay day for Hogan and the revelation that his legal fees were secretly being paid by Silicon Valley investor Peter Thiel.
Spotlight On Lifetime Members
The term multi-hyphenate does not do justice in describing Victor Maldonado. He is not only an accomplished Photographer/Cinematographer, Editor, Painter, Sculptor, and Ceramist, he also has a background modeling, acting, and is an Apple Master Trainer on Aperture, Final Cut Pro and Color. In addition, he spent several years as an L.A. City Fire Fighter from which he is now retired. Victor grew up in both Mexico City and L.A., where he now resides, splitting his time between various artistic pursuits as well as volunteering for a number of charities.
Joe Belack is a Cinematographer and an IATSE Local 600 Digital Imaging Technician who lives in River Vale, New Jersey. Joe works primarily on commercials and television productions in the Greater New York City region. While he still shoots and serves as DIT on a large variety of projects, he has also recently been developing a specialty in Virtual Really capture.
Renewing Your DCS Membership
We count on your dues and contributions to continue our mission and maintain our services to members. So, if your membership has expired, or will soon, and provided that you value our services and can afford to offer support, please take a few minutes to renew your membership at the $30 annual level or $100.00 for a Lifetime Membership. You can follow the convenient PayPal links, (using any major credit card, and you don't need to be signed up for PayPal,) or you can send payment to our offices at P.O. Box 1973 Studio City, CA 91614, USA.
PayPal Annual Renewal Link – $30US: https://www.paypal.com/cgi-bin/webscr?cmd=_xclick&business=mathers%40digitalcinemasociety%2eorg&item_name=Digital%20Cinema%20Society%20Annual%20Renewal&amount=30%2e00&no_shipping=0&no_note=1&currency_code=USD&lc=US&bn=PP%2dBuyNowBF&charset=UTF%2d8
PayPal Lifetime Renewal Link – $100US: https://www.paypal.com/cgi-bin/webscr?cmd=_xclick&business=mathers%40digitalcinemasociety%2eorg&item_name=Digital%20Cinema%20Society%20Lifetime%20Membership&amount=100%2e00&no_shipping=0&no_note=1&currency_code=USD&lc=US&bn=PP%2dBuyNowBF&charset=UTF%2d8
Checks should be sent to: The Digital Cinema Society, P.O. Box 1973, Studio City, CA 91614, USA. Check payments must be in US dollars.
Please note that if you are a student, or otherwise cannot afford the dues, just send a note and we will be happy to extend your membership. **Student and Complimentary memberships do not include a DCS membership card.
Remember Your DCS Member Discounts
DCS members in good standing can receive significant discounts on products and services from companies including: BMW/Mini – LensProToGo – Final Draft – Wooden Camera – SimpleDCP – Zacuto – IMDBpro – Manios Digital – DECKHAND Camera Rental – Tek Media Electronic Repair – AbelCine – BBS Lighting – Kit & Kaboodle Craft Service – Birns & Sawyer – NightSky Web Hosting – American Cinematheque – ProductionHub
And if your company would like to offer your fellow members meaningful discounts on products or services let us know and we'll consider adding your offer to the page. Visit the DCS Member Discount page for all the details:
www.digitalcinemasociety.org/member-discounts
Welcome to New Friends of DCS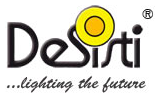 For more than 30 years DeSisti Lighting has specialized in bringing lighting innovation to the broadcast, theater and motion picture markets. They are dedicated to constantly evolving in the ever changing LED marketplace with improvements in light output, color temperature, and reliability. Innovative new products include a variable white Fresnel series, updated Coemar Ellipsoidal series and the all new D-Trac system. Visit www.desisti.it to see their latest product line up and find out about what's on the horizon for DeSisti Lighting.
Thank You To Our Sponsors
As always, we want to send out a big thanks to all "Friends of DCS," whose support makes it possible for us to continue the DCS mission of educating the entertainment industry about the advancements in digital and cine technology: Panasonic – Canon – Sony – Panavision – Angénieux – ARRI – ACES – SIGMA – SIM Digital – VER – Nokia OZO – BBS Lighting – Light & Motion – Power Gems – AJA – Bertone Visuals – DeSisti Lighting – Digital Sputnik – AAdynTech – DoP Choice – MACCAM – Luminys – dedolight – K-Tek – K 5600 – Fujinon – Sound Devices – Zacuto – Zeiss – Adobe – Leica/CW Sonderoptic – The Studio-B&H – Nila – Adorama – Mole Richardson – Red Scorpion LEDs – AbelCine – Litepanels – Anton/Bauer – Sachtler – OConnor – Band Pro – Redrock Micro – Libec – Vision Research – Convergent Design – ZGC – Cooke Optics – Blackmagic Design – Kino Flo – Wooden Camera –  NVIDIA – Codex – MTI Film – Cineo Lighting – Birns & Sawyer – Zylight – Teradek – Rosco – DigitalFilm Tree – OWC – MacSales – Manios Digital – Cartoni – WCP
Calendar of Upcoming Industry Events
The large number of listings and hyperlinks in our full Calendar of Events causes many e-mail servers to reject our eNewsletter. So, for a complete calendar of upcoming industry event listings for both the U.S. and International, please visit the Events Calendar on the DCS Homepage at:  www.digitalcinemasociety.org/events-calendar
Follow DCS on Facebook and Twitter
Don't forget that the Digital Cinema Society has a Facebook fan page. Check in for the latest news, event details and general DCS hubbub at: http://www.facebook.com/DigitalCinemaSociety On Twitter, you can follow us @DCSCharlene
Our Home, The Digital Cinema Society:
"It is not the strongest of the species that survive, nor the most intelligent, but the most responsive to change." Charles Darwin