DCS UPDATE
The world has been turned upside down since our last international eNewsletter and no one is left unaffected, including the Digital Cinema Society.  Although we are still healthy, the global pandemic is challenging us to maintain our mission of keeping you informed about new motion picture technology.  We would normally be busy right now planning our biggest efforts of the year, namely our streaming coverage from the NAB Show floor and our major fundraiser, the annual Internet Silent Auction.  However, we are instead hunkered down here figuring out ways to adapt to the new environment.
In this eNewsletter, we will elaborate on our plans, including remote interviews covering the latest product announcements that we would have brought to you from NAB, as well as our Events Calendar now transitioning to a listing of on-line educational offerings to keep you up-to-date while you're stuck in quarantine.  An idea for a new online activity is also percolating which we are calling "DCS MOS" for Movies Without Sound where noted filmmakers would join an online group chat to offer commentary on their movies while we all watch together with the sound turned down.
We'll also share a collection of non-disease related industry news that has happened over the last month, and we feature a content contribution with tips on creating music videos from Adorama's Suzee Skwiot.
DCS Sans NAB — Here's The Plan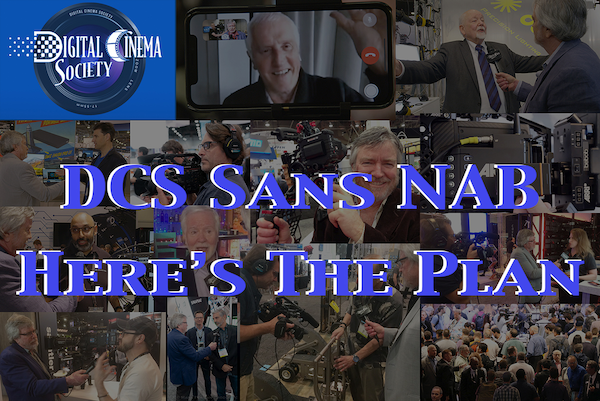 NAB has always been a big part of the Digital Cinema Society's efforts to keep members current on the latest technology.  We held our official launch party at NAB 2003 and have been covering the convention annually with streaming interviews from the show floor since 2006.  However, with the prohibition to hold our own events, and the cancellation of NAB 2020, we have been busy developing strategies to adapt.
Figuring that most manufacturers' product release cycles are built around the NAB show, we wanted to come up with a way to interview their representatives remotely in order to stream during the previously scheduled NAB time frame (April 18-22, 2020).  With the help of leading technology companies including AJA and Frame.IO, we are planning to conduct our interviews over the web.
Not seeing much advantage to live streaming, we will record these segments in the time leading up to when the show would have occurred which will allow us to add other visuals and elevate the production value via post production.  We intend for these segments to go far beyond a typical Skype call.  Interviews are currently being scheduled in which our guests can participate from their homes or offices, even with multiple feeds from various locations.  Meanwhile, we will remain at the Digital Cinema Society World Headquarters, (our home in Studio City).
The interviews will be announced and available on our website starting April 18th.  Of course, we will endeavor to return to our normal in-person streaming interviews at the next opportunity, (NAB NY, Cine Gear Expo, or ?), but this will allow us to keep you up on the latest news much as it would have been presented at NAB 2020.
New Educational Activity: DCS MOS – Movies Without Sound

Another concept that has been percolating is what we are tentatively calling DCS "MOS", (Movies Without Sound.)  It would basically be a group internet chat featuring behind the scenes commentary by filmmakers while we view their movies together on the web.  Instead of interviewing a Cinematographer like Robert Richardson, ASC, as we did after a screening of the The Hateful 8, we will arrange for the filmmaker to join us and go through the movie in realtime to find out about the challenges, creative decisions, and techniques that went into creating the images.  We are still researching what platform will best serve the purpose, but just letting you know what is on the horizon.
DCS Creates New Calendar of Online Events Featuring Educational Offerings on the Web

We've gotten a lot of positive feedback over the years about our very comprehensive DCS Calendar of Events which not only list our own upcoming events, but many, many others happening all across the globe.  Since those have essentially come to a standstill of late, we are instead starting to list educational activities happening on the web.  The new DCS Calendar of Online Events will list related educational online content usually available at no charge to our members, as well as fee-based content.
Visit the Online Events Calendar on the DCS Homepage at: www.digitalcinemasociety.org/online-industry-events-calendar
Continued member support will ensure that we not only navigate these difficult times, but together, grow stronger as a result.  Remember:
"It is not the strongest of the species that survive, nor the most intelligent, but the most responsive to change." Charles Darwin
Now Streaming: 2020 DCS Cinema Lighting Expo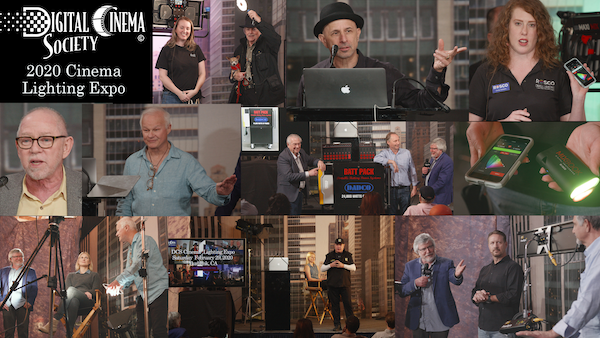 Complete coverage of the annual Digital Cinema Society exploration of Motion Picture Lighting and Grip Technology is now streaming.  Hosted by Cinematographer and DCS Founder, James Mathers, the daylong event was held at the IATSE Local 80 stage in Burbank, CA on Saturday, February 29th, 2020.
In addition to presentations on the latest lighting technology by almost every major manufacturer in the industry, there is an inspirational presentation and short practical demo by renowned Cinematographer Rodney Charters, ASC, as well as an in-depth presentation by Panasonic's Laurence Nunn on the VariCam family of Digital Cinema cameras.
We were also proud to present a special presentation on SSI (Spectral Similarity Index), a system for rating the color fidelity and spectral response of LED lighting instruments.  Featured speakers in this presentation include ASC Cinematographers Steven Poster and Steven Fierberg, Google Color Scientist, Paul Debevec, Cinematographer and Quasar Science Color Engineer, Timothy Kang, and Sekonic Brand Manager for The MAC Group, Ab Sesay.
The presentation was organized by the Science and Technology Council of the Academy of Motion Picture Arts and Sciences, (with special thanks to the Academy's George Joblove, Dan Sherlock, and Joe Di Gennaro.)
An excellent perspective on color science was also presented by Kino Flo's Frieder Hochheim.
Manufacturer presentations include, (in alphabetical order):
BB&S Lighting • BROKEH Lighting System • Cineo Lighting • DADCO • ETC • Fiilex • Film Gear • FLUOTEC • Kino Flo •  Light & Motion • LiteGear • Litepanels • Litra • Lowel • Luminys • Mole-Richardson • Nanlite • Panasonic • Quasar Science • Rosco/DMG Lumiére • Rosco/SoftDrop • Rotolight • TRP/The Rag Place •  Zylight
We would like to acknowledge our wonderful volunteer crew, including:
Producer David Mahlmann  •  Cinematographer Cameron Cannon  •  Camera Operators John Tucker, Enrique Del Rio, and Tristan Aghapjanian • Gaffer Alexander Bonelli  •  Key Grip Mitch Gulbin  •  Sound Recording, Data, and Post Services Christopher Scott Knell  • Sound Recording Assistant Kylina Aliotti • Stage Manager Chris Applegate • On-camera talent Kristel Elling • Motion title sequence shot by Alyssa Miulli • Event Management Team: Charlene Mathers, Quiana Skiffer, and Al Gonzales.
Special thanks to:
Panasonic  •  Rosco SoftDrop  •  Mole-Richardson  •  TRP/The Rag Place  •  Wooden Nickel  •  Sekonic • Backstage Cafe •  IATSE Local 80  •  DADCO  •  Kino Flo  •  J.L. Fisher
To view the entire collection on Vimeo, visit:
https://vimeopro.com/digitalcinemasociety/2020-dcs-cinema-lighting-expo-1
Industry News
DCS Mourns the Loss of Industry Technologist Jim Houston
We are very sad to report the passing of a very distinguished and longtime member of our DCS Advisory Board, James D. Houston. Jim was a well liked and much respected technology expert in the fields of motion imaging standards, computer animation and digital restoration.  He won many awards over his career including the S.M.P.T.E.'s Technicolor, Herbert T. Kalmus Award in 2014 as well as two Scientific and Engineering Academy Awards.  The first was in 1992 for developing CAPS (Computer Aided Production System), which revolutionized computer animation. This system was the first that allowed artists to integrate color penciled artwork into CGI backgrounds. A second Academy Award was given in 2007 for his contribution to the Rosetta process used in digital restoration.
Jim Houston also played a key role in the development of standards related to the Academy of Motion Picture Arts and Sciences' Academy Color Enoding System (ACES), and was a frequent guest speaker on the subject, including at DCS events. He graduated from Cornell University in 1981 with a degree in Physics and Computer Science and was the CEO of Starwatcher Digital. Most recently, Jim had gone to work for Samsung, handling Studio Relations in their Media Solutions Lab.  Jim succumbed to a heart attack at the age of 61 on March 26th. He will be sorely missed.
John Lindley, ASC elected as President of International Cinematographers Guild IA Local 600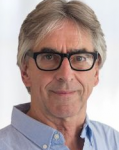 John Lindley, ASC has been elected to lead the International Cinematographers Guild, IATSE Local 600, as president of the union.  Lindley will serve out the remainder of the term of Lewis Rothenberg, who stepped down in mid-February in a dispute over whether he met residency requirements.  The Guild's constitution and bylaws stipulate that an election must take place within 30 days of the resignation, which was held in a special online vote to avoid spreading the coronavirus.  Lindley has a notable career as a Director of Photography, including such features as Pleasantville, Field of Dreams, The Core, and St. Vincent, as well as several hit TV series including Castle Rock and Manhattan, (an ASC Award Winner for Outstanding Achievement in Cinematography in its category).  Like his predecessor, Digital Imaging Technician Lewis Rothenberg, Lindley is a native of New York, but now lives in Los Angeles, another requirement of the Guild's Bylaws which caused problems for Rothenberg.  After temporarily assuming the duties as interim ICG President, Dejan Georgevich, ASC, will return as VP, and Camera Assistant, Baird Steptoe Sr. has also been elected as second national vice president to fill the vacancy created by the previous officeholder, Lindley.

As promised by National Executive Director Rebecca Rhine, a smooth transition to fill the vacancy did take place within the limited 30 day time frame, even in the face of the growing COVID-19 pandemic.  A special National Membership Meeting was held on March 7th with the single agenda item of answering questions surrounding the recent resignation of the national president.  The meeting was held in all three regions via the union's internal video conference system in order to ensure transparency, even before prohibitions restricted large gatherings to avoid spreading the coronavirus.  The Guild leadership opted for the first time to cast their votes for a national executive officer online to avoid spreading the disease.  The 93 seated board members or alternates across the country logged onto ZOOM to participate in the complete nominating and voting process on March 15th.
DCS Content Contribution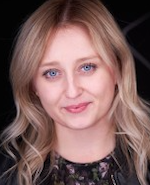 by Suzee Skwiot, Managing Editor for Adorama Learning Center
7 Tips for Shooting a Music Video

Since they first debuted decades ago, music videos have transformed the music industry landscape, bringing acts and musicians to worldwide audiences and, with the help of streaming sites, have broken records for viewership.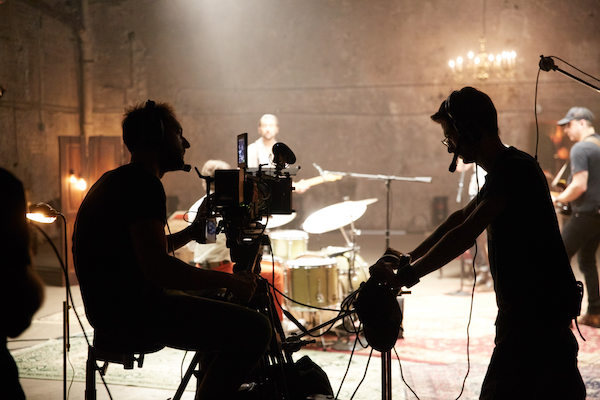 To help detail everything that goes into creating a music video, Adorama recently launched a new video series, Beyond the Sound, taking you behind the scenes of a full-scale music video production. Made in partnership with Framework Production and with music from local bands — including Buke & Gase, Taali, and Eden James — the series covers everything you need to know to create a music video.
"With the rising consumption of music videos, and the desire for creators of all capability to produce them, Adorama sees Beyond The Sound as the perfect opportunity to bring our expertise to this industry," says Mary-Irene Marek, Executive Producer of Beyond The Sound. "We have long stood for giving content creators all of the tools and inspiration they need to carry out their artistic dreams. With Beyond The Sound, we hope to highlight everything it takes to create these artful videos, and the professionals who get it done."
Here, from Adorama and the crew behind "Beyond the Sound," are seven tips to keep in mind when shooting your next music video:
1. Communicate clear plans to all involved
"Shoots of this nature can be very ambitious," says Keagan Fuller, an NYC-based freelance lighting technician. "It is mission critical that the crew's expectations get synchronized. Phone calls and diagrams sometimes are no substitute for having all key members in the space ahead of time." Get the crew together, communicate all points clearly, and get everyone on the same page before delegating all of the individual tasks, saving you major stress throughout the entire production.
2. Plan your shots for the most impactful musical moments
Understanding your music is paramount to creating a video that represents both the band and the song. "The pace and flow of an edit is very important in music," says Steven Pierce, director and producer at Framework Productions. "You want the high points of the song to correspond with the most impactful shots for that moment. I decide on the biggest moments of a phrase, and which shots I want for those moments, and then work backwards with the coverage to build up to those shots and moments."
3. Choose the right microphones for the music
If you're filming a live studio performance for your music video, arrange microphones according to the band or performer's individual setup. Depending on room type, instrumentation, distance of the microphone to the source, and number of members, you'll need to secure several pieces of audio gear for vocals, instruments (depending on whether they're acoustic or electric), and an additional on-camera mic. For Beyond the Sound, sound engineer Julian Evans made his selections carefully. "Two Sennheiser ME64's were added to the microphone order for their small-form pencil factor and versatility, with options to use them as drum overheads, hi hats, guitar cabs," Evans says. "Two Sennheiser MD421's were added with the intention of using them as tom mics, four Shure SM58's were pulled for their tried and tested sound as a vocal microphone, two Neumann KMS 105's were added for lead vocals, and an AKG 414 was used on the kick drum — an unconventional choice, but a batter-side kick drum placement worked great in the end."
4. Choose cameras and placement carefully
In filming Beyond the Sound, Framework Productions deployed five total cameras — four RED Helium 8K cameras, and a Sony a7S — as well as a collection of Canon cinema lenses including two 30-105mm telephotos, a 15.5-47mm, and a 30-300mm zoom. In this case, when shooting a live performance music video, the crew opted for a doorway dolly operated by a key grip to capture 180-degree shots, tripod- and Dana Dolly-mounted cameras for focused shots, telephotos to get small details, and a dedicated camera on a slider for super-wide shots.
"As a DP its your time to shine and make the best-looking pictures you possibly can," says Igor Kropotov, NYC-based Director of Photography. "Try out lenses, cameras, or camera tricks you've heard about to help elevate the music."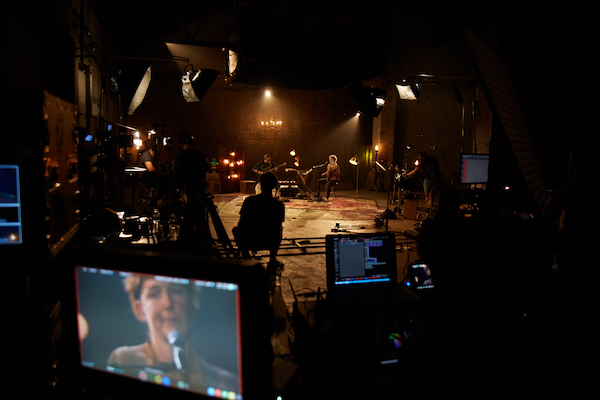 5. Focus on lighting and keep it versatile 
Lighting, perhaps more than other production elements, will help to set the mood for the entire shoot. Select your lighting gear with the musician and track in mind, planning for the small individual features of each performance. In Beyond the Sound, William Quigley, an NYC-based chief lighting technician, also details the importance of lighting safety and all it takes to outfit each lighting source, controlling and synching it with each and every performance. But, as with any shoot, plan for the unexpected. "Make sure your lighting and grip order has enough 'back-ups' to accommodate whatever is thrown at you," Quigley says. "Don't assume the plan will ever stay the same as what you discussed in pre-production."
6. Plan for the edit with a live line cut
Even if you plan to collect all footage and edit in post, live switching will help in setting a direction for any live performance music video shoot. "Live switching is all about clear communication and lots of practice," says Pierce. "You have to always be thinking ahead two or more moments. Practice so you aren't thinking about the technical aspects, and you can keep pushing your mind forward to what is coming next. Then when you know what is next, communicate that clearly to your operators with enough time for them to get the shot for you."
7. Don't be afraid to experiment
"Music videos are rarely a continuous narrative so don't be afraid to go for more risky set-ups," says Quigley. "Have a new toy you've been eyeing? New light or gel? Now is the time to try it out!"
Member News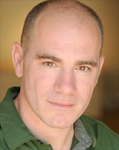 Veteran colorist and longtime DCS member, Walter Volpatto, CSI has been appointed to the leadership of the Colorist Society International as a Fellow. A senior colorist at EFILM in Hollywood, Volpatto was nominated for a 2019 HPA Award for his work on the film Green Book. His more than 100 credits also include the features Star Wars: Episode VIII – The Last Jedi, Dunkirk, Midway and Independence Day: Resurgence, as well as the television series Homecoming and Queen Sugar.  

The CSI was formed to insure that colorists are acknowledged for their crucial contribution to the look and feel of movies and television shows, as well as to make sure they are represented in awards competitions and properly credited in film and television listings.
Renewing Your Membership and Supporting DCS
We count on your dues and contributions to continue our mission and maintain our services to members. So, if your membership has expired, or you simply want to show your support of our effects, please take a few minutes to send a donation. Membership is available at the $50 annual level or $300.00 for a Lifetime Membership. You can follow the convenient PayPal links, (using any major credit card, and you don't need to be signed up for PayPal,) or you can send payment to our offices at P.O. Box 1973 Studio City, CA 91614, USA.
PayPal Annual Renewal Link – $50.00US:  https://paypal.me/digitalcinemasociety/50
Paypal Lifetime Renewal Link – $300.00US: https://paypal.me/digitalcinemasociety/300
Checks should be sent to: The Digital Cinema Society, P.O. Box 1973, Studio City, CA 91614, USA. Check payments must be in US dollars. Please note that if you are a student, or otherwise cannot afford the dues, just send a note and we will be happy to extend your membership. ** Student and Complimentary memberships do not include a membership card.
Welcome To New Friends of DCS: Rotolight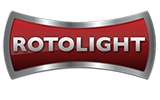 Rotolight is a British family owned business who designs innovative LED lighting products for the motion picture and photographic industries. Manufactured in the UK, Rotolight has been responsible for numerous industry-first, patented technologies with over 50 granted patents, designs and trademarks around the world such as the first suite of cinematic lighting effects (CineSFX™) that set them apart in the rapidly growing LED lighting market. Rotolight's newest innovation, the Titan™ X2 has also pioneered the world's first electronic diffusion technology (SmartSoft™) that allows users to adjust the diffusion, focus and spread of their light and eliminates the need for gels. For their contributions to the industry, Rotolight has been awarded over 30 accolades across their entire product range, most recently being awarded Pro Moviemaker's award for Best Lighting Innovation of 2019.  Find out more at:  https://www.rotolight.com 
THANK YOU TO OUR SPONSORS
As always, we want to send out a big thanks to all "Friends of DCS," whose support makes it possible for us to continue the DCS mission of educating the entertainment industry about the advancements in digital and cine technology:
AbelCine – ACES – Adobe – Adorama – AJA – Angénieux – Anton/Bauer – ARRI – Avid – BB&S Lighting – Band Pro – Birns and Sawyer – Blackmagic Design – BROKEH – Canon – Cineo Lighting – Cinnafilm – Codex – Cooke Optics – Core SWX – Dadco/SunRay – Dedolight California – DigitalFilm Tree –  ETC – Fiilex – Film Gear – FLUOTEC – FootageBank – Fujinon –  J.L. Fisher K 5600 – Kino Flo – Lectrosonics – Leitz Cine Wetzlar – Light & Motion – LiteGear – Litepanels – Litra – Luminys – MacSales – MACCAM  -  Mole-Richardson – Nanlite – Nila – OConnor – OWC – Panasonic – Panasonic Lumix – Panavision – P+S Technik – Rosco – Rotolight – Sachtler – SIGMA SIM Digital – SmallHD – Sony – SWIT Teradek – Quasar Science – Rotolight – The Rag Place – The Studio-B&H – Tiffen – Tokina Cinema – Vision Research – Westcott – Zeiss – Zylight
REMEMBER YOUR DCS MEMBER BENEFITS and DISCOUNTS:
New Offer: 10% Off All Purchases From the Core SWX On-line Store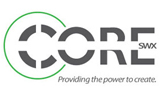 DCS members in good standing are eligible for 10% off the entire purchase from the Core SWX website. Core SWX offers a wide range of high quality power solutions from the Powerbase Edge battery for DSLR cameras, to the Hypercore NEO and Helix line of batteries for the high end Cine market. In addition they have an array of advanced chargers, mount plates, cables, and power supplies. Compatible with leading professional and consumer manufacturers such as Sony, RED, Panasonic, Blackmagic Design, and more.
Visit: https://www.coreswx.com and when you're ready to make a purchase, write us at DCS for the discount code.
DCS members in good standing can also receive significant discounts on products and services from companies including: The Camera Division Design Lab - Raleigh Studios Screening Services - LensProToGo – Final Draft – Wooden Camera – SimpleDCP – Zacuto – IMDBpro – DECKHAND Camera Rental – Tek Media Electronic Repair – AbelCine – BB&S Lighting – Kit & Kaboodle Craft Service – Birns & Sawyer – NightSky Web Hosting – American Cinematheque – ProductionHub. And if your company would like to offer your fellow members meaningful discounts on products or services, let us know and we'll consider adding your offer to the page. Visit the DCS Member Discount page for all the details: www.digitalcinemasociety.org/member-discounts
CALENDAR OF ONLINE INDUSTRY EVENTS
The large number of listings and hyperlinks in our full Calendar of Events causes many e-mail servers to reject our eNewsletter. So, for a complete calendar of upcoming online industry event listings, please visit the Online Events Calendar on the DCS Homepage at: www.digitalcinemasociety.org/online-industry-events-calendar
Follow DCS on Facebook, Twitter and Instagram. Don't forget that the Digital Cinema Society has a Facebook fan page. Check in for the latest news, event details and general DCS hubbub at: http://www.facebook.com/DigitalCinemaSociety
On Twitter, you can follow us @DCSCharlene
On Instagram at: digitalcinemasociety
Our Home, The Digital Cinema Society:
"It is not the strongest of the species that survive, nor the most intelligent, but the most responsive to change." Charles Darwin