DCS UPDATE
In order to make up for the upcoming holiday hiatus and still keep up with our goal of holding an event per month, we held two in November and they are both currently streaming.  The first is our annual Post Expo which was held on November 9th and features updates from vendors, an interview with Kevin Tent, ACE, and a great presentation on Filmmaker Mode including interview clips from some of the most renowned filmmakers in the industry.   This was followed shortly thereafter on November 20th by our introduction to Canon's new C500 Mark II.  Links and more details can be found below.
There is also quite a bit of industry news to share including a new line of cinema primes from Zeiss,  and RED's announcement of the retirement of Jim Jannard and the cancellation of the Hydrogen mobile device project.  Tom Fletcher and Gary Adcock have an update to their Camera Comparison Chart, Cooke Optics has a new L.A. area service operation, AdoramaTV has a new series on Music Video production, and Adobe has many announcements from their annual Adobe MAX convention, (which is also covered quite well in Christine Steele's Adobe presentation at our DCS Post Expo.)
With all the editing of our streaming coverage and news gathering efforts, James Mathers ran out of time to come up with a technology essay this month, and we really wanted to get this eNewsletter out before the end of the month, which coincides this year with Thanksgiving.  So, here's wishing you all a safe and enjoyable holiday.  We have a lot to be thankful for and hope you do as well.
Now Streaming: DCS Presents the Canon C500 Mark II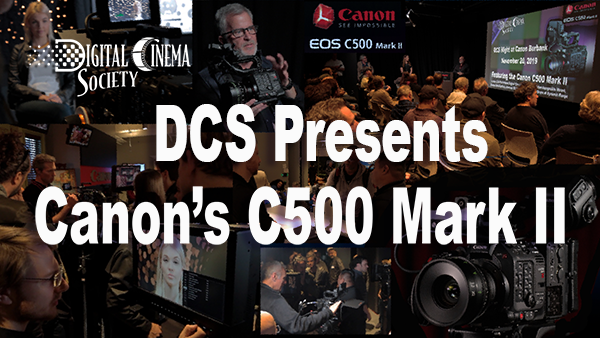 Centered around the new Canon C500 Mark II, this Digital Cinema Society event was held on November 20, 2019 at Canon Burbank.  We explored in detail Canon's latest Digital Cinema camera with a 5.9K Full Frame CMOS sensor, user-changeable lens mounts, electronic image stabilization, and internal cinema RAW light recording.
Featured presenters include Canon's Tim Smith on the company's philosophy leading to the development of this camera, as well as their new Sumire prime lenses.  Charles Zablan then takes a deep dive into the features of the C500 Mk II followed by a short demo by Matt Eidenbock on Wooden Camera's new accessories for the camera.
Special thanks to the entire team at Canon Burbank, a facility built from the ground up to support cinema and photography professionals, for hosting the event.  They include:  Director of Canon Burbank, Michael Bravin — Senior Advisor for Film and Television, Tim Smith — Senior Trainer for Canon USA, Charles Zablan — Technical Specialist for Displays, David Duko — Peter Marr, Professional Cinema Specialist — Senior Marketing Associate, Adrienne Kohler — On-camera Demo Model, Haley Hudson.
Our DCS crew included:  Event Host and Editor, James Mathers — BTS Cinematographer, David Mahlmann, Camera Operators, Mitch Gulbin and Alex Bonelli — Sound Recordist, Greg Salman — Event Manager, Charlene Mathers.
Use this link to view the entire coverage:  https://vimeo.com/375249688
Now Streaming: Coverage of 2019 DCS Post Expo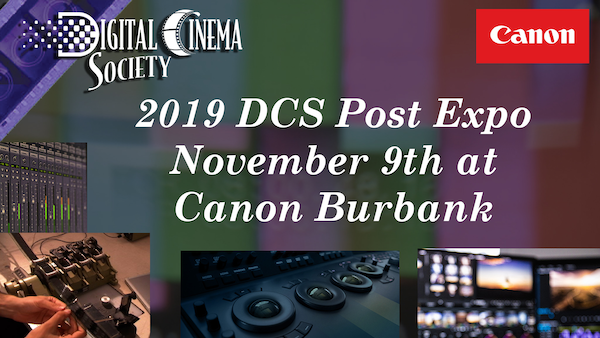 Complete coverage of the annual Digital Cinema Society Post Expo is now available for viewing.  The event was held this year at Canon Burbank on Saturday, November 9th and included presentations from representatives of these companies, (listed in alphabetical order):
Adobe –  Avid - Blackmagic Design - Canon – Cinnafilm –  DigitalFilm Tree 
Covered topics include:  Monitoring for HDR and Wide Color Gamut — How to take advantage of advances in Artificial Intelligence — Virtual Production — Use of the Cloud for Post Collaboration, as well as the latest updates to popular Editing and VFX platforms.
Besides these educational presentations from Post hardware and software vendors, we also had two very special guests including renowned Editor, Kevin Tent, ACE, (The Descendants, Nebraska, Sideways,) and Michael Fidler, the President of the UHD Alliance who made a presentation on Filmmaker Mode.
Filmmaker Mode is a new industry-wide standard of parameters to be integrated into consumer displays in order to better replicate the creative intent of filmmakers.  This presentation includes interview clips from a host of notable filmmakers who are supporting the effort including Martin Scorsese, Christopher Nolan, Ryan Coogler, Rian Johnson, Paul Thomas Anderson, Patty Jenkins, James Cameron, J.J. Abrams, Ava DuVernay, Judd Apatow, Ang Lee, Reed Morano, ASC, and the Duffer Brothers.
Special thanks to Canon Burbank for hosting the event, and to our volunteer crew including Producer David Mahlmann, Camera Operators Mitch Gulbin and Dwight Lay, as well as Christopher Scott Knell who handled Sound Recording and Data Management.  Special thanks also to our sister organization LAPPG and stock footage resource, Footage Bank, who supported the event.
To view the entire collection, visit:
https://vimeopro.com/digitalcinemasociety/2019-dcs-post-expo
To access individual presentations:
 Adobe Premiere Pro: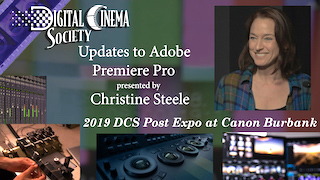 ##################
Avid Media Composer: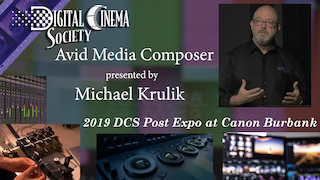 ##################
Blackmagic Design DaVinci Resolve: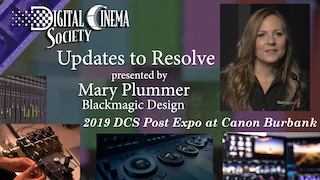 ###################
Cinnafilm – PixelStings: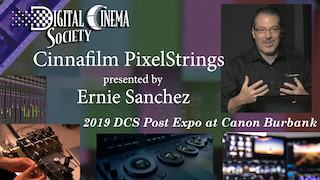 ##################
DigitalFilm Tree: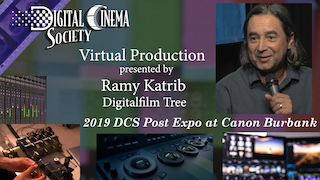 ##################
Filmmaker Mode:
##################
HDR Monitoring by Canon: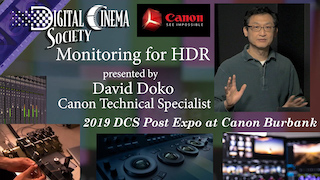 ##################
Kevin Tent, ACE: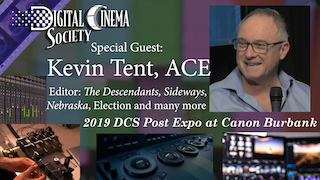 Industry News
ZEISS Introduces New High-End Cinematography Optics: ZEISS Supreme Prime Radiance Lenses
At the CAMERIMAGE International Film Festival in Toruń, Poland, ZEISS is set to unveil their Supreme Prime Radiance lenses, a new set of seven high-end cinematography lenses based on the high-speed ZEISS Supreme Prime lens family with the benefit of the new T blue coating.  This special coating is said to offer a distinctive look with consistent flares across all focal lengths.  The Supreme Radiance Primes are available as a set of seven focal lengths of between 21 and 100 millimeters, all with a maximum aperture of T1.5.  They feature a front diameter of 95 millimeters with consistently positioned focus and aperture rings weighing around 1,500 grams on average. With an image circle diameter of 46.3 millimeters, they cover the current large-format cinematography sensors and are compatible with camera models such as the Sony Venice, ARRI Alexa LF and Mini LF, and RED Monstro.  The lenses are equipped with the ZEISS eXtended Data metadata technology to provide frame-by-frame data on lens vignetting and distortion in addition to the standard metadata provided using the Cooke /i technology1 protocol. This simplifies and speeds up workflows, particularly for VFX and Virtual Production.
The ZEISS Supreme Prime Radiance lenses are available to order from announcement until March 31st, 2020. The seven focal lengths – 21 mm T1.5, 25 mm T1.5, 29 mm T1.5, 35 mm T1.5, 50 mm T1.5, 85 mm T1.5 and 100 mm T1.5 – are available exclusively as a set from ZEISS Cinema dealers and will be delivered from April 2020 after the end of the ordering period.  To find out more, please visit: www.zeiss.com/cine/radiance.
RED cancels Hydrogen phone project as RED Digital Cinema Founder Jim Jannard retires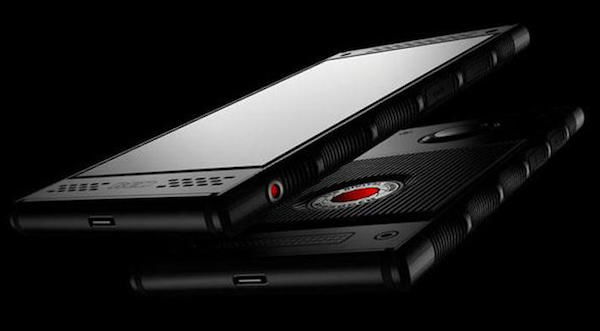 Per an announcement on H4Vuser.net, the official website for the RED Hydrogen mobile device, Jim Jannard is shelving the Hydrogen project.  He credits "a few health issues" for shutting down the project and for his impending retirement.  First announced in 2017, the $1,295 RED Hydrogen One was the first smartphone from the company; a second phone was planned, but never materialized.  RED is the same company that helped to revolutionize the motion picture camera industry with the development of the RED One in 2007.  It had the ability to record a compressed 4K raw image from a single S35 size sensor.  It was also offered at a more affordable price as compared to the more established motion picture or even broadcast cameras.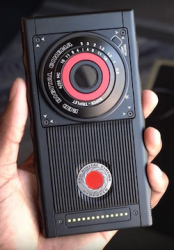 The phone was billed as a "Holographic Media Machine" and featured a "holographic display," a high-end camera system, an array of modular attachments to expand the phone over time, and integration with RED cinema cameras such as the soon to be release Komodo 6K. A large on-line library of entertainment content transcoded into the H4V format for viewing on the device was also planned.  After a series of delays the phone was eventually released in October 2018, but missing some of its promised features.  As with their cinema cameras, the company never released sales figures so it is hard to accurately assess the project's success.  However, the MSRP was recently slashed in half, down to $645, apparently in an effort to liquidate the remaining stock ahead of the cancellation of the program. Jannard's post does promise that "Hydrogen One will continue to be supported in the future" for those early adopters than invested in the phone.

Jim Jannard, (pictured above addressing the crowd at the Hydrogen launch event at RED Studios,) may have stumbled in the mobile device business, but he enjoyed tremendous success in building the designer sunglasses company Oakley, and he has definitely left his mark on the motion picture industry.  We wish him well in his retirement, especially in regard to any health issues.  See his full statement here: https://h4vuser.net/t/everything-changes/10600
Tom Fletcher and Gary Adcock's New 2019 Camera Comparison Chart Now On-line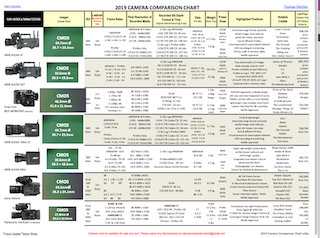 Gary Adcock and Tom Fletcher, (current and former Presidents of the Digital Cinema Society Midwest Chapter,) have come out with an update to their famous Camera Comparison Chart. The information has been gathered from numerous conversations with various cinematographers, colorists, colleagues and manufacturers.
The authors stress that this is subjective, rather than scientifically collected and tested data with the goal of sharing information with the industry in order to help filmmakers make educated decisions on cameras and formats. Details including estimated latitude, frame rates, resolution, weight, rental cost, as well as perceived pluses and minuses are all summarized to two pages.  With the rapid pace of new cameras being released, the authors expect to have a new version coming out by the end of January.  They can be reached to report discrepancies by email to: cameracomparisonchart
The image in this announcement is a placeholder; to view or bring the complete chart as a PDF visit:
www.digitalcinemasociety.org/downloads/2019_CameraComparison Chart.pdf
Cooke Optics Opening of Los Angeles Area Service Center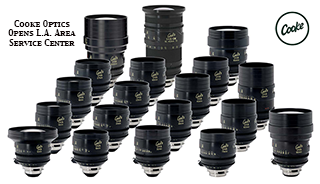 Premium Cine Lens manufacturer Cooke Optics has announced the opening of a service operation in Los Angeles, CA to provide full lens servicing and testing.  Heading up the facility will be new hire Michael Nadas, an Optical Engineer with over 28 years experience working with film and television production lenses.  He most recently led Sim's Motion Picture Optics department out of Los Angeles.  Manufactured in the UK, since 1894, Cooke also has service operations on the East Coast of the US, São Paulo in Brazil and Shanghai in China.
AdoramaTV to Feature 9 Episode Series on Music Video Creation: Beyond the Sound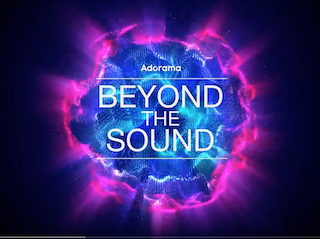 AdoramaTV has announced a new episodic series called Beyond the Sound that will feature nine videos released on a weekly basis covering the behind-the-scenes technical aspects of shooting a high-quality music video. Each episode is dedicated to one particular element of production, such as microphones, cameras, audio mixing, and more.
View the first four episodes now on YouTube at:
https://www.youtube.com/playlist?list=PLwm6LvGc5xq1Yy86xzR35MFdod1Vwegfs
Adobe Introduces New Creative Suite Features at Adobe MAX 2019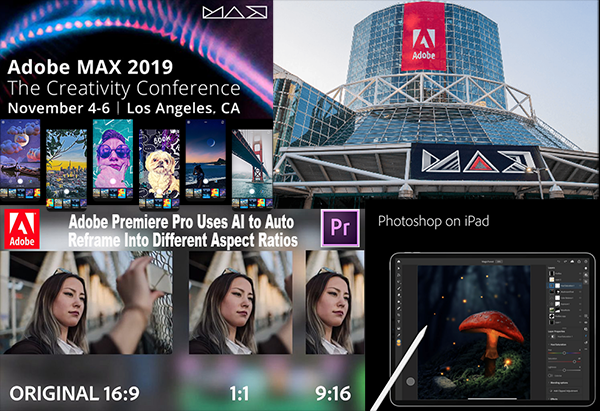 Adobe MAX, an annual gathering of over 15,000 Adobe users from around the world, started today, November 4th, at the Los Angeles Convention Center.  The company used the occasion to introduce a number of Creative Cloud innovations including the availability of Photoshop on iPad, Fresco on Windows and Adobe Aero for Immersive Media, along with Previews of Adobe Illustrator on iPad and Photoshop Camera.  Adobe also released major updates to Premiere Pro, and After Effects powered by machine learning technology known as Adobe Sensei's AI.  New features include Auto Reframe in Premiere Pro, Object Selection in Photoshop, and Auto Tone in Photoshop Camera.  Photoshop Camera is a new mobile app that brings Photoshop capabilities directly to the point of capture on the mobile device. As an intelligent camera app, it applies Photoshop Magic to any photo, but unlike native phone camera and third-party camera apps, Photoshop Camera uses Adobe Sensei to automatically enhance photo quality. Photoshop Camera will include an expansive library of unique lenses and effects.
Other Creative Cloud Innovations include:
• A redesigned Creative Cloud desktop including a native search engine, which searches across all Creative Cloud assets, apps, and files, with access to relevant tutorials.
• Premiere Pro Auto Reframe.  Auto Reframe has the ability to intelligently reframe and reformat content into different aspect ratios, such as 1×1, and 9×16 from an original 16×9 composition.  See a demo here:  https://www.youtube.com/watch?v=yNFFrn1WrR8
• After Effects fluid playback of cached previews, faster Multichannel EXR files and a faster Content-Aware Fill that uses half as much memory.
• Adobe Aero, a new set of tools designed for augmented reality and 3D allowing users to leverage familiar tools like Photoshop and Dimension to produce creations that easily translate into an immersive, three-dimensional environment. The company is also actively integrating the recently acquired Substance suite—the standard for 3D material and texture design—into the Adobe family, with additional details to come next year.
Updates to Creative Cloud desktop software are now available to all Creative Cloud subscribers, and Adobe's mobile apps are available for download from the Apple App Store and Google Play Store.
Spotlight On Lifetime Members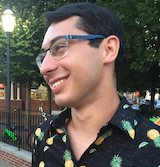 Thomas Coraggio is a student currently studying film at Brookdale Community College in New Jersey. He aspires to one day become a filmmaker and explore other opportunities within the motion picture industry. He is eager to network and continue learning by connecting with like-minded filmmakers via the Digital Cinema Society.
Renewing Your Membership and Supporting DCS
We count on your dues and contributions to continue our mission and maintain our services to members. So, if your membership has expired, or you simply want to show your support of our effects, please take a few minutes to send a donation. Membership is available at the $50 annual level or $300.00 for a Lifetime Membership. You can follow the convenient PayPal links, (using any major credit card, and you don't need to be signed up for PayPal,) or you can send payment to our offices at P.O. Box 1973 Studio City, CA 91614, USA.
PayPal Annual Renewal Link – $50.00US:  https://paypal.me/digitalcinemasociety/50
Paypal Lifetime Renewal Link – $300.00US: https://paypal.me/digitalcinemasociety/300
Checks should be sent to: The Digital Cinema Society, P.O. Box 1973, Studio City, CA 91614, USA. Check payments must be in US dollars. Please note that if you are a student, or otherwise cannot afford the dues, just send a note and we will be happy to extend your membership. ** Student and Complimentary memberships do not include a membership card.
THANK YOU TO OUR SPONSORS
As always, we want to send out a big thanks to all "Friends of DCS," whose support makes it possible for us to continue the DCS mission of educating the entertainment industry about the advancements in digital and cine technology:
AbelCine – ACES – Adobe – Adorama – AJA – Angénieux – Anton/Bauer – ARRI – Avid – BB&S Lighting – Band Pro – Birns and Sawyer – Blackmagic Design – BlockBattery – Canon – Cineo Lighting – Cinnafilm – Codex – Cooke Optics – Core SWX – Dadco/SunRay – Dedolight California – DigitalFilm Tree –  Fiilex – FLUOTEC – FootageBank – Fujinon –  J.L. Fisher – K 5600 – Kino Flo – Leitz Cine Wetzlar  Light & Motion – LiteGear – Litepanels – Luminys – Lupo Light – MacSales – MACCAM  -  Mole-Richardson – Nila – OConnor – OWC – Panasonic – Panasonic Lumix – Panavision – P+S Technik – Redrock Micro – Rosco – Sachtler – Schneider Optics – SIGMA – SIM Digital – SmallHD – Sony – Teradek – Quasar Science – The Rag Place – The Studio-B&H – Tiffen – Tokina Cinema – Vision Research – Westcott – Wooden Camera – Zeiss – ZGC – Zylight
REMEMBER YOUR DCS MEMBER BENEFITS and DISCOUNTS:
DCS members in good standing can also receive significant discounts on products and services from companies including: The Camera Division Design Lab - Raleigh Studios Screening Services - LensProToGo – Final Draft – Wooden Camera – SimpleDCP – Zacuto – IMDBpro – DECKHAND Camera Rental – Tek Media Electronic Repair – AbelCine – BB&S Lighting – Kit & Kaboodle Craft Service – Birns & Sawyer – NightSky Web Hosting – American Cinematheque – ProductionHub. And if your company would like to offer your fellow members meaningful discounts on products or services, let us know and we'll consider adding your offer to the page. Visit the DCS Member Discount page for all the details: www.digitalcinemasociety.org/member-discounts
CALENDAR OF UPCOMING INDUSTRY EVENTS
The large number of listings and hyperlinks in our full Calendar of Events causes many e-mail servers to reject our eNewsletter. So, for a complete calendar of upcoming industry event listings for both the U.S. and International, please visit the Events Calendar on the DCS Homepage at:  www.digitalcinemasociety.org/events-calendar
Follow DCS on Facebook, Twitter and Instagram. Don't forget that the Digital Cinema Society has a Facebook fan page. Check in for the latest news, event details and general DCS hubbub at: http://www.facebook.com/DigitalCinemaSociety
On Twitter, you can follow us @DCSCharlene
On Instagram at: digitalcinemasociety
Our Home, The Digital Cinema Society:
"It is not the strongest of the species that survive, nor the most intelligent, but the most responsive to change." Charles Darwin