DCS UPDATE
The end of August would sometimes see us packing our bags and getting ready to make the trek to Amsterdam for IBC, but not this year.  The annual gathering joins a long list of large, in-person events to be cancelled, postponed or attempted to be held online.  However, since product cycles are set so far in advance, and postponing their release might cause them to be out of date by the time they hit the market, you can expect many big product announcements coming next month in the time frame when IBC would have been held.  While still under NDA, I'm unable to share the details, but I've had a look at a few very interesting new innovations I'll be eager to report on.
Bucking the trend, there are a couple of announcements to share for August, such as a new Ultra High-Speed Phantom camera from Vision Research, a new Vlogging kit from Rotolight, and a new mobile app from Below The Line to access their Production Listings.
For his essay this month, James Mathers looks at the rise of internet streaming, how it has been fueled by the pandemic and how unlikely we will be to ever go back to the way we used to receive content.  And if you ever wanted to know more about James, his experiences as a child actor, early career, and background leading to the founding of DCS, here's your chance.  Mark Chiolis turned the tables on James and made him the interview subject for the latest edition of the HPA NET Critical Conversations series.
HPA's Mark Chiolis Interviews Cinematographer and DCS Founder James Mathers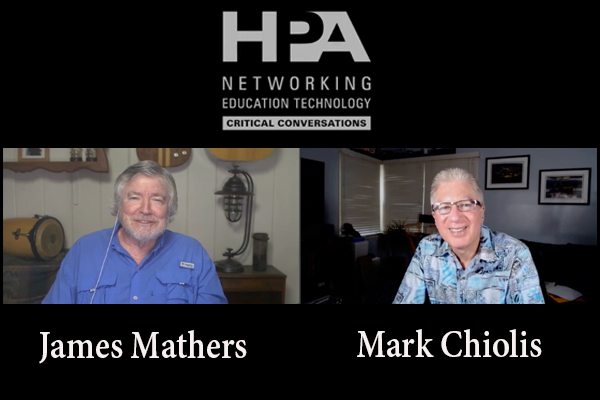 Find out everything you ever wanted to know about James Mathers, and more, (perhaps too much more.)  James sat down for an in-depth interview with HPA NET Critical Conversations host Mark Chiolis about his long career and the ongoing mission of the group he founded in 2003, the Digital Cinema Society.  Hear stories going back to James' experiences as a child actor, his early days behind the camera, years spent shooting Indie features, and his pioneering work in digital cinematography.
This interview is only one of many in the HPA's NET Critical Conversations series. Check the links following this interview to see more.
Host Mark Chiolis is the Director of Business Development for Mobile TV Group, as well as an active board member of the HPA, an associate member of the American Society of Cinematographers, past section manager of SMPTE, member of STE, SBE and California Broadcasters Association, and a founding member of the Digital Cinema Society.
See the entire interview here:
https://hpaonline.com/event/net-critical-conversations-getting-ahead-and-giving-back-james-mathers-and-the-digital-cinema-society/
Industry News
New High-Speed Phantom T1340 from Vision Research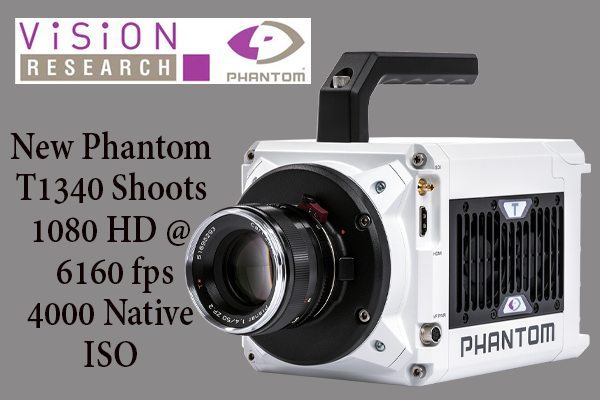 Shooting ultra-high-speeds for cinema just got a little faster in both frame rate and ISO.  The new Phantom T1340 from Vision Research provides four-megapixel frame rates along with high sensitivity. A custom 12-bit sensor offers low noise and native ISOs of 16,000 Mono, and 4,000 Color.  Although it does not reach into the 4K realm, it can achieve up to 3,270 frames per second at 2048 x 1952 and as you window down the frame rate can increase to:
* 2048 x 1440 at 4,390 fps
* 2048 x 1152 at 5,400 fps
* 1920 x 1080 at 6,160 fps
* 1280 x 720 at 13,000 fps
The camera also features higher RAM sizes and CineMag compatibility with 144 GB RAM giving you 4 seconds of record time at the maximum frame rate, which ends up being 9 minutes of playback at 24P.  The CineMag also allows for transferring the footage out of RAM quickly with the full 144GB RAM buffer transferring in under 5 minutes.  (More often the RAM is segmented to get several short recordings, or the Cine is edited before saving to cut down on file size and transfer time.) The CineMag also lets you record directly for long durations at lower frame rates as would a typical digital cinema camera and the file format is Cine Raw, like all Phantom cameras.
Interchangeable lens mounts include: Nikon F, Canon EF, PL.  The camera is quite compact in size at only 5 x 5 x 8 inches, and weighs in at 10 lbs with SDI & HDMI video for live monitoring and playback.
Rotolight Introduces the Ultimate Vlogging Kit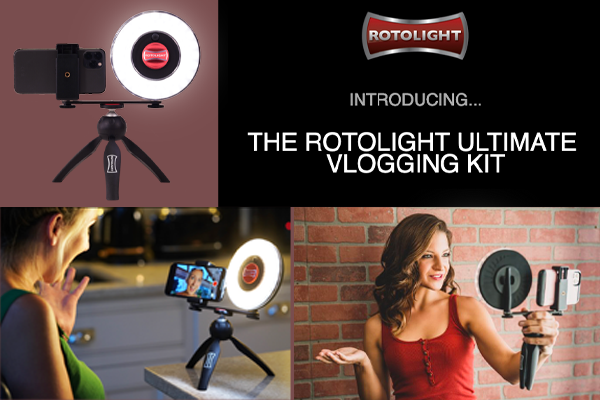 Rotolight's new Ultimate Vlogging Kit is designed for YouTubers, Content Creators, Makeup Artists, or anyone who needs a fast and simple way to get the best results when Vlogging via smartphone.  A Rotolight RL48 ring-light is integrated into a system with a tripod and smartphone mount to help the user  achieve soft illumination to avoid unflattering shadows and add a sparkle to the eye.  Diffusion and color filters are also included.  Available now with an MSRP of $89US.  See more at:  https://www.rotolight.com/ultimate-vlogging-kit-learn/
Below the Line Launches Production Listings App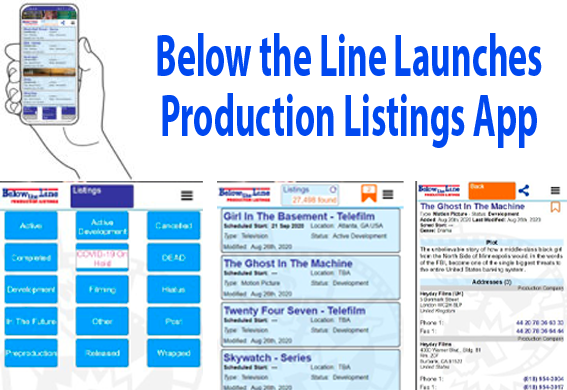 Below the Line has announced a new full App version to access their famous Production Listings.  It's currently free for DCS members to try for a week to see all the latest projects. No credit card needed, and if the lockdown continues, they may extend the free time to make sure everyone has a chance to check it out.  More details:
Cell phone only for now, tablet will work but will look like we wasted screen space.
Search by city, state or country with various Production Types, (Movie, TV, etc.) selected then save those to Saved Searches so it's easy to just click a button to look up.
Same for searching by Status – super easy to search by Status Type.
A new feature Share – as in, pick a project, hit the Share button and it will send it to anyone you want!
Works with Apple iPhone going back to iphone 7. Androids of all types.
If you can't remember your password, Password Recovery functionality is built in.
Sample Listings version is available on the login screen if you want to show a friend (list only older Project Listings). Link: productionlistings.app from your phone. Your phone might think this is a better link: https://productionlistings.app

One DP's Perspective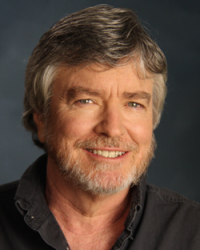 by James Mathers
Cinematographer and Founder of the Digital Cinema Society
I Stream, You Stream, We All Stream.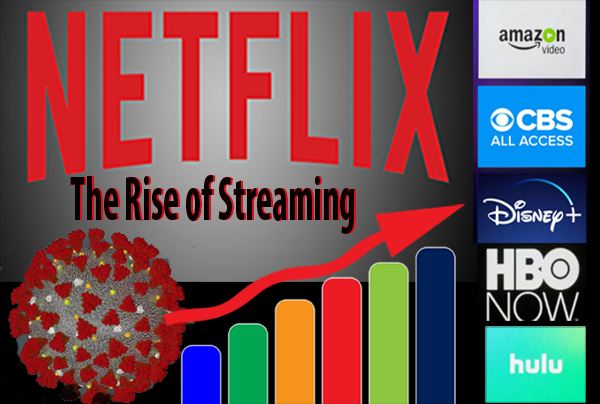 Streaming, Progressive Downloads, Over The Top or "OTT", Video On Demand or "VOD"; whatever you want to call it, this general form of content delivery is having its day.  Partially fueled by the current circumstances of the pandemic, which gives many of us too much time to kill at home, and few other entertainment options, what I will loosely refer to as streaming has become the go-to entertainment delivery vehicle.  We haven't been able to go the movies, but we can still receive content wherever we are, when we want, and on the screen we want including smartphones, tablets, desktop computers, digital media players, video game consoles and, of course, TVs.
As the coronavirus and subsequent global shutdown forced film and television production into a standstill, streaming services have only accelerated their takeover with original content they already had in the pipeline and by churning old movies and TV to fill the void.  With most of the world in mandatory lockdown, the leader of the pack, Netflix, doubled its quarterly subscriber estimates from January through March by adding 16 million new subscribers.
Netflix's initial business model at the company's inception back in 1997 included DVD sales and rentals by mail, and it wasn't until 2007 that they introduced their hugely successful streaming model.  As of April 2020, the company had over 193 million paid subscriptions worldwide, including 73 million in the United States.  It is available worldwide except in the following countries: mainland China (due to local restrictions), Syria, North Korea, and Crimea (due to U.S. sanctions).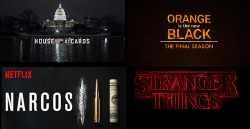 Netflix didn't enter the content-production industry until 2013, with House of Cards, and now produces some of the highest end content available on any platform.  They spent $15 billion on content in 2019, 85% of which was for originals. Although the company remains committed to producing original content, it is also licensing more content around the world from independent producers and distributors at an accelerating rate over the next few years to fight off emerging competition. The Irishman and Roma are among the many marque features they produced or picked up in the finishing stages.  They also have a string of highly successful series like Orange is the New Black, Narcos, and Stranger Things, as well as documentary programing like Tiger King.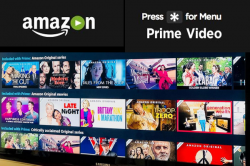 Of course Amazon is another major contender in this space and they have also produced high-end programming such as Tom Clancy's Jack Ryan, The Man in the High Castle, and Hunters starring Al Pacino, along with Emmy favorites The Marvelous Mrs. Maisel and Fleabag.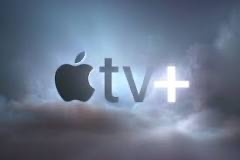 Although it was Steve Jobs' last initiative for the company he founded, AppleTV has never lived up to his dream of being the central hub for streaming content.  It seems content owners have not been willing to give Apple the kind of cut they demand.  The majors, (conglomerates including ViacomCBS, Disney, Comcast and WarnerMedia), have instead aspired to build out their own delivery channels.  So, Apple has also now started to produce its own original content such as The Morning Show and the WWI Tom Hanks naval drama Greyhound.  They have a lot of catching up to do, but on the other hand, have very deep pockets.
It is not only Apple that is getting denied the best content.  Heretofore, the largest content distributors have traded access to their film and television libraries to companies like Netflix and Amazon for lucrative licensing fees. However, the next battle on the horizon will be for content exclusivity.  Now that the majors have been developing their own streaming platforms, they will likely want to keep their prestige titles to themselves.
The struggle over exclusivity will effect all licensees. For instance, Warner's HBO relies heavily on films from the Comcast/Universal, Disney and Fox libraries, which will likely change or cease as current licensing agreements expire.  Now that Disney controls Fox, they will likely also pull Fox movies from HBO when their current licensing agreement expires in 2022. It is expected that Disney will then send films released by Fox to their own Hulu or Disney+.  Comcast could also move its NBCUniversal titles to its streaming service Peacock, when its current contract with HBO expires next year.
The slow decline of the Exhibition business was already in motion as we entered the pandemic, but the trend has only picked up momentum.  It's a poorly kept secret that movie ticket sales have been flat for the past few years as theatrical receipts have dropped.  Now, the "Theatrical Window," (the length of time a movie plays exclusively in theaters,) has been shattered by the shut down of movie theaters.  Exhibitors had fought to keep the theatrical window at a minimum of 90 days, even threatening to refuse to show future releases from studios who didn't honor the timeline. However, some major releases were piling up.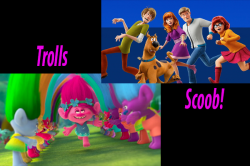 Studios were afraid that if they missed the prime summer release slots, especially for family fare, they may never be able to recoup their investments.  The release of Tenet and Mulan were postponed, but Universal was forced to release Trolls and Warner Bros' also released Scoob! direct to consumers as PVOD, (premium video on demand.)  Moving big titles to their streaming services, as opposed to providing an exclusive period, doesn't mark the end of movie theaters, but it does worry Exhibitors.  As a result, they had to begrudgingly accept the new reality, settling on a 17 day window, which may be codified as the new normal, even after the lockdown is history.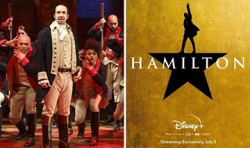 Many titles originally designed as major theatrical releases have gone to streaming outlets to be used as bait to get viewers to sign onto programing contracts.  The Hamilton movie, originally designed as a theatrical release, debuted to great success on Disney+; (note that it was not available as part of the free trial offer; you had sign up for a contract at a minimum of $6.99 per month.)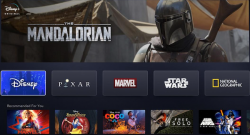 Other exclusive originals like The Mandalorian, not to mention Disney's rich library of family fare necessary to entertain kids as they are cooped up at home 24 hours a day, have made for a strong rollout of Disney+.  The nascent service racked up 50 million subscribers in the first five months, becoming the strongest rival Netflix has.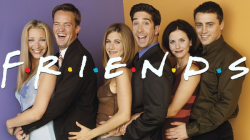 And then there's…reruns.  Who would have thought that Friends, decades since it first aired on broadcast TV, would build the kind of audiences it now enjoys on streaming, both ad supported and premium?  It even started a bidding war between Netflix and Hulu; (which Hulu won).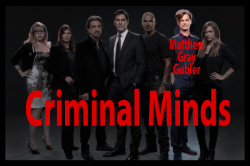 Old episodes of the FBI procedural drama Criminal Minds is even more of a head scratcher.  l would have thought that either of these shows might instead be vying for a slot on TV Land or MeTV between Leave It To Beaver and The Love Boat.  Instead, they have built up quite significant new audiences for Hulu.  The Criminal Minds phenomenon was apparently spurred by a TikTok fueled obsession many teens and young women have developed in regard to one of the actors, Matthew Gray Gubler.  My youngest daughter, who is a fan, tried to explain it, but it is still a mystery to me.
I've not yet talked about the explosive growth in the sector of streaming informational content.  Like everything the pandemic touches, it has been unprecedented. Traffic increased 30% between the end of February and the end of March, 10 times greater than the normal month-to-month growth rate. Beyond the sheer volume of internet traffic is the fact that the increases were both for downstream and upstream.  Normally, during a big traffic event, like a live sports playoff, or a new game being released, the content comes off centralized servers with relatively minor upload traffic, even though it is being downloaded to large audiences. In the case of the pandemic, with so many people working from home,  socializing, videoconferencing, and many students participating in online learning, traffic is flowing at heightened volumes in both directions across the internet.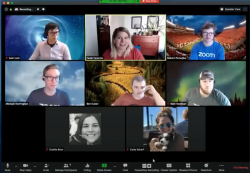 The Zoom conferences with "Brandy Bunch" grids of callers filling the screen, represents a lot of data going in both directions.  In the early days of the lockdown, there were constant complaints and demands for more bandwidth, but the service providers did an admirable job expanding services to help meet consumer demand.  It is still not perfect and probably never will be, but in the process they got consumers hooked on higher bandwidths.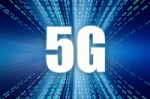 Not too many will ever go back to slower speeds, even if, and when, things get back to normal.  Once 5G is actually rolled out and widely available, it should ease the flow of data, but don't expect the telecoms to just give this service away after the billions they will have spent on building out the infrastructure.
I have to admit, I'm getting a little tired of so many webinars, but there is not much I'm not getting tired of during this pandemic.  I am so ready for this whole nightmare to be over and see my family, friends and colleagues in person without fear of impending doom.  In the meantime, I'll see you online, and DCS will continue to do its part to contribute to internet traffic, hopefully with valuable content that will entertain and inform.
Your comments are welcome, please email or post to our Facebook page at:  http://www.facebook.com/DigitalCinemaSociety
Renewing Your Membership and Supporting DCS
We count on your dues and contributions to continue our mission and maintain our services to members. So, if your membership has expired, or you simply want to show your support of our effects, please take a few minutes to send a donation. Membership is available at the $50 annual level or $300.00 for a Lifetime Membership. You can follow the convenient PayPal links, (using any major credit card, and you don't need to be signed up for PayPal,) or you can send payment to our offices at P.O. Box 1973 Studio City, CA 91614, USA.
PayPal Annual Renewal Link – $50.00US:  https://paypal.me/digitalcinemasociety/50
Paypal Lifetime Renewal Link – $300.00US: https://paypal.me/digitalcinemasociety/300
Checks should be sent to: The Digital Cinema Society, P.O. Box 1973, Studio City, CA 91614, USA. Check payments must be in US dollars. Please note that if you are a student, or otherwise cannot afford the dues, just send a note and we will be happy to extend your membership. ** Student and Complimentary memberships do not include a membership card.
Welcome to Bright Tangerine as New Friend of DCS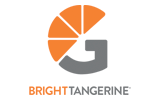 Bright Tangerine exists to create products that remove the barriers to great filmmaking. Clever products, made with a conscience. Innovative products that have long-term thinking built in. Serviceable products that will never need to see a landfill site. Products that are the result of hard graft and bright ideas. Products that are proudly made in Britain.
THANK YOU TO OUR SPONSORS
As always, we want to send out a big thanks to all "Friends of DCS," whose support makes it possible for us to continue the DCS mission of educating the entertainment industry about the advancements in digital and cine technology:
AbelCine – ACES – Adobe – AJA – Anton/Bauer – ARRI – Avid – BB&S Lighting – Band Pro – Birns and Sawyer – Blackmagic Design – Bright Tangerine – BROKEH – Canon – Cineo Lighting – Cinnafilm – Codex – Cooke Optics – Core SWX – Dadco/SunRay – Dedolight California – DigitalFilm Tree –  ETC – Fiilex – Film Gear – FLUOTEC – FootageBank – Fujinon –  Infinity Photo-Optical – J.L. Fisher – K 5600 – Kino Flo – L.A. Rag House – Lectrosonics – Leitz Cine Wetzlar – Light & Motion – LiteGear – Litepanels – Litra – Luminys – MacSales – MACCAM  -  Mole-Richardson – Nanlite – Nila – OConnor – OWC – Panasonic Lumix – Panavision – P+S Technik – Rosco – Rotolight – Sachtler – SIGMA – SmallHD – Sony – Teradek – Quasar Science – Rotolight – The Rag Place – The Studio-B&H – Tiffen – Tokina Cinema – Vision Research – Westcott – Wooden Camera – Zeiss – Zylight
DCS MEMBER BENEFITS and DISCOUNTS:
FJ Westcott is Currently Offering Large Discounts on DMX Flexible LEDs

Save hundreds of dollars now on FJ Westcott's complete line of Flex Cine DMX RGBW Light Mats, Wireless DMX controls, and Kits.  For details visit:
https://www.fjwestcott.com/shop/lighting/led/flex-cine-led/flex-cine-kits
DCS members in good standing can also receive significant discounts on products and services from companies including: Core SWXThe Camera Division Design Lab - Raleigh Studios Screening Services - LensProToGo – Final Draft – Wooden Camera – SimpleDCP – Zacuto – IMDBpro – DECKHAND Camera Rental – Tek Media Electronic Repair – AbelCine – BB&S Lighting – Kit & Kaboodle Craft Service – Birns & Sawyer – NightSky Web Hosting – American Cinematheque – ProductionHub. And if your company would like to offer your fellow members meaningful discounts on products or services, let us know and we'll consider adding your offer to the page. Visit the DCS Member Discount page for all the details: www.digitalcinemasociety.org/member-discounts
CALENDAR OF ONLINE INDUSTRY EVENTS
The large number of listings and hyperlinks in our full Calendar of Events causes many e-mail servers to reject our eNewsletter. So, for a complete calendar of upcoming online industry event listings, please visit the Online Events Calendar on the DCS Homepage at: www.digitalcinemasociety.org/online-industry-events-calendar
Follow DCS on Facebook, Twitter and Instagram. Don't forget that the Digital Cinema Society has a Facebook fan page. Check in for the latest news, event details and general DCS hubbub at: http://www.facebook.com/DigitalCinemaSociety
On Twitter, you can follow us @DCSCharlene
On Instagram at: digitalcinemasociety
Our Home, The Digital Cinema Society:
"It is not the strongest of the species that survive, nor the most intelligent, but the most responsive to change." Charles Darwin