DCS UPDATE
Things have been busy here at DCS as we emerge from a very dark period for our industry and for the world. With the exception of a few hot spots like India, things look like they are on the right track with the recovery.  In-person events are starting to lock in dates and activity is ramping up in many production hubs around the world.  We have some exciting news to share about a new DCS initiative known as DCS Illuminates, an online destination for Cinema Lighting knowledge on demand.  Although the site is still under construction, we are proud to share our first custom produced content, an exploration of the Cineo ReFlex r15.
We offer our congratulations to Larry Thorpe who is retiring after a long and very distinguished career.  Other industry developments to tell you about include new Supreme Prime Radiance lenses from Zeiss, a new Gemini 1×1 Hard LED from Litepanels, and the news that the Vitec Group is acquiring Quasar Science.  For his essay this month, James continues his evaluation of mirrorless cameras by exploring the Panasonic Lumix S5.
###
Announcing DCS Illuminates – An Online Destination for Cinema Lighting Knowledge On-Demand

The Digital Cinema Society is announcing a new online web channel to be known as DCS Illuminates, a destination for online cinema lighting knowledge on demand.  It will include new custom content in addition to the Digital Cinema Society's vast archive from our past Cinema Lighting Expos and workshops with scores of interviews and practical demos with ASC DPs and other industry experts.  We will also host curated content that is of particular interest to lighting professionals.  The site is still being built, but we are proud to share our premiere production exploring the Cineo ReFlex r15.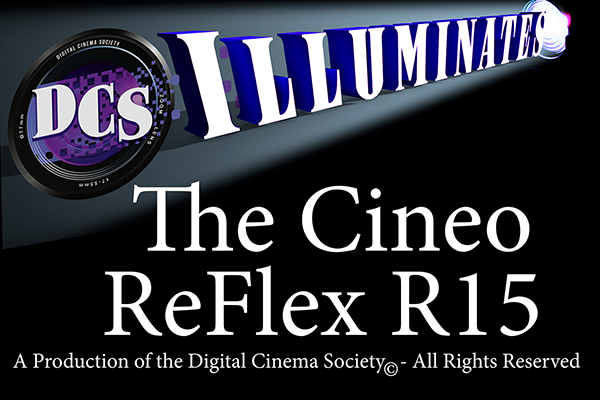 https://vimeo.com/539847987
Other pending projects include:
A Road Test of the ARRI Orbiter.
Working with the Rosco DMG Lumieré DASH.
DMX for DPs. Helping Cinematographers to understand some of the myriad of abilities now available to them via wired and wireless remote lighting control.
Kinetic Lighting for Virtual Production. Supplemental lighting in conjunction with video panels to perfectly match the action and background environment.
Use of UVC light to decontaminate motion picture sets and promote Covid Safety.
Interviews with renowned Directors of Photography about some of their most well known works, showing clips, and describing the lighting techniques they employed.
A history of LED for Cinema Lighting and the Challenge to Achieve High Quality Color Fidelity.
 We plan to return to hosting in-person events, including a 2021 DCS Cinema Lighting Expo, as soon as it is safe.  We hope this site will serve now and in the future as your source for news on the latest Cinema Lighting technologies and techniques.
###
Industry News
CES 2022 is Returning Live to Las Vegas January 5-8, 2022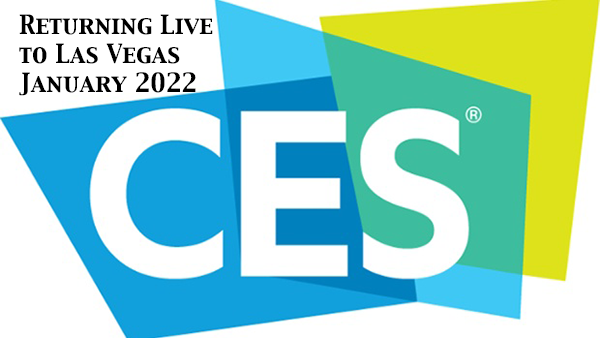 CES 2022 has announced that they are heading back to Las Vegas for the Consumer Technology Association's annual conference as an in-person event running from January 5th though the 8th, 2022. Like most trade gatherings over the last year, CES was forced to conduct an all-digital virtual event because of the coronavirus pandemic. With vaccine rollouts underway, many in-person events are starting to be scheduled once again.  As of this time Filmscape Chicago is set to be both in-person and virtual August 28-29, 2021 on the Cinespace Lot, IBC is set for September 10-13, 2021 at the RAI Auditorium, Amsterdam, CINE GEAR EXPO is scheduled for September 23-26, 2021 in person at Paramount, Hollywood, NAB is scheduled for October 10-13, 2021 at the Las Vegas Convention Center, CINEC is set for October 29-31, 2021 at the MOC Events Center, Munich Germany, and CameraImage is happening November 13-20, 2021 in Torun, Poland.  Of course all this is subject to change if the recovery from the pandemic lockdown is interrupted for any reason.
###
Digital Cinema Pioneer Larry Thorpe to Retire From Canon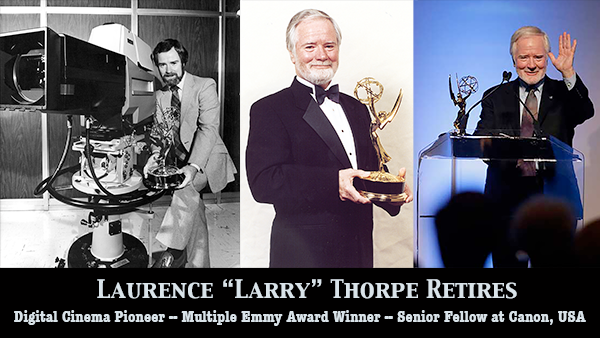 Distinguished DCS Advisory Board Member Larry Thorpe will soon retire from his position as Senior Fellow at Canon, USA after a long and illustrious career.  His contributions to the advancement of broadcast, HD and Digital Cinema image capture are innumerable.  Larry originally hales from Ireland where he studied engineering at the College of Technology in Dublin.  After a run with the BBC in London, he went to work at RCA which brought him to the US in the 1960s.  He became the project manager for the TK-47 color camera introduced in 1979 as the first automatic color studio camera.  The TK-47 used a computer to complete all of the major setup functions, saving engineers countless hours they once spent tweaking equipment.  With 10 patents under his belt, Larry moved to Sony in 1982 where he helped launch the BVP-360 and a number of compact ENG style cameras including the Betacam, that were early adopters of the CCD, (charge coupled device,) imager.
After a celebrated career with Sony, the accomplished engineer became the consummate lens expert, moving to Canon, where he has served until now as one of the industy's leading authorities on optics and lenses.  Larry has racked up a lot of honors in his career; he is a Life Fellow of SMPTE, a winner of the David Sarnoff Award for his innovations in automatic studio color cameras, and more recently the Charles F. Jenkins EMMY Lifetime Achievement Award.  He received the Montreux 2000 Gold Medal Award for Digital Cinematography, the NAB 2001 Television Engineering Achievement Award, the Society of Television Engineers (STE) 2001 award, and in 2004 the Broadcasting & Cable Technical Leadership Award.  Congratulations to Larry Thorpe for a stellar career and tireless service to the industry including our own Digital Cinema Society.
See this short excerpt from a DCS interview with Larry at the 2015 CES Show where he recounts some of the technology highlights from his career:
###
The Vitec Group Acquires Quasar Science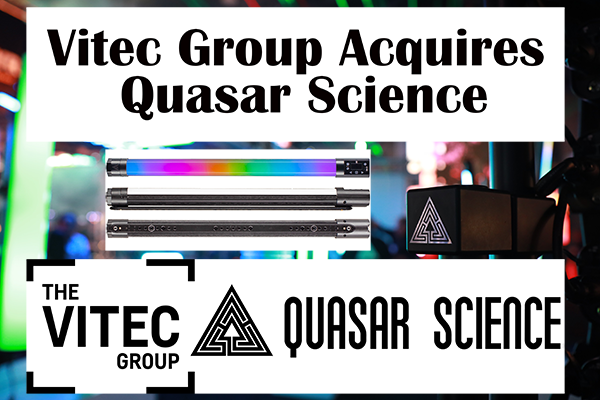 The Vitec Group has announced the acquisition of Quasar Science, a DCS sponsor that specializes in linear and tubular LED lighting solutions for cinematic applications. Quasar Science will become part of the Group's Production Solutions Division alongside Litepanels which was acquired by Vitec in 2008. Quasar Science has been quite innovative in coming up with products to serve both small and large scale film and television productions. Established in 2012 by four partners with extensive experience as studio lighting technicians, Quasar Science is based in Los Angeles, California, where the majority of its 18 employees are based. Co-Founders Steven Strong, Evans Brown, Jay Yowler and Ray Gonzales will remain with the company and continue to lead the team post-acquisition.
###
Zeiss Adds Four New Focal Lengths to Supreme Prime Radiance Family of Lenses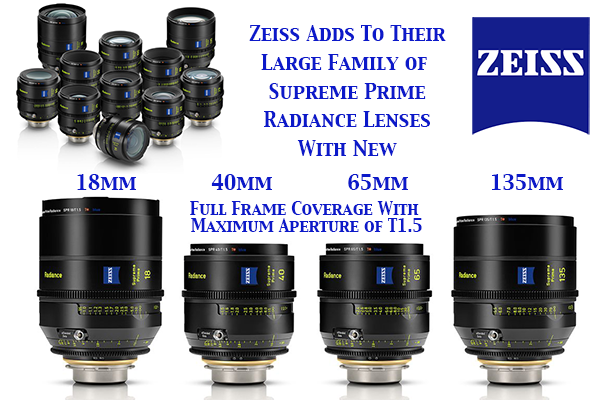 ZEISS has added four new lenses to the ZEISS Supreme Prime Radiance family first launched in 2019. The 18 and 135 millimeter focal lengths add telephoto and wide-angle specialties to the seven focal lengths available to date while the new 40 and 65 millimeter lenses enhance the standard range for high-end film production. With a maximum aperture of T1.5, all eleven focal lengths stand out for their high speed and distinctive look with consistent flares that can be controlled and used without compromise. The ZEISS T* blue coating was developed especially for this series to allow users to create this look across all focal lengths – without having to sacrifice contrast or light transmission.
Like the ZEISS Supreme Prime lenses, the ZEISS Supreme Prime Radiance lenses offer an image circle diameter of 46.3 millimeters covering current large-format cine sensors and are compatible with current camera models such as the Sony Venice, the ARRI Alexa LF and Mini LF, or the RED Monstro. Incorporating a uniform front diameter of 95 millimeters and consistently positioned focus and aperture rings, they feature smooth and reliable focusing, simplifying the task of changing lenses on set. The rugged lenses' average weight is about 1,600 grams (3.5 lbs).
The lenses are equipped with the ZEISS eXtended Data metadata technology launched in 2017, meaning they provide frame-by-frame data on lens vignetting and distortion in addition to the standard metadata provided by Cooke's /i technology1 protocol. This simplifies and speeds up workflows, particularly for VFX and virtual production. 
The new ZEISS Supreme Prime Radiance focal lengths are now available for purchase as a set of four lenses from ZEISS cine lens dealers. Deliveries will start in Q3, 2021.  For more information, please visit www.zeiss.com/cine/radiance.
###
Litepanels Introduces New Gemini 1×1 Hard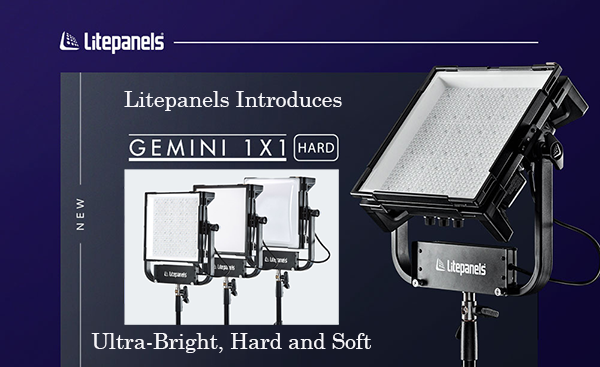 Litepanels has announced a new and extremely versatile addition to their RGBWW Gemini line.  The new Gemini 1×1 Hard not only offers variable color from 2,700 to 10,000K with precision control of hue, saturation, intensity, gels and effects, it can also now create a very bright output of over 3000 lux @10ft/3m in a narrow 46-degree beam angle, (20% more powerful than a 200w HMI).  Of course, it can also be diffused with attachable ultralight and domed diffusers.  The new Gemini weighs only 13.2lbs yet is built to be extremely durable.  For more information, a demo video, and testimonials, visit: https://www.litepanels.com/en/products/gemini-1×1-hard
###
One DP's Perspective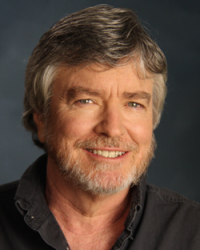 by James Mathers
Cinematographer and Founder of the Digital Cinema Society
DCS Road Test – James Mathers and Friends Evaluate The Panasonic Lumix S5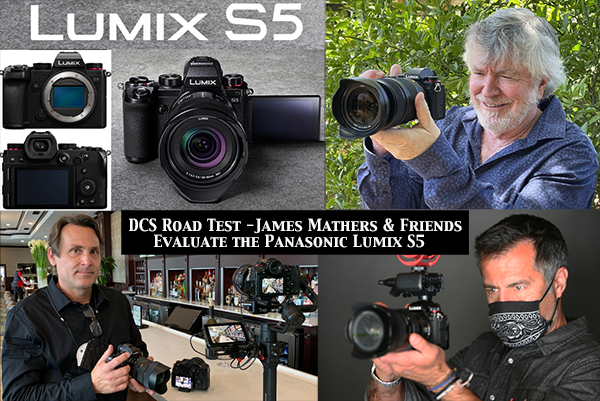 This is the second in a series documenting my ongoing quest to find the right small form factor camera to add to my equipment arsenal.  I own several full featured Digital Cinema cameras including a couple of Panasonic Varicams, a Blackmagic Design URSA Mini Pro 12K, and a few trusty old HD cameras from Canon.  However, what I find I am lacking is a small, nimble capture device that can be carried around all day, placed on a handheld gimbal, or mounted in a tight space. A camera that keeps a low profile for documentary work, yet gives me the necessary image control and has the capability to intercut when necessary with my bigger cameras at a minimum of 4K resolution.  And yes, auto focus is also a very desirable feature these days, and it would be nice to have at least one camera with those capabilities.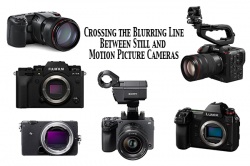 I narrowed down my list to six contenders from Sony, Canon, Sigma, Fujifilm, Blackmagic and Panasonic as detailed in my essay for the DCS eNewsletter, Crossing The Blurring Line Between Still and Motion Picture Cameras.  Now it is time to delve into the Panasonic Lumix S5.

Now the S5 is not the top of Panasonic's mirrorless line, that distinction goes to the S1H which shoots 6K 4:2:2 10 bit and recently had major software features added.  For example, now in addition to Apple ProRes RAW recording, the S1H has the ability to output 5.9K RAW which is compatible for recording Blackmagic RAW on Blackmagic Video Assist 12G HDR.  This is just one of the many free firmware upgrades adding functionality and compatibility with other manufacturers recorders and lenses to have been recently announced for the whole Lumix S1 model line.
However, at an MSRP of almost $4,000US, the S1H may be a bit more than I currently require.  Instead, I zeroed in on the S5 because I feel it has what I need to fill the void in my camera ensemble,  with all the essential features I require, plus it has a smaller footprint and lighter weight than the S1.  It features a full-frame 24.2MP CMOS sensor for UHD 4K 10-bit internal recording, a claimed 14+ stops of dynamic range, up to 180fps Slow Motion when cropped to APS-C, and 60fps in full HD. It has 4:3 Anamorphic support, which is always fun, and especially important to integrating with my particular package is its Dual Native ISO feature and its ability to shoot in V-Log/V-Gamut, just as my two Varicams will do.
As regular followers of my reviews know, I like to put the gear I test in real world shooting situations, what I call "Road Tests".  Since I didn't have any pro assignments booked when I was able to get my hands on a demo camera to review, I offered it to my good friend and longtime collaborator Cameron Cannon.  Cameron is a Cinematographer who has worked with me for many years as an Operator and/or Second Unit DP.  He also shoots most of our DCS projects, from our trade show interviews and event coverage to our documentaries.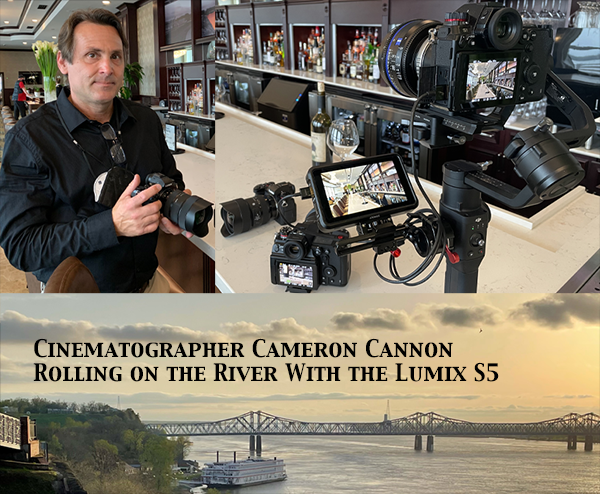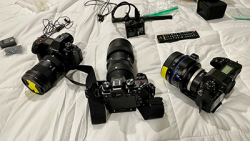 As is happened, Cameron had just booked a job to shoot a promotional documentary about a Riverboat cruise operation triumphantly returning to service on the Missippi after the pandemic.  The Producer/Director Ari Minasian owns other Lumix cameras including an S1 and S5, so this model would be very compatible and a welcome addition to the package for this shoot.  It also helped that Cameron, who had previously worked with Minasian on many a project, was already familiar with the S5.
Cameron is a big fan of the camera, especially the form factor when shooting on jobs like on the Riverboat where a handheld gimbal was often employed.  He also likes the ability to quickly switch between various modes including stills, high-frame-rates, and variable ISOs all the way to 4000 without too much noticeable noise when V-Log is applied.  The speed and precision of the auto focus is also something he mentioned as a significant plus.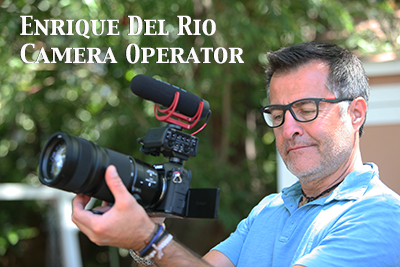 Another good use of the camera came up during the loaner evaluation period, covering behind-the-scenes of a mini documentary DCS was producing to cover the Cineo ReFlex R15.  I served as Director and On-camera Host while Cameron Cannon was the DP, so we enlisted the services of another friend and collaborator, Enrique Del Rio to shoot the BTS.  Enrique is a Camera Operator who also has a background as a DIT and owns a wide variety of high end camera and lens packages including the Sony Venice, Phantom High-speed, and an array of Fujinon, Angenieux, and Canon lenses, among other gear.  However, Enrique didn't have too much experience with this new class of mirrorless cameras.
The Lumix S5 was a perfect option since we were shooting the main unit with the Varicam V35.  The V35 was selected for its ability to shoot at 120fps in 4K V-Log at a high ISO, which is often necessary when shooting very high frame rates, especially with the Infinity Probe lenses we were planning to use.  Although I've been shooting with this camera for over 6 years now, (which is an eternity in the life of Digital Cinema cameras,) it is still the one I turn to for situations such as this, or when I require full 4K 4:4:4 for things such as critical visual effects compositing work.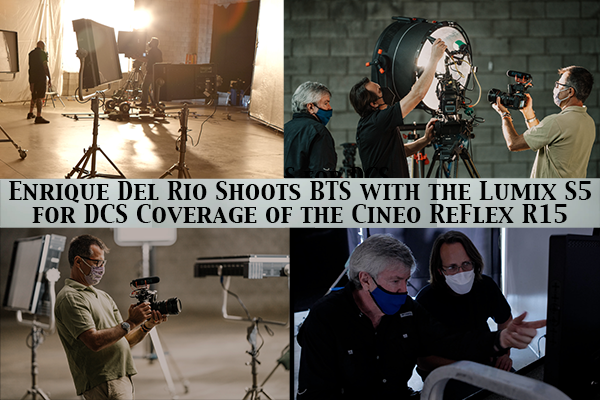 It was really wonderful the way Cameron was able to place the Lumix S5 into Enrique's hands for the first time, give him a two minute rundown, and have him go to work getting some really great footage under difficult conditions.  Shooting behind-the-scenes is always a challenge as you are trying to tie in fully lit subjects in front of the main camera with the filmmakers lurking back in the dark recesses of the set.  It was especially challenging on this job since the subject of the piece was the brightest LED on the market.  As you'll see if you watch the video, the Cineo ReFlex compares to a 2,500 HMI or 5K tungsten fixture, yet has the ability to plug into a household circuit.  I think the Lumix S5 performed admirably, but you can judge for yourself here: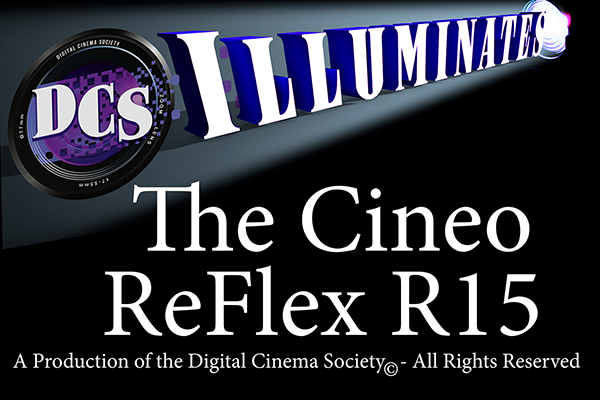 https://vimeo._com/539847987
Enrique's feedback was mostly positive; he liked that the menus and touchscreen were intuitive and fast to master.   He also commented on the brightness of the LCD along with the flexibility to angle it in so many directions making it easy to undersling or to get a high angle shot by holding the camera above his head and tilting down the LCD.  He also liked the low light capabilities and ease of adjusting the exposure which came in very handy on this job where he was constantly going between extremely bright to very dark subjects, often in the same shot.
The Lumix cameras use the L-mount, as do Sigma and Leica mirrorless cameras, but I don't personally own anything with the L-mount.  I figured I could employ my large assortment of Canon EF lenses, so I requested a Sigma EF to L-mount adapter along with the S5 loaner from Panasonic.  When investing in a new camera platform, I would like to avoid also having to replace all my lenses.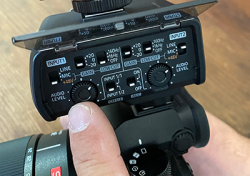 I hate those fragile little mini connectors as camera inputs so I also requested a Panasonic XLR Microphone Adapter.  It connects to the camera directly through the hot shoe and provides two XLR inputs.  It also features a good sized control panel with physical switches and dials that are easy to adjust, even with my clumsy digits.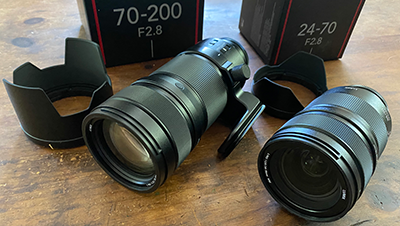 This is the package Enrique had to work with, and although he rarely complains, he did mention that the auto focus was a bit slow on the uptake.  Fearing this was the result of adapting my aging EF lenses, and not wanting that to reflect badly on the cameras, I later requested two Lumix lenses, the 24-70 f2.8 and the 70-200 f2.8.  By the time I had a chance to actually shoot with the camera myself, this is the package I had for my personal evaluation, and I was suitably impressed.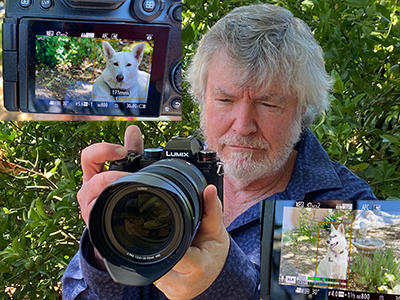 In fact, the focus assist/autofocus performance of the S5 is one of its highlight features.  The DFD (Depth-From-Defocus) technology, a contrast-detection type method, quickly calculates the distance to subjects and adjusts the focusing position in as little as 0.08 seconds. AI Technology has also been employed to gauge subject type, color, size, and motion vectors to intelligently lock-onto the moving subjects especially the face, eye, head, and body, as well as animals.  This allows for prioritizing focus on a certain subject or even specific areas of the subject.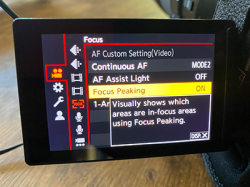 Focus peaking is also available for manual adjustment as well as Touch MF Assist for touch-to-focus operation. Other AF features include an AF Point Scope setting that temporarily magnifies the subject by 3x to 10x for confirmation of the focus position and a custom selectable AF zone for Multi AF or Custom Multi AF.  Image stabilization is another great feature of the S5 particularly when used in combination with lens stabilization.  Combining the 5 stop-rated 5-axis sensor-shift stabilization technology in the camera along with lens-based 2-axis image stabilization really helps smooth out any appearance of camera shake which is great for longlegs handheld operation.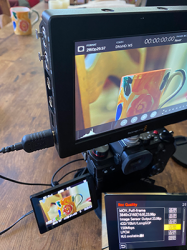 I think they have also done a great job with the various recording options available.  It has dual SD memory card slots for onboard recording, and although really fast SD cards were at one time very pricey, they continue to drop in price and have become really affordable.  The only problem is that whatever you pay for such high-end SD cards today, it will be far less tomorrow.  The S5 also supports an HDMI Type D port for feeding 4:2:2 4K UHD to monitor recorders such as the pictured Blackmagic Recorder 4K which allows for dual recording in any number of formats.
I have a documentary passion project I hope to embark on once the pandemic travel restrictions ease up.  In addition to a lot of travel, it will involve some covert shooting situations, which is why I have put a lot of emphasis on form factor.  The S5 fits the bill nicely in this department; weighing only about 1.5 lbs. with a built-in stereo mic, it can be a nice self contained 4K capture device.  Wireless remote operation may also come in handy, and a free Lumix Sync app is available for both iOS and Android which allows remote viewing and some wireless control via Bluetooth.
All-in-all, the Lumix S5 is a great camera and a real contender in my search for a small form factor cinema capture device.  Its recording format compatibility with my Varicams, high sensitivity, relatively low price, and small size are all pluses.  The only downside for me would be that if I go with an L-mount, I'll need to replace my cherished EF glass if I want to get the most out of the impressive focus assist capabilities.  The only feature I might have opted for from the higher end Lumix S1 line is the ability to jam sync time code.  That said, I didn't miss it on these projects since the editing software is getting to be so good at syncing by matching the audio tracks.  Check in next month as I hopefully have
evaluated another camera on the list.
###
Spotlight On New DCS Lifetime Members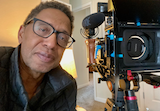 Jeffery Gary is a Los Angeles based cinematographer, primarily engaged in documentary productions. He was a graduate of USC School of Cinema in 1984 and had a little success in the independent film world immediately after graduation before moving to Northern California in the late 80's and raising a family. Gary returned to the game about five years ago and moved to Pasadena in January 2020, right before the pandemic. He is currently in post on a documentary project entitled Letters From Brno, about a Jewish family uncovering its past in Nazi occupied Czechoslovakia through letters and photographs discovered in an apartment after the death of a family member.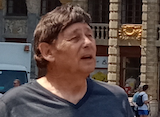 Wayne Clark is the owner of Mirage Productions International, and a Vietnam Veteran. After college in 1971 he went to work for Panasonic and in 1974 he opened up a small studio in Seattle and started producing commercials and industrial films. Over the years he has had the opportunity to work around the world with clients such as Mexicana Airlines, World Health Organization, Sony, Miller Beer, Weyerhaeuser Timber, Microsoft, Nintendo, and the UN. In 1999 Mirage Productions International opened up an office in Manila. During this time they started filming documentaries. In 2002 Wayne moved to Southern California, and is currently working on several motion picture projects.
###
Renewing Your Membership and Supporting DCS
We count on your dues and contributions to continue our mission and maintain our services to members. So, if your membership has expired, or you simply want to show your support of our effects, please take a few minutes to send a donation. Membership is available at the $50 annual level or $300.00 for a Lifetime Membership. You can follow the convenient PayPal links, (using any major credit card, and you don't need to be signed up for PayPal,) or you can send payment to our offices at P.O. Box 1973 Studio City, CA 91614, USA.
PayPal Annual Renewal Link – $50.00US:  https://paypal.me/digitalcinemasociety/50
Paypal Lifetime Renewal Link – $300.00US: https://paypal.me/digitalcinemasociety/300
Checks should be sent to: The Digital Cinema Society, P.O. Box 1973, Studio City, CA 91614, USA. Check payments must be in US dollars. Please note that if you are a student, or otherwise cannot afford the dues, just send a note and we will be happy to extend your membership. ** Student and Complimentary memberships do not include a membership card.
###
THANK YOU TO OUR SPONSORS
As always, we want to send out a big thanks to all "Friends of DCS," whose support makes it possible for us to continue the DCS mission of educating the entertainment industry about the advancements in digital and cine technology:
ACES – Adobe – AJA – Anton/Bauer – Avid – BB&S Lighting – Band Pro – Blackmagic Design – Bright Tangerine – BROKEH – Canon – Cineo Lighting – Cinnafilm – Cooke Optics – Core SWX – Dadco/SunRay – Dedolight California – DigitalFilm Tree – ETC – Fiilex – Film Gear – FLUOTEC – FootageBank – Fujinon – Infinity Photo-Optical – K 5600 – Kino Flo – L.A. Rag House – Lectrosonics – Leitz Cine Wetzlar – LiteGear – Litepanels – Litra – Luminys – MacSales – MACCAM – Mole-Richardson – Nanlite – Nila – OConnor – OWC – Panasonic – Panasonic Lumix – Panavision – P+S Technik – Quasar Science – Riedel – Rosco – Rotolight – Sachtler – SIGMA – SmallHD – Sony – Teradek – The Rag Place – The Studio-B&H – Vision Research – Westcott – Wooden Camera – Zeiss
###
DCS MEMBER BENEFITS and DISCOUNTS:
DCS members in good standing can also receive significant discounts on products and services from companies including: Core SWXThe Camera Division Design Lab - Raleigh Studios Screening Services - LensProToGo – Final Draft – Wooden Camera – SimpleDCP – Zacuto – IMDBpro – DECKHAND Camera Rental – Tek Media Electronic Repair – AbelCine – BB&S Lighting – Kit & Kaboodle Craft Service – Birns & Sawyer – NightSky Web Hosting – American Cinematheque – ProductionHub. And if your company would like to offer your fellow members meaningful discounts on products or services, let us know and we'll consider adding your offer to the page. Visit the DCS Member Discount page for all the details: www.digitalcinemasociety.org/member-discounts
Follow DCS on Social Media
Follow DCS on Facebook, Twitter and Instagram. Don't forget that the Digital Cinema Society has a Facebook fan page. Check in for the latest news, event details and general DCS hubbub at: http://www.facebook.com/DigitalCinemaSociety
On Twitter, you can follow us @DCSCharlene
On Instagram at: digitalcinemasociety
Our Home, The Digital Cinema Society:
"It is not the strongest of the species that survive, nor the most intelligent, but the most responsive to change." Charles Darwin