DCS UPDATE
Despite the pandemic lock down, we have been busier than ever here at DCS.  There's lots of news to share this month, but the biggest is the release of our documentary Getting Safely Back to Work in the Age of Covid.  This program explores some of the tools and techniques that have been developed by our own DCS members and supporters to help the entertainment industry get safely back to work.  There are also many new product releases including the pocket-sized LED DMG DASH from ROSCO, a new compact full frame camera from Sony that blurs the line between a stills and motion picture camera, and speaking of compact, some new lenses from Sigma.  Frame.io has some really exciting news in their new Camera-to-Cloud — C2C initiative.  It will usher in a new era of workflow and is something all filmmakers will soon be working with.  Be sure to check out the presentation.
We are proud to announce that our supporters Teradek and Litepanels are being honored with industry engineering awards.  Teradek has received Academy Scientific and Technical awards for the development of the Teradek Bolt wireless system, and Litepanels is receiving an Emmy for their pioneering work to develop LED lighting for motion pictures and TV.
In his essay this month, James Mathers ponders if it is time to finally break down and add a combination stills and motion picture camera to his equipment arsenal and the myriad of product choices in the market.  Lastly, we want to tell you about a great new online insurance service where you can economically by business insurance by the hour, day, or month, for potentially great savings on premiums compared to an annual policy that you may only use a small number of days a year.
###
Now Streaming — DCS Doc: "Getting Safely Back To Work In The Age of Covid"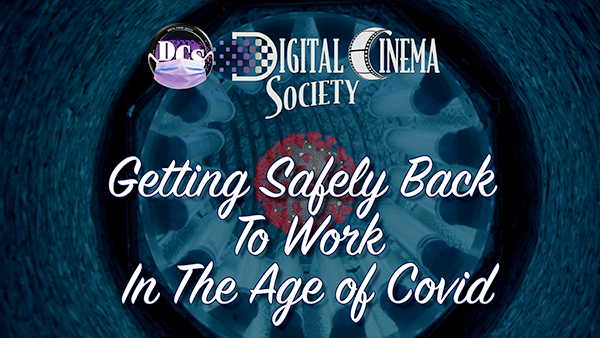 The global pandemic brought about by Covid-19 has affected every aspect of our existence.  It has cost  lives, livelihoods, and brought our industry to an abrupt standstill.  Although there are some positive developments on the horizon in terms of vaccinations and treatment therapies, there are still major uncertainties ahead, and we are a long way from being out of the pandemic woods.
The motto of the Digital Cinema Society is basically that we need to adapt in order to survive.   This program explores some of the tools and techniques that have been developed to help our industry get safely back to work.  We interviewed filmworkers, business leaders, and technologists to see how they are adapting and helping to get us all safely back to work on set.  The program is dedicated to the memory of our friend and longtime DCS member, Allen Daviau, ASC, an early victim of the disease.
Featured presenters include:
Steadicam Operator Jeff Muhlstock who survived a Covid infection, but nearly lost his life to the disease.
Covid Compliance Officer Chris Salas on the steps she takes to keep the productions she works on safe.
Micheal George, the Chief Operations Officer at Panavision, on initiatives they have taken to safeguard both their customers and staff.
Michael Cioni, the Global SVP of Innovation at Frame.io discussing developments in cloud workflows which have been fueled by the pandemic, but are here to stay.
Audio Supervisor Nico Ruderman of Spinrad Sound explaining the added importance of wireless communications on the set.
 Panasonic's Rob Brambila on advances in Remote Production.
Aaron Kroger, Director of Product Strategy at Panavision, pointing out how wireless onset monitoring is not only helping to promote social distancing, but allowing more people to participate in the creative process.
Richard Amadril, the President of Luminys, who explained how his company pivoted from providing motion picture specialty lighting products like Lightning Strikes and SoftSun to building systems using some of the same UVC lighting technology to instead sanitize the air and create safer sets.
Our crew includes Director/Editor/Host: James Mathers – Producer: Vika Safrigina – Executive Producer: Charlene Mathers – Director of Photography: David Mahlmann — Titles, Graphics, Digital Effects, and Music Scoring : Christopher Scott Knell, Fireline Studios
Special thanks to Lesley Kantor, Jon Witmer, and Thomas Rose at Panavision — Neil Matsumoto at Panasonic — David Pringle at Luminys — Joyce Bente at Riedel Bolero.
Link:  https://vimeo.com/517902191
###
Industry News
ROSCO Unveils The DMG DASH™- Fully Featured Pocket-sized LED Kit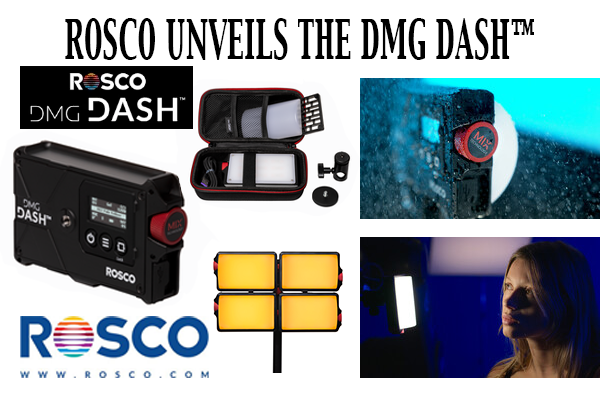 In a February 25th Facebook Premiere event,
 Rosco
announced their new 
DMG DASH™
.  The DASH is a pocket-sized LED Kit utilizing Rosco's
MIX
technology.  This fully accessorized, broad color spectrum LED fixture brings MIX technology into a portable and versatile handheld form factor.  DMG DASH features include:
Color mixing capabilities using the same six-chip LED set found in all of Rosco's MIX lights, so the DMG DASH can create over 130 True Rosco Color™ gel matches and light output with high 95+ CRI and 90+ TLCI values.
Full range of accessories are included in each kit with a complete set of magnetized beam shaping tools, including flat diffuser panel, dome diffuser, eggcrate, and a gel holder for additional Rosco gel or diffusion. Also included are a light standmount, a magnet mount and a durable carrying case.
Boost Mode feature allows for 380 Lux at 1 meter, in a 5 x 3.1 x 1.1 inch light.
The DMG DASH can be controlled via its onboard menu options and preset dial, or via Bluetooth using the myMIX®app. Modes include Gel, White, Color, Effects, and Source Match.
Weatherproof and Durable Build: with an outdoor rating for use in all weather conditions and a solid Aluminum Alloy housing, DMG DASH can deliver high performance in tough filmmaking environments.
DMG DOT accessory for DMG DASH includes a silicone half globe diffuser that envelopes the DMG DASH, creating wrap around light designed as an eye light or for adding a dash of color into a tabletop spot, or for use as an on-screen practical.
Kit configurations include the basic DMG DASH Pocket LED Kit with case, USB-C cable, flat diffuser, dome diffuser, eggcrate, light stand and magnet mounts, and gel holder at a list price of $279 USD.

The Quad Kit includes four complete pocket kits, a carrying case and a LINK accessory to configure and mount the four lights together at a list price of $1250 USD.  First delivery of the product is expected in Spring, 2021.  For more information visit:  https://dash.rosco.com
(Keep an eye out for an upcoming DCS Road Test review of the DMG DASH.
###
Frame.io Announces Major New Initiative:Camera-to-Cloud (C2C)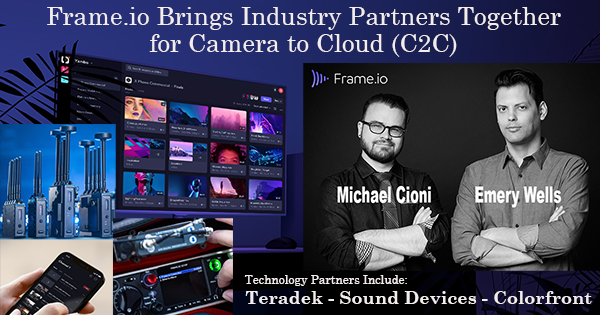 In a highly polished launch video, Frame.io Co-founder Emery Wells and Global Senior VP of Innovation Michael Cioni detailed their latest cloud workflow technology. Frame.io was already a well established cloud-based video review and approval platform, but they are now taking it a large step forward.  Called simply "Camera to Cloud", it instantly uploads proxies from on-set cameras and sound recorders to editors and other creatives.  This allows for near real-time delivery of editable proxy files to a producer, dailies facility, or an editor anywhere in the world.  Dailies can be sunk up automatically via matching TC in the cloud and a Colorist can make adjustments quickly so that corrected dailies can be distributed minutes after the material is shot.  Later, automated conform can also be integrated for extremely fast turnarounds.
Camera to Cloud (C2C), also allows authenticated users to stream images from on-set cameras to creative teams anywhere in the world to view on their computers, iPhones, or iPads. This enables them to participate remotely, which is especially ideal while working during COVID, as it greatly reduces the number of people needed on set. Traditionally, getting footage from a camera into post-production was a time-consuming process that required backing up files, transferring them to a hard drive, and shipping them to another facility. Frame.io C2C eliminates that, letting customers simultaneously view a live stream of footage as it is being shot, while automatically capturing and uploading proxies as soon as the camera stops rolling.
These abilities are the result of a collaboration between several technology providers including Teradek, Sound Devices, and Colorfront.  Several major camera manufacturers are also onboard including Panavision, ARRI, and Sony, with many others to soon be added to the list.  Teradek CUBE 655 and Sound Devices 888 or Scorpio recorders will record, encode, and send timecode-accurate H.264 proxy files with matching filename metadata directly to Frame.io via an encrypted and secure connection using LTE, 5G or WiFi. The company is also opening up their API to other manufacturers interested in building Frame.io C2C Certified software and hardware, (for details visit developer.frame.io.)
Frame.io C2C is a highly secure platform with full TPN and SOC 2 Type 2 compliance. Created by the MPAA and CDSA, TPN is the global, industry-wide initiative that defines requirements and best practices for protecting content. Combined with rigorous access controls, Frame.io C2C is a very safe way to share media with authorized viewers and collaborators.
C2C features are included at no additional charge for customers with a paid Frame.io account. Flexible, new monthly enterprise plans let customers and studios purchase the service they need for the duration of their production.  Frame.io C2C is currently in beta and will ship this spring. Customers can apply to participate in the beta program at the Frame.io website. Live streaming features will be available later in 2021.
For more details visit: https://frame.io/c2c
Watch the launch video on YouTube here: https://www.youtube.com/watch?v=u8AmHBhEQAk&feature=youtu.be
###
Sony Expands Cinema Line With New Compact Full Frame FX3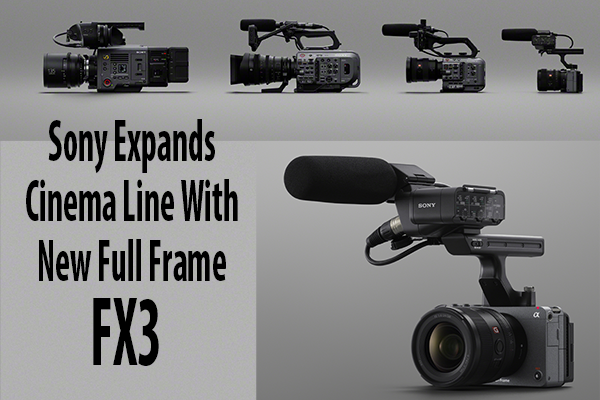 With the new FX3 Full Frame Cinema Camera, Sony continues to blur the lines between their Cinema and mirrorless Alpha lines.  While not much bigger than an a7S, the FX3 is optimized for handheld operation, yet it also offers high-end cinema camera features and operability.  It is designed to be equally at home on a gimbal or on a stage as B-Camera to an FX6, FX9, or even a Venice.  Product highlights include:
10.2 megapixel full-frame back-illuminated CMOS Exmor R™ sensor.
S-Cinetone™ look – inspired by the color science of the digital cinema camera VENICE – which is also used in FX9 and FX6 Cinema Line cameras.
Ultra-high sensitivity with ISO expandable to 409,600 for very low light conditions and 15+ stops of dynamic range.
Fast Hybrid AF (Autofocus), Touch Tracking (real-time tracking) and Real-time Eye AF, also used in other Alpha™ cameras. 
5-axis in-body image stabilization with "Active Mode" supports handheld movie shooting.
The camera is expected to be available in March at a suggested price of $3,900US.
###
SIGMA announces 28-70mm F2.8 DG DN — Ultra-compact Zoom for Mirrorless Cameras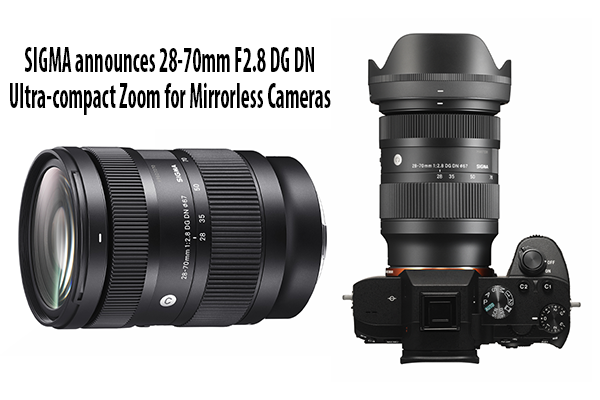 SIGMA has announced pricing and availability of the new 28-70mm F2.8 DG DN | Contemporary lens, an ultra-compact, fast-aperture standard zoom lens for Sony E-mount and L-mount cameras from SIGMA, Leica and Panasonic.  It will be available in the US through authorized dealers on March 12, 2021 with an MSRP of $899US.
Key features include:
At time of release, it is the smallest and lightest full-frame F2.8 standard zoom for mirrorless systems.
Available in Sony E-Mount and L-Mount for L-mount cameras from SIGMA, Leica, and Panasonic
At just 16.6 ounces, it is almost a pound lighter than the 24-70mm F2.8 DG DN | Art lens (31.4 ounces).
Fast maximum aperture of F2.8, providing consistent low-light capability from 28mm to 70mm.
SIGMA Art-level optical performance with sharpness throughout the focal range.
Nine-blade rounded aperture and optical formula for pleasing bokeh.
Lens offers excellent edge-to-edge performance with well-controlled axial chromatic aberration and sagittal coma aberration.
Dust and splash-proof mount with water and oil-repellent front element coatings.
Working distance of approx. 2.8 inches (7cm) at 1:3.3 magnification at 28mm for close-ups and casual macro opportunities.
Stepping motor for swift, accurate, quiet autofocus for both still and video.  Compatible with AF-C for eye-detect AF and real-time tracking.
###
Teradek and Amimon Receive Academy Scientific and Engineering Awards
DCS is proud to share the news that the Academy of Motion Picture Arts and Sciences has honored longtime DCS supporter Teradek and their sister company, Amimon, with two Scientific and Technical Awards. The official presentation was held as a virtual event on February 13, 2021, available to stream  on the
Oscars website
.  One award will
 recognize the work of Nicolaas Verheem, Greg Smokler and Ilya Issenin for the development of the ruggedized Teradek Bolt wireless video transmission system for on-set monitoring. A second award will be presented to Dr. Zvi Reznic, Prof. Meir Feder, Guy Dorman and Ron Yogev for the development of the Amimon wireless chipset.  
The two brands have collaborated since 2012 and in November 2018 Creative Solutions, a Division of The Vitec Group plc, announced the acquisition of Amimon Inc.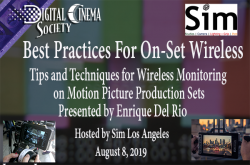 See streaming coverage of a 2019 DCS educational event on Best Practices for On-Set Wireless which features honorees Nicolaas Verheem and Greg Smokler among other industry experts:  
https://vimeopro.com/digitalcinemasociety/dcs-event-coverage-best-practices-for-on-set-wireless
###
Litepanels Honored With Emmy Award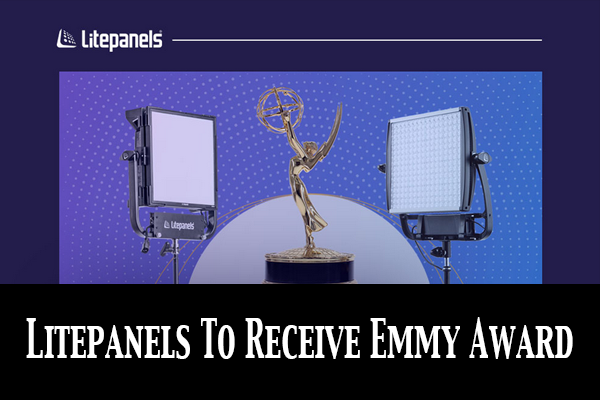 A true pioneer in the use of LED lighting for motion pictures, Litepanels is to be recognized by the National Academy of Television Arts & Sciences with a Technology & Engineering Emmy Award.  These awards were created to honor development and innovation in television technology that is so innovative as to materially affect television production.  This Emmy honors Litepanels as originators of LED panel lighting and 20 years of continual innovation in television and motion picture lighting starting with the original 1×1 LED panel.
Litepanels was founded in 2001 by five Hollywood gaffers and lighting engineers who wanted to revolutionize production lighting using newly emerging LED technology. They developed a lightweight, slim-profile 1×1 panel that produced an HD-friendly light. With state of the art color accuracy, the light could be infinitely dimmed with no noticeable shift in color temperature and was eco-friendly, drawing less energy to lower running costs while generating practically no heat to keep the on-screen talent comfortable.
This year's recipients will be honored at the 72nd Annual Technology & Engineering Emmy Awards Ceremony, which is tentatively scheduled to be a virtual ceremony in partnership with the National Association of Broadcasters (NAB) on Sunday, October 10, 2021.
 
###
Thimble.com — Small Business Insurance Ideal for Short Term Indie Productions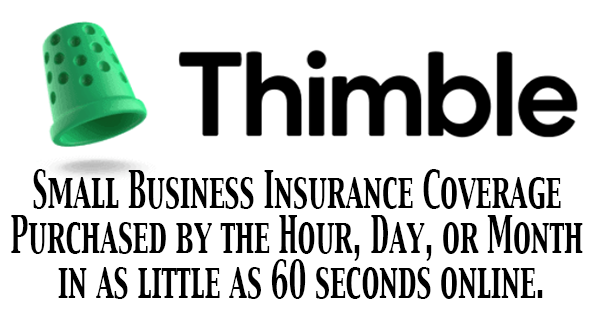 The Digital Cinema Society had to let our expensive annual policy lapse when we had no real activity happening for the better part of a year due to the pandemic.  However, when we were ready to start back into production again on projects like our recently completed Covid Safety documentary, insurance coverage was not just a good idea, it was mandatory in order to secure locations.  Not having a spare $6,000 to restart our policy, I went looking for alternatives and was really happy to find an affordable alternative known as Thimble.com.  This insurance broker arranges for coverage by the hour, day, or month in as little as 60 seconds online.  We were able to cover our two person crew with a one million dollar liability policy for as little as $35 a day which includes sending out certificates of insurance as necessary at no additional charge.
This kind of policy might not be right for larger scale productions, but it seems ideal for the small one-off shoots that sometimes come up for documentaries, corporate, and educational productions.  Why pay for an expensive annual policy when you are only shooting for a day or two?  Next time this comes up, we suggest you check out Thimble.com.  And if you use the following link to signup, DCS will get a small finders fee.  So, save yourself some money and help support DCS:  https://thimble.sjv.io/DjYXn
###
One DP's Perspective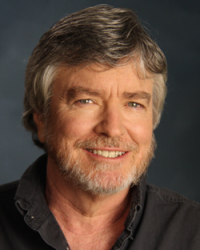 by James Mathers
Cinematographer and Founder of the Digital Cinema Society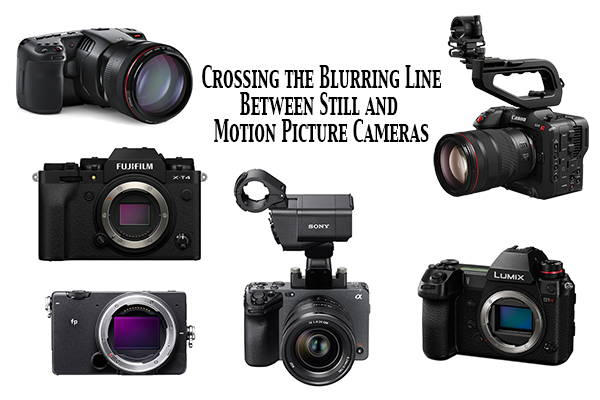 I have a Canon 5D that takes beautiful pictures; it's not a 5D Mark III, or a 5D Mark II, but the original 5D released in 2005 before it was given the ability to shoot video.  Since that time, I have also owned several high end Cinema cameras, so I never really saw the point to upgrade my still camera to a model that could also shoot motion.  Instead, I preferred to stick with a purpose built motion picture camera designed to stand up to the rigor of filmmaking.  I also wanted any new camera to fit into the well established architecture of motion picture camera accessories, some of which I have owned longer than the 5D, going back to the days when I owned ARRI film camera packages.
I've always been a proponent of new camera gear being backwards compatible with standard film camera accessories.  Although I was a big fan of the RED One when it was first released and its ability to use the 35mm film lenses I was accustomed to, one of my big complaints was that other aspects of the physical design of the camera didn't quite match my other ancillary gear.  The lens height didn't line up with matte boxes or follow focus rigs, and I especially didn't care for their new mini connectors replacing the industry standard BNC and XLR.
However, a whole cottage industry developed to provide adaptor plates and various accessories to integrate the cameras into a professional level filmmaking environment.  Companies like Wooden Camera answered the call to cross the divide and help convert the camera to become more motion picture friendly with things like cheese plate risers, A-Box audio adapters and the like.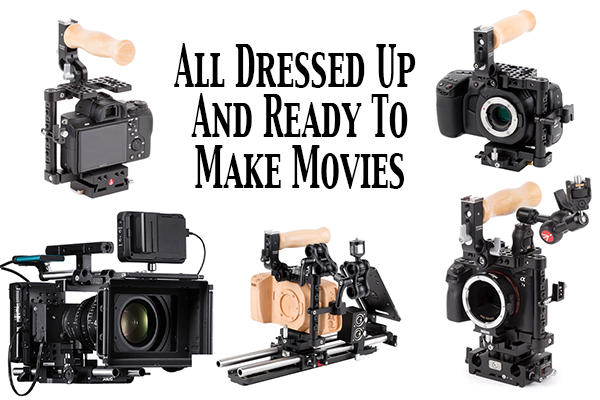 These same companies were ready to adapt DSLR and later mirrorless cameras to become more usable for filmmaking, but I still wasn't having it. It seemed to me that adding a bunch of gak to turn a still camera into a movie cameras was like trying to turn a sow's ear into a silk purse.  Why not just pick a camera that is more suitable for motion pictures?
In my defense, less you consider me a luddite for not embracing DSLR filmmaking from the outset, let's remember that when the 5D first got the ability to shoot video in 2008 with the Mark II, there were severe limitations. The Mark II could only shoot HD video at 30fps instead of the film industry standard of 24fps, exhibited pretty severe rolling shutter artifacts, and had a maximum record time of only 11 minutes, to name a few.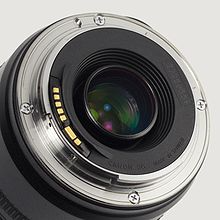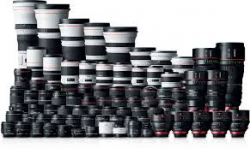 The lens mounts were EF, and they were plentiful, so that wasn't an issue.  Canon claims to have produced well over 100 million units, and the higher end models were of outstanding optical quality, but the problem was that they were designed as still camera lenses.  They had short focus throws, hard iris "clicks," and breathed noticeably, which was not a problem for still photographers.  However, trying to pull focus or rack iris on a dramatic scene was suboptimal to say the least.  It is true that they had auto focus functionality but it was not nearly as sophisticated as it has become today, and it was not too useful for filmmakers who required far greater control over focus.
Flash ahead now a decade and a half later to find that all the major still camera manufacturers have kept packing additional motion picture features into their cameras while at the same time greatly improving image quality and shrinking the size and weight of the camera bodies.  So maybe it is time for me to reconsider.
This was recently on my mind as I was handholding my Varicam V35 on a long day's shoot.  (I also own the much lighter Varicam LT, but it was needed on another unit which was being used with Steadicam.)  Perhaps I'm just aging, or a bit out of shape after the forced hibernation caused by the pandemic, but I would swear that the camera has doubled in weight since I first got it; at least that's the way it feels.  I should also mention that I was a crew of one due to the extreme Covid safety requirements at the location; no one was there to help hoist the camera up onto my shoulder and no one to pull focus.  In any case, it got me thinking, why do I really need a full size Digital Cinema camera for this kind of shoot?  Wouldn't it be nice to have a small form factor camera, with features like Auto Focus and Image Stabilization that could still integrate with the bigger full featured cameras for these kinds of shoots?
I've held off on investing in full frame format cameras mostly due to the large investment I've made in S35 format cine lenses.  I'm also not a fan of such limited depth of field, and the resulting soft focus that sometimes results, but with technological improvements in Focus Assist, that challenge can now be overcome.  So, I decided to survey the market and see what might be a good fit.  There certainly are a lot of choices to consider.  Every major still camera manufacturer now offers cameras that are very capable of shooting high quality motion images.  Let's look at some of the choices, (in alphabetical order of manufacturers name)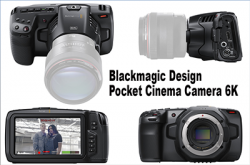 Perhaps the contender that has been on the market the longest is the Blackmagic Design Pocket Cinema Camera 6K which was first unveiled in 2019, (light years ago in digital cinema camera evolution time).  The Pocket 6K features a Super 35 sensor and EF lens mount.  It is quite similar to the Pocket 4K and retains the controls and menu layout with only a slightly larger form factor to accommodate the EF lens mount. It claims 13 stops of dynamic range and recording options including capture in Blackmagic Raw or ProRes 422 with resolution combinations from HD all the way up to 6K. Internal recording is to CFast 2.0 or SD/UHS-II card slots; and external recording is also available using the USB-C output to an external drive.  The camera body is made from a carbon fiber polycarbonate composite for light weight and durability and can currently be purchased for around $2,000US including a license for the most up to date version of Resolve.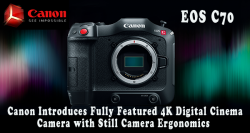 Canon's contender in this comparison, their EOS C70, at an MSRP of $5,499US, is probably the most costly, but it also claims the highest dynamic range at 16+ stops and has some other really great features that set it apart.  The C70 can record 4K DCI or UHD up to 120 fps and 2K DCI or HD up to 180 fps with many choices of codecs including MXF, Long GOP, and MP4 file formats for added flexibility.  Canon has been a leader in developing Auto Focus and Electronic Image Stabilization, so of course, the C70 has top of the line capabilities in those areas.  Another small but important feature for multi camera shooting is Time Code in and out.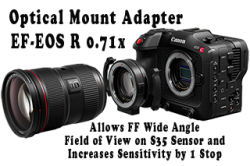 The C70 brings the RF mount into the Cinema EOS line, and this opens up some interesting abilities.  The addition of their new EF-EOS R optical mount adapter to the package allows users to employ full-frame EF lenses preserving FF wide angle image onto the 4K Super 35mm image sensor while also boosting the lens sensitivity by one stop. The mount adapter also preserves full electronic communication between most Canon EF lenses and cameras, enabling optical lens corrections and transfer of lens metadata.  The C70 weighs only 2.6 lbs, yet includes a motorized ND filter unit built into the short flange back of the RF mount.
The FUJIFILM X-T4, a versatile mirrorless camera, is another contender. It uses an APS-C-format 26.1MP CMOS sensor capable of DCI/UHD 4K at up to 60 fps, Full HD recording up to 240 fps, and sensitivity from ISO 160-12800. The sensor's design also enables a hybrid autofocus system that combines 425 phase-detection points with a contrast-detection system for quick and accurate AF performance. The X-T4 also incorporates a 6.5 stop-effective sensor-shift image stabilization system to reduce the appearance of camera shake with almost any mounted lens. Additionally, built-in Wi-Fi and Bluetooth enables wireless remote camera control and image sharing to a mobile device.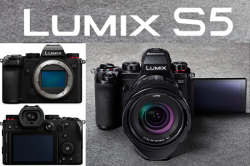 Panasonic continues to develop their Lumix S series.  The new S5 Full-Fame Mirrorless is a compact, lightweight hybrid camera that is optimized to shoot stills and motion.  It is a high-sensitivity camera that offers 4K 60p, 4:2:2 10-bit video recording, as well as 180fps Slow Motion in HD, and 4:3 Anamorphic support.  It also features Dual Native ISO and records V-Log/V-Gamut just as my Varicams do.  It is also said to have great autofocus which can detect a subjects head, eyes, face and body;  with an MSRP under $2,000US.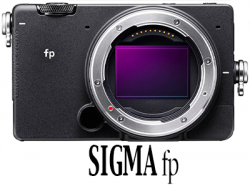 At less than a pound and measuring only about 4 x 3 x 2 inches, the Sigma fp, is by far the smallest and lightest of the contenders, yet it packs a full-frame 24.6 megapixel sensor capable of 14-bit color depth, and HDR with CinemaDNG RAW external recording options.  A base sensitivity of ISO 100-25600 can be expanded to ISO 6-102400, and its video recording capabilities allow for UHD 4K recording at up to 30p, while Full HD recording can be captured at up to 120p.  The Sigma fp uses the L-mount, and while Sigma is building out a complete line of L-mount lenses to work with mirrorless cameras, they have also joined with other manufacturers to encourage the development of lenses in the format.  With the Sigma Mount Converter MC-21, Sigma SA mount and Sigma Canon EF mount lenses can also be used.   The purchase price is currently around $1,800US.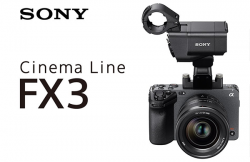 Sony's new FX3 certainly blurs the line between still and motion picture cameras.  It employs a 10.2 megapixel full-frame sensor claiming 15+ stops of dynamic range.  It uses the same color science as their higher end digital cinema cameras like FX6, FX9 and Venice.  Plus its features include Real Time Touch Tracking AF and 5-axis in-body image stabilization.  The big brother Venice doesn't have all that, and the FX3 only weighs about one and half pounds with a price under $4K.  And one little plus for me is the included detachable adapter/top handle.  It includes two full size XLR audio inputs and a microphone holder so you don't have to be adding a lot of non-OME accessories to do simple and necessary movie making functions.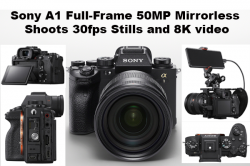 Also fairly new from Sony is their A1, a 50MP full-frame mirrorless that can shoot 8K video as needed.  It also claims 15+ stops of DR and can record S-Cinetone with an S-Log3 gamma curve to better match their higher end pro cinema cameras.  The A1 can record up to 8K 30p and 4K 120p 10-bit and still offers versatile sensitivity up to ISO 102400 for low-light shooting.  It will be delivering any day now at a suggested price of $6,500US
There are a lot of great products in the category to consider, which is both a curse and a blessing.  I'll be doing a little more research before I make a purchase and perhaps trying out a few of these models to see if they live up to their claims.  You can rest assured that I will not be giving up my larger full featured cinema cameras, but I will definitely be adding one of the above stills/motion cameras before my next shoot handholding all day as a crew of one.
DCS Member News
DCS Founding Members Elected as Regional Governors of SMPTE

The SMPTE has announced their officers for the next two year term and we are proud to announce that two of our longtime members have been elected as Regional Governors. Representing the Hollywood Region as SMPTE Governor is Marty Meyer. In her day job, Marty serves as the Manager of Strategic Accounts for Post-Production and Rentals for Gravity Media/Gear House located in Los Angeles.

Meanwhile, Tony Ngai will serve as the Governor of the Asia-Pacific Region for 2021 and 2022. Tony is the Founder and Director of the Society of Motion Imaging, and was for many years the head of Salon Films in Hong Kong where he started his career in 1969. Tony has also served as the chair of the Hong Kong Section of the SMPTE from 2002 to 2014.
Renewing Your Membership and Supporting DCS
We count on your dues and contributions to continue our mission and maintain our services to members. So, if your membership has expired, or you simply want to show your support of our effects, please take a few minutes to send a donation. Membership is available at the $50 annual level or $300.00 for a Lifetime Membership. You can follow the convenient PayPal links, (using any major credit card, and you don't need to be signed up for PayPal,) or you can send payment to our offices at P.O. Box 1973 Studio City, CA 91614, USA.
PayPal Annual Renewal Link – $50.00US:  https://paypal.me/digitalcinemasociety/50
Paypal Lifetime Renewal Link – $300.00US: https://paypal.me/digitalcinemasociety/300
Checks should be sent to: The Digital Cinema Society, P.O. Box 1973, Studio City, CA 91614, USA. Check payments must be in US dollars. Please note that if you are a student, or otherwise cannot afford the dues, just send a note and we will be happy to extend your membership. ** Student and Complimentary memberships do not include a membership card.
THANK YOU TO OUR SPONSORS
As always, we want to send out a big thanks to all "Friends of DCS," whose support makes it possible for us to continue the DCS mission of educating the entertainment industry about the advancements in digital and cine technology:
ACES – Adobe – AJA – Anton/Bauer – Avid – BB&S Lighting – Band Pro – Blackmagic Design – Bright Tangerine – BROKEH – Canon – Cineo Lighting – Cinnafilm – Cooke Optics – Core SWX – Dadco/SunRay – Dedolight California – DigitalFilm Tree – ETC – Fiilex – Film Gear – FLUOTEC – FootageBank – Fujinon – Infinity Photo-Optical – K 5600 – Kino Flo – L.A. Rag House – Lectrosonics – Leitz Cine Wetzlar – LiteGear – Litepanels – Litra – Luminys – MacSales – MACCAM – Mole-Richardson – Nanlite – OConnor – OWC – Panasonic – Panasonic Lumix – Panavision – P+S Technik – Quasar Science – Riedel – Rosco – Rotolight – Sachtler – SIGMA – SmallHD – Sony – Teradek – The Rag Place – The Studio-B&H – Vision Research – Westcott – Wooden Camera – Zeiss
DCS MEMBER BENEFITS and DISCOUNTS:
DCS members in good standing can also receive significant discounts on products and services from companies including: Core SWX The Camera Division Design Lab - Raleigh Studios Screening Services - LensProToGo – Final Draft – Wooden Camera – SimpleDCP – Zacuto – IMDBpro – DECKHAND Camera Rental – Tek Media Electronic Repair – AbelCine – BB&S Lighting – Kit & Kaboodle Craft Service – Birns & Sawyer – NightSky Web Hosting – American Cinematheque – ProductionHub. And if your company would like to offer your fellow members meaningful discounts on products or services, let us know and we'll consider adding your offer to the page. Visit the DCS Member Discount page for all the details: www.digitalcinemasociety.org/member-discounts
Follow DCS on Social Media
Follow DCS on Facebook, Twitter and Instagram. Don't forget that the Digital Cinema Society has a Facebook fan page. Check in for the latest news, event details and general DCS hubbub at: http://www.facebook.com/DigitalCinemaSociety
On Twitter, you can follow us @DCSCharlene
On Instagram at: digitalcinemasociety
Our Home, The Digital Cinema Society:
"It is not the strongest of the species that survive, nor the most intelligent, but the most responsive to change." Charles Darwin