DCS Newsletter, Volume 14, Number 4
DCS Update
DCS is in full NAB mode at this point, but there is lots of news to tell you about, so we're getting this month's eNewsletter to you just before we head out to Las Vegas.  We have a new edition of The Digital Cinema Show,  featuring an interview with Russell Carpenter, ASC and a documentary tribute to the late Photographer and Philanthropist Wayne Schoenfeld.  We also need to remind everyone about all the great deals available in this year's DCS NAB Internet Silent Auction including several new added items such as an Anton Bauer battery & charger package, a Redrock Micro Follow Focus, and two 360fly cameras courtesy of VER.  You'll also want to check our Calendar of Events for some of the activities happening around NAB, such as the famous SuperMeet and various parties.
This month's essay is a member content contribution from OWC President Jennifer Soule entitled Mac Pro Users Spoke and Apple Listened.  It is an insightful commentary on Apple's rethinking the development of their flagship Mac Pro.  We have sad news to share with the passing of renowned Cinematographer Michael Balhaus, ASC.  
NAB news includes the theft of a truckload of Sony gear on it's way to the convention, but according to a Sony spokesman, they will not be deterred and all necessary gear will be in place by the time NAB opens next Monday morning.  There are also several interesting pre-NAB product announcements you might like to hear about such as host of new Cinema lenses from Fujinon, Cooke, Leica, Canon, Angenieux, and Sigma.  It seems 2017 is turning out to be the year of the lenses at NAB, and we'll certainly have a lot to talk about during our annual Cine Gear Expo Lens event coming up June 2nd at the Paramount lot in Hollywood.
We look forward to connecting with you all during NAB; either in person at the convention or via our on-line activities.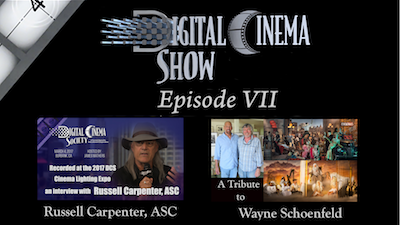 Episode VII of the Digital Cinema Show has now been posted and is available to view from the DCS website. We begin this episode with an interview Academy Award winning Cinematographer, Russell Carpenter, ASC. Russell gives us heartfelt advice, gleaned from his long and illustrious career shooting such movies as Titanic, Ant Man, and True Lies, about how he has learned to deal with both rejection and success. He also stresses the importance of showing respect for one's fellow filmmaking collaborators and the need to maintain a relaxed atmosphere on the set where Actors can feel safe to create their best performances. The interview was part of the 2017 DCS Cinema Lighting Expo, which took place at the IATSE Grip's Local 80 stage in Burbank on March 4th.
Next, we pay tribute to a wonderful man who passed away recently by sharing behind the scenes coverage of his final project. Wayne Schoenfeld was not only a successful entrepreneur, but also a gifted photographer and philanthropist. When faced with the dim prognosis that he likely didn't have too much longer to live, Wayne returned to the art form he loved and used it in service of others. You'll hear Wayne, in his own words, reflect on his life as he created his last two series of photos entitled The Garden of Earthly Delights and The Final Judgement.  (Be forewarned if you're offended by it, that there is some nudity in this coverage, which Wayne explains in the piece is integral to his art.)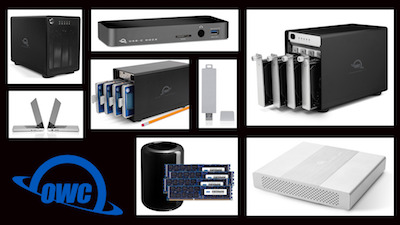 We could not provide this content without the continued support of our sponsors, in particular OWC, manufacturer of innovative SSD, storage and connectivity solutions designed to improve the performance and extend the life of the technology used by today's demanding Production and Post professionals.
We also need to acknowledge our many volunteer DCS crew members including Producer David Mahlmann, Cinematographers Cameron Canon, Cricket Peters, Dwight Lay, Sean Murray, and Mitch Gulbin. Special thanks also to the versatile Christopher Scott Knell for audio recording and post production services.
All current and past coverage is accessible from the Digital Cinema Show link on the DCS homepage or visit:
https://vimeopro.com/digitalcinemasociety/digital-cinema-show
DCS 2017 NAB Internet Silent Auction Now In Full Swing – With Added Items
Through the generosity of our supporters who are donating very valuable products, we will once again hold our DCS Member Appreciation Internet Silent Auction to coincide with NAB. It is a great way for our supporters to make you aware of their new products while giving members a chance to get great deals, and at the same time help finance the Digital Cinema Society.
Here's how it will work: All current DCS members are welcome to e-mail us bids on the products described on the following list, (plus any additions that may be donated.) Bidding will end promptly with the close of NAB 2017 at 2:00 p.m. (Pacific Time) Thursday, April 27th, and the winners will be notified shortly thereafter. In most cases the companies making the donations have elected to ship the products directly, so they will be given the winners' contact details and arrange delivery.
As with our dues collection, payment for the silent auction prizes will be via Paypal or check in US funds sent to us prior to pickup or shipping. Buyers are responsible for the actual cost of shipping, if any, as well as all import/export taxes that may be due. If the bid price fails to reach the listed minimum, the item will be added to our next raffle of SWAG and given away at an appropriate DCS event. SO WHAT HAVE YOU GOT TO LOSE?
Please note that we highly recommend you visit the DCS website for the full web version with complete descriptions, photos, and links for more information. Please visit: 
www.digitalcinemasociety.org/the-2017-dcs-internet-silent-auction-newly-added-items
Silent Auction Items Offered Include – Starting with Recently Added Items:
Item #18 — Redrock Micro microFollowFocus Professional
Item #19 — 2 Anton Bauer Digital 90GM Batteries with a LP2 Dual Charger
Items #20 and 21 — Two 360fly 360° HD Camera (donated by VER)
Item #1 — Blackmagic Video Assist 4K Recorder/Monitor
Item #2 — 1 Year Membership to ADOBE CREATIVE CLOUD
Item #3 – Litepanels Lykos Bi-Color
Item #4 — OWC Mercury Elite Pro Dual 10.0TB RAID Solution, Mac/PC/Thunderbolt 2/USB 3.1
Item #5 — Fiilex P180E compact LED and D tap cable
Items #6 — Blackmagic Design DaVinci Resolve Studio
Item #7 – Rosco RoscoLED Tape Gaffers Kit
Item #8 — Zacuto VCT Plate
Item #9 — OWC Mercury Elite Pro Dual mini 480GB Bus-Powered Storage Solution, Mac/PC/USB 3.1
Item #10 and 11– Two AJA T-Tap Thunderbolt to HD/SDI or HDMI Adaptors
Item #12 — BBS Lighting Pipeline Remote Phosphor 1′ LED w/Dimmer
Item #13 – Wooden Camera Director's Monitor Cage v.2
Item #14 — Two VIP All Access Badges to New Media Film Festival
Item #15 – K-Tek Boom Kit – KEG-54 Avalon Graphite Boom Pole with K-MT Universal Shock Mount
Item #16 – K-Tek Boom Kit – KE-60 Avalon Boom Pole with K-MT Universal Shock Mount
Items #17 — One hour of one-on-one Business Consultation with The Shindler Perspective
Send Bids Now:
Again, please specify the item, description, and price you would like to offer along with your current contact details. We'll write back as soon as we can to confirm your bid. More Items may be added throughout the auction, and we will try to update as we are able, so check back often. We will do our best, but please know that this is no eBay. No offer of solicitation of any merchandise at any particular price is expressed or implied.
Thanks for bidding and thank you for supporting THE DIGITAL CINEMA SOCIETY!
Streaming DCS Coverage of NAB 2017
Don't worry if you can't make the trip to Las Vegas or don't have enough time to see everything you wanted at the show, the Digital Cinema Society has you covered.  James Mathers and the team from DCS will be roaming the convention halls recording streaming coverage of the latest motion picture technology.
Visit the DCS NAB 2017 webpage starting Monday afternoon, April 24th, and check back often as the site will be populated with new interviews added shortly after they are shot throughout the convention: //www.digitalcinemasociety.org/featured/nab-2017-streaming-video
Scheduled interviews include, (in alphabetical order):
AbelCine – Adobe – Acromove – Adorama – Advantage Video Systems – AJA – Angénieux – Anton/Bauer – ARRI – Avid – BBS Lighting – Band Pro – Blackmagic Design – Canon – Cartoni – Cineo Lighting – Codex – Cooke Optics – dedolight – De Sisti Lighting – Digital Sputnik – DoP Choice – Fiilex LED – Fujinon – K 5600 – Kino Flo – Leica/CW Sonderoptic – Light & Motion – Litepanels – Luminys – Manios Digital – Mole-Richardson – MYT Works – Nila – NVIDIA – OConnor – OWC – Panasonic – Panasonic Lumix – Panavision – Power Gems – Quantum – Redrock Micro – Red Scorpion LEDs – Rosco – Sachtler – SIGMA – SIM Digital – SmallHD – Sony – Sound Devices – Steadicam – Teradek – Terra LED – The Rag Place – The Studio-B&H – Tiffen – VER – Vision Research – WCP – Wooden Camera – Zeiss – Zylight
Industry News
Cooke Optics to unveil new S7/i Full Frame Plus lenses at NAB 2017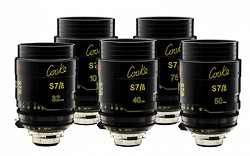 Cooke Optics will launch a new range of prime lenses covering more than a 46mm image circle at NAB 2017. The new range, known as the S7/i Full Frame Plus series are designed to cover the emergent full frame cinema camera sensors, up to a whopping 46.31mm image circle, enough to cover the RED Weapon 8K.  They are scheduled to ship starting in June 2017, and although there was no word on pricing as of yet, don't expect them to be inexpensive.  They could, however, be a good hedge against the trend of larger and larger sensor sizes, and there is no reason they can't be put to work today in shooting the more ubiquitous Super35 format.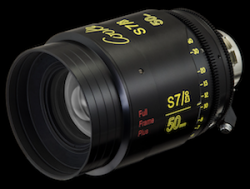 The new lenses will be available in 18, 25, 32, 40, 50, 75, 100 and 135mm, all with a true T2.0 aperture with coverage of Full Frame and slightly beyond, (accounting for the "Plus" added to the name).  They have a common fixed front diameter of 110mm, with a focus drive gear of 140T x 0.8 mod and an iris drive gear of 134T x 0.8. A nine-leaf linear module iris assembly is fitted into the lenses, and the average weight of an S7/i lens is approximately 3.5kg.
Cooke will also debut the Panchro/i Classic range and the new front Anamorphic/i zoom lens at NAB 2017. In addition, visitors to the Cooke booth will see the Anamorphic/i SF lens range, as well as lenses from its leading Anamorphic/i, 5/i, S4/i and miniS4/i ranges, and the Sony E and micro 4/3 mounts for miniS4/i and Panchro/i Classic lenses that enable users of these cameras to achieve the 'Cooke Look®' for the first time.
New Lenses from Canon, Angenieux, and Sigma to be featured at NAB 2017
2017 is turning out to be the year of the lenses at NAB; we've already reported new glass from Fujinon and Leica last month, and Cooke in this newsletter.  Now there are more lens innovations to tell you about from Canon, Angenieux, and Sigma.
Canon CN-E 70-200mm Zoom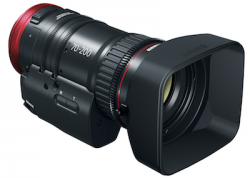 Canon takes advantage of their decades long background creating millions of still photography lenses to bridge the gap for use in motion pictures and have again created a hybrid of the two combining high quality cinema optics with the lightweight, compact design and features of Canon's EF lenses. The new COMPACT-SERVO 70-200mm Telephoto Zoom Lens (model name CN-E 70-200mm T4.4 L IS KAS S), is a 4K lens designed for versatility and portability.    The new lens features autofocus and optical image stabilization (with compatible camera models).  The lens is also compatible with both the Canon EF 1.4x III (expanded focal range of 98-280mm) and EF 2x III (expanded focal range of 140mm-400mm) external extenders, expanding the focal range of the lens for additional versatility when you can afford the resulting loss of exposure.
The lens comes equipped with a Servo Drive Unit, for control of focus, zoom, and iris settings compatible with broadcast style industry-standard lens controllers via a 20-pin cable.  When the lens and grip are being used with the EOS C100 Mark II, EOS C300 Mark II and EOS C700 Cinema Cameras, users will also have the ability to control the zoom and iris from the camera's grip unit.  The Canon COMPACT-SERVO 70-200mm Zoom Lens is scheduled to be available later in 2017. Although no price has been announced, it is expected to be expected to be extremely competitive.
Angenieux Optimo Style 48-130mm T3 Zoom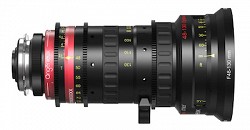 Angenieux has added to their Optimo Style zooms with a 48-130mm T3. The new lens features a 2.7x zoom range to fit in nicely with the other lightweight Optimo Style zooms, the 16-40mm and 30-76mm. It weighs 4.3 lbs and is said to be ideal for hand held, Steadicam and Drone photography.  The 48-130mm comes in PL mount and will have optional interchangeable Panavision and Canon EF mount.  The MSRP is $22,999 and with delivery schedule yet to be announced; (we'll be sure to ask at NAB).
New Cine Primes from Sigma – 14mm and 135mm
Sigma has introduced a new 14mm T2 and 135mm T2 prime lens to be offered as a future addition to their already very comprehensive set of 20mm, 24mm, 35mm, 50mm and 85mm at T1.5.  It seems Sigma is working on completing the lineup of primes before they start delivering. However, once all the lenses are available, they will provide a Full Frame set of primes ranging from 14mm all the way to 135mm. Like the other Sigma Cine Primes, the 14mm and 135mm will share common gear position, 180 degree focus rotation, and will be available in Canon EF, Sony E, and PL mount. Some of the previously announced lenses are available for pre-order here, and expected to ship in May 2017, but there is no word yet on when these newest lenses will be available.
Truckload of Sony Gear Stolen on the Way to NAB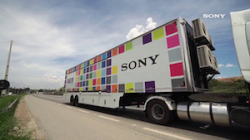 As if the run-up to NAB, which starts next week, were not stressful enough for Equipment Manufacturers, a major theft of gear has been reported.  Details are still sketchy, but according to Tom Di Nome, Senior Manager, Corporate Communications, at Sony Electronics, the rumor has been confirmed that a truckload of Sony's NAB demo gear was stolen on the way to Las Vegas.  Equipment belonging to several Partners was also loaded onto the missing truck.
However, Di Nome stresses that "Sony's NAB exhibit plans are unaffected and the show will go on, with all major equipment that's planned to be displayed available and in place."
Please note the above picture is a file photo and is not the actual stolen truck.  Anyone with information regarding this crime is urged to contact Law Enforcement.
Esteemed Cinematographer Michael Ballhaus, ASC has Departed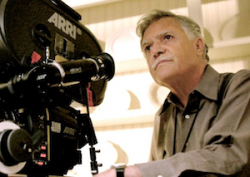 Esteemed cinematographer Michael Ballhaus, ASC who photographed the 2007 Best Picture Winner The Departed and numerous other Scorsese films has died at his home in Berlin at the age of 81.  Ballhaus was himself nominated three times for the Best Cinematography Academy Award for Broadcast News, The Fabulous Baker Boys and Scorsese's Gangs of New York. Other credits included the Scorsese films After Hours, The Color of Money, The Last Temptation of Christ, The Age of Innocence, and Goodfellas, as well as Francis Ford Coppola's Bram Stoker's Dracula, Working Girl, Postcards from the Edge, Primary Colors, What about Bob? and Quiz Show.
As sadly related in his 2014 autobiography, Bilder im Kopf, he experienced the gradual loss of his vision due to glaucoma.  Michael Ballhaus is survived by his wife, film director, Sherry Hormann and two children including his son Florian who has also become a noted ASC Cinematographer, and Jan, an Assistant Director.
DCS Member Content Contribution
By Jennifer Soule, President of OWC
Excerpted from "Rocket Yard," The MacSales.com Blog

Commentary: Mac Pro Users Spoke and Apple Listened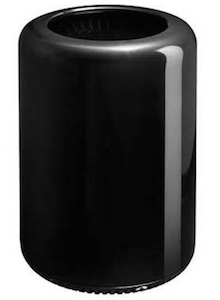 The news that Apple is rethinking the development of their flagship Mac Pro reminded me of a quote that Steve Jobs attributed to Henry Ford during the 2000s. It goes something like: "If I'd have asked my customers what they wanted, they would have told me 'A faster horse.' "Jobs famously eschewed market research. He even had a few quotes of his own on the topic, including: "A lot of times, people don't know what they want until you show it to them," and "It's not the consumer's job to know what they want."  And until the recent surprise announcement, it seemed like Tim Cook-era Apple shared Jobs' viewpoint when it came to listening to its customers.
The Vocal Minority
While desktop computers only make up about 20% of Apple's Mac sales, those who buy them are a vocal minority. Many of Apple's pro customers have sounded off on Apple and the current CEO Cook for "ignoring" their needs. And seemingly with good reason; until this week, the Mac Pro had gone more than three years without a single refresh or spec bump.
But it's not just the fact that the Mac Pro had been ignored when it came to updates. The "trash can" Mac Pro never seemed to be what users wanted in the first place. Here is an excerpt from OWC CEO Larry O'Connor's Rocket Yard commentary from June 2016 that calls out the Mac Pro's limitations compared with the Silver Tower:
"The Mac Pro 2013 refresh doesn't seem to be at all what the majority wanted, and for many it offers less real world capability versus the 2009 to 2012 Mac Pro tower models it replaced. If nothing else, it has available external bandwidth via Thunderbolt ports that are about 5/8ths that of a single PCIe slot in the Silver Tower, which has three such slots available (with its fourth utilized by default for a GPU/Video Card). … And while it does do some great stuff, and its memory and SSD can be upgraded through OWC, it's far more limited than it needed to be, having zero available high-bandwidth PCIe slots."
Indeed, the Mac Pro's limitations and Apple's deafening silence on the topic have led many creative professionals and forum commenters to all but give up on Apple's Pro lineup. Each year since the 2013 "trash can" Mac was unveiled, we've talked to thousands of pro users at different shows like NAMM and NAB and the chorus of "we really need to look at what the PC guys are doing" has been growing louder and louder. Unfortunately, some have already made the leap to PC.
Last year in particular, many had finally resigned themselves that Apple was more interested in what Apple wanted to make and not in what pros needed to do their jobs, and people were putting concrete plans in place to switch.  Apple seemed to forget that its pro users have pro needs and that machine demands grow every year. They limited the bandwidth, locked users options on the GPU, created a messier setup with all the external connectivity required and introduced thermal constraints that made it difficult or impossible to render certain video projects.
We were often on the receiving end of these customer's frustrations since we were there to listen.
People were excited about the internal SSD storage and memory upgrades we offered and our Helios was able to help with some of the PCIe card needs, but we heard over and over that they really just wanted a Silver Tower with Thunderbolt, USB 3.0 and the ability to upgrade as needed.
Apple is Listening
At the small round table between journalists and Apple executives on Tuesday, Apple declared that it's in the process of "completely rethinking the Mac Pro". And I'm expecting a lot of excited conversations during NAB later this month surrounding the topic. With mentions of a modular design capable of running high-end CPUs and GPUs, I know I'm optimistic that everything great about the Silver Tower models is on its way back, with characteristic Apple flare that I'm sure will warrant the "completely rethought" characterization.
They wouldn't lock themselves into a release date for the modular Mac Pro other than to say it won't be in 2017 (some rumors point to a 2019 release), but I still expect enthusiasm will be running high.
Hopefully it doesn't take them too much longer though – people have work to do.
So what do you think Apple means by "completely rethinking" the Mac Pro? Do you have concerns that the news is too little, too late? Let us know.
Visit Rocket Yard for more great content or to subscribe to the weekly newsletter: https://blog.macsales.com
All comments are welcome; please write or leave a comment on our DCS Facebook page: http://www.facebook.com/DigitalCinemaSociety
Welcome to New Friend of DCS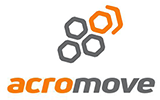 Acromove Inc. manufactures hyper-converged portable NAS servers (ServerPacktm) and Thunderbolt RAID systems (ThunderPacktm and ThunderPack Minitm) for moving large datasets and edge-of-the-cloud computing workflows. Newly incorporated in the USA in March 2017, Acromove Inc. is the former Motion FX of Athens Greece, established in 2014 but with roots that go back to 2001.
The founders are pioneers in the field of Digital Video hard disk recording systems, having shown the first portable uncompressed disk recorder at IBC in 2001. By 2005 they were doing 4k film scanning and color correction. One of their first inventions was a multi-camera direct-to-disk ingest system called Director's Cut ISO, subsequently licensed to an Austrian company.
When you first see an Acromove product you notice immediately that it is built for the way you always wanted to work, unbound from massive racks of equipment but with the advanced capabilities you need for the modern era of computing. Acromove's products are true inventions, informed by experience and crafted with art.  More information is available at www.acromove.com.
Thank You To Our Sponsors
As always, we want to send out a big thanks to all "Friends of DCS," whose support makes it possible for us to continue the DCS mission of educating the entertainment industry about the advancements in digital and cine technology:
AbelCine – ACES – Acromove – Adobe – Adorama – Advantage Video Systems – AJA – Angénieux – Anton/Bauer – ARRI – Avid – BBS Lighting – Band Pro – Bertone Visuals – Blackmagic Design – Canon – Cartoni – Cineo Lighting – Codex – Cooke Optics – Dadco/Filmlight – dedolight – De Sisti Lighting – DigitalFilm Tree – Digital Sputnik – DoP Choice – Fiilex LED – Fujinon – K 5600 – Kino Flo – Leica/CW Sonderoptic – Light & Motion – Litepanels – Luminys – MacSales – MACCAM – Manios Digital – Mole-Richardson – MYT Works – Nila – NVIDIA – OConnor – OWC – Panasonic – Panasonic Lumix – Panavision – Power Gems – Quantum – Redrock Micro – Red Scorpion LEDs – Rosco – Sachtler – SIGMA – SIM Digital – SmallHD – Sony – Sound Devices – Teradek – Terra LED – The Rag Place – The Studio-B&H – VER – Vision Research – WCP – Wooden Camera – Zacuto – Zeiss – ZGC – Zylight
Renewing Your DCS Membership
We count on your dues and contributions to continue our mission and maintain our services to members. So, if your membership has expired, or will soon, and provided that you value our services and can afford to offer support, please take a few minutes to renew your membership at the $30 annual level or $100.00 for a Lifetime Membership. You can follow the convenient PayPal links, (using any major credit card, and you don't need to be signed up for PayPal,) or you can send payment to our offices at P.O. Box 1973 Studio City, CA 91614, USA.
PayPal Annual Renewal Link – $30US: https://www.paypal.com/cgi-bin/webscr?cmd=_xclick&business=mathers%40digitalcinemasociety%2eorg&item_name=Digital%20Cinema%20Society%20Annual%20Renewal&amount=30%2e00&no_shipping=0&no_note=1&currency_code=USD&lc=US&bn=PP%2dBuyNowBF&charset=UTF%2d8
PayPal Lifetime Renewal Link – $100US: https://www.paypal.com/cgi-bin/webscr?cmd=_xclick&business=mathers%40digitalcinemasociety%2eorg&item_name=Digital%20Cinema%20Society%20Lifetime%20Membership&amount=100%2e00&no_shipping=0&no_note=1&currency_code=USD&lc=US&bn=PP%2dBuyNowBF&charset=UTF%2d8
Checks should be sent to: The Digital Cinema Society, P.O. Box 1973, Studio City, CA 91614, USA. Check payments must be in US dollars.
Please note that if you are a student, or otherwise cannot afford the dues, just send a note and we will be happy to extend your membership. **Student and Complimentary memberships do not include a DCS membership card.
Remember Your DCS Member Discounts
DCS members in good standing can also receive significant discounts on products and services from companies including: Raleigh Studios Screening Services - BMW/Mini – LensProToGo – Final Draft – Wooden Camera – SimpleDCP – Zacuto – IMDBpro – Manios Digital – DECKHAND Camera Rental – Tek Media Electronic Repair – AbelCine – BBS Lighting – Kit & Kaboodle Craft Service – Birns & Sawyer – NightSky Web Hosting – American Cinematheque – ProductionHub – Advantage Video Systems.
And if your company would like to offer your fellow members meaningful discounts on products or services let us know and we'll consider adding your offer to the page. Visit the DCS Member Discount page for all the details:
www.digitalcinemasociety.org/member-discounts
Calendar of Upcoming Industry Events
The large number of listings and hyperlinks in our full Calendar of Events causes many e-mail servers to reject our eNewsletter. So, for a complete calendar of upcoming industry event listings for both the U.S. and International, please visit the Events Calendar on the DCS Homepage at:  www.digitalcinemasociety.org/events-calendar
Follow DCS on Facebook and Twitter
Don't forget that the Digital Cinema Society has a Facebook fan page. Check in for the latest news, event details and general DCS hubbub at: http://www.facebook.com/DigitalCinemaSociety On Twitter, you can follow us @DCSCharlene
Our Home, The Digital Cinema Society:
"It is not the strongest of the species that survive, nor the most intelligent, but the most responsive to change." Charles Darwin